Description
The Electro-Voice EVOLVE 30M portable line array system is lightweight, powerful and flexible. Its onboard Class-D amplifier cranks out 1,000W peak power. Built-in QuickSmart DSP lets you customize your sound wirelessly with the QuickSmart Mobile app. This compact personal line array PA system is easy to transport to gigs. Setup is quick and simple. The EVOLVE 30M active column-style speaker system can be assembled and ready to take the stage in seconds. Now available at Guitar Center, the EV EVOLVE 30M makes it easy to achieve rich, room-filling sound.
Key Features of Electro-Voice EVOLVE 30M Column-Style PA System
1,000W peak output and wide 120° coverage pattern
Wireless control and advanced DSP
Versatile 8-channel mixer with Bluetooth connectivity and more
Compact design with detachable speaker array for easy transport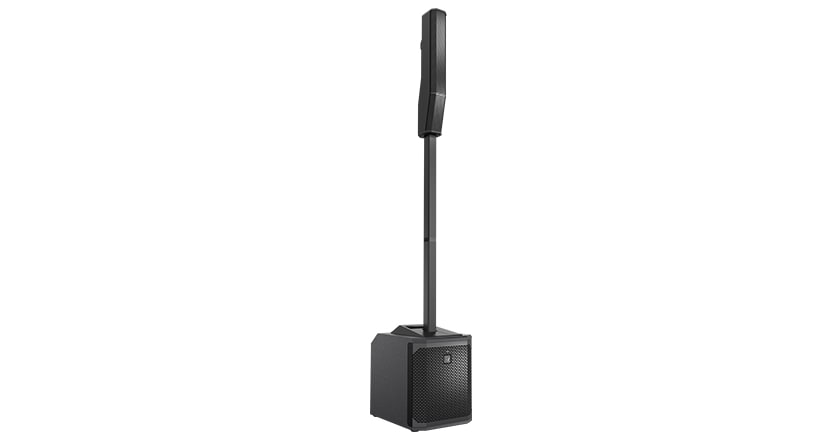 Wide Dispersion and Room-Filling Sound
The ultra-compact EV EVOLVE 30M builds on the success of the larger EVOLVE 50. Just because it's smaller doesn't mean it gives up quality sound. A 10″ subwoofer serves up deep bass. The column section has an array of six full-range drivers. These 2.8" drivers direct sound at different angles for 40° vertical coverage. They also provide 120° horizontal coverage. Driven by its 1,000W amplifier, the EVOLVE 30M line array delivers full-room audio that's rich and clean.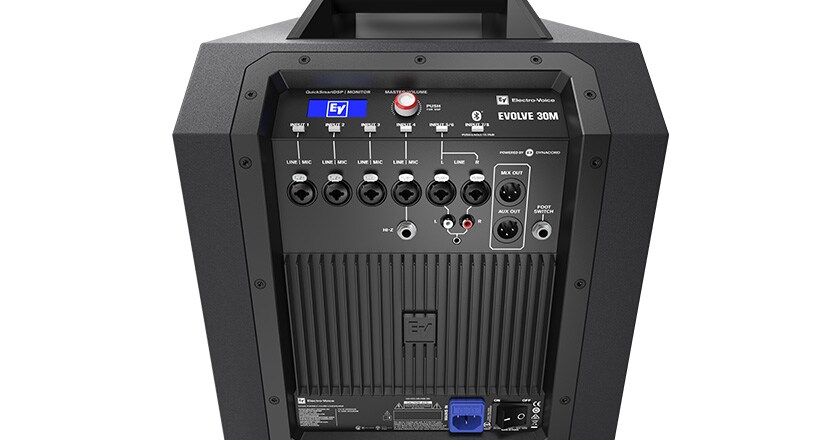 QuickSmart DSP and Wireless Control
Fine-tune your sound with built-in QuickSmart DSP. Using its LCD display with single-knob control, you can navigate the DSP menu and make adjustments. It includes four preset sound profiles: Music, Live, Speech and Club. The EVOLVE 30M column-style PA system also has 3-band system EQ and 7-band graphic EQ when used in Mixer mode. All of these functions—and many more—can be controlled with the QuickSmart Mobile app. It lets you precisely adjust your system's sound wirelessly, from the perspective of your audience. The app can also monitor up to six separate EVOLVE 30M systems at once.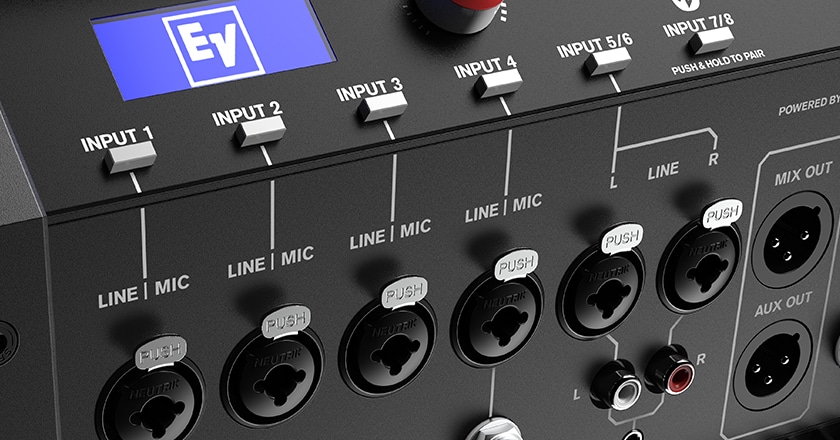 Flexible Connectivity
A built-in 8-channel digital mixer with Bluetooth is the heart of this versatile PA system. The Electro-Voice EVOLVE 30M powered line array features studio-quality onboard FX, including chorus, delay and reverb. There are also independent channel AUX sends and Hi-Z and footswitch inputs. By minimizing the need for external effects pedals and processors, the EVOLVE 30M PA system reduces onstage clutter and cuts down on setup time. All of these onboard effects can be controlled remotely with the QuickSmart DSP app.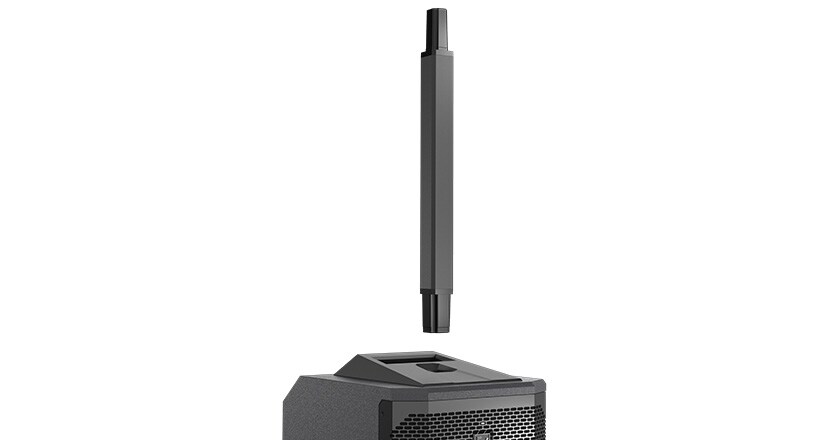 Lightweight and Portable
Portability is the name of the game with the EV EVOLVE 30M. This compact PA includes a subwoofer base and detachable speaker array and two-piece pole connector. The entire system breaks down quickly and easily. The pole sections and column speaker section fit into the included backpack carry case. It's ideal for solo performers such as DJs and singer/songwriters. Once packed up, it's easy to transport to and from gigs. Thanks to its compact size, it takes up very little space in your vehicle. Professional sound has never been so portable.
Features
Refined industrial design
Professional-grade EV-engineered components and premium build quality
Super-quick setup and single-trip portability in a system that looks as good as it sounds
Industry-leading QuickSmart DSP
Optimize every detail of your sound via the control panel or via the app from across the room
Mix your show like a pro
Powerful onboard mixer gives you best-in-class connectivity and control
Finesse your sound with musician-friendly features and reduce the amount of gear you bring to the gig
Bluetooth enabled for audio streaming
Warranty
Microphones: 3 year full replacement
Wireless: 2 years
Speakers: 3 years active, 5 years passive