During our recent visit to the UK, we stopped by the home studio of Mary Spender – a YouTube-based musician whose channel has already amassed a whopping 6.2 million views thanks to her "Tuesday Talks" video series, in which she deep dives into music topics of her choosing with artists like K.T. Tunstall, James Valentine and more.

We joined Mary for a Tuesday Talks of our own, covering the topics of her YouTube origins, evolving her process as a musician through social media, and how to kickstart your own YouTube channel with just an iPhone and a great mic.
How did you get started on social media? Do you remember your first video?
I learned how to edit on iMovie when I got my first Mac in university. I was making videos alongside my music for quite a while with friends - borrowing my dad's camera, breaking it every so often, and then having to pay him back. [Laughs] But once Facebook introduced video and the ability to boost a post - that's when I first started to see the difference. I made some terrible, badly-lit solo guitar videos - soon, one of the videos got 20,000 views on Facebook. I had only about 2,000 likes on my page at that time, from fans I had built up at gigs. After the first mini viral video, I went and played a support show for Gemma Hayes in Bristol. At that show, the sound engineer stopped me and said, "Oh, wait - I've seen a video of yours." That was the moment I realized I was onto something. When I started watching YouTube in 2015, I wasn't really watching any musicians on the platform (Casey Neistat was a favorite of mine). I was watching filmmakers, which inspired me to get better at video. In the world of YouTube creators, I also felt like there was something missing in terms of a singer-songwriter talking about how they create their music. I had to get it out of my head that songwriting was some secret language - that there could be value in letting others in on the process. I"d watch creators like Andrew Huang, who would open his Ableton project and show how he EQ'ed something in one of his tracks. The songs weren't always perfect – but that was when I realized where the magic was. So I started uploading - I did this thing called "Daily Shred", where I uploaded 25 videos in 25 days, and I quickly started seeing an audience. I kept vlogging, and then my
NAMM vlog featuring a John Mayer interview
changed everything. Now, I'm on a committed schedule sharing one video a week.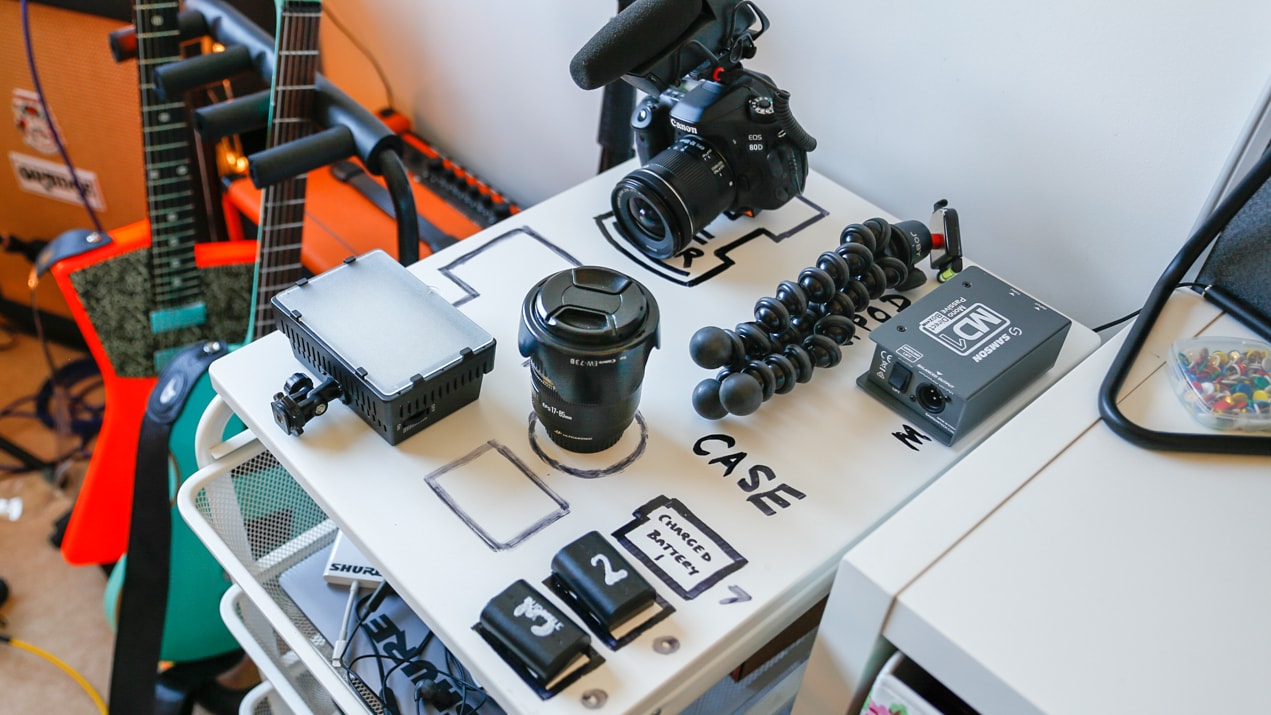 Mary's YouTube rig.
Tell us about the origin of Tuesday Talks, your YouTube show.
What a wild ride it's been. At first, I was trying to figure out a way to do music on YouTube. I tried cover songs, but I wasn't getting the community satisfaction of views or comments. So I started exploring the idea of a conversational weekly show, thinking Well, you can always talk to new people. You can always talk about something new that's come out within your world. I filmed my first episode of Tuesday Talks on a tripod on my kitchen table, and I titled it "Opinions." I was touching upon the conversations I had had with people about how to shape my career as a musician in the 21st century, and then next I did a
demo of the Electro-Harmonix Turnip Greens Multi Effects Pedal,
then another episode as a Q&A. By April of 2017, I was posting every week. Every episode is so different - I don't always know what the subject matter will be, but it always happens.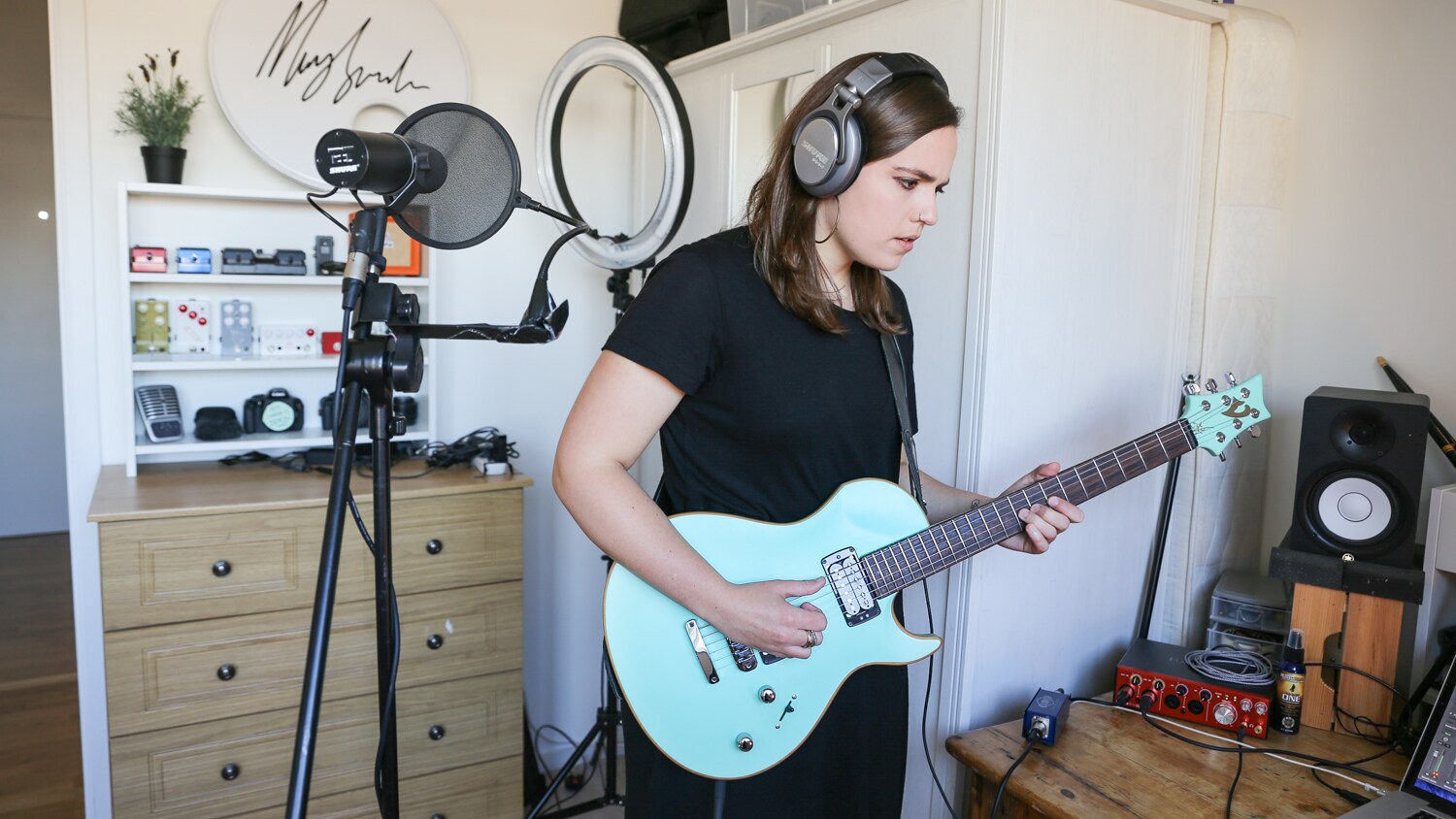 Mary getting ready to film an episode of Tuesday Talks.
What have been some of your favorite moments/guests from the show?
K.T. Tunstall saying "Tuesday Talks" legitimized the whole thing for me. When I interviewed her, I had only 15,000 subscribers. And yet, there she was – on my YouTube chat show. James Valentine, too - Maroon 5 was so influential as a band for me growing up, and now James has been on Tuesday Talks. It's so weird. I hope everyone who watches it knows how it's changed everything for me – they've all contributed to that.
How do you approach gear demos?
I'll get offers quite a bit from companies asking "Hey, if I send you this, will you film something with it?" I actually often say no, usually because I'm miles behind on my own content schedule. I also have brands that I'm very loyal to. I make sure I look after the people that I have genuine relationships with, rather than just accepting anything free that's sent my way. But I'm currently trying to build my pedal board out a bit more to boost my creativity – that makes me more inclined to try new pedals and effects.
Tell us about your pedal board and its progress.
I started out on the acoustic guitar. I was travelling a lot, and I didn't want to have to worry about an amp or a board. Now, if I travel with my electric guitar, I'll bring a tiny giggable board or extra pedal. But I have dreamt of having one of those outrageous pedal boards with a switcher system – something Dan from That Pedal Show might build. That's on my bucket list for sure.
What's your favorite pedal currently?
Electro-Harmonix Turnip Greens
. That was the first pedal that changed the game for me. At the time, I played dry through an amp -- sometimes I'd even just plug in directly to a PA. But I liked the simplicity of it - it combines the
Electro-Harmonix Holy Grail Max
and the
Electro-Harmonix Soul Food
. The Holy Grail Max also has a reverse setting, which has become a very integral part of one of the songs I open my set with. I also have overdrive on my
Orange Amplifiers Rocker 15
, but the two sound very different. I did a video about the Turnip Greens where I gave my first impressions and showed my audience how I'd use it in the context of my songs. It was my second episode of Tuesday Talks, which now has almost 200,000 views on YouTube.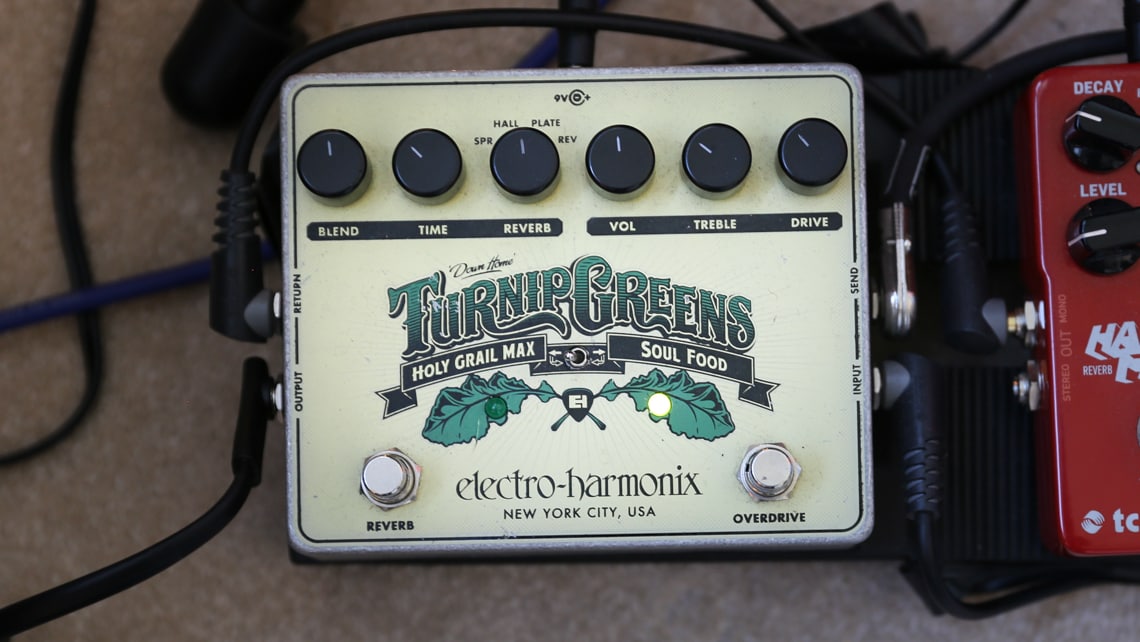 The Turnip Greens Multi Effects Pedal from Electro-Harmonix.
How does a new piece of gear influence your songwriting?
It often takes a while to register how I feel about the gear. It takes me a while to get used to it, too. When I'm able to write a song in a new space, whether it's a hotel room or an apartment – it makes me realize that I'm finally comfortable in that space, otherwise I wouldn't be able to get inspired. With gear, I feel the same. I have to get pretty comfortable with a song first to inspire the guitar tone, so I often start my songs on acoustic. Final production style is usually determined by the gear. The
Ernie Ball St. Vincent Music Man
guitar inspired some really wet reverb stuff for one of my songs, and I was using the trem bar - it just sort of brought that out of me. I always have to remind myself that I am fine to try something and fail – I can always just delete it later.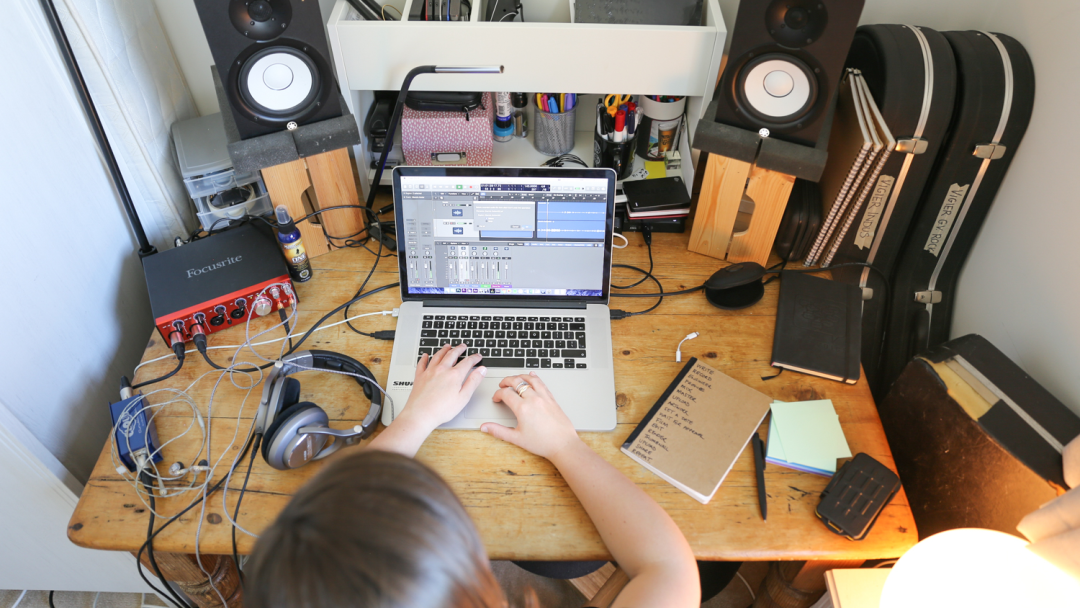 Mary's recording set-up (Tap to see products).

For YouTubers out there just getting started, what gear would you recommend they invest in first?
I think audio is way more important than good video. The Shure Motiv MV88 has been my go-to. The first time I tried it, I realized it was going to be the center of my content creation. It comes with its own app that allows you to change polar patterns, compress the file and make edits right on your iPhone. Now I trust it with everything. So, yeah – an MV88 and an iPhone, that's all you need.

What advice would you give a musician or YouTuber looking to expand their audience via social media?
Nowadays, it's so hard to find an audience – there's a lot of competition, so it's important to focus on what you're good at. If as a creator you aren't sure what you have to offer the world yet, then get out and play open mics. Play a gig for three people. Be prepared to fail - I've done many of those gigs. You have to have patience and give yourself time. You don't want a million followers tomorrow, trust me. You need a steady build to allow for adjustments every step of the way. Nothing is built quickly, and it's important to learn where your strengths lie. There's value in not being the best musician in a room sometimes – it presents you with an opportunity for improvement. At the start of it all, I never thought I'd commit to a video a week pretty much for the rest of my life – but at the moment, I can't see an end to it. So there you go.


Check out Mary's episode of Tuesday Talks from our visit: