Over the course of the last five years, the guitar industry has seen incredible shifts inching towards the growth and inclusion of women guitarists. From St. Vincent's Guitar World cover to Fender's groundbreaking research identifying that 50% of new players are women, the conversation surrounding what the new face of guitar looks, speaks, and learns like is becoming an international dialogue that cannot be ignored.
As the founder of She Shreds Magazine—the world's only print publication dedicated to women guitarists and bassists—I've had the honor to be a leader in this conversation and see the effect it's had on up and coming players in particular. While names such as St. Vincent, Brittany Howard, and H.E.R's Gabriella Wilson become role models of today's guitar culture, there's communities of women musicians flourishing in all genres, proficiencies, and corners of the world. What excites me the most about my position isn't the celebrity names or the amount of followers on someone's Instagram page, it's creating a platform for the innovative, dynamic, and progressive communities making an impact in their respective genres.
When Guitar Center asked me to profile five guitarists, I wanted to put forth names that are doing something different, and that I truly believe in. Names that you might not have heard of yet but you will not stop talking about once you do. It was also important that I showcased a multitude of skill levels, genres, and interests: Tasha is a musician that blends elements of R&B with pop and indie flavors, tying it all together with elongated wavy guitar chords while Alexandria Fitzgerald moves through catchy, melodic, and hard hitting riffs reminiscent of soul, blues, and the motown era in her band The New Respects. Francesca Simone (also known simply as Simone) is paving the way for virtuosity among young women as the former guitarist in Beyonce, while Fatai reinforces the power of oneself through looping simply with her acoustic guitar and voice. Then there's Jinjoo—an artist I've long been a fan of based off of her tasteful and precise funky phrasing in the pop group DNCE, led by Jonas Brothers' Joe Jonas. To better understand the force behind each artist and the tools behind the creativity, I asked each artist four questions that get down to the bottom of what drives ones passion and expression to create music and perform it for the world to see. - Fabi Reyna
She Shreds: Can you talk about how guitar is an outlet for your creatively, why you were drawn to it, and what it means to find something to channel your voice through?
Tasha: The guitar has come to act as an emotional accessory to my songwriting—when I've reached my limit for what I can say with actual words, my guitar is able to continue to ask those questions or finish that poetry with new melodies and chords and riffs. It fills out the feeling, and also gives me more clarity, nuance and understanding for the things I need to say and the way I process the world around me. It's an entirely new discovery every time.
Fatai: I picked up the guitar and taught myself how to play it accidentally when I left school at 13. From the first song I wrote with just 3 humble chords, I fell in love with an instrument that chose me! My relationship with the guitar has been listening to the strings and letting it lead me by means of experimentation and trial and error. I've relied heavily on my ears to eventually build up all that I know how to play now and so that's allowed me to break the mold and discover sounds, progression, and chords that are maybe not technically correct but are uniquely powerful and heart tugging! When you spend as much time in love with an instrument as I did, it becomes an extension of the voice and not just a secondary accompaniment. We are a team!
Alexandria: Guitar is literally a second voice, it's an opportunity to speak even when you are at a loss for words. Guitar is a blank canvas, it's a new start, another chance to get it right, it's a reminder that even if I don't know how my career will end up I know how it started... It started with my guitar. I didn't know it at the time but I think that's what drew me to guitar in the first place. In the same way a book can take you to a place you've never been, guitar can express emotions you didn't know you had. At least that's what it does for me.
Simone: My soul was just drawn to the guitar and its sound, so that has been my channel of expression thus far. I think it's so important for everybody to have an outlet whether it's guitar, dance, painting, whatever. It's important because as humans we all share an incredible array of emotions, feelings, and stories. However, as a society, we are typically conditioned to hide behind masks and be what we think society wants us to be, in order to fit in...that's where art comes in. I use my guitar to express who I really am: an extension of myself. Being honest and sharing that vulnerable part of me is what helps to mold my ever-changing sound.
JinJoo: Guitar is the only instrument that can create the sound of a piano, a drum, and a bass, and also the sound of a voice. I think that's why I love guitar so much—I can express my feelings through my touch!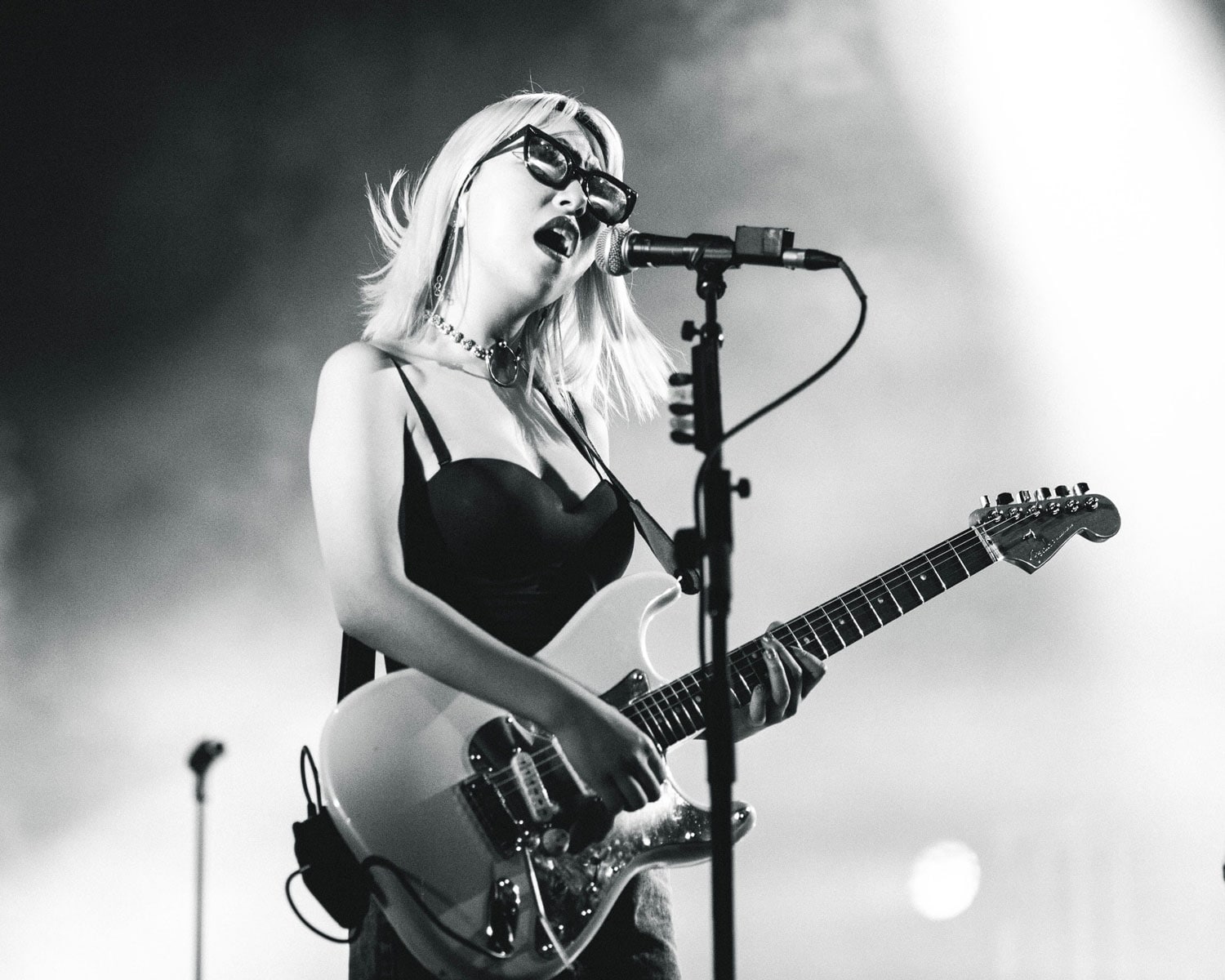 JinJoo, guitarist for pop group DNCE / Photography by Matt Robertson
What's your favorite piece of gear and how did it find you?
Tasha: Probably my Fender Blues Jr. Lacquered Tweed Amp. It used to belong to my friend Brian Sanborn, the first guitarist I ever played with in my band. He lent it to me after our first gig together and after a few months just let me hold on to it. I love that it's been passed down and has so many years and so many stages under its belt.
Fatai: Maton Guitars are my absolute all time favourite makes, firstly because it's home made from [Melbourne, Australia], the same city that made me, and secondly, it brings the best out of my sound more than any other guitar I've played!
Alexandria: My favorite piece of gear right now is the Walrus Audio Julia Analog Chorus/Vibrato. It's a chorus/vibrato pedal and it's hands down the best chorus I've ever played. I use it more than any other pedal on my board. I've been a fan of the company for a while and when they released the Julia my ears perked up. I ended up visiting the Walrus offices shortly after and I played it there for the first time. I haven't stopped playing it since. That pedal literally changed the way I play guitar.
Simone: My favorite piece of gear is definitely the Orange Rockerverb 50 MKIII Combo. I love its sparkly but warm tone. During tour, I used digital amps which feel and sound very different from tube amps. Our journey together began when I stopped by the Orange Booth at NAMM last year and played through their amps. I fell in love! The rest was history.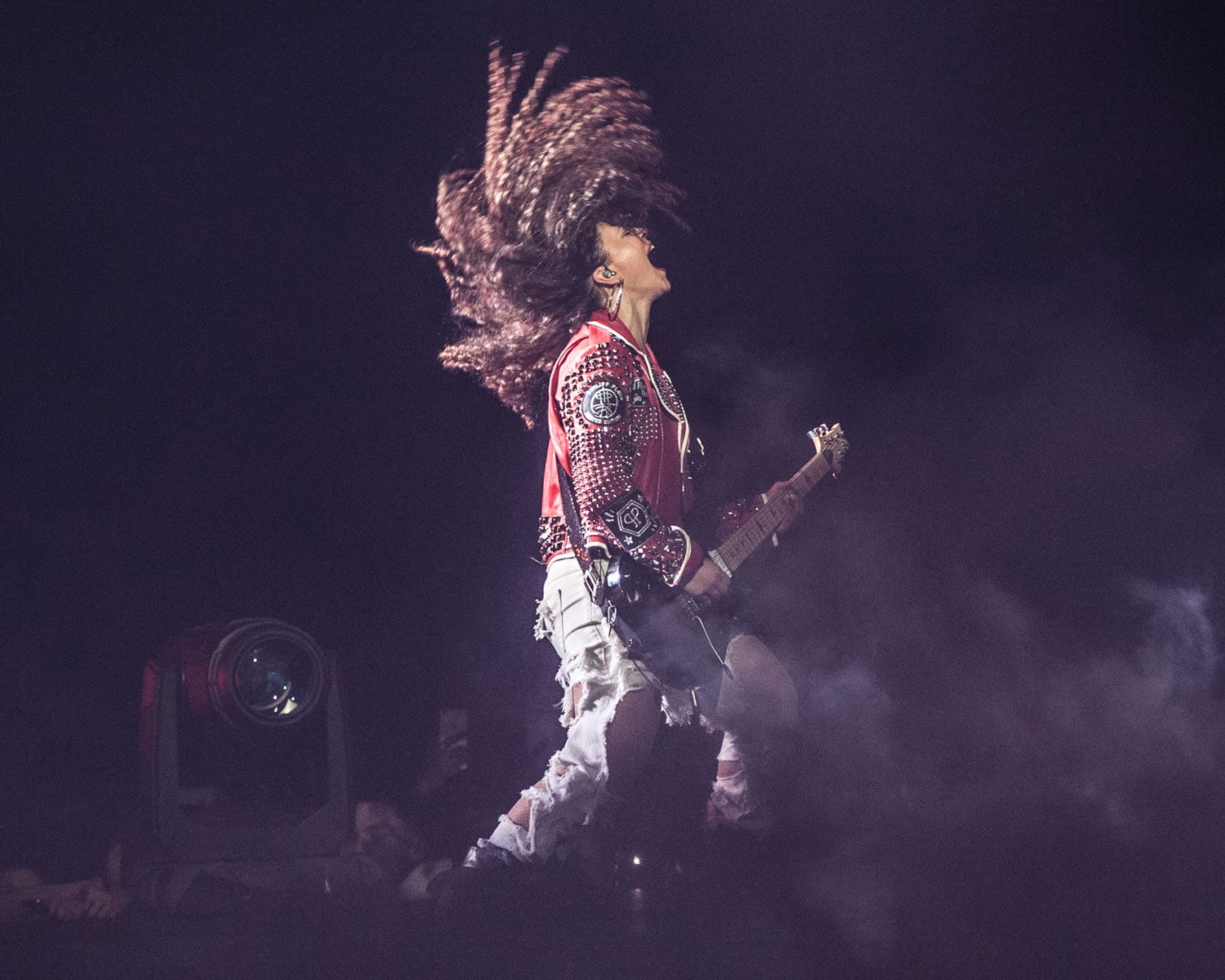 Guitarist Francesca Simone / Photography by Kaia D'Albora
JinJoo: My favorite piece of gear is my 1960s Fender Stratocaster Relic. It's my first guitar. When I was 12, my dad brought me to a music store in Korea. I saw this guitar, and I played it without even plugging it into an amp. I knew right away that would be my guitar. Soon after that, I plugged it into an amp, and I got chills all over my body. I almost feel like this guitar found me. I love the analog sound. My setup is very simple: clean and funky and rock and roll is my sound. The most important piece of gear in my set-up is my amp. I love my VOX AC30 with reverb.
How do you push and challenge yourself as a musician and songwriter? What has been a big obstacle you've proudly overcome?
Tasha: Forcing myself to play and write even when I don't feel inspired or particularly creative is definitely a challenge. But I've pushed myself over the years to harness the practice of it as inspiration enough—which is to say, maybe the simple act of picking up my guitar and finding a few chords that move me can be all the creativity I need to keep going, to keep discovering.
Fatai: Melodies have always come to me easier than lyrics! In order for me to never stay stuck and keep expanding and growing, I've had to give time and work to things that don't come easy to me. Like lyrics! I've had to work hard on restraining myself from trying to fit 10 songs into one and give healthy structure to my never ending chaotic mind cave. It's required discipline, patience, trial and error, switching up the approach, changing the environments in which I write in, listen to music (never used to listen) and stretch my brain with newness. But after all the practical tools, I learnt to not try and just breathe. Living life is writing in and of itself!
Alexandria: I challenge myself as a musician/songwriter by listening. Listening to what I'm doing right, listening to what I'm doing wrong, listening back to shows I've played, listening to new music. All learning starts with listening.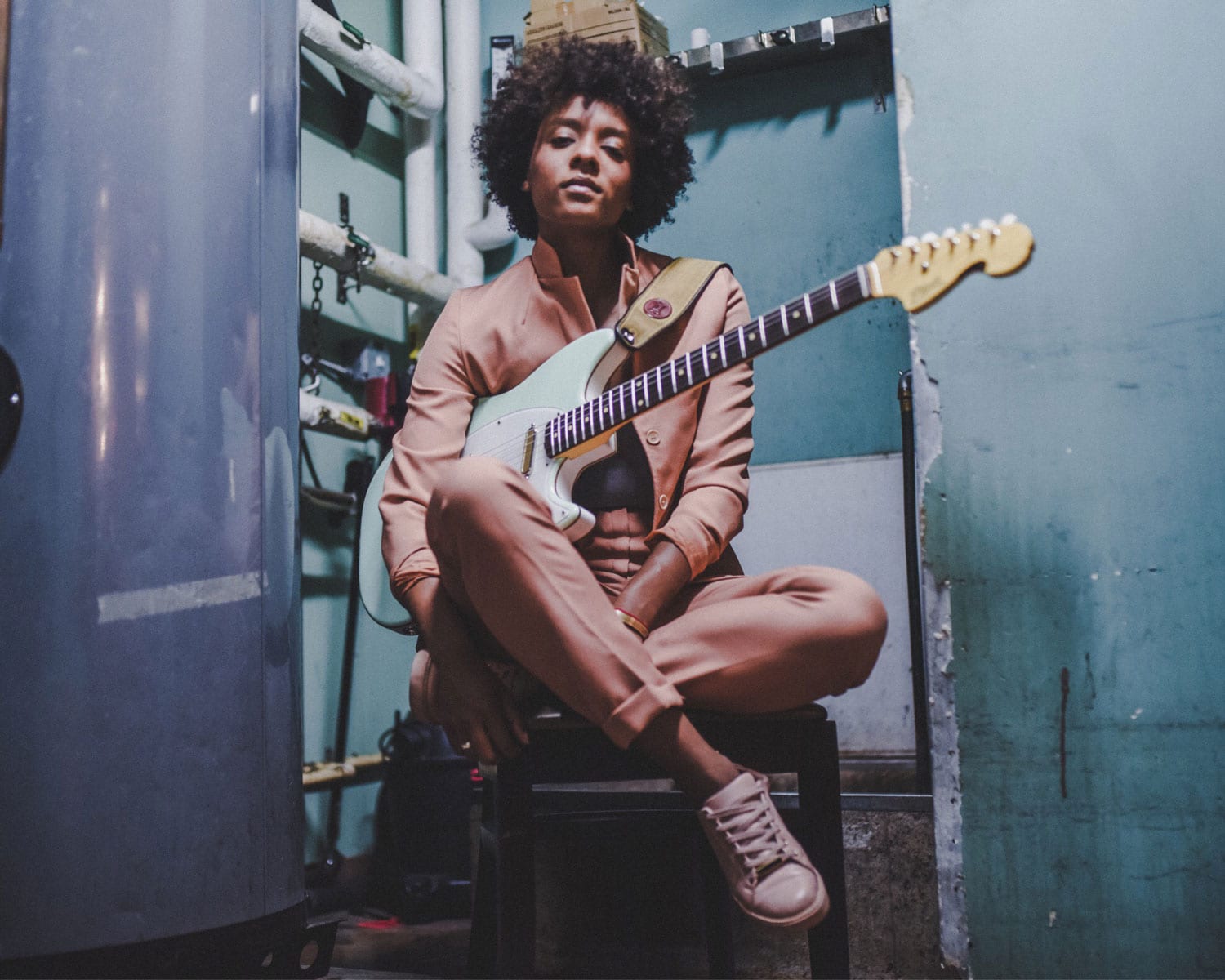 Alexandria of The New Respects / Photography by Blue Amber
Simone: One obstacle I've proudly overcome is fear. I try to challenge it everyday and use it as a compass. Wherever I feel it the most, I dive into that direction, immerse myself in it and push through to overcome it. I've fallen in love with pushing boundaries within myself, it makes me stronger and more confident.
JinJoo: My challenge is to always have FUN! As an artist and songwriter, my band DNCE is a dream come true! We are all about having fun.  
How do you see yourself evolving as a guitarist? What has been your relationship with establishing gear and tone, and what advice can you give folks who are developing their sound?
Tasha: I see nothing but abundance in front of me! I still have so much to learn (and a lot of insecurity to overcome) around knowing about and finding gear that speaks to me and my particular instrumentation. But I see myself expanding the ways I can build real homes of sound around me and my songs (warmth, waves, loops) when I'm the only one on stage. My resounding advice to anyone—especially women—developing their sound is and always will be: don't let any man make you feel like you're not good enough, or that you're not a "real" guitarist. Trust your heart, trust your skill, and let that be the driving force for the way you play and the music you make. That alone will make your sound special and unique.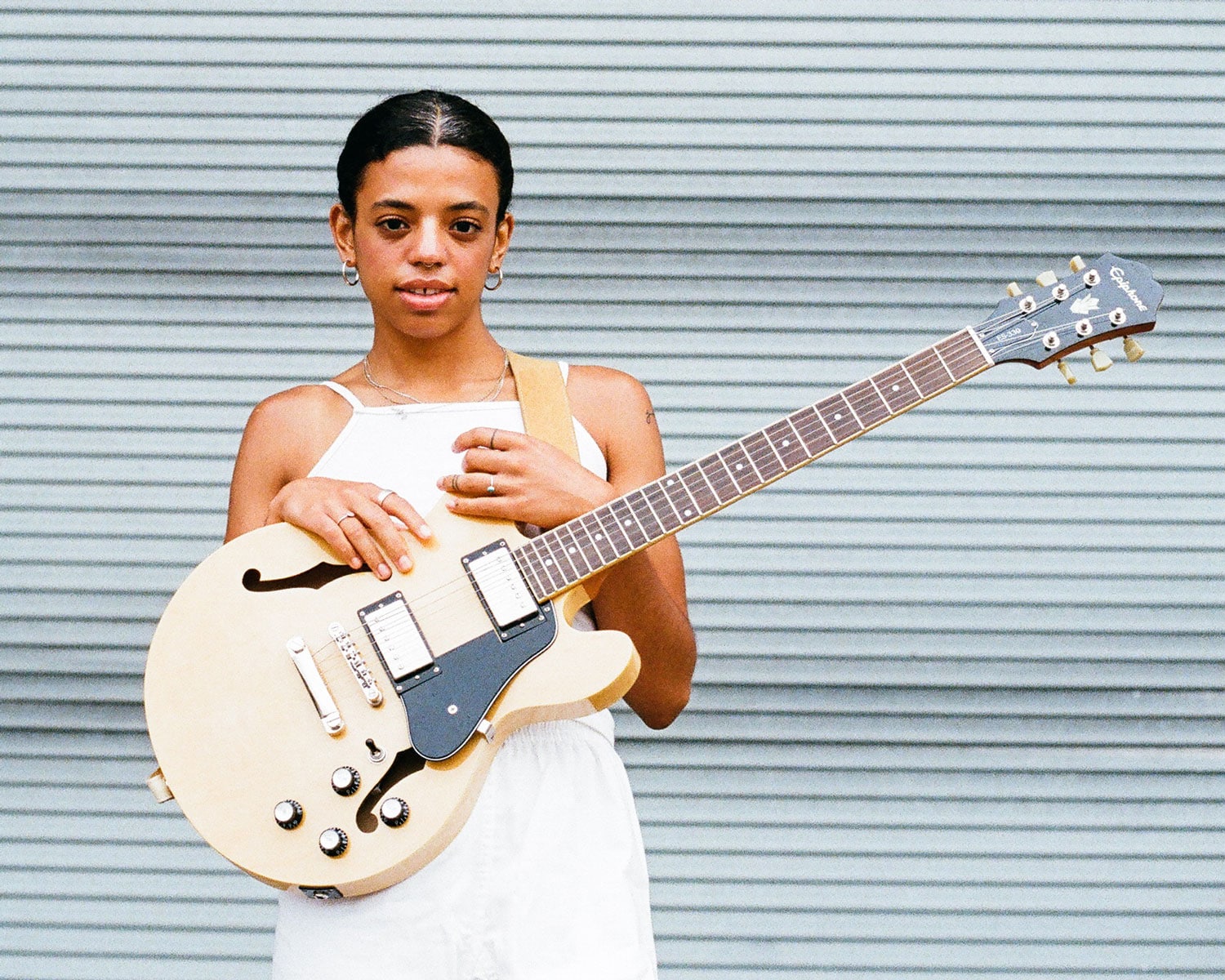 Tasha of Alone At Last / Photography by Grace Coudal
Alexandria: I learned guitar mostly by ear as a teenager and I'm just now going back to learn the theory behind it all. That has been helping me grow as a player a lot. When it comes to guitar tone it all starts with your fingers. What is your right hand doing? What is your left hand doing? Are they fighting each other or are they working as a team? It all matters. Some of my favorite tones I've ever created have come from a good guitar plugged directly into a good amp. There's nothing like it. Think of it like a Chick-fil-A sandwich, you could add some sauce but it's just as good on its own. My advice when building a tone is always always always start simple. You can always add new pedals (aka sauce) later, but the beauty is when you're just as good on your own.
Simone: I started off playing blues guitar by ear. Then I delved into jazz and studied Pat Martino, George Benson, Pat Metheny, etc. Mixing my soulful blues style of playing with my understanding of jazz really helped propel me into my own lane. The best advice I could give anybody trying to develop their sound is to study the musicians with whom you're deeply in love. Figure out why they do certain things, use a certain tone for a specific song, play a specific part. Study different genres of music that pull your heartstrings. Details are everything. Study, study, study, and eventually everything you've learned will seep into your playing.
JinJoo: I would like to inspire the next generation through my music, through my story! Without my guitar I feel naked. I speak through the guitar and I sing through the guitar. I use a Kemper Profiler on stage. It gives me such freedom to go crazy and run everywhere on stage, instead of being stuck in front of my pedalboard. For recording, I use Logic. Everything can be about music, and Logic captures all of it.
Fatai: I'm self taught by ear and so I desperately want to put names to the chords I play and develop my theory skills! My guitar is made so well, it is literally customized to communicate so effortlessly with the tone of my voice. My strengths is mid range vocally and I love everything to sound fat around it! My guitar has a beautiful natural full sound to it so the key is how much brightness do you put in or don't put in. But the fatter the better for me—the reason why bass is my favourite instrument ever. Uniqueness is your power! Find it, love it, nurture it, develop it and then use it to your advantage to stand out amongst the trends and the crowds! There's nothing better that you can offer than being you! Including all the tones, sounds and heart.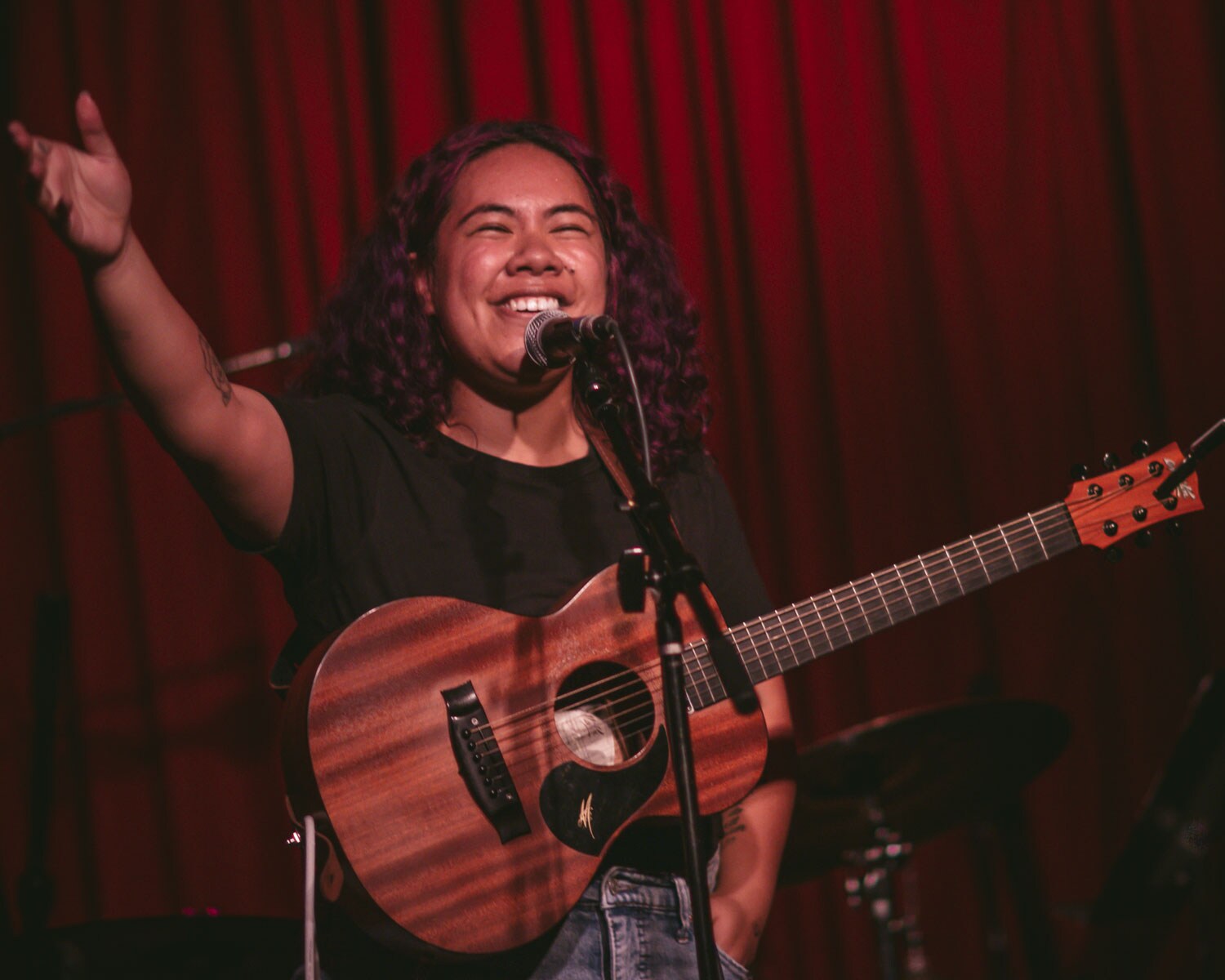 Fatai, singer/songwriter / Photography by Jenna Kim
Check out the latest from She Shreds Magazine here.
Follow JinJoo: https://www.instagram.com/jinjootheguitargirl/
Follow Francesca Simone: https://www.instagram.com/francescasimone/
Follow Alexandria (The New Respects): https://www.instagram.com/thenewrespects/
Follow Fatai: https://www.instagram.com/fatai
Follow Tasha: https://www.instagram.com/wowtashawow/