Ever since she picked up her first pair of drum sticks as a young child, Jazz Kelley has been on a mission. Looking back, Jazz remembers the exact moment she knew she wanted to be a drummer. "I remember watching my cousin play [at choir rehearsal] & immediately thinking, 'I can do that.' That's really how the journey started."
With a healthy mix of dedication, perseverance, and the support of her loved ones, Jazz continually honed her skills as a musician, going on to earn a degree in Music Performance and Education from Albany State University. Shortly thereafter, she joined the Atlanta Hawk's Atlanta Boom Drumline as their first female drummer. 
About three years ago, Jazz joined the Guitar Center family as a Lessons instructor in our Atlanta store. We recently reached out to Jazz to learn more about her musical journey, practice tips and more.
Hey Jazz! Tell us about your first drum kit. 
So, my first home kit was a hand-me-down Vintage 70's Pearl kit that I actually still have to this very day! My first professional kit was a 7-piece DW Cream Collectors Series with a gold finish on the hardware.
Did you take lessons?
No, I didn't take lessons. I often wonder what I'd be like now if I had, but lessons wasn't something my family could afford back then. So, I spent a lot of time listening to music, watching music videos, and mimicking what I saw.
What artists did you look up to growing up?
Definitely Sheila E! I looked up to so many different artists and still do. I grew up loving Cameo, Frankie Beverly & Maze, Michael Jackson, Prince, Anita Baker, Aretha Franklin, Kirk Franklin, Christina Aguilera, & Outkast! There are so many! I grew up where I was exposed to a lot of different artist and genres.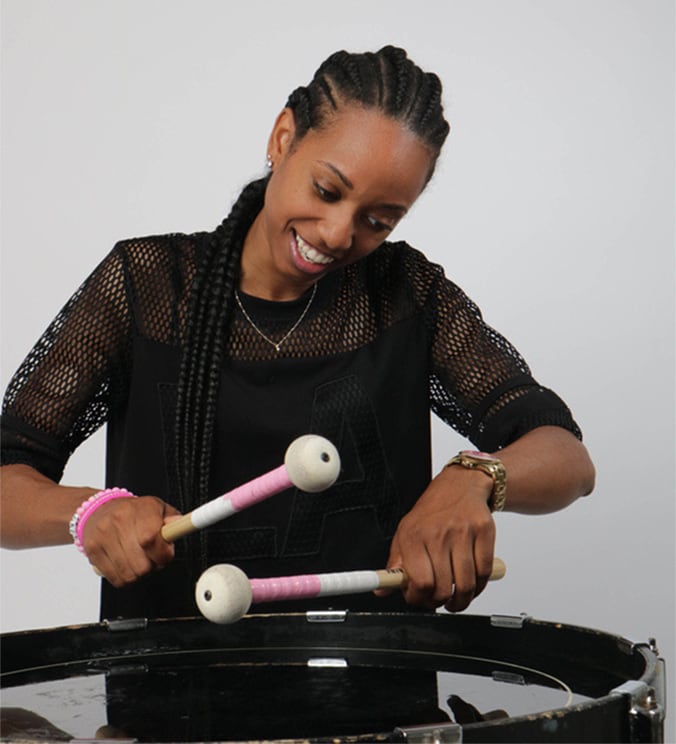 What was the first song you learned to play?
The first song was Stomp (Remix), by God's Property & Kirk Franklin. This was also the very first album I learned from top to bottom.
What was the hardest technique for you to master on the drums?
Whew! Everything in the beginning, but I think one technique specifically was keeping time on my hi-hat while I played around the kit. Learning to balance and center my body.           
What's your favorite part about being an instructor? 
Being able to share my heart with others and serve people where they are. I get the opportunity to connect with people from all walks of life. That is such a hidden gem, because I'm constantly reminded of how music is so essential to life and how my life is not my own. I'm here for a purpose that's so much bigger than me and my thoughts. I was created and given a gift that not only would bring me joy, but, most importantly, bring joy and peace to others and that is such a big deal to me. There's nothing more satisfying than knowing you've helped someone overcome a challenge. There's pure magic in serving others!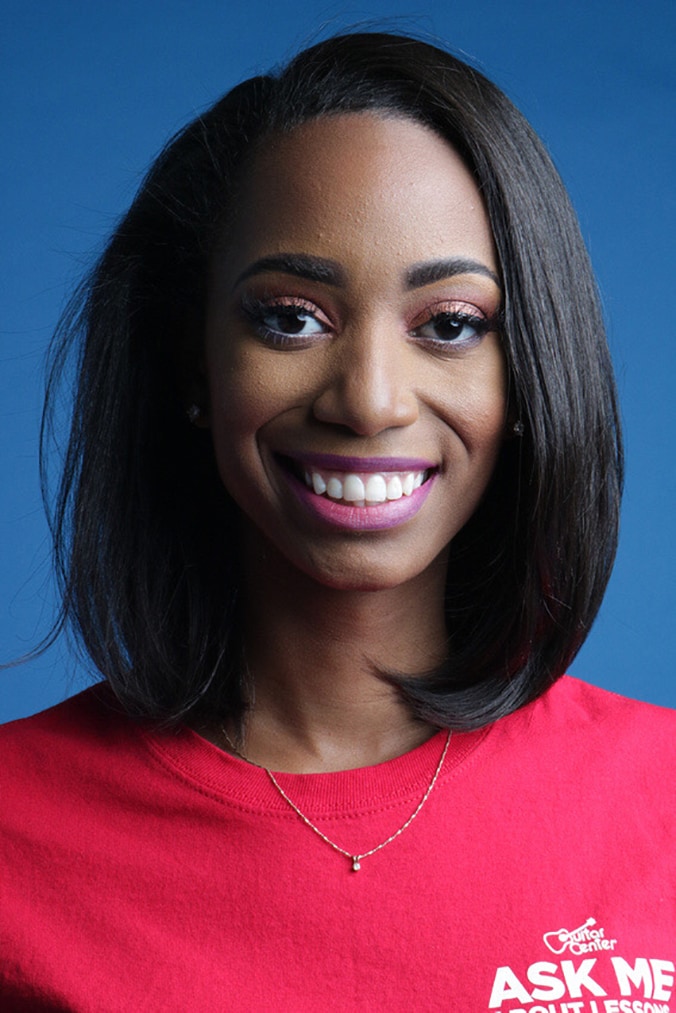 Any practice tips? What rudiments do you think are the most important for laying down a solid foundation as a skilled drummer?
Always push yourself to remain uncomfortable. It's so easy to get caught up in patterns, doing what is comfortable for our bodies, or even our schedule. Remaining uncomfortable is a guarantee that you will always continue to grow, because you are consistently thinking of ways to push yourself somewhere uncomfortable. That will always challenge your thinking, playing, and ultimately increase your abilities as a musician and artist.
Practice playing slowly as much as possible. Speed will come naturally. You have to slow down to speed up. Drumming is a language and when you're speaking you want people to actually understand what it is that you are saying.
Lastly, repetition. Repetition builds character.
I believe all rudiments serve their own purpose. I encourage drummers to get a firm foundation in singles, the double stroke roll, and paradiddles. To this day, I still go back and work on those rudiments. They pave the way for when I begin exploring my other rudiments and set me up to play those new rudiments much cleaner.
What guidance would you provide for those that are wanting to learn the drums for the first time and aren't sure what type and how big of a kit, what type of cymbals, heads, and sticks to get? 
I always like to say, "Things speak life to us." Get what speaks to you. I didn't like my first drum kit because of how it sounded, but I loved it because it spoke to me and it was special. When you're first starting on drums, give yourself the freedom to explore and enjoy the journey. Everyone has different taste and that's the fun part. So, get what inspires you and speaks to you. You will know. Follow the beat to your heart.
What are some electronic kits you recommend if people aren't able to play a regular acoustic kit at home?
I really love the Roland electronic kits! I can honestly say they are my favorites, no matter the model. The Alesis electronic kits are also pretty dope, too!    
Thanks for your time, Jazz!
Interested in getting started on drums? Guitar Center now offers private, 1-on-1 music lessons online that you can take from the comfort of your own home. 

Got drum questions and not sure where to start? Check out our drum set buying guide.