You wouldn't expect someone whose first musical inspiration was seeing John Paul Jones' performance on a Led Zeppelin DVD to be one of the leading lights of the current generation of young jazz players, but Dallas, Texas-born, electric and upright bassist Max Gerl defies expectations in a lot of ways. Combining influences from Zeppelin and Iron Maiden to John Coltrane and Wayne Shorter, he's been building a reputation as a player who combines incredible technical facility with a sensitive musicality. This has not only made him an in-demand sideman on the jazz scene, but has created some serious buzz around his debut solo release, Tbilisi. This release showcases his sheer chops on 6-string electric bass on the title track, then gives his upright playing a place in the sun on "If It Happened to Me" and "Suntrip," before switching back to electric for the modern fusion piece, "Counter."
Through his frequent collaboration with drummer Mike Mitchell, aka Blaque Dynamite, a childhood friend from Dallas, and L.A. pianist Cameron Graves, Gerl has caught the eye of such legendary musicians as Stanley Clarke as a player to watch. In switching from electric to upright bass in high school, Gerl took on the first of many challenges, including winning a battle with persistent tendonitis, approaching all roadblocks with a positive attitude and a firm belief in music as a source of inspiration and positivity.
How did you start playing bass?
I had a buddy who got a guitar for Christmas—I think we were nine. I saw it and said, "This is great. I'll get a guitar too and we'll start a band." And he said, "No, no, no. I'm the guitar player. You need to play bass." So, I figured, "Okay. Guess I'm playing bass." I went home and asked my dad what a bass was. He said, "This is a bass." And he put on a Led Zeppelin DVD that had just come out. They played a song called, "Achilles' Last Stand." John Paul Jones is in this white suit, and massive shoulder pads, playing this galloping bass line, and I'm hearing this, seeing this guy look so cool in his white suit, and I'm like, "Yeah, that's for me. I'm going to do that."
By that point, I'd asked to play piano, and saxophone, and cello, so my parents [Ed: both professional classical musicians] were sick of buying instruments. They said, "If you want to play bass, you can get it, yourself. You get $1 every time you do the dishes or rake the leaves." Do the math on that. That's a lot of leaves. I went to Guitar Center in Central Dallas and met a guy named Steve Morgan, who is still there. He sold me my first instruments. I started with the P-Bass—a Squier Precision Bass. I didn't know at the time that John Paul Jones mainly played a Jazz Bass, but the sound is close enough to where I knew it was right. My dad started playing the bassline to "Dazed and Confused." I started asking, "Okay, what fret was his hand on? Where does it go?" It was just one of those moments where you know you're on to something—doing the right thing the right way.
What was behind switching to upright in high school?
The instructor was really hammering me, "If you're going to play jazz, you need to be on the upright," and I didn't really understand why. I was really into John Patitucci at the time, who is amazing on both basses. I saw him doing jazz on the electric so I thought, "Well, he's doing it. Why can't I do it?" Here I am, at 13, saying, "Why can't I be John Patitucci?" The record that finally did it was Wayne Shorter's record, JuJu. That was the moment that really hit me like, "Okay, I get it now. I understand. I need to get an upright. I need to take this serious because this is serious music."
I started hearing the ways cats were playing on records. That's one of the hard things about getting started in jazz on the bass, because recording technology the way it was, you have muffled tone that's difficult to hear that when your ears aren't used to it. I used to be so frustrated trying to hear what Paul Chambers was playing. But the more I started to hear and understand what was happening, the more I began to feel like, "Okay, so playing electric bass, you're the pulse. With the upright bass and jazz, you are an actual heartbeat. You are beating every beat, every quarter note, that's you.
Can you talk a little about your tendonitis and how you overcame it?
I had a couple of different experiences with tendonitis. The first time it happened I didn't know what was going on. I just knew that from the elbow down my arm was on fire. What ultimately got me out of this sort of tendonitis spiral was a book called The Mindbody Prescription by a doctor named John Sarno. Long story short, his concept is that muscular, skeletal disorders, while not necessarily created this way, are severely exacerbated by deeply repressed negative emotions that are so frightening to your conscious mind that the mind will restrict capillaries in a certain part of your body that's being used actively to inflict pain on you, in order to distract you from what is really happening in your subconscious.
I can trace the situations that I feel created that tension in my forearms, and now it's a thing of the past. And it gives you a feeling of power over your own body again. Every time that I get to pick the bass up, it's a gift. Not just the gift to have the ear, and the mind, and the drive to pursue this craft, but just the ability to pick the thing up and put it in my hands and it doesn't hurt, that I can just let it flow and not have to think about what's happening with my body anymore. It's hard to put into words how grateful I feel every day, every time I pick up a bass.
When did you decide to start playing 6-string bass?
I never thought I'd be a 6-string player. There's a lot of people out there like, "Oh, well, Jaco Pastorius only needed four strings." I used to be one of those people, I say with light shame. I had just gotten back from a week and a half in Georgia playing with Beka Gochiashvili, and Mike Mitchell. They're playing these crazy solos, and I'm just up there holding it down. They say, "All right, your solo. You got it." I was playing this Fender Marcus Miller Bass, it's such a slamming bass, but when it came to soloing, the neck felt a little bulky and the range isn't as great as most 6-strings, which are usually 24 frets. I was thinking when I got back, "It might be helpful to have an instrument with little bit more range, where I can feel freer in the upper register." I got online and happened to search MTD and I found this one. I played it and even though the neck's big, it felt good. I thought, "I can be at home here." That bass has been my main instrument for almost five years now.
With the 6-string you get extra low notes, and then you get your extra high notes. I didn't realize it at the time, but the 6-string gives me the ability to play notes in a range that people actually listen to. Having the upper register, I can play ideas that pop now. It's not just low, nobody-but-the-musicians-care ideas. I feel like with this sound that I've been experimenting with, it really gives me the ability to sing things through my instrument. The vocal quality that I love in other instrumentalists—that you hear with sax players, trumpet players, singers—I feel like I have that ability now with the sound that I've been working with.
In the end, it's about the bass I'm playing. The Fender P-Bass, to me, that's the earth, that's the ground that we walk on. It's the foundation. I see the 6-string as an opportunity to be a lead voice—an opportunity to have my voice heard. The upright, to me, is the night time—hanging out at night and having a good time.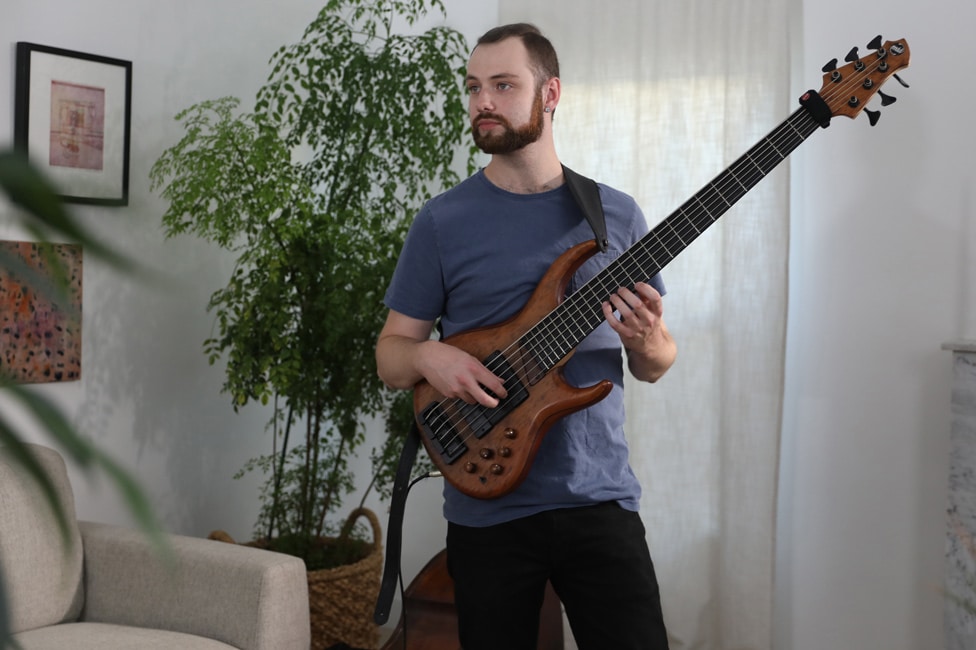 Can you tell us a little about your new album?
My debut album, Tbilisi, recently came out. It took a lot of different factors to put that album together aside from the obvious, you go into the studio, you track it, you put your music together, you mix it, you master it, you promo it. Aside from all of those very physical and tangible aspects of putting it together, I didn't necessarily see myself as a leader for a long time. I'm a bass player in the truest sense of the word, in that I love just getting in and holding it down. I started playing with a pianist named Cameron Graves. He was just schooling me all the time, "You've got to work on your record." I thought, "Okay, you know, what. Yeah, I'll do an album. Why not?"
At the time, we were playing the North Sea Jazz Festival, and Stanley Clarke was one of the headliners that year. I grew up studying Stanley Clarke. He's one of my idols—and Cameron also plays in his band. We finished our set, and Cameron runs over to the main stage to hit with Stanley Clarke. I went with him and Cameron says, "Stanley, you remember Max, right?" Stanley comes up to me and says, "You know, you've been playing with Cameron and Mike so I've been following you for a couple of years, and it's been really cool to see your development, how you've progressed as an artist and a player of the instrument. I really dig what you do." So, you know, my head is spinning. That is super cool to hear something like that from one of your heroes. Stanley says, "If you ever make it out to L.A. give me a call." When I moved to L.A. in January 2019, my list of priorities is, "Buy a bed, make sure that my electricity is on, and call Stanley." We hung out and just talked shop. Then he asked me, "Do you have a record?" And I said, "Well, you know, I'm working on it." And he said "If you can work on your record, it's immeasurable what that will do for you." I started really aggressively making time every day to work on writing. The more I started working on it as a composer, the more I got into the process, finding a three or four note idea, and thinking, "How can I flesh this out? How can I turn this into something?" And by the time we got to rehearsals, and I put the music in front of the band—Aaron Shaw on tenor, Paul Cornish on piano, Mike "Blaque Dynamite" Mitchell on drums—and it just took on a life of its own. I think that was really the moment of falling in love with putting compositions together and leading a band.
My model for Tbilisi was to more or less follow the John Coltrane Quartet. I like piano, bass, tenor sax and drums. I like how that unit sounds. And, you know, as a bass player, you live in two dualities at this day and age where you have your down home, your James Jamerson—you are holding it down, people are dancing—and then at this day and age, we have so many advanced solo artists that have taken the bass to new heights, melodically, harmonically, what they do with the upper register, and I'm personally very interested in both. Part of my dynamic with Mike, my drummer, is that, when I'm improvising, you know, he plays a lot of notes—it's almost like we're boxing. It's almost like we're going at each other when we're playing, and I love that energy so much. I definitely want to leave as much space for my bandmates to do what they do.
What do you think people need to understand about playing bass?
Take any of your favorite records and take the bass off. I guarantee you they don't sound that good anymore. There's something about that duality of riding the line between the harmony and the rhythm that's just so important—about that root, that foundation that's just so much fun—to just be in the middle of the music.
What keeps you going?
My source of inspiration to play comes from a lot of different places. I think that I try and keep an open heart as much as I can, be open to as many outside sources of beauty and inspiration as I can. And, you know, sometimes you wake up and you don't feel like you're ready to compose a symphony, but you keep working on it because you know when the day comes that you do, you want to be ready.
I make music because I need music the same way I need water. You might be able to make it a couple of days without it, but it's essential. If I didn't have music, I don't know what I would do when I get up in the morning. It's a universal language.
Keep up with Max Gerl on Instagram.