Recording and mixing consoles have changed a lot over the years, from tube-driven optical audio recording to compact 500 series modules and analog-emulation plug-ins. In this article, you'll learn about the history and evolution of recording and mixing consoles, from the earliest Western Electric and RCA desks of the 1930s to the latest DAW control surfaces, and how digital recording revolutionized the entire industry.
1930s
Following the revolutionary release of "The Jazz Singer" in 1927—the first feature-length movie to use a synchronized pre-recorded music score and lip-synching, studios around the world began purchasing audio recording equipment for their motion picture productions. Western Electric and RCA made the first consoles and leased them to various studios. With locations in New York and Hollywood, both manufacturers specialized in sound recording for film. The first consoles used optical audio designs, vacuum tubes, and were based on designs found in broadcast, sound reinforcement and telephone equipment.
1940s
After the end of World War II in 1945, new technologies from Germany and other parts of Europe began to make their way to the United States. In contrast to the leasing business models of Western Electric and RCA, manufacturers like Ampex, Nagra, Rangertone and Fairchild were willing to sell their consoles directly to studios. With the continued growth of the audio console market, Western Electric and RCA remained two of the most popular suppliers for film sound recording equipment, until technology advanced in the 1970s.
1950s
The 1950s brought about some of the most significant changes since the introduction of the first consoles, as magnetic tape became the industry standard for recording audio. In 1958, EMI installed the first dedicated stereo mixing system, the REDD 17, at Abbey Road Studios in London. This was the exact, legendary console used by the Beatles and many more, and is often credited with establishing the concept of the large-format console still used today—with faders at the bottom and EQ controls for each channel above.
That same year, the Universal Audio 610 tube console was also invented, offering a ready-made desk for recording studios. As commercial consoles had yet to become commonplace, purchasing one of the earliest 610 desks often meant buying individual modules and building the console on your own. A few UA 610 consoles were actually built by Bill Putnam Sr. (the founder of Universal Audio) himself, and included a custom frame, power supply, metering and basic routing capabilities. Some of the biggest artists of the time purchased custom-built 610 desks to be built by Bill Putnam Sr., including Ray Charles and Frank Sinatra.
1960s
As technology progressed in the '60s, recording and mixing consoles began to switch from the tube-based designs of the 1950s to newer solid-state electronics. The older tube consoles offered a distinct tone compared to transistor-based designs. When pushed harder, tube-based audio gear generally produces a more rounded, smoother sound with pleasing harmonic distortion. This is part of the magic that makes tube gear popular so many years later. Transistor-based consoles allowed for smaller footprints that generated less heat and had lower power requirements. By 1964, Rupert Neve released the first-ever commercial solid-state recording console.
With solid-state condenser microphones growing in popularity during this time, console designers began to incorporate microphone powering capability into their mixers, which eliminated the need for outboard power supplies. During this era, consoles with up to 24 channels, like the famed TG12345, also became popular to accommodate 8-track recording devices. In 1967, the first operational amplifiers were used in professional audio gear, notably as summing devices for multichannel consoles.
The 1960s were a breakout decade for API. In 1967, API sold their first console to Apostolic Studios in New York City and followed up with the 2520 Discrete Circuit in 1968.  The 2520 is a proprietary op amp that's at the heart of the legendary API sound in multiple products, including the 512 mic pre, 550A EQ, 525 compressor, 1604 console and more. Its hallmark is a tone that delivers focused mids, solid lows and classic '70s character. To close out a busy couple of years, the first 500 Series modules, including the 500 EQ, were first introduced in 1969.

Pictured: API The Channel Strip
1970s
If the '60s were considered a breakout period for API and Rupert Neve, the momentum continued into the 1970s with many popular recording and mixing console manufacturers debuting their consoles.
Although Neve was founded in 1961, it wasn't until 1970 that the A88 console was released, which featured the legendary 1073 preamp and its trademark sound of rich lows, forward mid-range presence and pronounced, airy highs. Neve would also go on to release the first 80-series console, the 8078, in 1978.
SSL, founded in 1969, released the first A Series console and SL 4000 B in 1976. A total of two A Series consoles were made and sold before it was reinvented as the SL 4000 B. Six B Series consoles were built and this officially launched the beginning of SSL's international business operations. By the end of the '70s, SSL released the legendary SL 4000 E Series, which would go on to be the foundation for some of the most popular recording consoles in the industry for the following two-plus decades. The 4000 E Series consoles featured a revolutionary Studio Computer and integrated display. It also had all the capabilities and features found in earlier 4000 desks, including an in-line channel strip layout, small faders, EQ/dynamics on every channel, computer-controlled automation and tape machine control.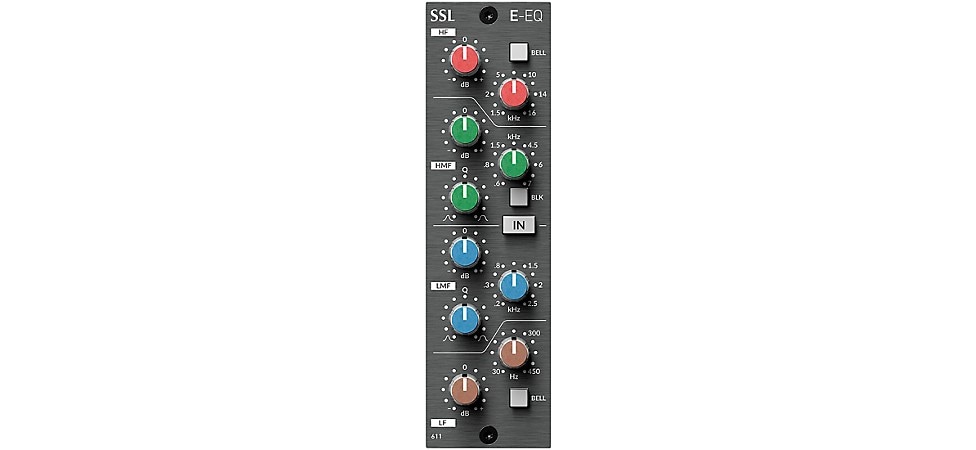 Pictured: SSL E-Series 500 Series EQ
Other manufacturers like Trident, MCI, Harrison and Datatronix would also go on to contribute to the rapidly evolving audio industry. The Trident A-Range desks were designed in 1972. The MCI JH-400 was also introduced in 1972, and boasted the first completely inline console design, inspired by Dave Harrison (who would later go on to found Harrison Consoles). In 1975, Harrison introduced the world's first 32-bus in-line console, the 32 Series. In the world of modular audio, Datatronix released a 10-slot 500 Series rack for API and proprietary modules in 1978.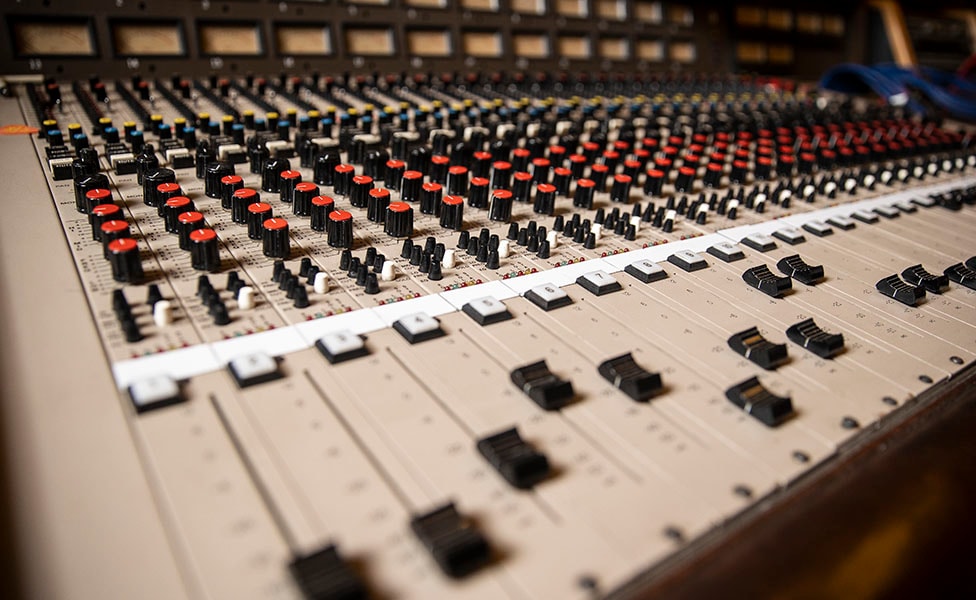 Pictured: Vintage MCI JH428B Console
1980s
The SSL 4000 E Series, first introduced in 1979, went on to become one of the most popular consoles of the decade and is often credited with defining the sound of music during the 1980s. It delivered a classic big-console sound and its successor, the SSL 4000 G added additional mid-range punch that was great when working with vocals, drums or guitars.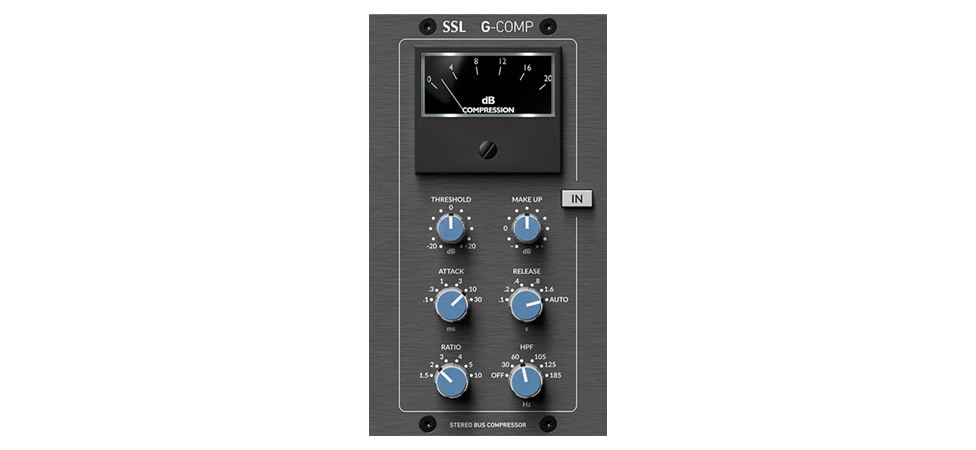 Pictured: Solid State Logic Stereo Bus Compressor 500 Series Compressor
In 1985, Rupert Neve founded Focusrite and debuted the acclaimed ISA line of transformer-based microphone preamps. That same year, AMS Neve (formerly the Rupert Neve Company) released the V Series console, with the first being installed at Yellow Two studios in Stockport, England, and the second installed at London's AIR studios.  Neve desks are generally considered to have a warmer sound, though the earliest V series consoles are a polarizing topic among many audio engineers. By 1988, Neve released the VR console, which included its intuitive Recall software to store and recall settings.
In 1986, Yamaha released their first digital mixer, the DMP7. It was originally designed to be used as an onstage sub mixer to mix synthesizers and tone generators like the DX7, but Yamaha also equipped it with microphone inputs, offered expansion units and actively supported its use for PA systems and recording. As a digital mixer, the DMP7 offered some advanced functionality for the time, including automated, motorized faders and a memory function to recall mixer settings.
1990s
In the 1990s, the digital audio revolution began to take hold with the introduction of Sound Tools, the precursor to Pro Tools. It quickly became popular in commercial studios around the world.
As DAW (Digital Audio Workstation) software became the center of studio workflows for recording and mixing, DAW control surfaces began to rise in popularity. By 1998, the first Pro Tools controller, DigiDesign ProControl, was introduced. It featured eight motorized faders, a meter bridge and an array of hands-on controls that integrated seamlessly with Pro Tools. It made mixing in-the-box more feasible by bridging the flexibility of DAW software with physical faders, advanced automation and controls for AUX sends, mutes and plug-ins.
2000s
In the mid-2000s, home studios continued to become more common as computers became more powerful with each passing year. With the DAW firmly established as the core of most studios, many engineers and enthusiasts began to look for ways to bring analog vibes to their digital recordings. As a result, 500 Series modules began to grow in popularity, with more manufacturers jumping into the fray, including acclaimed brands like Neve and SSL.
By the late 2000s, analog emulation plug-ins had advanced to the point of being able to rival the sound of outboard hardware analog gear. The Universal Audio UAD platform, for example, is an industry-leading ecosystem of plug-ins and DSP acceleration that delivers authentic analog sound—from tube compressors and equalizers to vintage reverbs and tape machines. The Universal Audio DSP has become so powerful that UAD plug-ins are widely considered to be the gold standard for analog emulation in the digital realm.

Pictured: Universal Audio UAD-2 Satellite TB3 OCTO Core
The Current State
Recording and mixing has become more modular than ever, offering you the incredible power, flexibility and fidelity of digital audio combined with the ability to incorporate the sound of real (or emulated) analog gear. Here are some of the most popular solutions when building a modular system for recording, mixing and production.
If you have any questions or need expert advice on the control surfaces that best fit your needs, contact our team of studio professionals for a free consultation.
Control Surfaces
SSL UF8 DAW Control Surface
The SSL UF8 features an expandable 8-channel DAW controller that can be combined with three additional UF8 units for up to 32 faders of mix capability. Like many advanced control surfaces, it also has plug-in control and makes it easy to navigate through large sessions.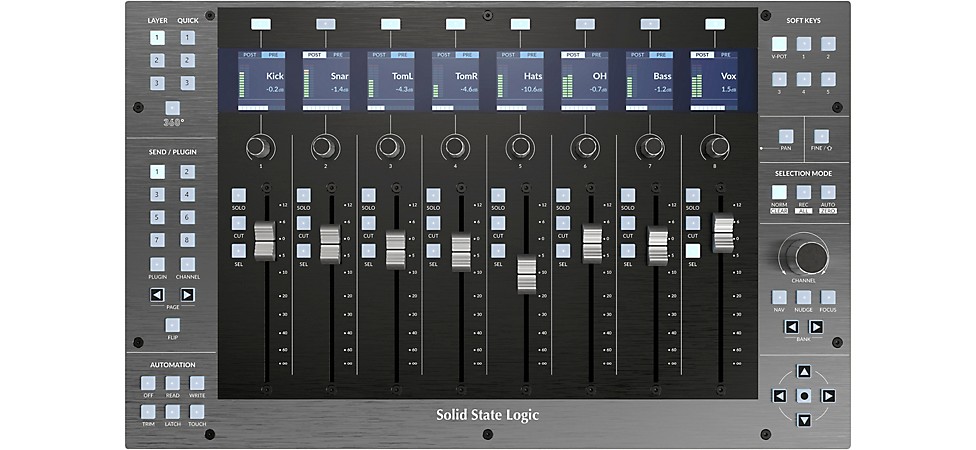 Pictured: Avid S1 8-Fader Control Surface
Avid Dock + Avid S1
The Avid Dock and Avid S1 are a perfect combination to make working with Pro Tools a breeze. Both the Dock and S1 are designed to integrate with iPads—the iPad/Dock combination provides quick-and-easy access to a full assortment of controls, while the iPad/S1 combination offers clear metering in a compact controller that features eight motorized faders and an intuitive interface. The Avid S1 is also fully scalable, so you can connect multiple units to create a digital console that easily handles large mixes. All Avid control surfaces, both large and small, have EUCON compatibility (a proprietary Ethernet-based communications protocol), which offers advanced features and easy interoperability with other EUCON controllers.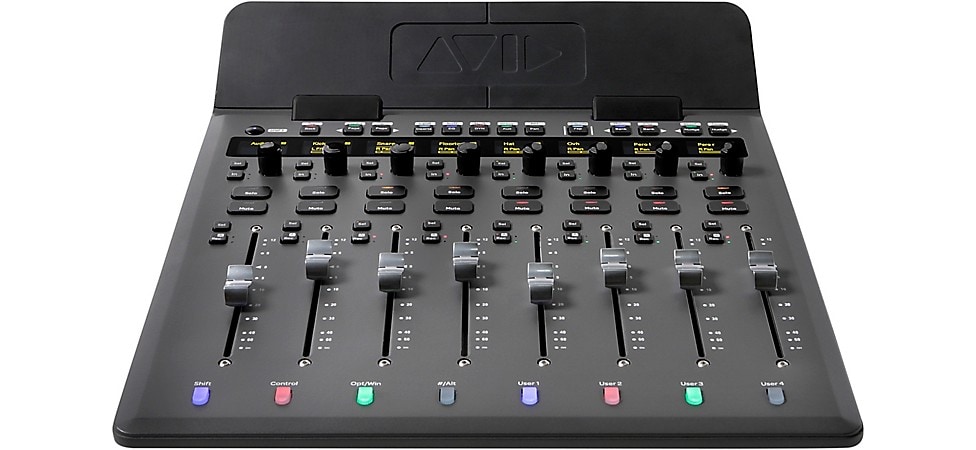 Pictured: Avid S1 8-Fader Control Surface
Slate Raven MTi2
With the Raven MTi2, Slate has taken a unique approach by using a 27" multi-touch display as the actual control surface. Custom RAVEN 3.0 Control Software integrates a toolbar and transport functionality that overlays your DAW. Everything from fader moves to plug-in settings are simply a touchscreen tap away.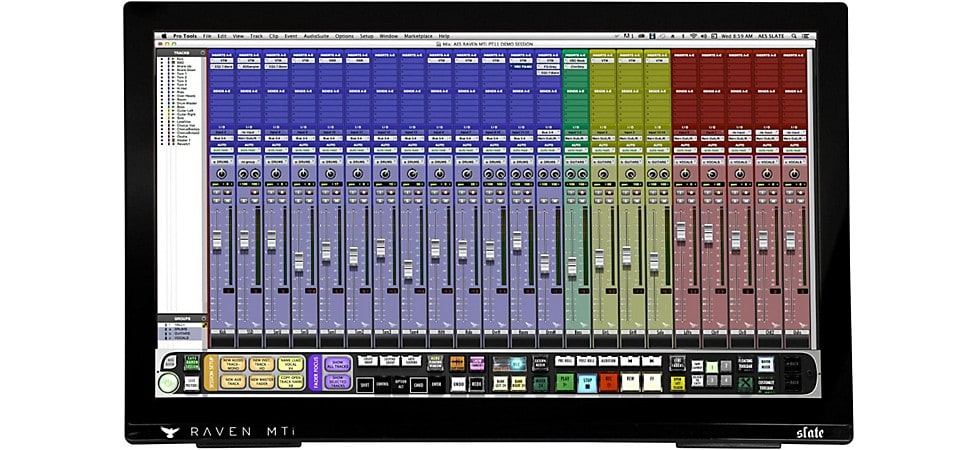 Pictured: Slate Raven MTi2
PreSonus FaderPort 16
Though not as full featured as the SSL UF8 or Avid S1, the PreSonus FaderPort 16 is a very capable controller with an attractive price tag. It offers 16 motorized faders, transport control, digital scribble strips and the ability to quickly navigate between tracks and buses. And with support for Mackie Control and HUI protocols, FaderPort 16 is compatible with just about any DAW, including Pro Tools, Logic Pro X, Ableton and more.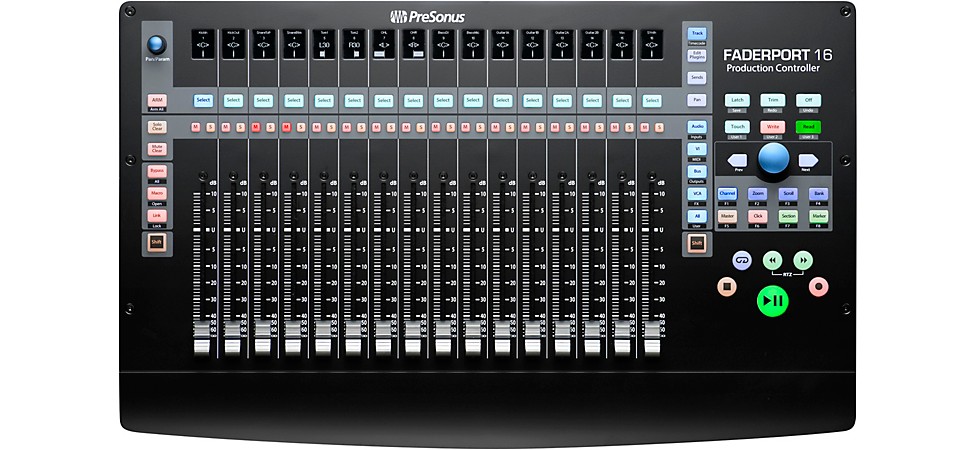 Pictured: PreSonus Faderport 16
Slate Raven MTZ
As the bigger sibling to the MTi2, the Slate Raven MTZ features a 43" capacitive display with ten multi-touch points. The MTZ is already turning heads, as it will be installed in the world-famous NRG Recording Studios Mix Room C, replacing an older large-format analog console.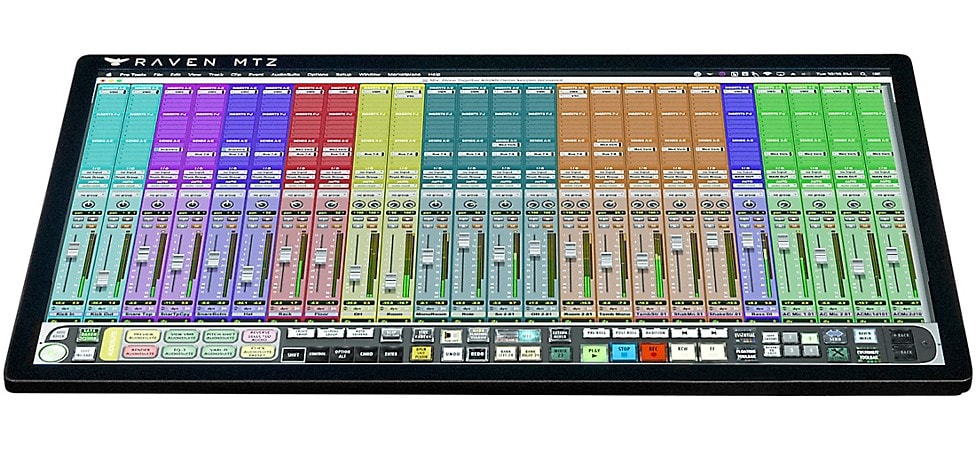 Pictured: Slate Raven MTZ Multi-touch Production Console
Avid S4
The Avid S4 is a modular DAW controller that supports up to 24 automated faders. The S4 includes four assignable knobs per channel and can connect to two workstations simultaneously. As a modular system, there are an array of customization options, including riser kits and fader expansion modules.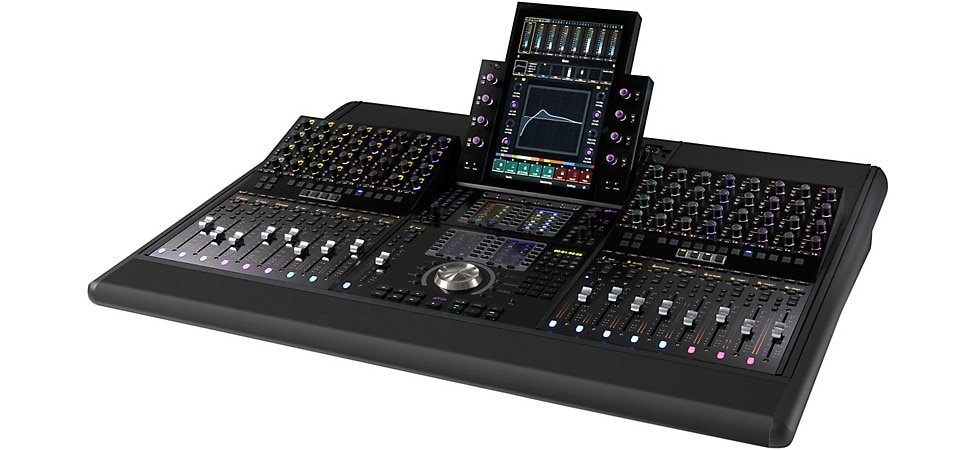 Pictured: Avid S4 8 Control Surface
Avid S6
As the flagship control surface by Avid, the S6 is the most customizable DAW controller on the market. From a basic eight-fader controller to an advanced Dolby Atmos mixing console, the Avid S6 delivers the ultimate in power, flexibility and expansion capability. There are a wide range of modules available, including the M10 and M40 Master Touch Module, Master Automation Module, Fader Module, Process Module, Knob Module and Display Module.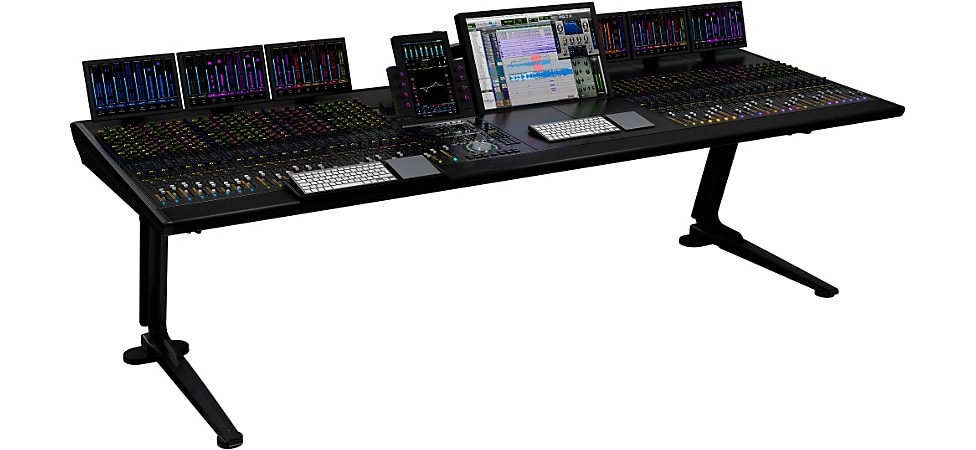 Pictured: Avid S6 M40 32-9-D Modular Console
Avid S6 and Dolby Atmos
Avid S6, in conjunction with Pro Tools | Ultimate, delivers one of the most integrated Dolby Atmos mixing solutions on the market. With programmable knob layouts and custom modules designed for surround mixing, the S6 provides an easy way to make mixing decisions on the fly. It also happens to be the most affordable console in the industry for Dolby Atmos mixing workflows.
Summing Mixers
Phoenix Audio Nicerizer Junior - 16-Channel DAW Summing Mixer
Many engineers prefer to do their summing in the analog domain. The Phoenix Audio Nicerizer Junior offers just that, with a design that's known for precision imaging and a robust tone. It features 16 channels of Class A, discrete transformerless inputs and a Class A, discrete transformer balanced output stage. There's also individual pan control for each channel and two master mix bus output level controls.
Pictured: Phoenix Audio Nicerizer 16MK2 16 Channel DAW Summing Mixer
Dangerous Music 2-BUS+ 16-Channel Analog Summing Mixer
The Dangerous Music 2-BUS+ features 16 channels of analog summing and three analog options to add color to your mix. Dangerous Music has a reputation for mastering-grade sound quality and the 2-BUS+ is no different. 

Pictured: Dangerous Music 2-BUS+ 16-Channel Analog Summing Mixer
Rupert Neve Designs 5059 Satellite 16 x 2+2 Summing Mixer
Built on the legacy of the classic Neve sound, the 5059 Satellite features 16 channels of Class A, transformer-balanced sound, dual stereo outputs, and additional controls like pans, inserts and variable Silk/Silk+ Texture. It's considered by many to be the leader in rackmount analog summing.

Pictured: Rupert Neve Designs 5059 Satellite 16 x 2+2 Summing Mixer
Monitor Controllers
Heritage Audio R.A.M. System 2000 Desktop Monitoring System With Bluetooth
The RAM System 2000 delivers mastering-grade stereo monitoring with an impressive suite of I/O—three pairs of balanced inputs, three stereo outputs, cue I/O, S/PDIF input and even Bluetooth for mobile devices. For tracking workflows, there's also two audiophile-grade headphone outputs and a built-in talkback microphone.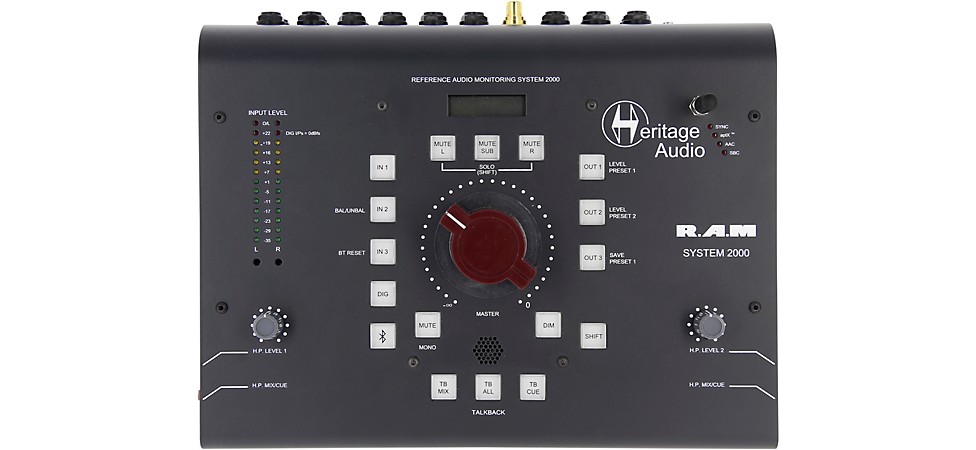 Pictured: Heritage Audio R.A.M System 2000 Desktop Monitoring System with Bluetooth
Antelope Audio Satori & R4S High-end Monitoring Controller
Satori is a TEC Award-winning digitally controlled rackmount analog monitoring and summing system that can be operated with a free mobile app on iOS or Android devices. It features four pristine headphone amps, a talkback mic, analog summing functionality and a generous amount of connectivity—four stereo pairs of line level inputs, four stereo line level inputs on D-Sub 25, four stereo line level outputs on D-Sub 25, four stereo pairs of monitor outputs, a line level stereo summing output and a USB interface. The included R4S controller is a wired desktop remote that operates the rackmounted Satori monitoring system.

Pictured: Antelope Audio Satori With R4S HI End Monitoring Controller
Dangerous Music MONITOR ST Remote-Controlled Source and Speaker Switcher
The MONITOR ST is a 1U rackmount, elite-class monitor controller for tracking, mixing, and mastering that provides uncolored, pristine sound. It features mastering-grade components, a DC-coupled transformerless design and is hand-assembled in the USA. The Dangerous MONITOR ST is the gold standard for studio reference monitoring. The 1U rackmount unit can be kept in a machine room out of sight and operated via the comprehensive, customizable remote.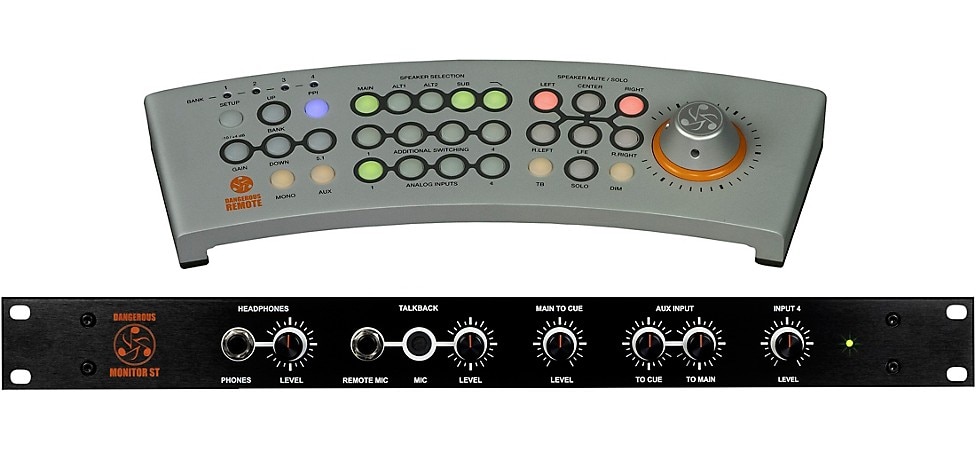 Pictured: Dangerous Music MONITOR ST Remote-Controlled Source and Speaker Switcher
Modern Consoles with DAW Control
There are also several large-format consoles that feature DAW control, including the SSL AWS 924, Neve Genesys Black and API 1608-II. The API 1608-II is unique in that it offers several integrated 500 Series slots for customized expansion.
Analog and Digital Console Wrap Up
The technology that drives audio workflows has come a long way in the last century. And while studios can now easily benefit from the flexibility and power of the digital domain, there is still a desire to retain some of that vintage analog vibe. By designing a modern, modular system that marries the DAW, DAW controllers and real analog outboard gear, you can achieve the best of both worlds and produce remarkable recordings that stand out from the crowd.
Contact our team of studio professionals for a free consultation to explore how to put together a modular recording and mixing system that works best for you.