Whether you're lusting after unobtainable (whether through rarity or expense) vintage gear or new state-of-the-art signal processing, there's a plug-in that does that. We think that the growth of the world of plug-ins may just be the most exciting thing that's happened to recording in a long time. The ever-growing range of plug-ins is vast, so we'd like to offer up a list of some of the most usable, most essential, most sonically pleasing plug-ins available today.
Table of Contents
Understanding Different Plug-in Types
   VST Plug-ins
   AU Plug-ins
   AAX and RTAS Plug-ins
Our Top Plug-in Picks
   Essential EQ—FabFilter Pro-Q 3
   Classic Dynamics—Universal Audio 1176 Collection
   Vintage Reverb Shimmer—Arturia Rev PLATE-140
   Perfect Pitch—Celemony Melodyne 5 Essential
   Devasting Delays—Soundtoys EchoBoy 5
   Legendary Input—SSL Native Channel Strip 2
   Iconic Analog—IK Multimedia TASCAM Tape Collection
   Marvelous Mastering—iZotope Ozone 10
   Absolute Amp Modeling—IK Multimedia AmpliTube 5/a>
   Spectacular Synths—Spectrasonics Omnisphere 2
   Dynamic Drums—Toontrack Superior Drummer 3.0
Tips for Maximizing Plug-in Usage
Understanding Different Plug-in Types
Before we start to dive into specific recommendations, it's worth spending a little time straightening out the different types of audio plug-ins you'll come across. The ones that you'll see referenced are: VST2, VST3, AAX and AU. You'll also frequently see something referred to as VST/AU. You may, if you have an older system, also see RTAS plug-ins, but they haven't been a thing for a while. So, what do all these letter clusters mean?
Why are we telling you all this up front? Because you will want to check before buying a plug-in to use with your system that you're getting and installing the correct version, though most installer software is smart enough to install the proper type. Still, it never hurts to check.
VST Plug-ins
VST, which stands for Virtual Studio Technology, is an interface standard for audio and virtual instrument plug-ins that was developed by Steinberg in 2008. Like all of these, it's essentially a package protocol for passing audio and/or MIDI information to the actual signal processing code of the plug-in. VST2 was an advancement of this standard, and for many years was the standard for Windows OS DAWs and audio software. VST is also supported under macOS, but not quite as universally. You can tell the difference between the Windows and Mac versions by looking at the file type suffix. Windows VST plug-ins will be .dll files, whereas Mac VST will show up as a .vst file. VST3 is the latest version of the standard, and allows for multiple inputs, dynamic input assignment and is much more efficient when it comes to using your CPU time. So, if you've got a choice between VST2 and VST3 versions of a plug-in, go for the newer one.
AU Plug-ins
On Macs, the much more common plug-in type is AU, or Audio Unit. The AU standard was developed by Apple to integrate tightly with macOS and iOS Core Audio structure. In essence, it's VST for Apple. Like VST, it's basically an API (programming interface and package wrapper) that contains the signal processing code. Unlike VST, there is no Windows equivalent of AU plug-ins.
AAX and RTAS Plug-ins
The final type, AAX, for Avid Audio eXtension, is specific to Avid Pro Tools, as you might suspect from the name. It replaced the earlier RTAS (Real Time Audio Suite) format in Pro Tools since version 10. There are two types of AAX plug-in, Native and DSP, with the difference being that the Native format can run with non-Avid audio interfaces, while the DSP version requires the onboard DSP of Avid hardware.
Our Top Plug-in Picks
The 11 categories we are using here are intended to cover the basic range of plug-ins that get used most often in day-to-day recording, mixing and mastering applications. Some are emulations of rare and expensive vintage studio gear, some feature processing and effects that you couldn't manage in hardware, and some combine the two, adding new tricks to a purebred, show-champion dog. So, let's dive in, starting with the most essential of essentials—EQ.
Essential EQ—FabFilter Pro-Q 3
After the volume fader, EQ is probably the most-used processing everywhere in the recording process. The FabFilter Pro-Q 3 is one of the most versatile and adaptable EQ plug-ins we've run across. It delivers exquisitely fine control with up to 24 bands of EQ available, and has metering displays that help you really understand exactly what your EQ choices are doing. FabFilter has also developed one of the best implementations of EQ matching we've seen so far. This makes it easy to create profiles of the overall EQ of tracks that you really like the sound of, so that you can try to match those sounds in your own tracks. Another thing we like is that they have some truly excellent YouTube tutorials that go beyond merely demonstrating the product, delivering lessons in how to approach the entire philosophy of how and why to apply EQ to individual tracks and to a whole mix. This is definitely one of those "you can't do this in hardware" type plug-ins we mentioned above.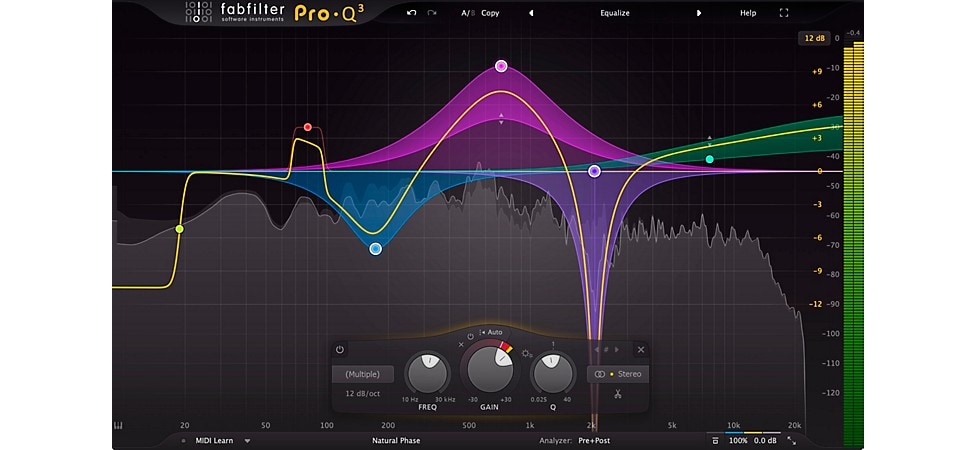 Pictured: FabFilter Pro-Q 3
Classic Dynamics—Universal Audio 1176 Collection
When it comes to dynamics processors, there are few more legendary than the Universal Audio 1176 Limiting Amplifier. Each generation of the 1176, from Bill Putnam's original and exceptionally rare "blue stripe" revision A to the present day, has its enthusiastic fans. The UA 1176 Collection provides the three most popular versions in a single plug-in—Rev A (blue stripe), Rev E (black panel LN circuit) and AE (the much sought-after limited-edition Anniversary Edition), with versions that run either natively on your computer's CPU/GPU, or on the UAD Apollo or Satellite DSP. UA based these emulations on golden examples of the different 1176 generations taken from their own collection.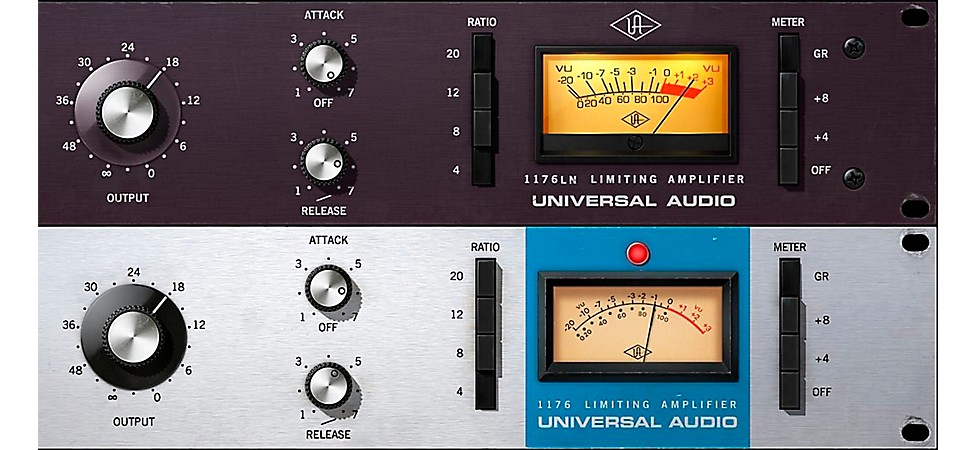 Pictured: Universal Audio 1176 Classic Limiter Collection
Why is the 1176 a legend? It has to do with the lightning-quick response, incredible punchiness and a unique sonic signature that came from the original circuit which was the first workable FET-based compressor when it was released in 1967. Coveted for its utility and character on everything from vocals to drum buses, the 1176 has been a perennial go-to for decades. Some engineers loved the sound of the circuit so much that they would even turn off the compression/limiting and just run a signal through it for the unique grit and punch that the 1176 supplied when pushed hard.
As a dynamics processor, the 1176 is incredibly easy to use. Because it's a program-dependent unit, the attack and release, in essence, adjust themselves based on the input and output levels set by the user, and the selected compression ratio. This plug-in also duplicates the "all-button" mode (also known as the "British" mode, after the engineers who discovered it), which creates a not-quite predictable compression that is even more dependent on what the incoming signal is doing. Whatever it's doing seems always incredibly musical and appropriate.
Vintage Reverb Shimmer—Arturia Rev PLATE-140
What do you get when you take a sheet of metal, hang it in a frame, attach multiple transducers to it, feed one a signal and use the others as pickups? You get the smooth, lush sound of a classic plate reverb—and there's no finer example than a vintage EMT 140 plate. Since most of us don't have a spare soundproof room we can dedicate to one of these 500+ lb., ping-pong-table-size units, it's great that there are virtual versions. One of our favorites is the Arturia Rev PLATE-140 plug-in.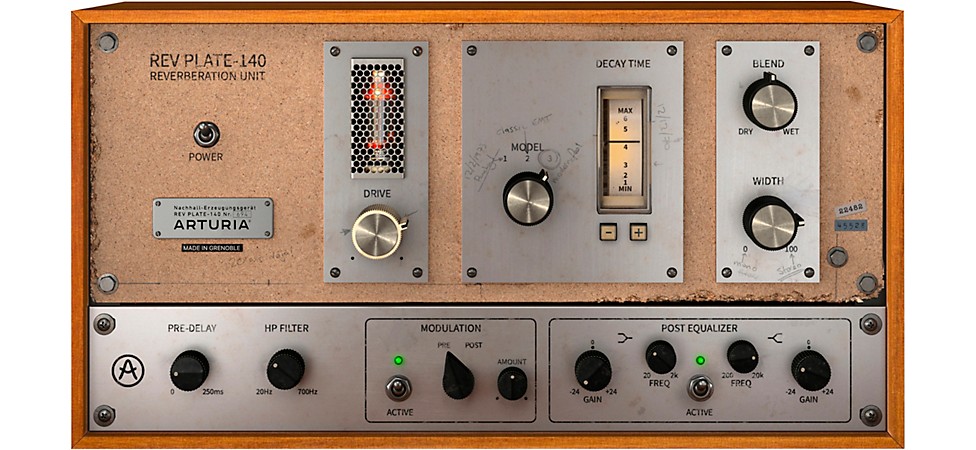 Pictured: Arturia Rev PLATE-140
Boasting more clarity and definition than the traditional spring reverbs and available to studios that didn't have the space or resources to engineer and build dedicated echo chambers, like the famed ones at Capitol Records and Gold Star Studios in Hollywood, the plate reverb became a standard from the date of its introduction in 1957 by Electromesstechnik, or EMT, as they were better known. You varied the "size"/decay of the reverb by using physical dampeners—essentially an adjustable blanket—over the plate. A good plate reverb has a couple of main advantages. First, plates tend to be brighter than many other reverbs, so they tend to provide a little more shimmer, very much like putting a halo around a part. Second, because they don't really define a physical space in the way that a room, hall or chamber reverb does, they can be used in concert with those other reverb types without confusing the ear.
The Arturia Rev PLATE-140 provides a stunning emulation of an original EMT unit, with the added capability of a pre-delay to keep attack transients clean, and adjustable modulation and EQ. You'll love the richness and versatility you can get with this reverb, especially on—but not certainly not limited to—snares, toms and other acoustic instruments. And you don't need to set aside a separate room to use it.
Perfect Pitch—Celemony Melodyne 5 Essential
While some may think of pitch correction as a tool for dealing with out-of-tune vocalists or a way to add singing robots to your tracks, the reality is that it can be an exceptionally subtle and useful tool for much, much more. Celemony Melodyne 5 Essential is a powerful way to discover those possibilities.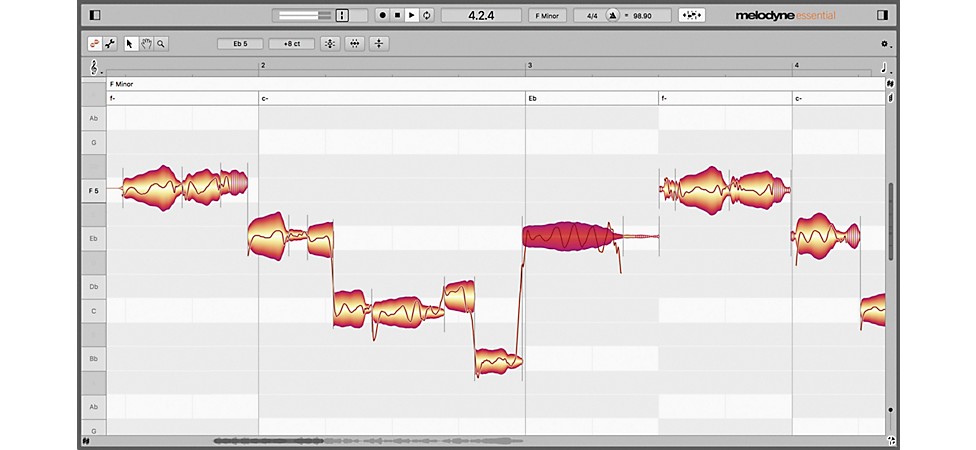 Pictured: Celemony Melodyne 5 Essential
Celemony Melodyne 5 Essential steps far beyond simply pulling a note into perfect tune. With the ability to adjust dynamics, timing and vocal formant characteristics (formants are the non-pitch elements that are unique to a vocalist) as well as pitch, it enables the careful crafting of entire performances. You're not just limited to polishing vocal performances, either. Celemony's advanced polyphonic harmonic analysis enables you to decipher chord voicings from instrumental tracks like guitar or piano, alter those voicings within an existing recording and even craft entirely new harmonies. As a side note, Melodyne is also a great way to help train your ear to recognize chord voicings and harmony, as well as experimenting with how to arrange and orchestrate.
Devasting Delays—Soundtoys EchoBoy 5
We love delay. Not just a single type of delay, but delay in all its variations, from funky tape delay with filthy heads and a slipping capstan driving the tape to perfectly pristine, full-bandwidth, high-bit-depth digital delay. It's all got a place in our music. Luckily for us, there's Soundtoys EchoBoy, with a virtual history of delay effects packed into one seriously versatile plug-in.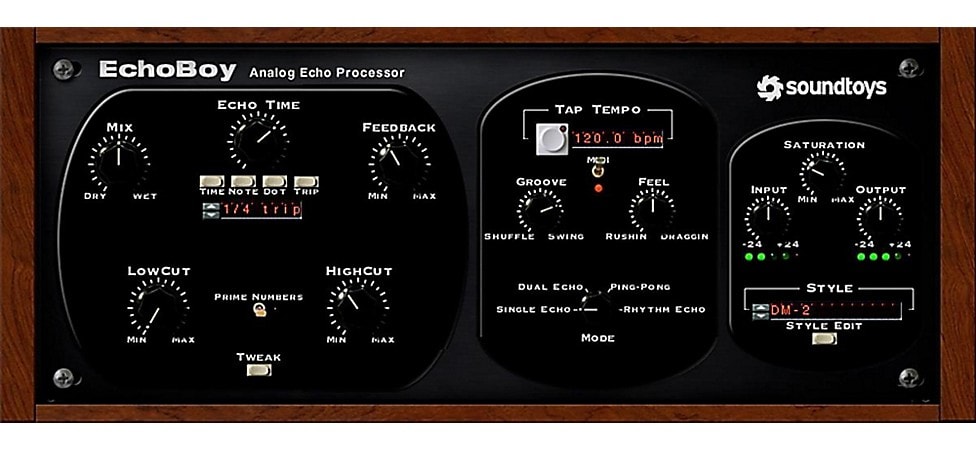 Pictured: Soundtoys EchoBoy 5
The selection of over 30 emulations of delays range from 15 and 30 ips (inches per second) tape-deck slapbacks; single-head and multi-head tape delays, both tube and solid state; the oddly textured "oil-can" delay; classic bucket-brigade analog delays to a wide range of digital delays. As a side note, we admit the concept of doing a digital model of a digital delay might seem odd at first thought, but what gave many of those early digital delays their charm was the imperfections, both in their early algorithms and in the analog circuitry that added interesting character to the resulting signal. Soundtoys has not only recreated the original units beautifully, but has added enhancements and modern control features that hugely expand the sonic palette of the entire range of delays. We've spent hours just playing with the default presets before starting to tweak any of them. The warning for EchoBoy is that you will find hours disappearing in sheer musical fun while you explore everything the plug-in can do. Just the Tel Ray "oil-can" algorithm alone is worth a full day of exploration.
Don't think of the Soundtoys EchoBoy as just a delay though. There are modulation and reverb effects to be had in here as well, with flangers, choruses and more. This is way more than a one-trick pony-ony-ony, and well deserves a spot of honor in your recording setup.
Legendary Input—SSL Native Channel Strip 2
In the bad old days, when your recording console was the size of a compact car, cost more than a house and needed constant maintenance, the sonics of the individual input channels, known as "channel strips," were one of the principal reasons for choosing one board over another. SSL (Solid State Logic) boards were one of the most respected, most sought after of these for the sonic quality and versatility of their channel strips. The SSL Native Channel Strip 2 is a recreation of one of the input channels of the legendary (yes, we do use that word a lot here, especially in this article, because, when it comes to the vintage gear many of these plug-ins are based on, they are definitely legends) SSL 9000K recording console.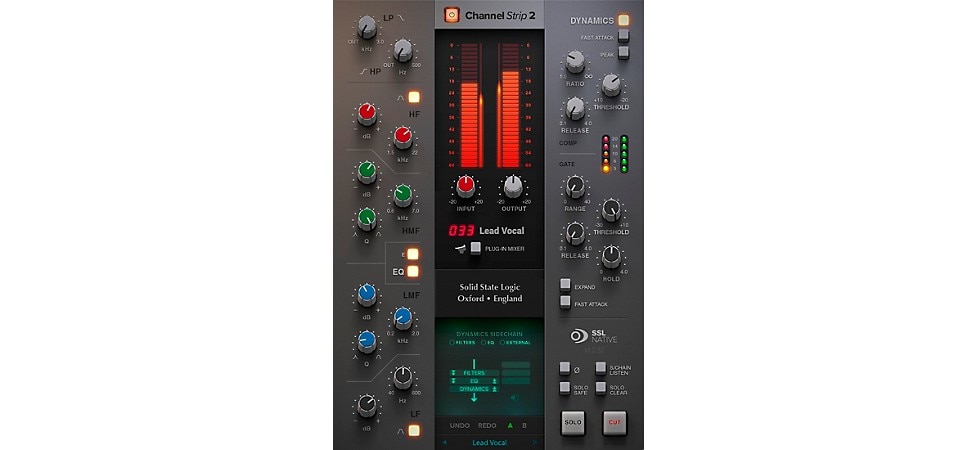 Pictured: Solid State Logic Native Channel Strip 2
The key parts of any channel strip are the EQ and the dynamics control, and the SSL channel strips are especially known for the character of their EQ sections. The E-series EQ is known for its overall smoothness, while the G-series has a more mid-forward character in general, with wider Q (EQ resonance) curves. Different engineers have preferences, especially when it comes to which works better for different musical genres. Well, with the SSL Native Channel Strip 2, you can switch between E- and G-series EQs, depending on which your ear prefers.
The dynamics section of the Channel Strip 2 offers both compressor/limiter and gate/expander, along with a side-chain function that has HPF and LPF (high-pass and low-pass filters). Every studio deserves a great channel strip, and the SSL Channel Strip 2 plug-in delivers.
Iconic Analog—IK Multimedia TASCAM Tape Collection
Many engineers, producers and artists remain enamored by the sonic qualities of analog tape. The distinctive sound of fully saturated magnetic tape has a warmth and a unique compression that remains familiar and iconic. The IK Multimedia TASCAM Tape Collection celebrates the history of TASCAM's tape recording heritage, with emulations of the A-6100 MkII mastering deck, the 3340S 4-track, 388 8-track and the Porta-One 4-track cassette recorder. With a range from the classic lo-fi vibe of the Porta-One to the still-in-demand warmth and character of the A-6100, you can grab exactly the level of tape character you want for any individual track or mastering bus.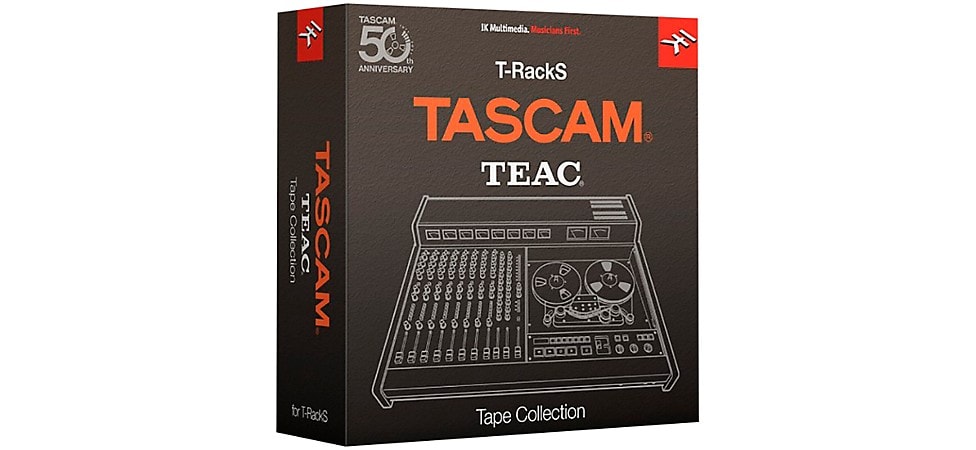 Pictured: IK Multimedia T-RackS TASCAM Tape Collection
Why does magnetic tape sound so warm and pleasing? As is frequently the case with things musical, it's the imperfections that provide the personality. The recording and playback heads of an analog tape recorder are basically electromagnets that take the audio signal and convert it to a magnetic field that aligns the magnetic particles on the tape to record, then reverse that process to convert the recorded magnetic field back to an electronic signal that can be amplified and fed to a speaker. When the field is strong enough, the tape is said to become saturated, which basically means that the magnet particles have moved as far as they are capable of moving. This is also the point of analog clipping. But before the tape starts to clip, the approaching saturation point begins to affect different frequency ranges in the recording. That signature warmth of magnetic tape that we so love is actually the precursor to full-blown clipping, and chasing exactly the right amount of saturation has been the goal of many engineers over the decades. It's the basis of the saying (which doesn't apply in the digital world), "Meters are meant to be red," as going slightly over 0dB, in that old analog world, was where the magic happened.
IK Multimedia's tape saturation algorithms bring that magic to your DAW, as a "glue" for your mix bus, warble for your vocals, grit for your piano—or for wherever your instincts and experimentations take you. The TASCAM Tape Collection plug-in helps you get just the right amount of "wrong" to make your recordings pop.
Marvelous Mastering—iZotope Ozone 10
Mastering recordings has long seemed a mystical art, requiring custom-designed mastering rooms, specialized equipment and "golden ears." While there is still no substitute for having an experienced mastering engineer put the final touches on your magnum opus, for many of us, that's simply out of reach. Luckily, the powerful mastering tools in iZotope Ozone 10 make basic mastering something we all can do. It's packed with powerful mastering tools, a capable analysis wizard and plenty of presets that make it easy to zero in on final results that easily rival or better many online mastering services.

Pictured: iZotope Ozone 10 Standard
If you've never had it done or tried to do it yourself, mastering is the process that polishes a group of recorded songs into a single, cohesive work. Using multiple types of EQ, dynamics processing, imaging tools, spectral analysis and more, a mastering engineer will create an overall sound that can make a collection of songs that may have been recorded at multiple studios over time with different musicians and equipment sound more together, giving them a sonic identity that ties them all together. A good mastering process is like having a fresh set of ears to evaluate what changes need to be made for an album to make sense.
Two of Ozone 10's biggest pluses are the Master Assistant tool and the included presets. The Master Assistant listens to your tracks, analyzes them and makes suggestions based on whether you want a modern or vintage sound. It can also work at matching the sound of the track being mastered to a provided reference track. The available presets range from more general to genre specific, and include presets for using iZotope Ozone 10 to master individual tracks, like an acoustic guitar or vocal track, in addition to general processing of the main output. Our experience is that using these tools with a little personalized tweaking can provide the final polish to turn a demo into a track that's worthy of being released.
Absolute Amp Modeling—IK Multimedia AmpliTube 5
Amp modeling has been on the scene for close to 30 years. As the DSP capabilities of even the most basic home computers evolves, modeling has become more and more refined. One of the best ways to take advantage of this (r)evolution is with IK Multimedia AmpliTube 5. AmpliTube 5 delivers stunning recreations of amps, cabinets, mics and effects, along with the capability for expansion with new amp and effects packs and signature packages created in partnership with major artists.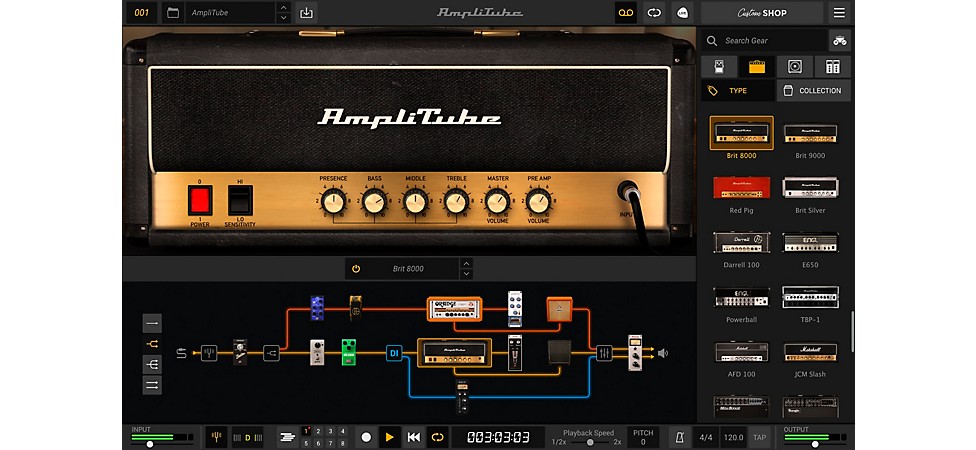 Pictured: IK Multimedia AmpliTube 5
IK Multimedia designed AmpliTube 5 to have extremely versatile signal routing within the plug-in. The meticulously modeled selection of 34 amps, 27 cabinets and 47 stomps, plus a variety of rack setups, can be arranged as a single signal chain or split to feed two or even three different amp models and cabinets—virtually any configuration you can imagine—to get the sonic results you want. It's a great way to construct your dream guitar or bass rig. The expandability of AmpliTube enables you to grow your potential setups, and the integration with IK's new TONEX tone capture system makes the possibilities virtually limitless.
Spectacular Synths—Spectrasonics Omnisphere 2
A great sounding synth is pretty much a requirement for creating modern music, and, even if you've got a collection of hardware synths sitting in your studio, Spectrasonics Omnisphere 2 is something special. With a deep architecture and a massive array of included patches, Omnisphere is production-ready on install, featuring over 14,000 sounds available immediately, but gives you the room for serious creativity as you explore just what it's capable of.
Pictured: Spectrasonics Omnisphere 2 Power Synth
Spectrasonics designed Omnisphere 2 to utilize both sample-based and traditional hardware synthesis techniques with a structure that allows your sounds to be as simple or as complex as you can imagine. Start with a single oscillator or sample, which has, in what Spectrasonics calls a "layer," its own set of filters, envelopes and effects. From that point, you can combine up to four layers to create a patch. You can then combine up to 8 patches that can be played simultaneously as what Omnisphere refers to as a "multi." From this you can see that the potential for building new sounds is virtually unlimited. Omnisphere 2.8, the latest version as of this writing, also has some deep integration with external hardware available, making live performance use a more than viable option.
One of the things we love about Omnisphere 2 is that Spectrasonics has created an instrument that is not genre specific and is really limited only by your musical imagination. Whether you're creating EDM club tracks, working on the next prog extravaganza or doing sound design for film or television, this is a spectacularly versatile collection of sounds and tools for advanced synthesis.
Dynamic Drums—Toontrack Superior Drummer 3.0
Getting great drum sounds is one of the biggest challenges in recording, whether you're working at home or in a fully equipped, well-designed studio. Toontrack Superior Drummer 3.0 is an elegant solution for getting spectacular drum sounds for creating from scratch or doing drum replacement. The huge, over 230GB collection of sounds were engineered by the legendary George Massenburg at Galaxy Studios, with a wide range of kits and styles of hits available.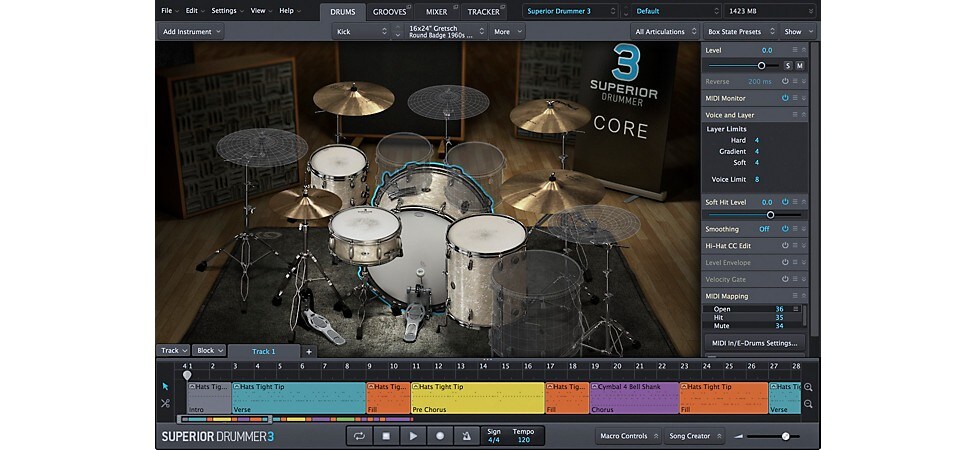 Pictured: Toontrack Superior Drummer 3.0 VSSD
One of the key features of Superior Drummer 3.0 is the ability to convert audio to MIDI, enabling you to easily replace or augment existing drum tracks in a recording. Snare not crisp enough? Cymbals too harsh? Toms not tuned quite right? The MIDI features make it easy to keep the drummer's performance and dynamics while fine-tuning the sounds for more impact or greater subtlety. The individual drum sounds have their own channel strips as well, for added control over tonality and dynamics, should you want it.
Toontrack Superior Drummer 3.0 is also a great addition to any recording setup that's using an electronic drum kit or triggers on an acoustic drum kit. Why limit yourself to the sounds that live in your e-kit's drum brain when there's so much more available. If you are or work with a drummer who plays blast beats, drum replacement is the way to go to get the precision and sonic definition you need.
Tips for Maximizing Plug-in Usage
So, there's your list of eleven essentials, but we want to leave you with a few words about how best to use them.
First, make sure that your DAW system doesn't have any extra programs running that eat CPU time. While a lot of musicians' studio computers also serve as their email, web browser and gaming setups when you're recording—especially when using multiple plug-ins—you don't want incoming emails to cause a hiccup. If you can have a computer that's dedicated to only your recording system, that's definitely the best, but if you can't, just quit any non-recording-essential apps before you start your session.
Second, your DAW's busses are your friends. While running a different reverb on every instrument might be fun, it can end up being a sonic mess and feeling as if the musicians were in different cities, if not countries, at the time of the recording. If that's not the effect you're after, using bus sends to a single reverb can help tie all the tracks together, making them sound all of a piece and anchoring the song. It also can save CPU power, which can be an advantage if you're pushing your system to the limit, and helps you avoid having to "freeze" tracks or print effects to the recording to avoid glitches.
Lastly, unless you're trying to create a new version of the classic "Wall o' Sound" mix, you don't need to use everything at once, just because you've got it. We've always found that thinking through your song and planning out tracks, effects and bussing in advance so that you've got a good idea of what you want the final mix to sound like is a great start. Sure, your target may shift along the way due to the inevitable "what if we … " factor, but having a goal for the song before you hit record almost always makes the process faster and easier.
So, load up those plug-ins and have fun making new music. We're looking forward to hearing what you do with that new gear.