FabFilter FabFilter Pro-Q 3
(1)
|
Q&A
|
Item #:

1500000260337
POS #:115031148
6-month special financing^ + $8 back in Rewards**
Learn More
Save on orders $199+ and get advice on recording gear from a Gear Adviser
Need Help?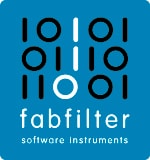 Description
FabFilter Pro-Q 3 will inevitably be the first plug-in you open on almost every channel of your mix. Since its inception, Pro-Q has delivered the highest possible sound quality with an unrivaled interface workflow that is absolutely gorgeous. Pro-Q 2 showed some improvements over the original version, but this latest refresh delivers an advanced set of features that make it a must-have EQ for mixing and mastering.

The most notable new feature added to Pro-Q 3 is the Optional Dynamic EQ mode for all bands (Bell and Shelf shapes), using any slope setting and with perfect analog matching. This means you can attack problem frequencies when they happen, and not have to cut them statically across an entire mix. There's also the ability to see across other instances of Pro-Q 3 across your entire mix to see where any frequencies are colliding and causing masking issues. Pro-Q 3's Spectrum Grab feature has been further improved making it easier than ever to pick out problem frequencies to attenuate, and the EQ Match feature will automatically match the spectrum of another Pro-Q 3 instance or an external signal. However, despite all of the new and improved features, Pro-Q 3 still looks and feels the same, so it remains instantly familiar to anyone who's used any previous versions.

Mix and Master
Pro-Q 3 offers everything that a demanding engineer could wish for: top-quality linear phase operation in addition to the zero latency and unique Natural Phase modes, smooth dynamic EQ, per-band mid/side processing, full surround support (up to Dolby Atmos 7.1.2), an intelligent solo feature, optional Auto Gain and a built-in, fully customizable spectrum analyzer.

Effortless Sound Sculpting
FabFilter Pro-Q 3 is designed to help you achieve your sound in the quickest way possible. Via the large interactive EQ display, you can create bands where you need them, enable dynamic EQ for any band, and select and edit multiple bands at once. Unique features like Spectrum Grab, Full-Screen mode and EQ Match will speed up your workflow even more.

FabFilter Goodies
Of course, you also get all the usual FabFilter goodies: perfectly tuned knobs, interactive MIDI Learn, undo/redo and A/B switch, Smart Parameter Interpolation for smooth parameter transitions, an extensive help file with interactive help hints, sample-accurate automation, advanced optimization and much more.

Features
24-band dynamic EQ with Dynamic Range and Threshold controls and an intelligent Auto Threshold mode
Dynamic EQ bands feature perfect analog EQ shape matching and also support Linear Phase mode
Surround support (up to 7.1.2 Dolby Atmos), with intelligent per-band speaker selection
Per-band mid/side or left/right processing options
Brickwall LP/HP filter slope
Flat Tilt filter shape
Improved spectrum analyzer with frequency collision indication
Option to show the spectrum of any other Pro-Q 3 instance
Spectrum Grab with labels indicating the most important peaks
Match EQs with a post spectrum from another Pro-Q 3 instance in your session
Improved EQ band menu (also accessible via the value display)
Make Dynamic, Invert Gain options and more
Improved Auto Gain with channel weighting
Estimated correction of dynamic gain for a better gain adjustment