The goal of the PA system in a house of worship environment is to help you connect with your congregation. You have a message to share, and you want to be sure the parishioners can hear that message clearly. To do that, you need to be sure you have a microphone that's able to pick up the person speaking wherever they are in the sanctuary. With traditional corded microphones, this can be a challenge. Thankfully, wireless microphones are available, giving worship leaders the freedom to move about the sanctuary and connect with the audience without compromising sound quality.
To better understand how this technology can help in your house of worship, let's take a closer look at wireless microphones, including the types of wireless systems, key wireless system components and considerations when buying a wireless microphone system. We'll then take a look at a few good choices for wireless microphones in houses of worship, including options from Shure and Sennheiser. Of course, you can always reach out to the experts at Guitar Center Professional for help.
How Wireless Microphone Systems Work
To better understand the different microphone options, it's first important to understand how wireless microphones work.
In principle, wireless microphones work much the same way as the radio in your car. A source (the microphone) sends an electromagnetic signal to a destination (the receiver), where they are converted into an audio signal. These signals are sent over "radio frequency" (RF), which are the same type of electromagnetic signals that radio stations, TV studios and walkie-talkie communications use.
Of course, having so many different forms of communication using the same types of signals can be a serious problem. If multiple RF signals are being sent over the same frequency, these electromagnetic waves can collide and create interference, meaning neither signal will be heard.
That's why the government has split these signals into different bands of frequencies to give sufficient room to different types of RF traffic.
You can see this with local radio stations. An FM radio station will license the frequency of 91.7MHz, for example, and no other radio station in the area can use that frequency. Priority communications like radio, TV and government communications are assigned specific bands to ensure their communication is clear. Other traffic, such as wireless microphones, are also assigned radio bands, but these low-power, short-range communications are considered secondary traffic. That's why wireless microphone systems need to be set up to select frequencies with no interference from other sources.
Analog vs. Digital
To ensure your communication can be sent over a clear RF frequency, wireless microphones typically have frequency selection built in, which allows you to dial in an RF frequency that is clear from interference. These frequency options are built within a set range, and which range your wireless microphone uses is an important factor when selecting a wireless stage microphone for your house of worship.
Over the past few years, wireless microphones have been migrating from analog audio to digital audio. In the analog world, the audio signal itself is transmitted over RF waves. Most modern analog wireless systems like the Sennheiser EW G4 Series are transmitted in the UHF band from 300MHz up to 3GHz. These higher frequencies are sent on physically shorter electromagnetic waves that don't travel as far, nor do they pass through physical objects quite as well as other signals. The tradeoff is less potential for interference and higher bandwidth (more information being sent at once), which in analog audio applications often means higher sound quality. If you're using a UHF wireless system, your Guitar Center Professional technician will often recommend an external antenna to be placed near the sound booth to ensure there is ample line of sight from the transmitter.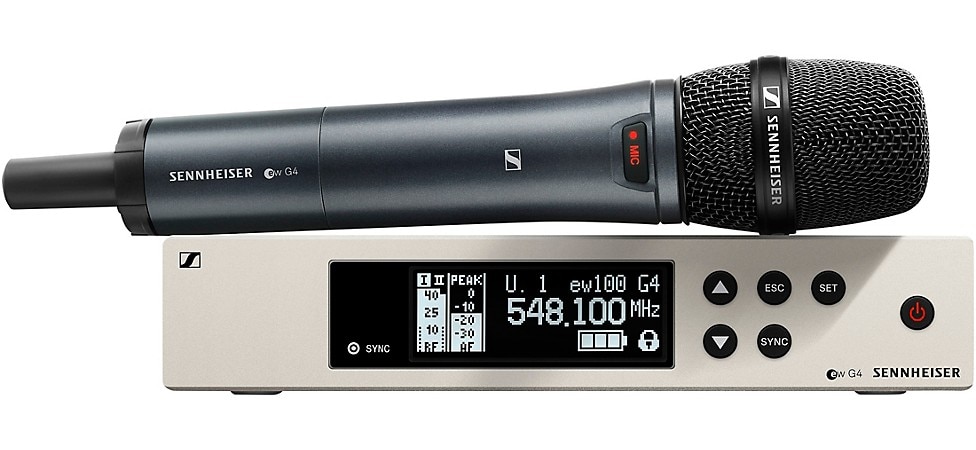 Pictured: Sennheiser EW 100 G4-835-S Wireless Handheld Microphone System
Digital wireless systems, on the other hand, encode the audio into a high-fidelity digital signal before sending, which typically results in a higher-quality audio signal than analog options (though your mileage may vary). Some examples of digital wireless systems include the Shure Axient Digital Series, Shure ULX-D and SLX-D Series and the Sennheiser EW-D Series.
Contact our dedicated team of experts at Guitar Center Professional for a free consultation to help you select the best wireless microphone system for your needs.
Wireless Microphone Components
Now that you have a better understanding of the way wireless microphones work, let's take a closer look at the different components of a wireless microphone system. Within a wireless microphone system, there are two key components that we've already mentioned: the transmitter and the receiver. There are different types of transmitters and receivers, and which option you choose will depend on your situation.
Handheld Microphone Transmitters
Wireless microphone transmitters typically fall into two broad categories: handheld transmitters and bodypack transmitters. We'll start with the handheld transmitters, which are more straightforward. Wireless handheld mics use the same underlying technology as wired handheld microphones, only with an RF transmitter instead of an XLR connector. For wireless microphone platforms like the Shure Axient Digital Series, there are a number of different handheld microphone options available with different features and capabilities. To learn a bit more about different types of handheld vocal microphones, check out our recent article on the 10 Best Microphones for Live Vocals.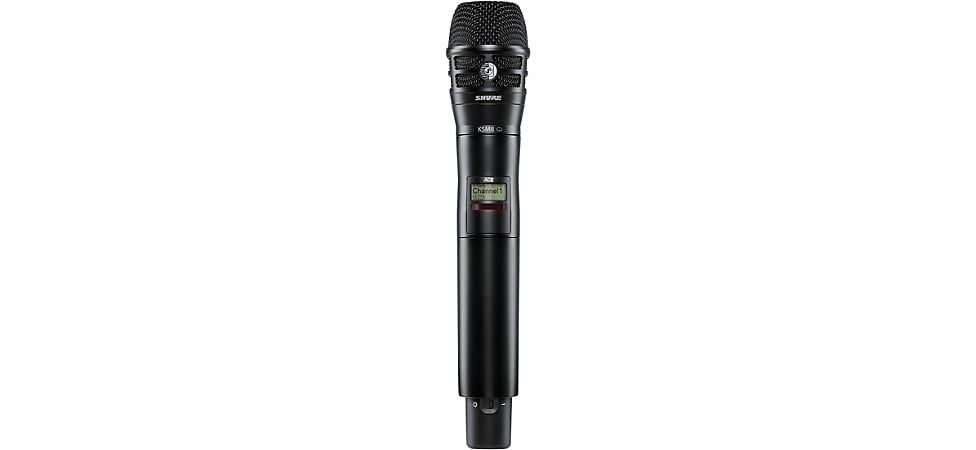 Pictured: Shure Axient Digital AD2/K8B Handheld Wireless Microphone Transmitter
Some examples of handheld wireless transmitters include the Shure AD2/K8B and the Sennheiser EW-D SKM-S HH Transmitter.
Bodypack Microphone Transmitters
When you look at microphones that use a bodypack transmitter, the options get a little more complex. While the bodypack itself is fairly standard, there are several different microphone types for different uses that can connect to this bodypack.
Some bodypack examples include the Shure AD1 and the Sennheiser SK 6212.
For vocals, there are lavalier microphones and headset microphones, each with different benefits. Lavalier (or lav) mics are simple and unobtrusive to wear, as they clip on an article of clothing. Headset microphones, on the other hand, use a hard bit of wire to extend the microphone close to the mouth. The headset is worn over the ear, and many models are available in a variety of colors. Because of their position near the mouth, they typically have good sound quality that remains consistent as the speaker moves their head. Which option your worship leaders prefer will likely be up to personal preference.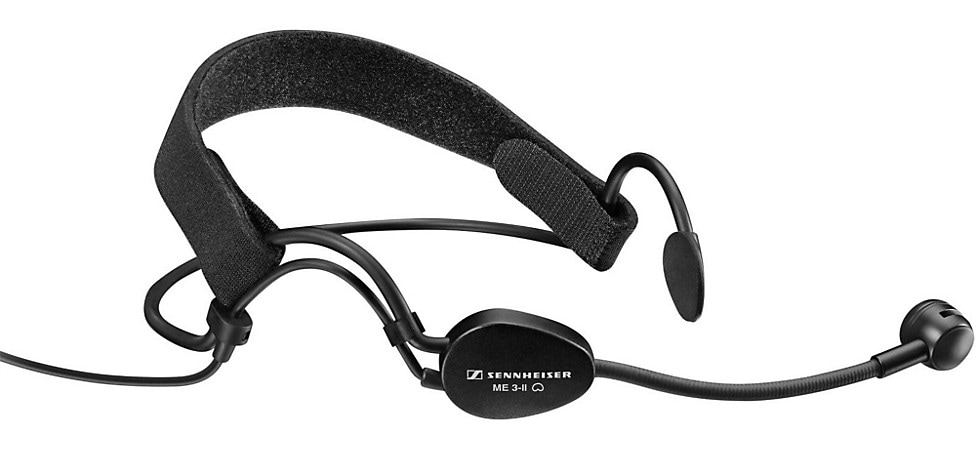 Pictured: Sennheiser ME 3 II Headworn Mic
Lavalier examples include the Shure WL 185 and the Sennheiser ME4, while headset examples include Shure SM35 and the Sennheiser ME 3 II.
Another type of bodypack microphone is the instrument mic. These wireless microphones attach to orchestral instruments such as horns or strings, and function somewhere in between a lavalier and a headset mic, with a rigid, yet adjustable gooseneck and a large clip to attach the microphone to the instrument. For instruments with onboard pickups, such as electric guitars, acoustic guitars and basses, there are also wireless systems for guitars as well.
A couple of wireless instrument microphone examples include the Shure Beta 98 HC Cardioid and the Sennheiser e 908B.
Wireless Microphone Receivers
There are a number of different receiver options depending on your needs, including table-top receivers, half-rack receivers and rackmount receivers. The difference between these receivers is typically the number of channels the receiver supports. Table-top and half-rack receivers typically only support a single wireless channel (or source) and are often sold with a paired wireless transmitter. Rackmount receivers are typically sold separately, and often support two or four channels per receiver.
Recommended Wireless Microphone Systems for Houses of Worship
Now that we've looked at the different components of a wireless system, here are some of the most popular wireless microphone systems for houses of worship.
Shure Axient Digital Series
The Shure Axient Digital Series is a family of high-end digital wireless microphone transmitters and receivers built using top-of-the-line components. Thanks to a broad range of transmitter and receiver options, there are solutions for many applications. With wide tuning, impeccable audio quality and High Density (HD) mode options, the Shure Axient Digital Series is perfect for house of worship applications where sound integrity is vital.

Pictured: Shure Axient Digital AD4Q Four-channel Digital Wireless Receiver
The Shure Axient Digital Series includes the Shure AD4Q Receiver, AD2/K8B HH Transmitter and AD1 Bodypack Transmitter, amongst others.
Sennheiser Digital 6000 Series
The Digital 6000 Series sets a new standard for wireless microphones. The system has intermodulation-free operation with an equidistant frequency grid, allowing reliable incorporation of transmission paths even in overcrowded or very narrow frequency ranges. The legendary long-range (LR) mode guarantees unrivalled quality, while the new Link Density (LD) mode doubles the number of possible channels.
Digital 6000 transmitters are ideal for any onstage application. Choose from the bodypack SK 6000, the mini-bodypack SK 6212 and the handheld transmitter SKM 6000. Additionally, the Digital 6000 series is compatible with the Digital 9000 Series and the camera receiver EK 6042 (LR mode only).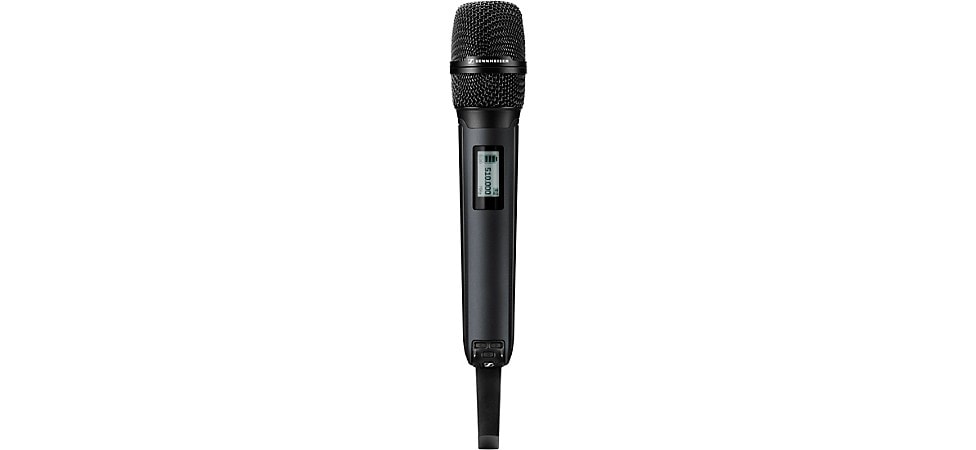 Pictured: Sennheiser SKM 6000 Digital Handheld Transmitter
The family includes the Sennheiser EM 6000 Receiver, SKM 6000 HH Transmitter and SK 6212 Bodypack Transmitter amongst others.
Shure ULX-D Digital Wireless
Large house of worship installations come with unique wireless challenges. ULX-D Digital Wireless is secure, scalable and durable solution that's ideal for large productions. From managing diverse sound sources to protecting RF from smartphones and other stray signals, the intelligent system solves wireless problems of all sizes.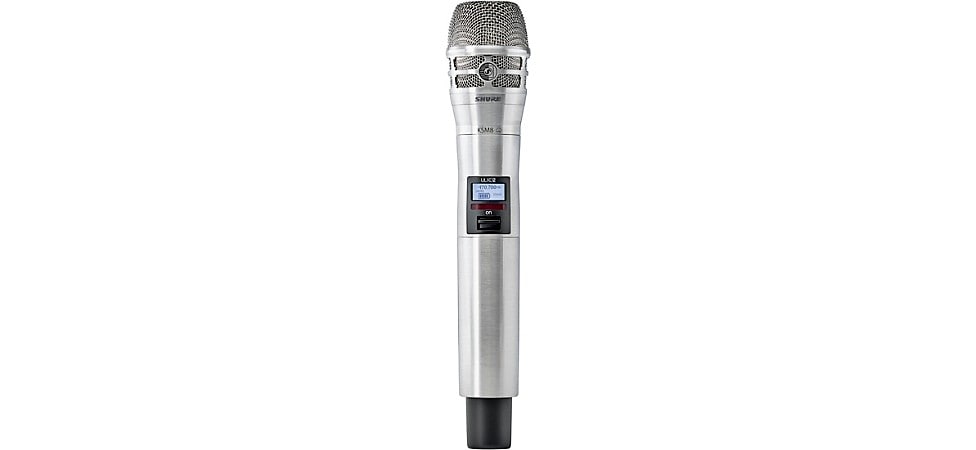 Pictured: Shure ULXD2/K8N Digital Handheld Transmitter with KSM8 Capsule
The Shure ULX-D Series includes the ULXD 4Q Receiver, ULXD2/K8 HH Transmitter and ULXD1 Bodypack Transmitter.
Shure SLX-D Series
The Shure SLX-D Series is a digital wireless microphone system designed for robust performance in applications such as houses of worship, where products see consistent use over many years. The SLX-D Series offers transparent 24-bit digital audio and optional rechargeable accessories, with support for up to 32 compatible systems per 44MHz band.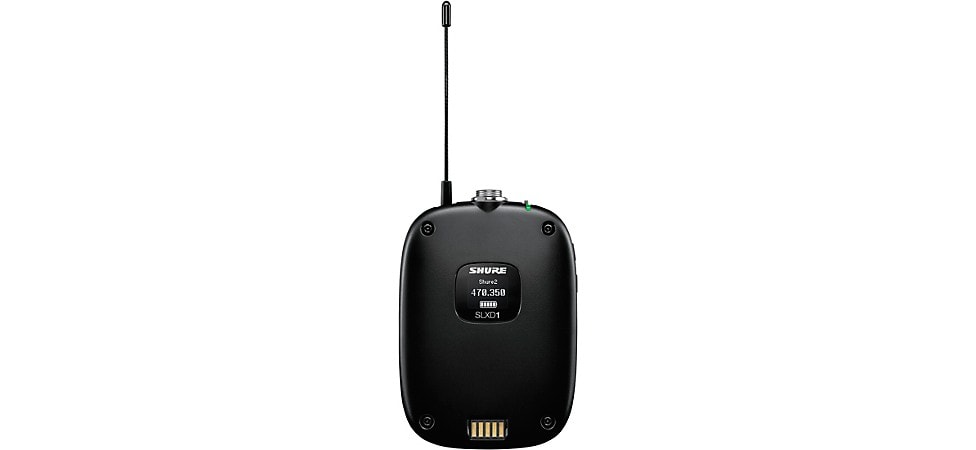 Pictured: Shure SLXD1 Bodypack Wireless Transmitter
Examples include the SLXD/4D Receiver, SLXD2/B58 HH Transmitter and SLXD1 Bodypack Transmitter.
Sennheiser Evolution Wireless Digital Series
The Evolution Wireless Digital Series is an affordable wireless microphone system from Sennheiser that offers pro sound quality, advanced features and several options for handheld and bodypack transmitters. With low latency and the easy-to-use Sennheiser Smart Assist app, the Evolution Wireless Digital Series simplifies setup and management of multiple microphones within a sanctuary.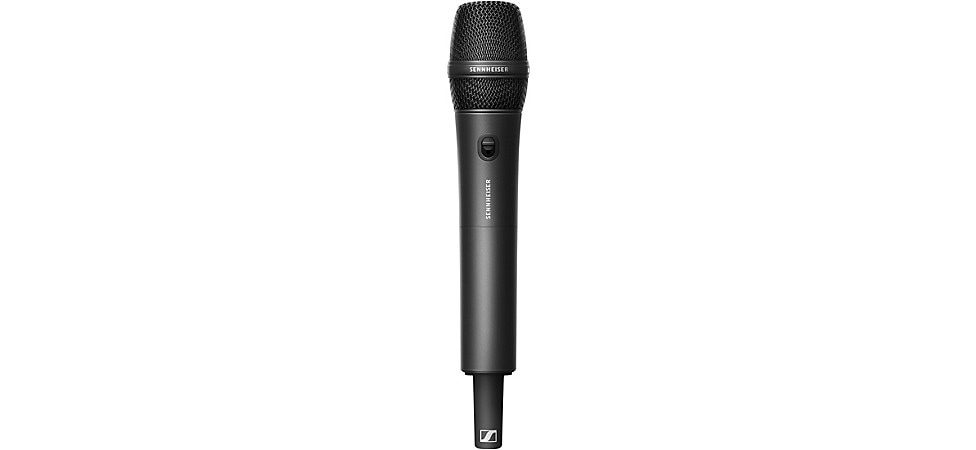 Pictured: Sennheiser EW-D SKM-S HH Transmitter
The Evolution Series includes the EW D EM Receiver, EW-D SKM-S HH Transmitter, MMD 835 Microphone Capsule and EW-D SK Bodypack Transmitter.
In Closing
As you can see, there are a variety of different things to consider when looking at a wireless microphone system, from the type of wireless system to the choice of transmitters and receivers to the wireless platform itself. To help navigate these choices and find the best choice for your house of worship, reach out to the experts at Guitar Center Professional.