Where to Begin?
Whether you're trying to emulate the syncopated ragtime riffs of Scott Joplin or looking to push the envelope in the world of modern electronica, you need a keyboard that allows you to express and explore your sound. But with so many variations to choose from, how do you know what to look for when buying? To help you in your search, we divided your choices into three categories—travel, studio and stage—and have provided a rundown of five popular models for each.
Portable "Slab" Keyboards
Ideal for small spaces and travel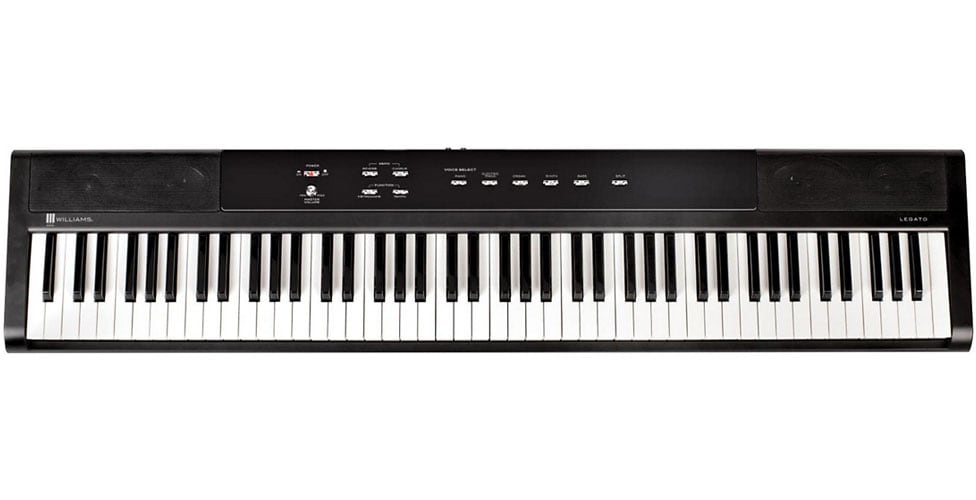 An extremely accessible and affordable full-size, 88-key digital piano, the Legato Plus is a great keyboard to start on. Equipped with built-in speakers and five different sounds—electric piano, piano, organ, synth and bass—this unit can help get you up to speed in no time without breaking the bank.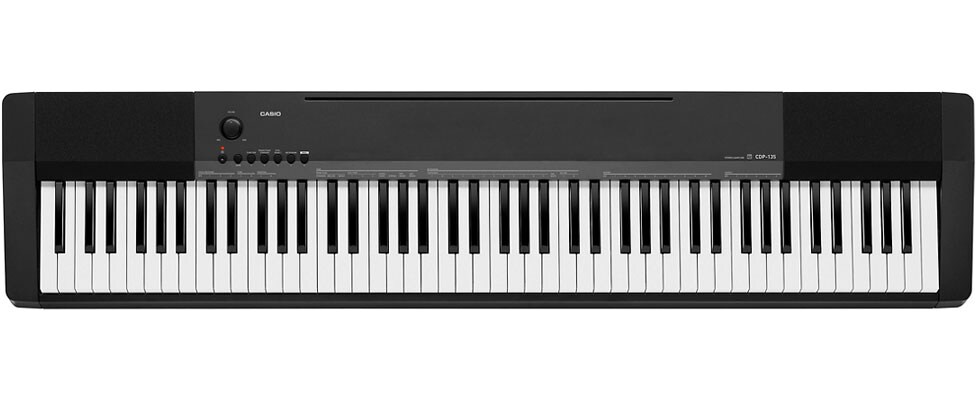 If you're looking for all-around value, you may want to look into the Casio CDP-135. Its 88 fully weighted keys are perfect for replicating acoustic piano feel, and it has one of the most authentic keybeds at this stellar price point. Save time and money piecing together a stand, bench, headphones and sustain pedal by checking out some package options.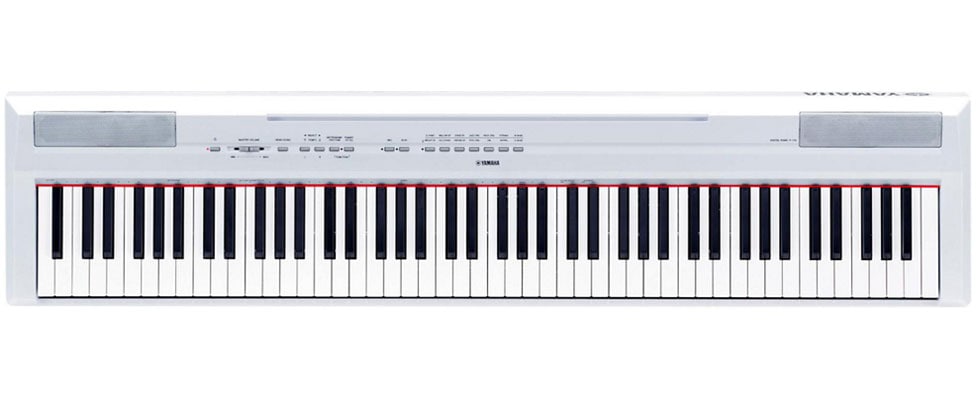 Longing for the classic Rhodes tone in a slab? The Yamaha P-115 has you covered. Its graded-hammer action ensures authentic response up and down the keybed, which is ideal for budding pianists who want to learn proper finger technique. The P-115's balanced piano sounds are enough to soothe the doubts of even the most discerning digital piano enthusiasts, and with extra sounds like clavinet, vibes, strings, plus split and layering functions, you can't go wrong. Available in black and white, the P-115 also has package options.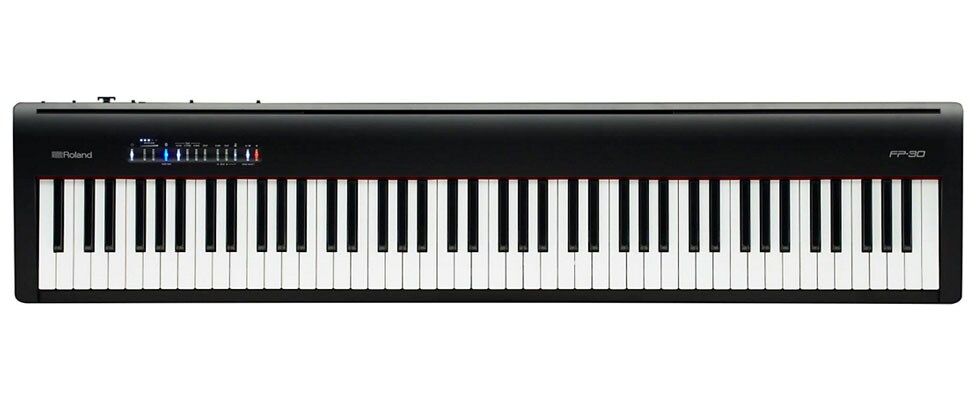 Perfect for in-home use or small practice spaces, the Roland FP-30 is a favorite for students and instructors alike. A variety of organ, string and drum sounds make it a one-stop shop for a variety of uses, and its Bluetooth wireless system is perfect for working with MIDI music apps on mobile devices.
The latest ensemble digital piano from Yamaha, the DGX-660 provides a lot of bang for your buck. From faithful reproductions of classic grand piano sounds to its massive sound banks and Smart Chord features, the DGX-660 will have you sounding like a pro in no time. Want to amplify your voice and sing along through its built-in speakers? The DGX-660 has you covered, thanks to its ¼″ mic input.
Consoles
Ideal for the home or studio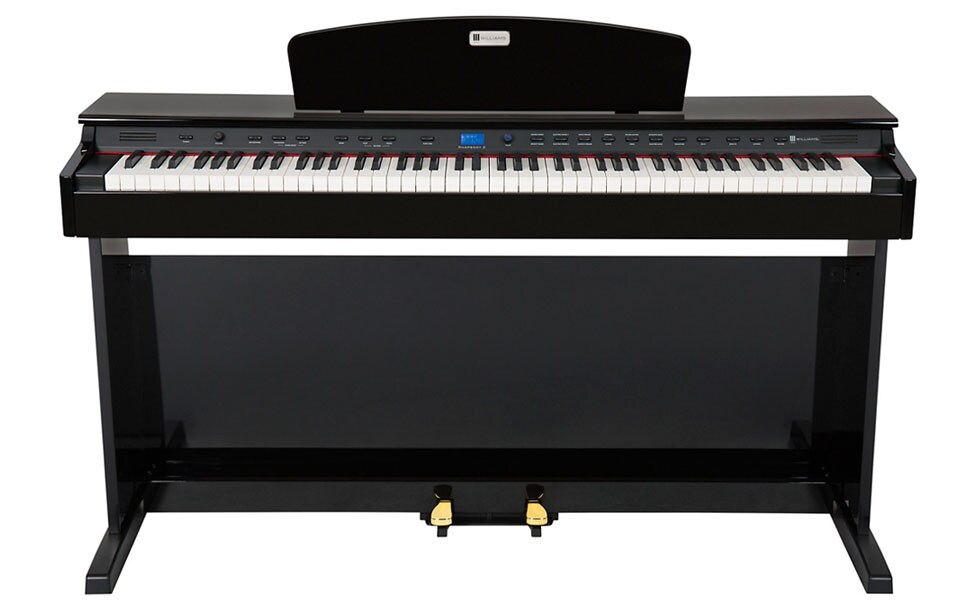 Perfect for home or studio use, and one of the most cost-effective console-style digital pianos on the market, the Williams Rhapsody 2 was designed to reproduce classic acoustic-piano sounds while maintaining all the modern bells and whistles you'd want from a proper digital piano. This includes an array of vintage electric-piano sounds, organs, synths, strings and guitars. Its full 88-key, hammer-action keyboard also ensures classic feel and authentic response.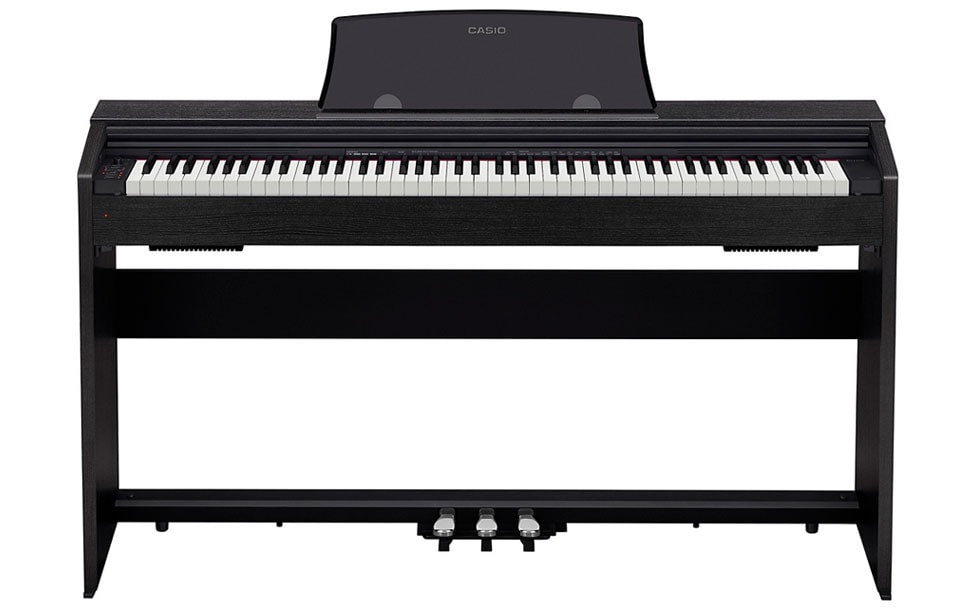 This full-size powerhouse, great for the home or the studio, is equipped with impeccable feel and response. The PX-770 is sleek, elegant and super easy to navigate. Its Concert Play setting allows you to play along with famous orchestral pieces—you can upload personal favorites as well. Feel free to record jams with its two-track MIDI recorder or slow down a tune from its 60-song bank to master it at your own speed.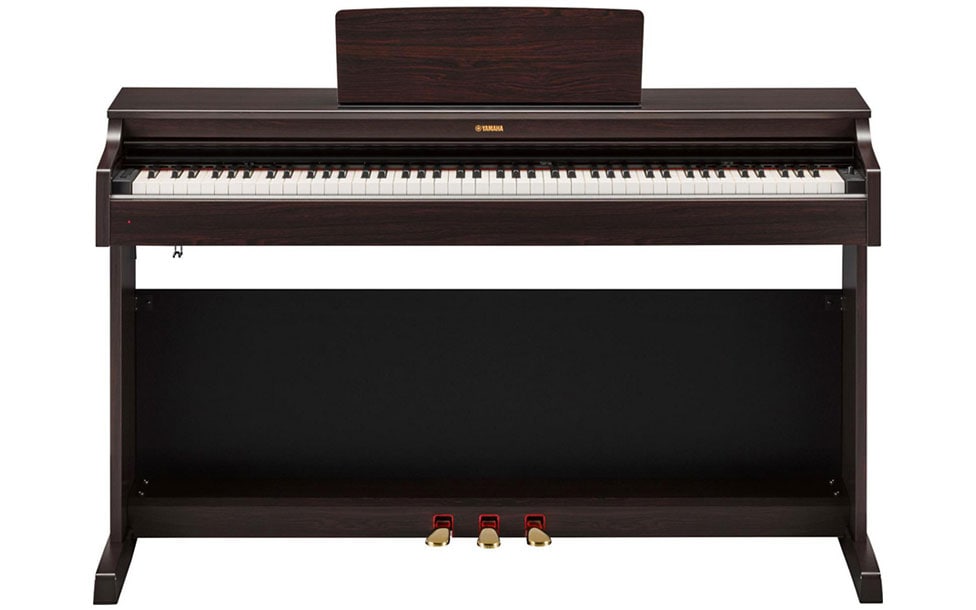 If you're in search of an instrument that looks as great as it sounds, take a look at the Yamaha Arius YDP-163—it sounds flawless at all volume points and is visually stunning. Thanks to its exclusive Intelligent Acoustic Control feature, you no longer have to experience any loss in sound quality when playing at low volumes—play away without waking up anybody.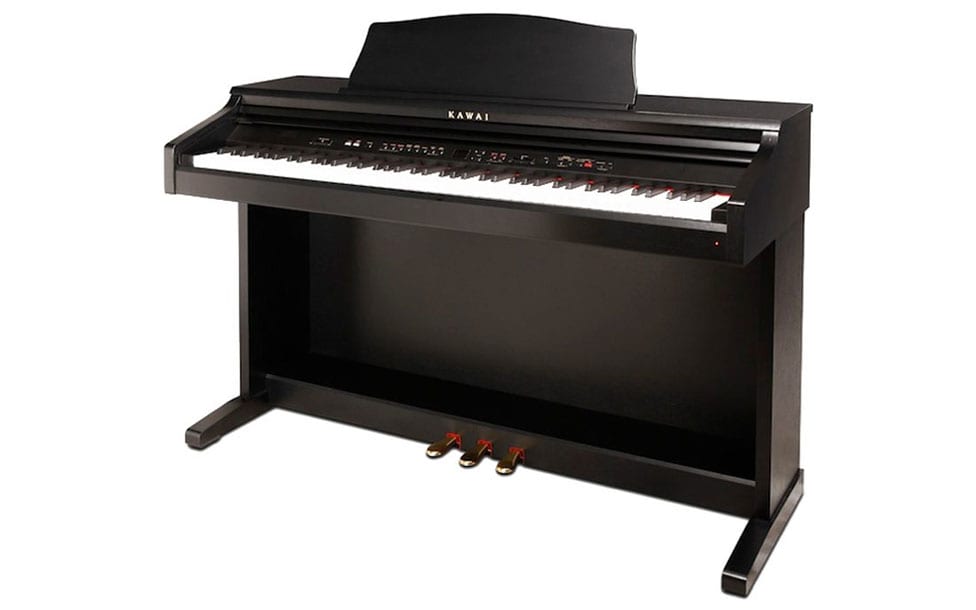 A favorite of concert pianists concerned with quality and precision, the CE220 is a show-stopper. Its graded hammer wooden-key action makes it the perfect choice for a home or studio console, and its exceptional looks are sure to spruce up any room. With features like Dual Mode, you can play two different sounds at the same time, and its split function allows you to allocate distinct sounds between the left and right sides of the keyboard. Combine all of that with a more-than-reasonable price point and spot-on sonic precision, and you've got a truly remarkable console.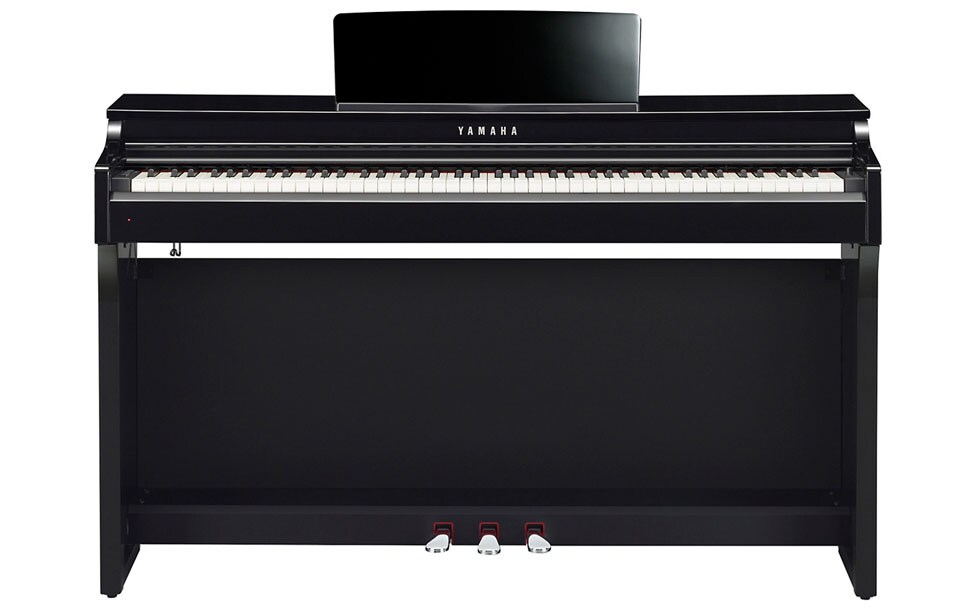 Often described as the "ideal first piano for beginners," the Yamaha CLP-625 also doubles as the perfect household unit. Spawned from the legendary Clavinova line, the CLP-625 truly is a modern classic. The CLP-625 flaunts features even the most experienced players can appreciate—like its accurately sampled Yamaha CFX, Bösendorfer Imperial pianos and Graded Hammer 3X keyboard. It also includes enviable accoutrements that newer players can use to get started, like a USB to host port, which allows you to connect to your computer or mobile device for a wealth of entertainment and educational apps.
Stage Keyboards
Ideal for performance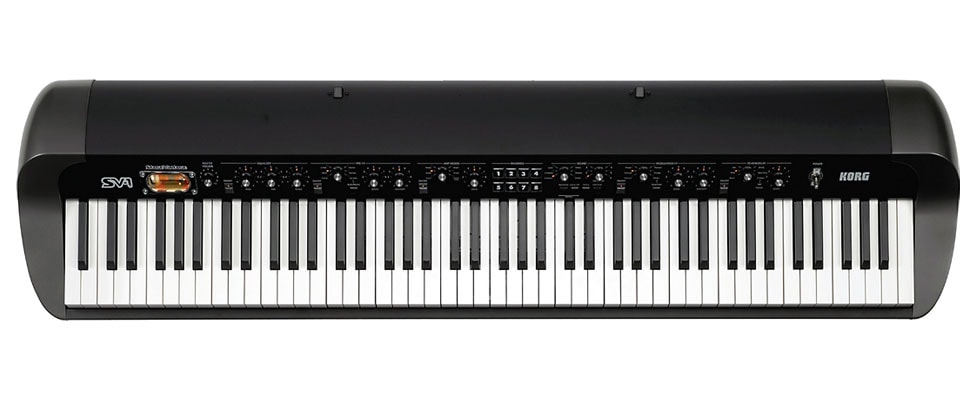 The "SV" in SV-1 stands for "Stage Vintage," and that's exactly what you get out of one of these—a stage keyboard with the look, feel and sound of the classic Rhodes and Wurlitzer electric pianos of yesteryear. Eschewing the complex screens and banks of other stage keyboards, the SV-1 is about as user-friendly as it gets. If you're looking for multiple classic-piano sounds and easily tweakable effects, this is your keyboard.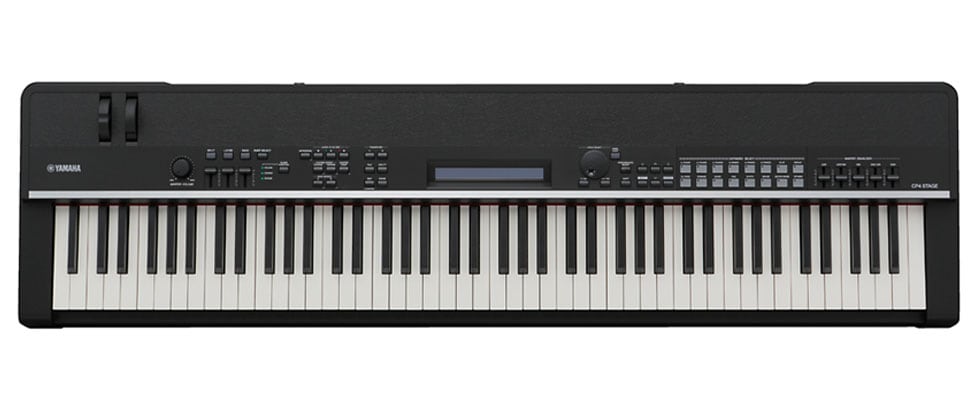 The CP4 is one of the best stage pianos Yamaha has ever made—and that's no easy feat for the legendary brand. Slim, portable, loaded with sounds ranging from bass, strings and pads—all based on Yamaha's flagship MOTIF—the CP4 is a performing keyboardist's dream come true.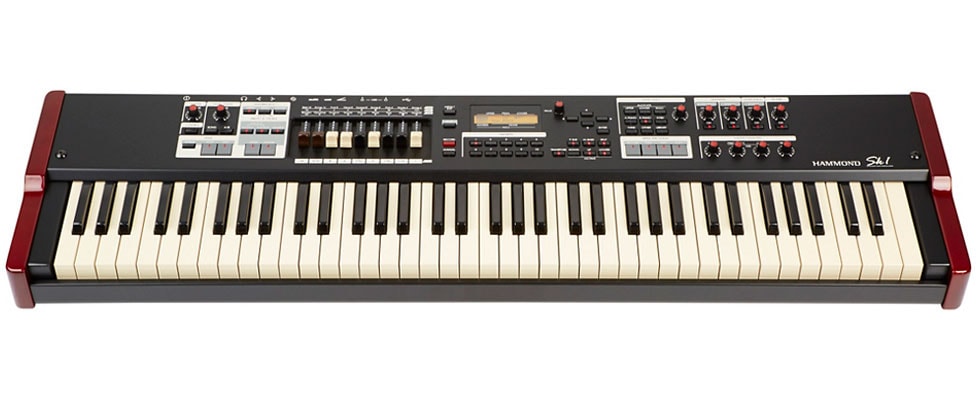 Straight from the folks that put the electric organ on the map, the Hammond SK1-73 is the unit for anyone who desires a portable alternative to the groovy organs that provided the musical backdrop to the '60s and '70s. Authentic touch response and over 90 individual tonewheels are just a couple reasons to give the SK1-73 a good once over—combine that with loads of classic piano sounds, and you've got a keyboard that's sure never to let you down.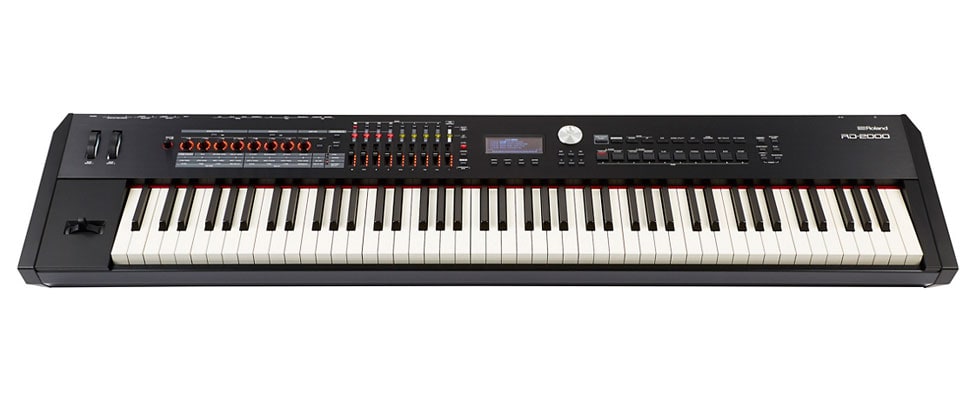 With arguably the finest action to ever be featured on a Roland stage piano and access to a wide range of electric-piano sounds from the '60s, '70s and '80s, the RD-2000 is a force with which to be reckoned. Feel free to scroll through all of the sounds—there are over 1,100 of them. And if that's not enough, you can always check out Roland's Axial Sound website where you can plug even more sounds into the RD-2000's two wave expansion slots. Its eight knobs and sliders, equipped with LED indicators, give keyboardists instant access to all the effects and sounds that are sure to make them shine on stage.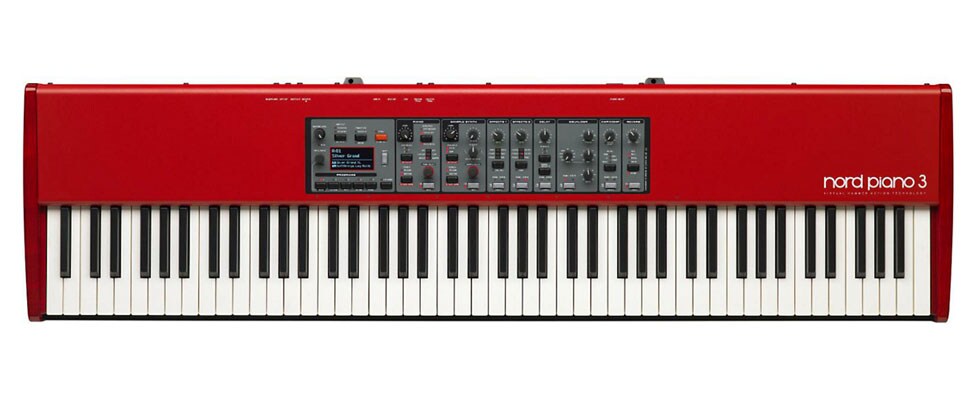 If you're a gigging keyboardist, chances are you've come across the almighty Nord at some point. As the fifth iteration in the Stage series, Nord threw everything but the kitchen sink into the Stage 3. From doubled memory and 120 voices in its piano library to its improved Nord A1 Synth Engine to its fully weighted keys, the Nord Stage 3 is a perfect all-in-one choice for today's working player.