An ever-increasing number of DJs have been finding fresh audiences, building excitement and expanding their reach by livestreaming their DJ sets. When you think about it, it's a great way to broaden your reach and reputation. Plus, you can do it from pretty much anywhere—a live show, your home studio, even from your backyard. In this article, we'll be going over just what you need to get started livestreaming your DJ sets, covering both the gear you'll need and the things you'll need to know to get a stream out that will get the audience grooving right along. And, if you want more info about livestreaming, check out our article, "Everything You Need for Your Next Livestream."
Table of Contents
Streaming Platforms
   Mixcloud
   Twitch
   YouTube Live
   Instagram
   Facebook
Multicasting
   Castr
   Restream
   StreamYard
Gear
   Laptop
   Controllers
   Interface
   Camera
   Lighting
   Visuals
   Software
Step Into the Stream
Streaming Platforms
Before we get to the gear, we need to take a look at what platforms are available for you to use to livestream, what the differences are between them and what you can do on each one. Please note that this is not a comprehensive guide to every streaming service available, but we'll be looking at the major services musicians and DJs are using, as well as a few alternatives if you want to stream to more than one of them. We'll be focusing on streaming platforms that emphasize video streams here.
We are including one caveat: With only one exception, streaming services expect you to have obtained clearance/licensing for the use of copyrighted music for which you are not the rights holder. The whole issue of digital rights is way too big to go into here, and we strongly recommend that any musician should own a copy of Donald S. Passman's All You Need to Know About the Music Business for information and help on matters like this. The most important takeaway here is that you'll probably want to look into some sort of licensing service if you want to be able to stream without worrying about bumping up against music publishers and record labels.
Mixcloud
We'll start with Mixcloud (or M—XCLOUD, as their logo has it), a streaming service that was created for, and aimed at, DJs first and foremost. The biggest advantage this service provides is that they handle all the rights and clearance issues for you, so you can spin whatever tracks you want without worries about DMCA (Digital Millennium Copyright Act) takedowns. Their basic service is free, but if you want to use software other than their proprietary package, like OBS Studio (more about this later), you have to pony up for their Premium service. You also need to step up to Mixcloud Pro if you want to monetize your channel.
Twitch
Twitch is one of the most popular streaming services, and many musicians and DJs have been using the service for livestreaming shows. The service began as a platform for real-time streaming of gaming activities, but music, and especially livestreaming DJs, have become a much larger slice of what they provide. Up until June of 2022, Twitch was fairly liberal in their policy toward licensing and clearance of music, but changed their policy to one very similar to most of the other streaming platforms, so now you, as the streamer, are responsible for obtaining clearances. They offer an in-house licensing service called Soundtrack by Twitch, which has negotiated licenses for a large volume of music. Basic service is free, and there is a provision for recording and uploading your streams to your YouTube channel. Once you're on Twitch, there are a lot of how-to resources available for everything from how to set up your connections for streaming and promote it to how to become a Twitch affiliate and monetize your stream. 
YouTube Live
YouTube Live streaming has spent years as the "big dog" in the livestreaming world, although for music and especially DJ livestreams, it's been losing some ground to more specialized streaming platforms that are more focused on music, as the automated takedown algorithm on YouTube can sometimes be more aggressive than necessary. If you're using YouTube Live to stream DJ sets, you'll have to be extra vigilant about licensing. Monetization (we keep referring to this because we assume you want to make some money off all your hard work) on YouTube Live is a little harder than on some other, more music-focused platforms, requiring a higher subscriber and hours watched count. YouTube does make it easier for viewers to do View On Demand (VOD) of past streams, which can help add to your subscription numbers and, consequently, your income stream.
Instagram
Instagram is great for quick livestreams, but you're restricted to your phone and the vertical/portrait framing. Using the Instagram Live feature, you can stream live and have the stream available for 24 hours. It's a great choice for impromptu quick-and-dirty streams that you don't plan on having available for VOD. Monetization can be done, and the connection with Facebook makes it easy to coordinate through Meta's Creator Studio feature.
Facebook
Facebook Live along with Instagram creates a mini-ecosystem for streaming. Using Meta's Creator Studio feature, you can coordinate across both platforms. Facebook Live offers more creative possibilities than the fast-and-easy Instagram streams, but requires a little more planning. Like with YouTube streams, making sure your licensing is in order is important here to avoid copyright strikes and the possibility of permanent takedown.
Multicasting
What if you want to stream to multiple platforms—something called "multicasting?" There are several available services that enable this. They can even include an option for having a single chat space, so you can interact with your listeners/viewers on multiple services in the same place at the same time. Here's a quick look at the most popular multicasting services.
Castr
Castr is a subscription multistreaming service which allows for up to five different streaming service destinations at once, depending on your subscription level. Your streams can be managed through their website or a convenient desktop app. Castr has the capacity to handle pay-per-view events, schedule pre-recorded videos as VOD sessions and much more.
Restream
Restream offers similar plans to Castr, with support for as many as 20 simultaneous stream destinations at their highest subscription levels. They also have recently (at the time of this writing) added some new features that make it easy to integrate guests with separate audio streams into your streams.
StreamYard
StreamYard concentrates on powerful tools for your interaction with your viewers. They have an excellent chat feature, but if you want to stream in full 1080p HD, you need to subscribe at their upper tier.
That wraps up our quick look at a selection of available streaming services (and there are lots of smaller ones we don't have space to mention), but what about the gear? What else do you need to get you DJ set out there in the virtual world? Let's dive in.
The Gear
You may very well already own most of the gear you need to start livestreaming your DJ sets, but there are a number of items that can make your stream look and sound more professional. Here's a quick look at some of the top choices.
Laptop
While you can stream directly from your phone (and many do), you can get more control and better-quality audio by basing your system around a laptop. You may already be using DJ software on a laptop with whatever controller you have. You should be able to use that laptop to connect to one of the above streaming services as well, whether you're using your phone as a mobile hotspot or connecting through local Wi-Fi or hard-wired Ethernet. If you've got an older laptop, and it might be struggling a little to keep up, we'll just mention that the latest Apple Silicon versions of the MacBook Air (both M1 and M2 processors) are powerful enough, compact, lightweight and affordable as the nerve center of your DJ rig and streaming setup.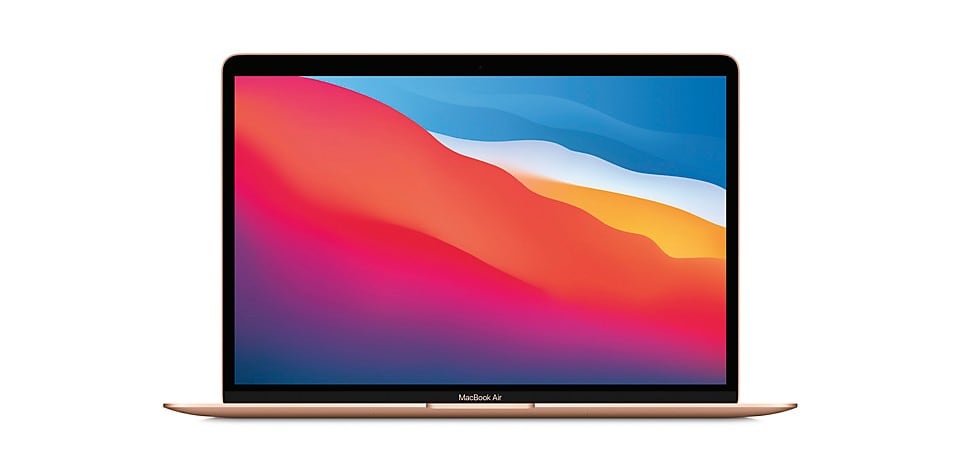 Pictured: Apple MacBook AIR 13.3" 3.2GHz M1 8-CORE 8GB 256GB SSD Gold
Controllers
If you're DJing already, you've likely got an existing DJ controller. But, if you're just getting started, and you're looking for a separate controller that's optimized for streaming, we have two suggestions for you.
First, the Numark Mixstream Pro lets you leave the laptop at home (or use it for other purposes, which we'll get to) with built-in Wi-Fi that can directly access music from Tidal, Soundport, SoundCloud Go+, Dropbox and other online sources. It also has direct control over Phillips Hue and DMX lighting, so all you have to do is spin the tunes and look good. Announced in eraly 2023, the Mixstream Pro + adds support for streaming directly from Amazon Music Unlimited.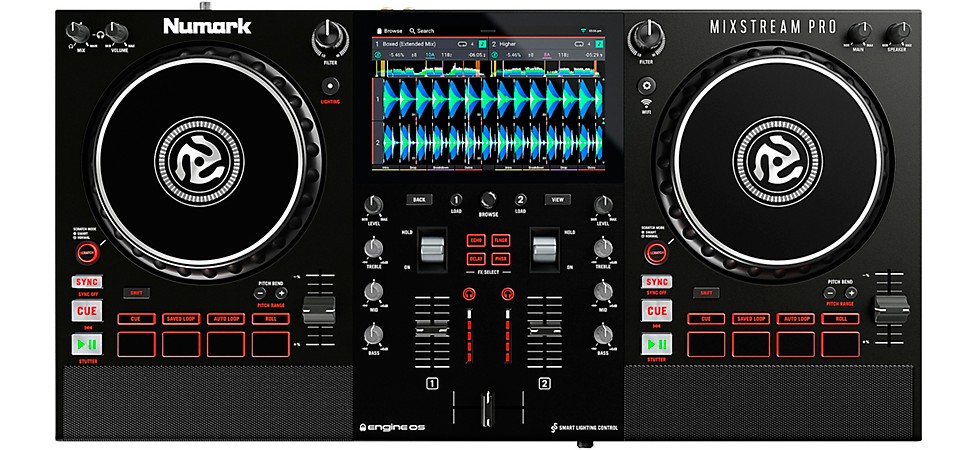 Pictured: Numark Mixstream Pro Standalone DJ Controller
Next, the Roland DJ-707M, a four-channel, four-deck controller with an integrated USB audio interface that's designed for use with Serato DJ Pro, or standalone without a laptop. With multiple inputs, including two XLR mic ins, it delivers incredible flexibility and seamless integration with whatever streaming setup you decide to run. If you're using another all-in-one controller, like the Pioneer XDJ-RX3, or running direct from a media player like the Pioneer CDJ-3000 with a separate mixer, you might be able to just hook directly to your laptop to stream, or you might want to pick up on the next topic we're covering—audio interfaces. You should also take a look at our article on setting up your live DJ rig for some fresh ideas.
Interface
While there are a number of DJ controllers that have some capacity as an audio interface for your computer, yours may not. Or, you may want the added capability that a separate, dedicated audio interface gives you, like the ability to bring in multiple extra audio inputs and added signal processing. At the most basic level, the iRig Stream Solo from IK Multimedia works with iOS, MacOS and select Android devices, giving you a connection to and from your phone and your computer, and has line-level RCA jacks for a direct connection from your DJ mixer.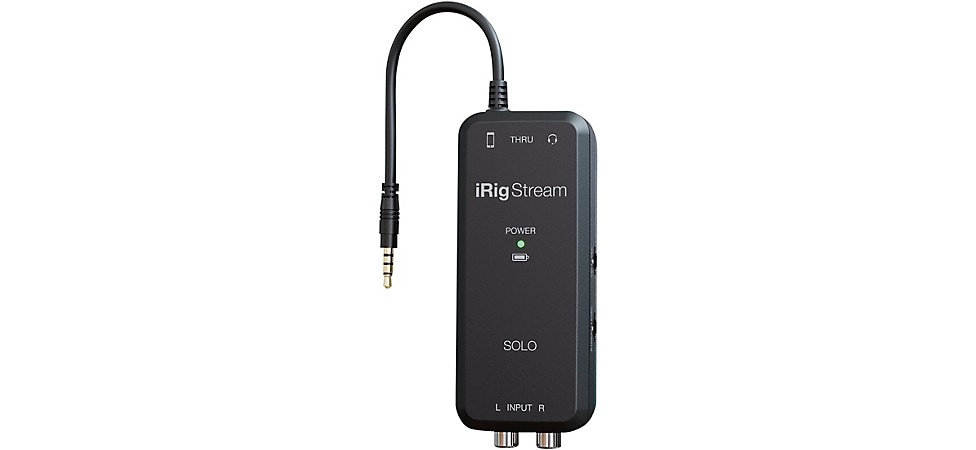 Pictured: IK Multimedia iRig Stream Solo Audio Interface
Stepping up a level, the Mackie M•Caster Live is incredibly simple to use, but provides more power than the button-based user interface would imply. With jacks for a mic, headphones, your phone, your computer, a gaming headset, external studio monitors, and just about anything that can be plugged into a 3.5 mm TRS or TRRS jack, it handles all the audio connectivity you need. It also comes with effects, EQ, vocal processing and more, making it a seriously powerful addition to your DJ rig.
Camera
Sure, you can use the camera in your phone for livestreaming—in fact, if you're streaming on Instagram, it's the only real choice. But wouldn't you like to use that phone for chatting with your audience or other purposes? If so, you'll need a separate camera. HD webcams can do the job, but if you want best audio quality, we recommend something like the Zoom Q8n-4K, which can feed your 1080p HD stream while recording in 4K for possible later editing and upload. It also boasts a pair of balanced XLR mic/line inputs for superior audio feed to your stream.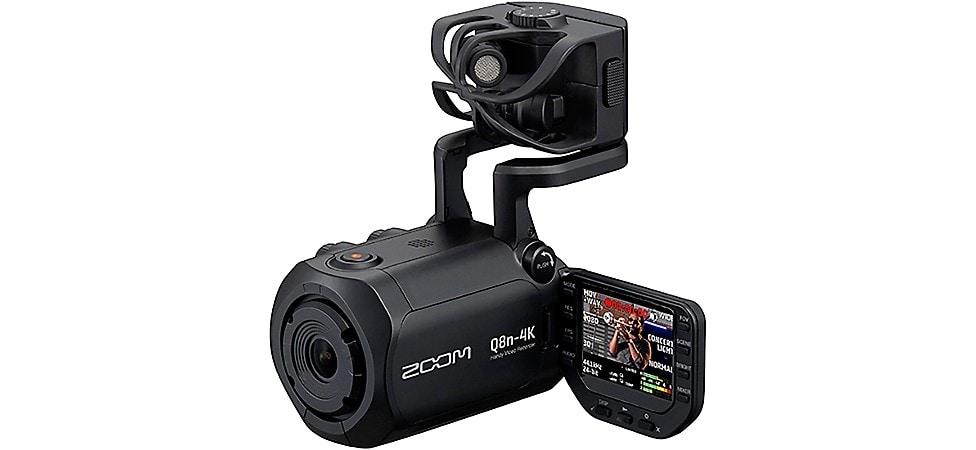 Pictured: Zoom Q8n-4K Ultra High Definition Handy Video Recorder
Lighting
If you're livestreaming from a gig, you've probably got lights to set the vibe, but it never hurts to have a little accent light on your face, so it doesn't get lost or washed out. The VocoPro Streamer-Live combines a boom stand, USB audio interface with built-in effects, handheld condenser mic and LED ring light, making it easy to get a basic stream that looks and sounds good, right out of the box.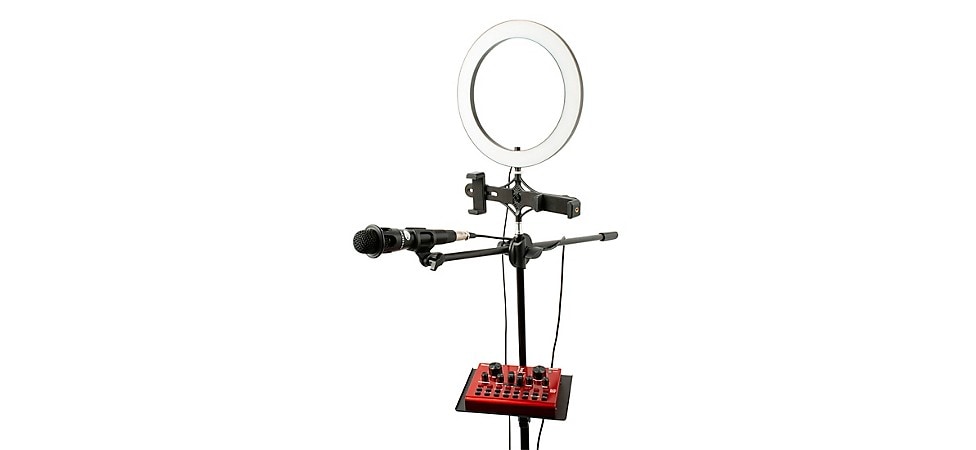 Pictured: VocoPro Streamer-Live
Visuals
If you want to go completely high-end production value, consider the Roland V-02HD video streaming mixer. You can use the dual HDMI inputs for a pair of cameras or use one of the them as a feed for multimedia output from your computer or a media player, adding spectacular video effects to your show. Or, take the next step and step into the world of video streaming software.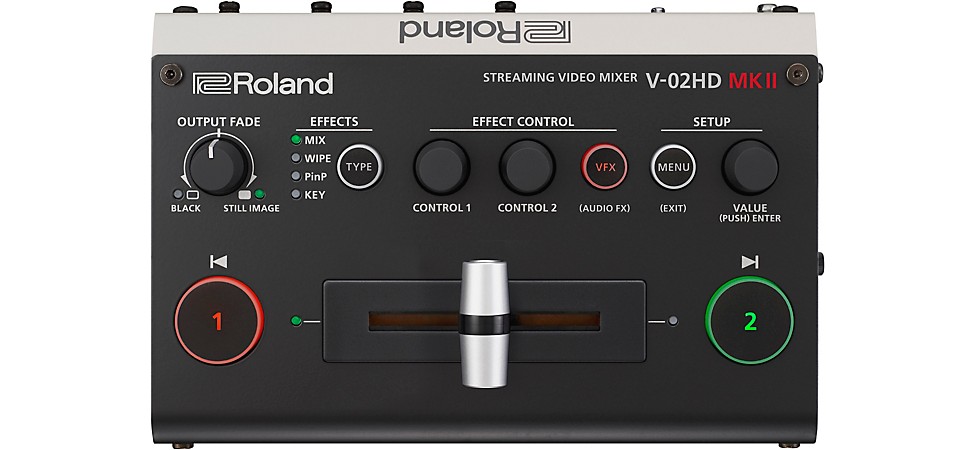 Pictured: Roland V-02HD MK II Streaming Video Mixer
Software
There are a number of streaming software packages out there that are, in essence, miniature TV production studios. They can switch cameras, add visual effects, play pre-recorded video, do chroma keying, make screensharing incredibly easy, and much, much more. The most popular option is OBS Studio, both because it's amazingly powerful and because it's free and open source. With the ability to handle as many video sources as your laptop can juggle—titles, graphics, fades, cuts and all the video magic you want—if you're serious about production values for your stream, you'll want to download a copy and start experimenting. While it's a much bigger topic than we can handle in the scope of this article, there are plenty of resources out there to get you started.
Step Into the Stream
There you have it—a quick overview of how to get started streaming your DJ sets and potentially building your audience and your reputation. It's a big topic, so be sure and check our other articles on DJing, streaming and how to make yourself sound and look good. And if you have any questions, please feel free to stop by your local Guitar Center store or dial up our Call Center to talk with our knowledgeable Gear Advisers. They'll be glad to help get you on the right track.