The Roland RD-88 is the latest in the RD stage piano series. Known for gorgeous SuperNATURAL piano and electric piano sounds and its incredibly responsive graded hammer action, the RD-88 brings unprecedented portability and sonic flexibility to the RD line.
DOMi is a prodigious new voice in the keyboard world. She grew up on jazz and describes her undefinable sound as "improvisation-based with hip hop beats, cool chords, and beautiful melodies—just trying to do a mix of all of it." A French native, DOMi is currently studying at Berklee College of Music and spends her weekends flying to Texas to work with her 16-year-old bandmate, drummer JD Beck. "I guess my whole musical career really started when I met JD, because before I was just focusing on school and writing for myself. I was not really getting the idea of oh, maybe I could start a real career and tour," DOMi says of their collaboration. "He's the best. We don't have to talk because we can understand each other on such a deep level musically. We just play and have fun all the time."
We invited Domi to check out the new Roland RD-88 stage piano and share her first impressions. She brought JD Beck along to keep the beat and play some of the music they have been working on.
At first chord, DOMi was able to dive right in. "If I had to sit in at a random venue and this was the keyboard, I would pretty much know where the sounds are and what the effects are. It's super easy because everything's right in front of you." By design, there is very little menu-diving with the RD-88, and all of the controls are intuitively placed and easily accessible.
"I like when a keyboard tries to reproduce what a grand piano feel would be—you can imagine yourself playing a grand piano because of the sound, but also because of the touch. I use a lot of MIDI, so I would definitely plug it in just to have a feeling of 88 keys—it's perfect."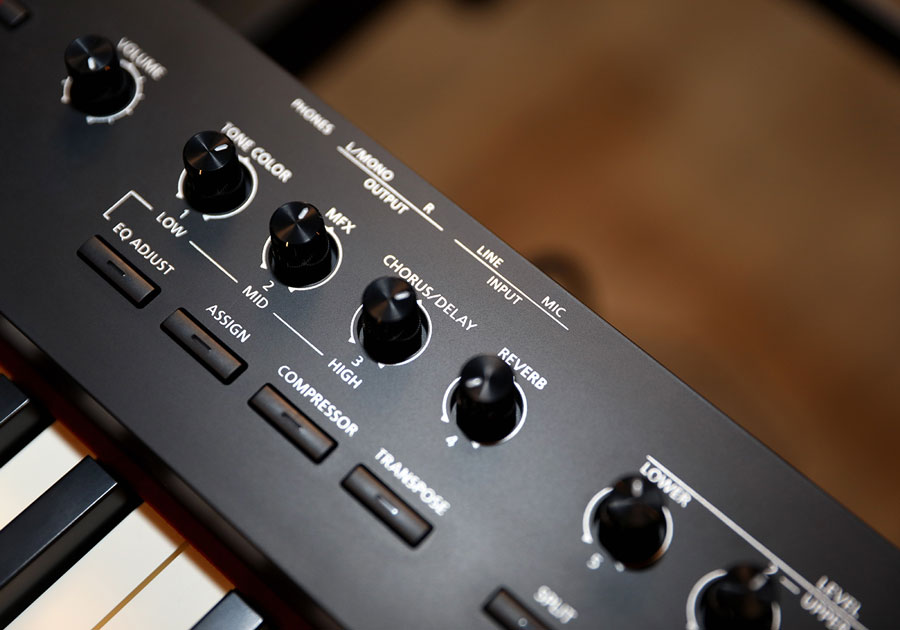 The RD-88's SuperNATURAL pianos, electric pianos, and additional ZEN-Core sounds offer a variety of sonic options, and its USB MIDI/AUDIO connectivity allows for deep software integration. "It has the most classic sounds that every piano player would like to have. And then some super cool pads and bass sounds. You can split the sounds, and I usually do that for shows—bass for left hand, and whatever I want for the right hand."
The RD-88's portability makes it perfect for big shows and practice sessions alike. Its lightweight design makes it easy to bring along, and the onboard speakers let you play it anywhere you feel inspired. "You never know what situation you're going to be in—somebody forgot an amp, practicing in the greenroom—so it's good to have speakers."
Currently, DOMi and JD Beck are in the process of recording their debut album. "This first record is basically me and JD—we're the base of it. We invite friends, so there's going to be Anderson .Paak, Thundercat, [and more]. We all wrote songs with each other and we're going to put out this album because it's a celebration of everything we did for the past year."
Learn more about the Roland RD-88.
Keep up with DOMi and JD Beck.