The Fender Vintera guitars are new vintage inspired instruments built for modern players. These guitars and basses channel the '50s, '60s, and '70s for today's artists to deliver classic tones in new contexts.
Cecilia Della Peruti is a multi-instrumentalist and songwriter, as well as a sought-after guitarist for the likes of Beck, Charlie XCX, and Børns— wielding her Fender guitars in stadiums and amphitheaters across the world. But her nuanced technique, personal aesthetic, and bold voice can be heard most purely in her work as Gothic Tropic. We invited Peruti into the studio to check out the new Vintera '60's Mustang, Jazzmaster Modified, Jaguar, and Jaguar Modified guitars. On each, she played a stripped-down version of an original song through a Fender Deluxe Reverb amp, using her own pedalboard.
Fender Vintera '60's Jaguar Modified
Peruti humorously describes "Feed You To the Sharks" as a song about "a person you want to call out and cancel." She shares how the two humbuckers on the Fender Vintera '60s Jaguar Modified create a natural sustain, and how her original instinct to play something grungier changed after she discovered the sonic capabilities of the '60's Jag Mod. 
Fender Vintera '60's Mustang
The Fender Vintera '60's Mustang is a short-scale, fast-playing guitar orignally released in 1964 as a student model, and went on to gain a broad following in a variety of genres. Peruti plays her song "Stronger" on the Vintera Mustang and notes how it works well for her shreddy solo sections. 
Fender Vintera '60's Jaguar
The Fender Vintera '60's Jaguar has been meticulously recreated, from its single-coil pickups (complete with the original's focusing cages) to the vintage-style floating locking tremolo tailpiece. Peruti plays her song "Your Soul" while incorporating a chorus effect, drawing out unexpectedly ethereal tones from this classic surf guitar. 
Fender Vintera '60's Jazzmaster Modified
The Fender Vintera '60s Jazzmaster Modified is updated with re-voiced wide-bobbin single coil pickups, a modern C-profile neck, and medium-jumbo frets for easier playing. Peruti plays "Don't Give Me Up" and notes how the new Vintera model is a little speedier and lighter than her own Jazzmaster.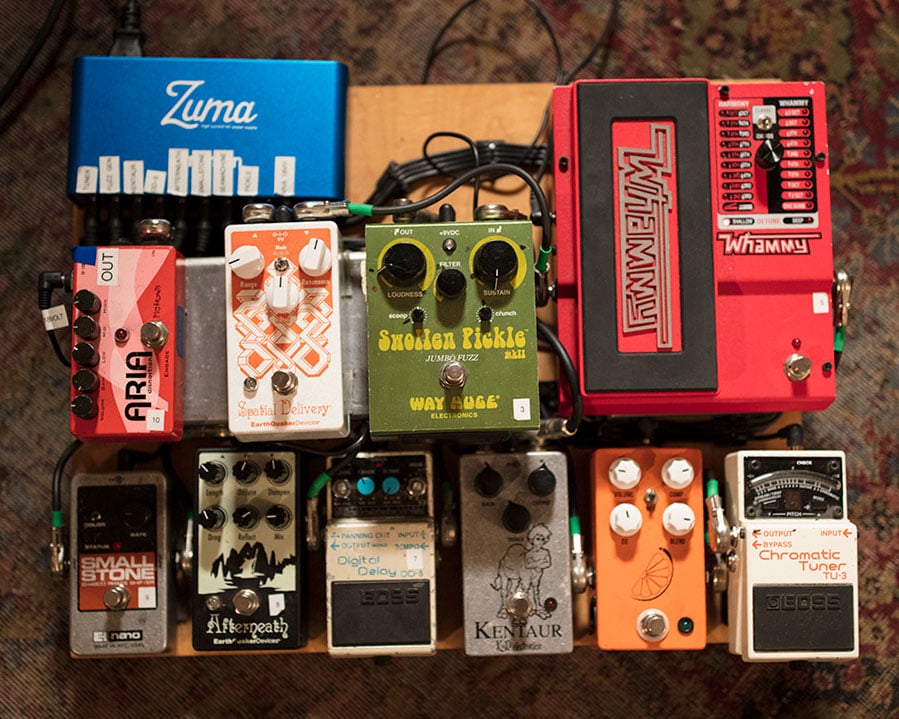 Cecilia's board, from top to bottom: Strymon Zuma, Pigtronix Aria, EarthQuaker Devices Spatial Delivery V2 Envelope Filter, Way Huge Electronics Swollen Pickle Jumbo Fuzz MKIIS, DigiTech Whammy DT, Electro-Harmonix Nano Small Stone Phase Shifter, EarthQuaker Devices Afterneath V2 Otherworldly Reverberation Machine, BOSS DD-3 Digital Delay, R3D Electronics "Kentaur", JHS Pedals Pulp-N-Peel V4 Compressor Preamp, BOSS Chromatic Pedal Tuner. 
Learn more about the entire Fender Vintera series. 
To keep up with Gothic Tropic, follow www.instagram.com/gothictropic.
Check out the studio recordings of her songs from Fast or Feast below.