Why do people play vintage instruments, and what makes them so special? So much of the media we consume and the marketing we respond to is largely driven by nostalgia. However, the most coveted vintage instruments—those made in the 1950s through the 1970s—are from decades that a growing number of today's players didn't live through. The bigger allure of vintage guitars, for many at least, has more to do with their feel and tone. The new Vintera Series from Fender looks to offer players the same sought-after specs and sound of an actual vintage instrument but at a fraction of the cost.
 
There is a certain mojo that accompanies different decades of a guitar. Just as there are cars we consider classics and ones we simply deem as just plain old, there are specific guitars that have a particular aesthetic, historic or sonic appeal. While there are techniques companies use to replicate the aging of vintage instruments, like torrefication (which dries out the wood and increases the resonance of the guitar) or relic-ing (purposeful wearing or damage) to make it feel broken-in, those meticulously handcrafted instruments are rightfully accompanied by a hefty price tag. The Vintera line skips these pricey processes and focuses more on delivering the overall vibe of guitars from the '50s, '60s and '70s.
 
Rather than honing in on a specific model and year and recreating it precisely, the Vintera Series features player-favorite shapes and period-correct specs cherry-picked from a number of years within each decade. So if a Fender Custom Shop reissue is like a painstaking "is as it was" remaster of a classic film, the Vintera line is more akin to Netflix's Stranger Things—an earnest and accurate homage to the past that conjures up all the vintage vibe you crave, but in a modern and easily accessible package.
 
If you're unfamiliar with what features and specs differentiate each Fender model from decade to decade or "vintage era," you're not alone. The basic shapes of Fender's most popular guitars have remained virtually unchanged since their inception. The average non-player wouldn't be able to tell the difference between a well-kept vintage Fender Telecaster or Stratocaster and one that just rolled out fresh from the factory. There have, however, been countless refinements made to these guitars over the years that make each model distinctive from decade to decade.
 
If we take a look at all the period-accurate specs and decade-defining sounds that Fender has curated and combined into each Vintera guitar and bass, we're able to get a glimpse into the key moments in the development of these legendary instruments and what makes vintage models so sought after. Let's dive into the distinguishing features and tonal qualities that make each Vintera guitar and bass feel and sound so different from era to era.
The Telecaster
In 1950, Fender introduced the first commercial solidbody electric guitar with the Esquire. Soon after the release of the single-pickup Esquire, Fender released a two-pickup version called the Broadcaster that, due to trademark issues with the Gretsch Broadkaster drums, would later be renamed the Telecaster. In stark contrast to the big-bodied hand-carved archtops electrics of the time, the Fender Telecaster was a no-frills factory product. Western-swing players were the first to adopt the Telecaster because of its twangy and articulate sound, and its appeal would soon spread to a variety of genres, including country, blues and, of course, rock 'n' roll. 

'50s-Era Vintera Telecasters
The Vintera '50s Telecaster features the thick, fat-shouldered "U"-shaped neck found on early '50s models, period-accurate brass-barrel saddles, plus pickups that produce all the twangy tone and crisp, snarling sound of the guitar that started it all. The '50s Modified Tele has a faster-playing Modern C"-shaped neck and blends a Custom Shop vintage-style Tele single-coil bridge pickup with a Custom Shop Twisted Tele neck pickup with four-way switching and an S-1 switch.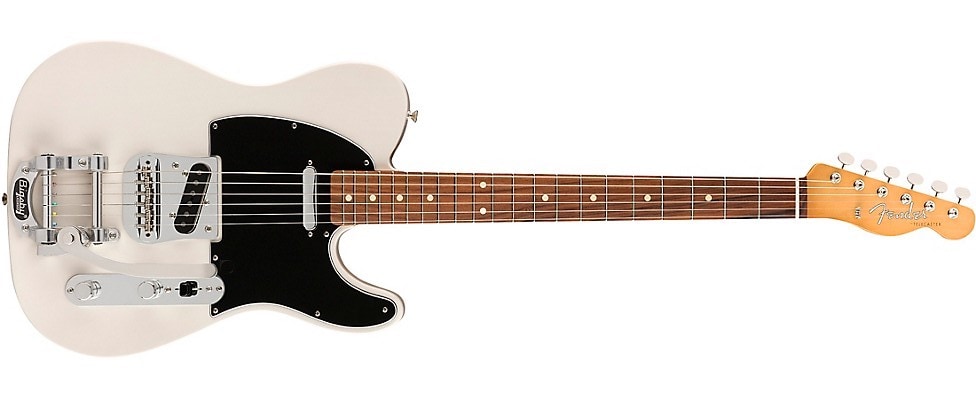 '60s Vintera Telecaster
Vintera '60s Telecaster guitars serve up the more transparent and shimmery sounds of models of that era. It has a pair of '60s-style single-coil pickups and comes with a thick "Early '60s C"-shaped neck with vintage-style frets for an unmistakable feel. They also come in Bigsby-equipped versions that offer expressive vibrato effects. The '60s Tele Modified guitar has a Thick C"-shaped neck with medium-jumbo frets for a modern playing feel. Under the hood, things are kicked up a notch with '60s single-coil Telecaster pickups with increased output, four-way switching and an S-1 switch.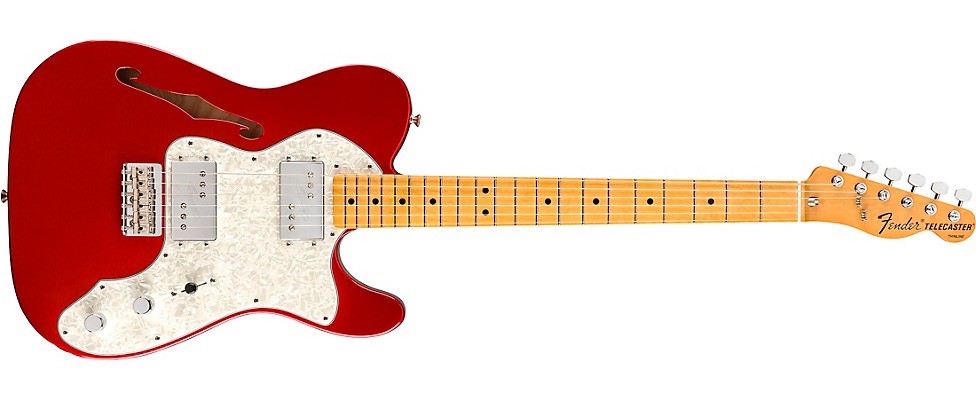 '70s Vintera Telecaster
Vintera '70s Telecaster guitars feature a popular mod players began making to Tele models for years—replacing the single-coil neck pickup with a humbucker—which was officially released on a Telecaster in 1972 with the Telecaster Custom. The combination of a '70s-style Tele single-coil in the bridge with a Wide Range humbucker in the neck adds serious punch to the traditional Tele sound. The Thinline, Custom and Deluxe models feature "Slim C"-shaped maple necks and chrome-barrel saddles.
The Precision Bass
On the heels of the Telecaster, Fender would introduce yet another revolutionary instrument in 1951, the Precision Bass, the first commercial solidbody electric bass. Early models of the Precision Bass or "P Bass" featured a single-coil similar to the Tele bridge pickup. In mid-1957, the split-coil pickup now synonymous with the P Bass was introduced, and its seismic and punchy tone would help Fender dominate the market for decades to come. 
'50s Vintera Precision Bass
The Vintera '50s Precision Bass has a single split-coil P Bass pickup that serves up all of the power and tone that made the P Bass a classic. It's equipped with a '50s "C"-shaped neck and 20 vintage-style frets for a traditional feel. Plus, it has a vintage-style bridge and vintage-style tuning machines to provide rock-solid performance and original-era aesthetics.
The Stratocaster
Heeding players' complaints about the "plain vanilla" look and uncomfortable sharp edges of early models of the Esquire and Telecaster, Leo Fender introduced the Stratocaster in 1954. In addition to the sleek contours of its double-cutaway body, the Strat was the first solid-body to have three pickups, as well as the first to have a built-in vibrato system. Its five-way selector also allowed for even further tonal variations. The Strat's radical ergonomic shape and unprecedented tonal versatility are big reasons why it is the most popular, most copied and, likely, the most played electric guitar in history.

'50s Vintera Stratocaster
Vintera '50s Stratocaster models are loaded with a trio of single-coil '50s-style Strat pickups for that crisp, bell-like tone that helped the Strat eclipse all other electrics. They have updated "Soft V"-shaped necks, a vintage-style six-point synchronized tremolo, plus traditional 5-way switching and controls. Vintera '50s Stratocaster Modified guitars have a hotter set of pickups, a "Modern C"-shaped neck and feature a more contemporary, two-point synchronized tremolo. The addition of an S-1 switch adds the neck pickup to positions 1 and 2.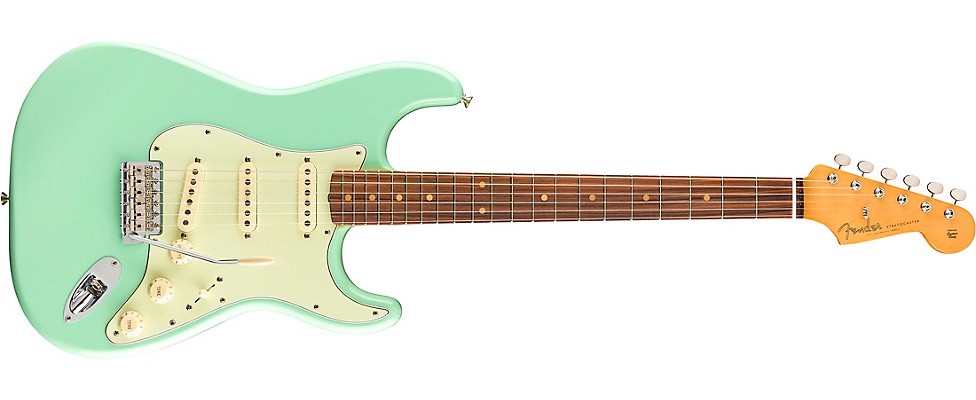 '60s Vintera Stratocaster
The Vintera '60s Stratocaster has all the coveted features, chime and articulation of that helped the Strat dominate the Sixties. It's equipped with three crisp-sounding '60s Strat single-coils and a slightly thicker "Mid 60s C"-shaped neck. The Vintera '60s Modified Strat offers many of the same vintage-style appointments, but with a "Modern C"-shaped neck, S-1 switch and hotter, thicker-sounding pickups.

 '70s Vintera Stratocaster
Equipped with an Early '70s C"-shaped neck and vintage-style frets, the Vintera '70s Stratocaster offers classic playing feel. Another accurate touch is the flat-staggered pole pieces of the '70s single-coil pickups, which creates a more balanced response from string to string. 
The Jazzmaster
The Jazzmaster hit shelves in 1958 as a decidedly upscale successor to the Telecaster and Stratocaster. It's curvaceous and immediately eye-catching offset-waist body made it more comfortable and balanced when playing in a seated position. Along with innovations like its floating vibrato and locking tremolo system, the Jazzmaster was the first Fender to feature a rosewood bridge glued to a maple neck, as well as the first Fender to have separate tone circuits. As opposed to the clean, chimey tone of the Tele and Strat, the Jazzmaster was able to elicit a darker, rounded sound via its completely remodeled internal wiring and controls.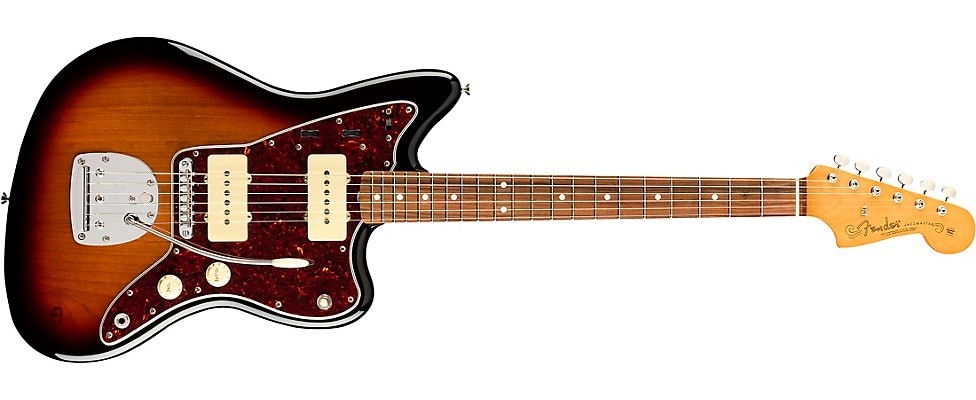 Vintera '60s Jazzmaster
The wide single-coil pickups of the Vintera '60s Jazzmaster are specially voiced to behave like the originals, with the rich, warm-sounding neck pickup being balanced by the brighter, cutting bridge pickup for a smooth yet articulate sound. The Mid '60s C"-shaped neck has a painted headstock, and it comes with a vintage-style Jazzmaster floating tremolo. The '60s Modified version has the same pickup set, but with increased output. It also comes with a "Modern C"-shaped neck, medium-jumbo frets and an Adjusto-matic bridge paired with a floating tremolo. 
The Jazz Bass
The Fender Jazz Bass was introduced in 1960. In the same way the Stratocaster and Jazzmaster complemented the Telecaster, the Jazz Bass was a decidedly deluxe follow up to the Precision Bass that offered greater comfort and tonal versatility. The Jazz Bass or "J Bass" served up a fuller tone with sharper attack thanks to its dual eight-pole-piece pickups and more robust control system. While the neck pickup was capable of similar warmth and fullness of a Precision, the J Bass' bridge pickup produced a clearer, more trebly high end with a growly midrange. The ability to blend these pickups opened up a whole new world of tonal possibilities for bass players.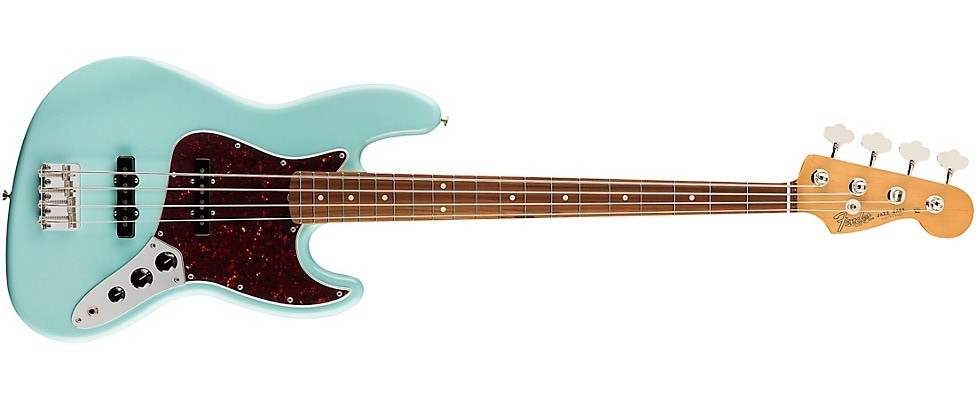 Vintera '60s Jazz Bass
The original Jazz Bass had a noticeably more narrow neck than the Precision, particularly towards the nut, which allowed for faster, more intricate playing. The Vintera '60s model features the same Mid '60s "C"-shaped neck, plus a pair of '60s single-coil Jazz Bass pickups for authentic feel and tone. An original-era four-saddle bridge and reverse, open-gear tuning machines provide additional vintage styling.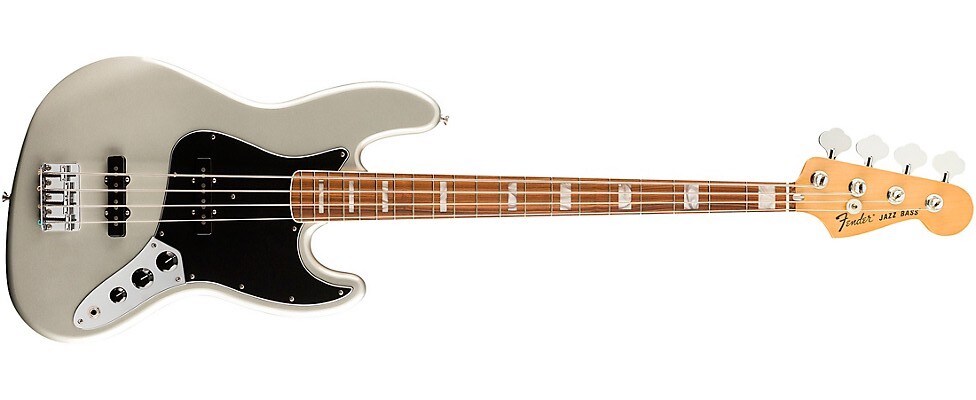 Vintera '70s Jazz Bass
Equipped with a '70s "C"-shaped neck, the Vintera '70s Jazz Bass has a bound fingerboard with pearloid block inlays found on many '60s and '70s J Bass guitars. Two '70s Jazz Bass single-coil pickups pump out the thick, funky tone of the era, and the '70s-style stamped open-gear tuning machines add some authentic vintage flair.
The Jaguar
Originally released in 1962, the Jaguar was the first Fender with 22 frets (as opposed to 21 frets found on a Tele or Strat), and a shorter 24" scale length, which was intentionally closer to that of a standard Gibson. The extra fret and shorter string length make for faster playing and a more comfortable feel. Along with its elaborate circuitry and distinctive chromed-out control panels, the Jaguar featured high-output, Strat-like pickups with claw-like metal shielding at the base and sides that made them less prone to noise. While the short-scale wonder was initially adopted by surf guitarists and saw a sudden resurgence in the punk explosion of the '70s, it was its use by prominent grunge players of the '90s that made launched into legendary status.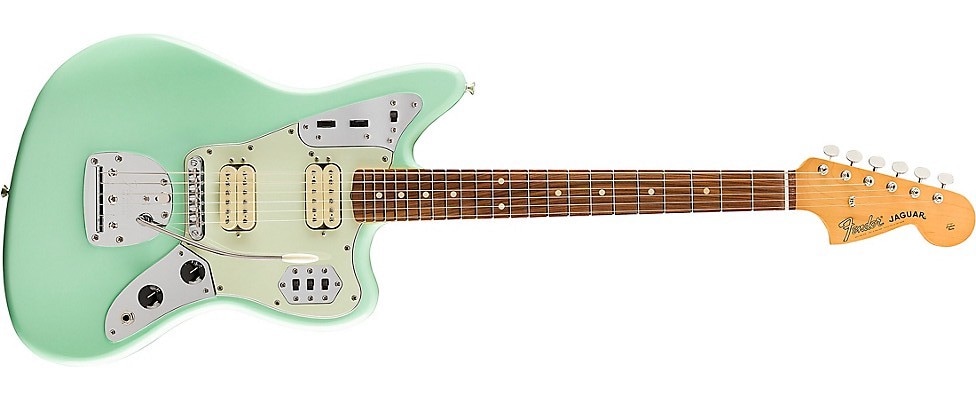 Vintera '60s Jaguar
The Vintera '60s Jaguar features a pair of '60s Jaguar pickups—a chimey single-coil in the neck with a more aggressive, bitey single-coil in the bridge position. It has Mid '60s "C"-shaped neck, and a vintage-style Jaguar floating tremolo and bridge. The Vintera '60s Jaguar Modified has a more contemporary set of high-output Atomic humbuckers, a "Modern C"-shaped neck, plus on/off slider switches and a tone cut slider. 
The Mustang & Mustang Bass
Introduced in 1964, the Mustang was the follow up to the Musicmaster and Duo-Sonic in Fender's student series. It was the first of the student models to feature an offset waist, as well as the first in this range to feature a vibrato system. Like the Jaguar, the Mustang had 22-frets, a shorter 24" scale, and its control knobs were mounted on a chrome plate. In 1966, Fender introduced the Mustang Bass, which featured a short 30" scale and a split-coil pickup. Though originally intended for younger, developing players, by the '90s, the Mustang found its way into the hands of grunge players, shoegazers and Britpop superstars.
Vintera '60s Mustang
Delivering plenty of signature punch from a pair of '60s Mustang single-coils, the Vintera '60s Mustang also features a '60s "C"-shaped maple neck, a vintage-style floating tremolo, and classic pickup slider switches.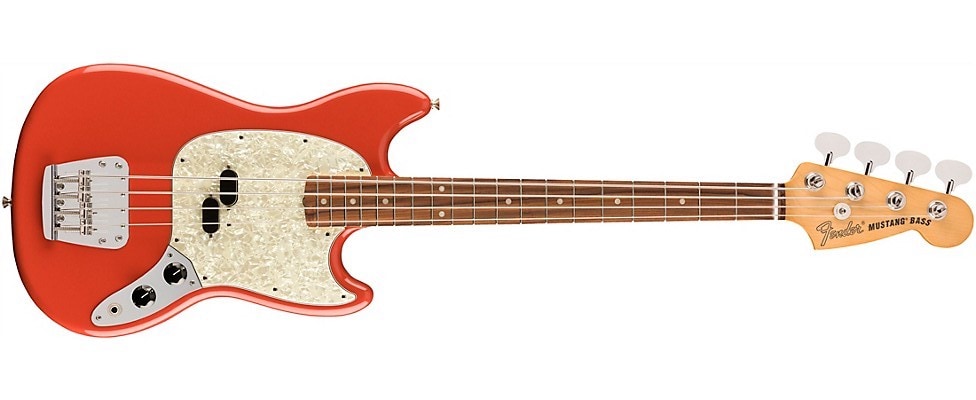 Vintera '60s Mustang Bass
The Vintera '60s Mustang Bass is loaded with a growling and punchy split-coil '60s-style pickup, a slightly thicker, period-accurate Mid '60s "C"-shaped neck, 19 vintage-style frets and a short 30" scale for classic playing feel.
The Vintera Series 
The iconic aesthetics and tonal qualities of the different periods of Fender instruments are a direct reflection of the needs of the players at the time and of the musical and cultural shifts of each decade. We hope this breakdown of the Vintera Series helps put the rich history of these instruments into better context. If your ultimate goal is to own a vintage instrument, but you don't know where to start, the Vintera Series is the perfect way to get your feet wet and develop your preferences before you pull the trigger on a vintage guitar.