Fender's American Ultra series is a premium collection of guitars and basses representing the most advanced evolution of their iconic instrument designs. With updates both ergonomic and electronic, the Ultra line features a unique "Modern D" neck profile with rolled fingerboard edges, a tapered neck heel and all-new Ultra Noiseless pickups. We invited Isaiah Sharkey to explore the American Ultra Guitars and share his thoughts on the sound and feel of these new models.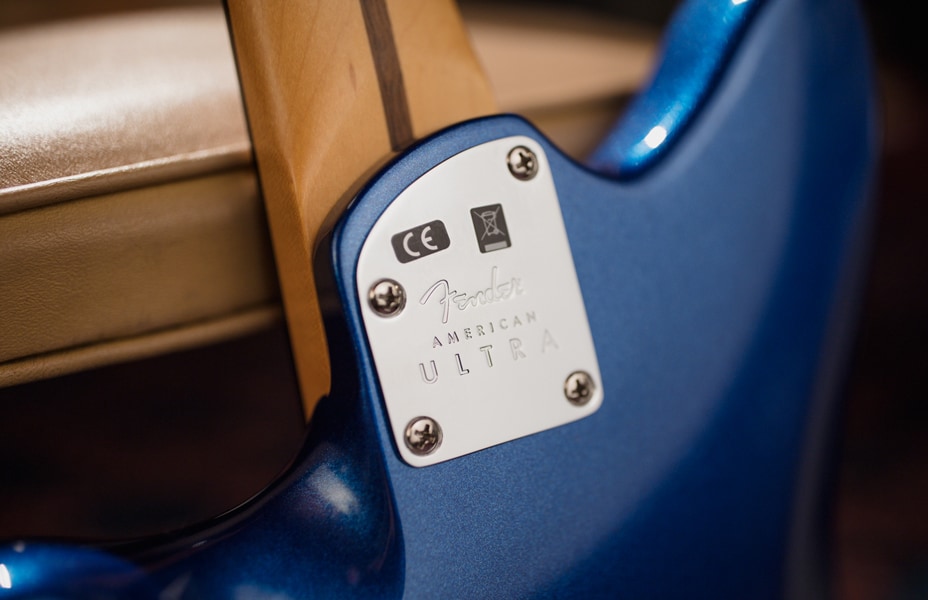 Chicago-native Isaiah Sharkey was taken under the city's musical wing as his talents revealed themselves on stages all across town. He quickly developed into a sought-after name, and began collaborating with D'Angelo on Black Messiah, which won him his first Grammy in 2015. He's toured with numerous artists including John Mayer, Paul Simon, Lupe Fiasco and many others. Along the way he's been releasing original music—beginning with his debut album, Love.Life.Live.
Fender American Ultra Stratocaster
"One of the first guitars I fell in love with was a Fender Strat," Sharkey recalls as he checks out the American Ultra Stratocaster, noting its versatility. "From playing with the Isley Brothers to playing with John Mayer to playing with D'Angelo...it's definitely a guitar you gotta have in your arsenal."
Fender American Ultra Stratocaster HSS
Speaking to the playability of the HSS Stratocaster, Sharkey points out a feature common to all of the Ultra models—the tapered neck heel. "There's this little cut here right where the body meets the neck...it's easy for you to lay your hand there and just get those high notes."
Known for the range and nuance of his playing, Sharkey remarks on how being musically open and informed about gear helps when collaborating with the broad spectrum of artists he works with. "You have to be able to pay attention to detail. It definitely takes a knowledge of gear and knowing what different guitars, different amps, different pedals can give you soundwise...You have to educate yourself so you know some songs might not require a Strat—they might require a Tele or require a Jazzmaster or a Mustang."
Fender American Ultra Telecaster
"The Tele is an open sound...the neck pickup is really warm, the middle position is very clear and crisp, and you can still get that country twang in the bridge." Watch as Isaiah showcases the American Ultra Telecaster's characteristic responsiveness and versatility.
Fender American Ultra Jazzmaster
"I have an old Jazzmaster... it's a 1964, and I fell in love with it. I was excited to see what they had enhanced—you know, adding a phase switch and S1 switch." He demonstrates a few of the unique timbres that the Ultra Jazzmaster is capable of with its new advanced switching setup.
Isaiah Sharkey's personal approach to music is all about connection. "Every time I play, I'm expressing what's from the heart, and my motto is 'What comes from the heart reaches the heart.' Whenever I'm playing my instrument, I just want to connect with people—make them feel happy, and give them positive energy. Having the right instrument helps you relay that message. The better the instrument is, the more you can express yourself."  
Learn more about the entire Fender American Ultra Series. 
Keep up with Isaiah Sharkey at isaiahsharkey.com.