Numark has a celebrated tradition of creating cutting-edge DJ gear. The 4-deck NS4FX is no exception to this trend, specially designed to suit modern DJs' various needs and performance situations—from livestreaming to performing at any kind of venue and event. Packed to the brim with features that deliver convenient flexibility and an intuitive, streamlined workflow, NS4FX is sure to inspire DJs in search of an easy-to-use, do-it-all rig.
We spoke with Jake Hill, senior marketing manager of Numark, to get the spin on the design, feature set and potential users of this remarkable addition to the NS controller lineup.
Who is the Numark NS4FX designed for?
Jake Hill: The NS4FX was designed for DJs that wish to expand their mixing capabilities beyond the realm of 2-channel DJ controllers. The four channels make it great for DJs who want to unleash their full creative mixing potential, and the performance features are great for DJs who are looking for exciting ways to enhance their sets. We wanted to make a quality, portable DJ controller with great sound and professional connections to help DJs sound their very best—no matter if they are a beginner at home, or a working DJ on the road.
What makes the NS4FX stand out from other controllers in your lineup?
JH: The four channels, with individual volume faders, filters and 3-band EQ, set the NS4FX apart from the 2-channel controllers in the Numark lineup. Plus, The NS4FX also features a greater selection of audio inputs and outputs. In addition, we've taken the time to ensure that the audio routing is ideal for livestreamers. With the NS4FX, the microphone audio is summed with the music audio and sent over USB. This means DJs can mix and interact with their virtual audio on the mic without needing a separate soundcard in their livestreaming setup.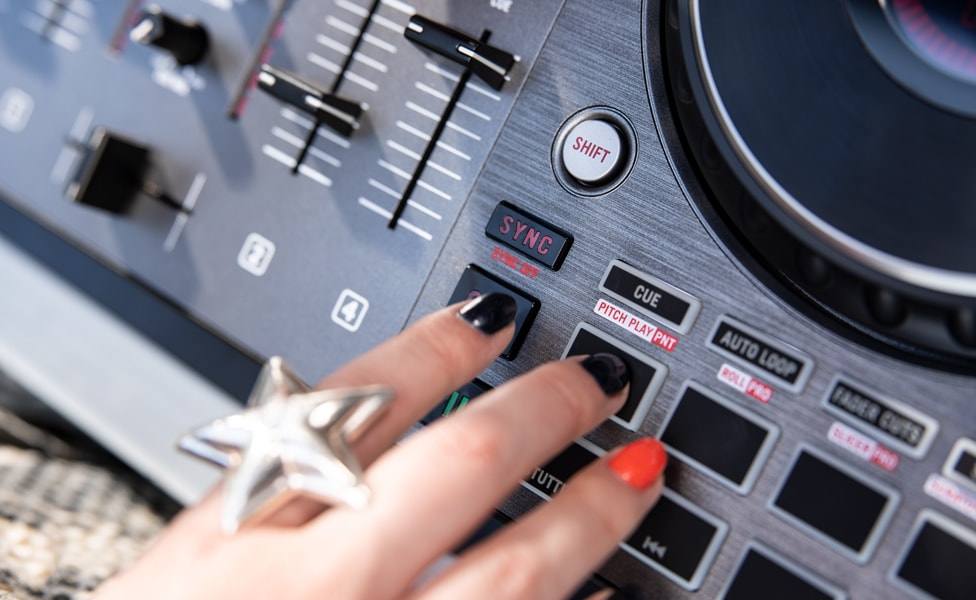 What helps differentiate it from other controllers someone might be considering around the same price?
JH: The long pitch sliders and quality jogwheels with color displays are incredibly smooth, and have a premium-quality feel. The quantity and quality of the inputs and outputs is something rarely seen on a DJ controller at this price. Plus, its compact size makes it easy to transport from the practice studio to the gig, making the NS4FX perfect for prep, performance and all-around fun.
You really seem to have invested in the quality of the I/O. What does that mean to the average DJ?
JH: Many DJs perform at a variety of venues and events with different needs. On Monday night, they may be livestreaming from their bedroom. On Wednesday, they may be spinning at their local bar. Friday night may be spent behind the decks at a dance club, and Saturday might be wedding reception time at a swanky hotel.
So, we designed the NS4FX with all of those different uses in mind, making sure to provide DJs with enough professional connection options to plug and play at virtually any event (or venue) as they progress in their career. The NS4FX has balanced XLR outputs, RCA booth outputs and 24-bit, high-quality audio. There are two 1/4" microphone inputs with dedicated tone and volume controls. For some added flexibility, Mic 1 is switchable to an RCA AUX input.
Looking at its Serato integration, what were the key workflows you wanted to improve or solve for with the NS4FX?
JH: The microphone routing headaches that DJ livestreamers often face is something that we really wanted to solve with the NS4FX. Most other DJ controllers do not route the microphone audio over USB when streaming online with OBS (Open Broadcaster Software) or other platforms. So, when using one of these other controllers, in order to use a mic, an additional interface or soundcard is necessary. With the NS4FX, we designed the circuitry to sum the mic audio with the music audio when passed over USB to the computer—with no additional hardware required. DJs can simply plug in their mic to the NS4FX, and start mixing and engaging with their livestreaming audience right away.
What benefits would a user get from upgrading from Serato DJ Lite to Serato DJ Pro?
JH: With Serato DJ Lite, NS4FX users can access and mix with up to four decks at once, but when upgrading to Serato DJ Pro, they're able to access additional 4-deck waveform views on the computer screen. Serato DJ Lite users are able to access four performance pads on each deck for Cue, Auto Loop, Fader Cuts and Sample pad modes. Upgrading to Serato DJ Pro adds four more performance pads on each deck for these modes and adds additional dedicated pad modes for Pitch Play (Pitch 'N Time DJ Expansion Pack required), Roll, Slicer and Scratch Bank.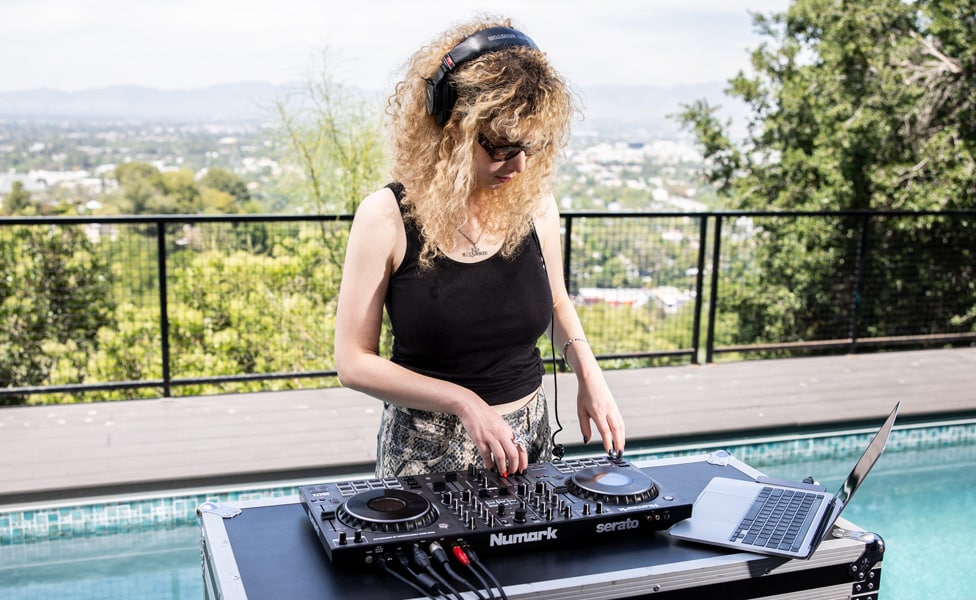 What gets you most excited about the NS4FX?
JH: Great DJ routines and performances continue to inspire all of us here at Numark. We're excited to see the creativity that results from giving DJs four channels of audio control and a full feature set of performance tools. Whether it's online, in the club or at a mobile gig, we know that the NS4FX has all the tools for DJs to put on an amazing show.