The Fender American Ultra series is an advanced line of guitars and basses designed to provide discerning players with the ultimate in tonal versatility, precision, and playability. With Fender's sonic signature fully intact, the basses in this premium collection feature next level innovations including all new Ultra Noiseless pickup design, a newly voiced preamp, and enhanced contouring for a slimmer, faster neck with the "Modern D" profile complemented by a tapered neck heel. We invited bassist Nik West to explore the American Ultra basses and share her thoughts on the sound and feel of these new models.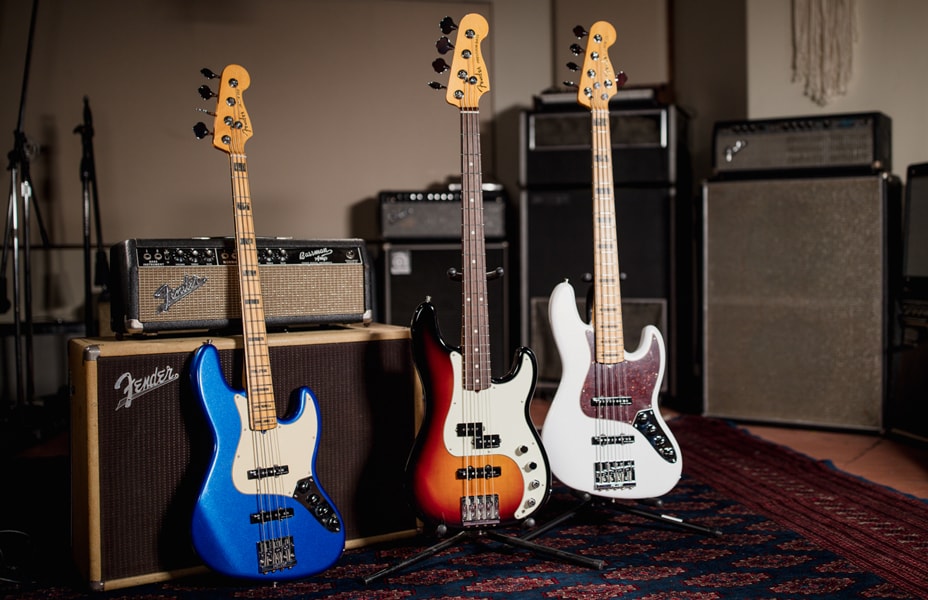 Nik West is an explosion—from her fierce playing to her vibrant stage energy. She's been called upon by Prince, Dave Stewart, Macy Gray and many others to bring her musicianship to their projects. Mostly known for her funk playing, versatility is a hallmark of her work—which you can hear in her bass-focused original music.
Fender American Ultra Jazz Bass
One of West's tools of choice is the Fender Jazz Bass. "The Jazz Bass gives me everything. I can take this one bass on tour and I can get five, six different sounds out of it." When asked about her favorite gigs, she shared "My favorite show I've ever played with my Jazz Bass would have to be in Tokyo a few years ago—this particular show I didn't bring a band. I wanted to try something different and just have my pedals and a few licks on the drum machine. You could hear what I could do with just the bass in my hands."
Fender American Ultra Jazz Bass V
West grew up playing gospel music in her hometown of Phoenix, Arizona. "I love to use five-strings for gospel music because the lower you go the bigger the spirit—we might be playing something on all the strings and then we hit that B-string and everybody's like 'woah!'—you just feel it in your gut, you feel it in your chest, and that's why it's great for gospel." She shows us just what she means on the America Ultra Jazz Bass V. 
Fender American Ultra Precision Bass
Nik picks up a Precision Bass when she wants to go for a retro sound. "For me, a P Bass works really well when I'm in the studio and I'm trying to create something that you could hear James Jamerson playing for Motown Records. It just gives you that vintage, old-school rasp." West notes that the added Ultra Jazz Bass Pickup and active/passive mini-toggle switch make this American Ultra P Bass something special. "This Precision bass is perfect for getting that sixties, seventies, funky sound if you're looking to mimic that tone—but then it also adds this [Ultra Jazz] pickup. So you can get a jazz feel if you want to slap or do a little more modern playing. It offers both."

As far as overall tone, West says "I love for my basses to sound a little bit like thunder onstage. I want it to sound crisp, and I want you to hear exactly what it is I'm playing. I'm a bass player that stands in the front, and it's imperative that everyone knows they hear those notes on the solo or on the groove. The tone is everything. If your tone is not right your show is not right, your attitude is not right, and that's why I need a quality instrument because tone is everything."
Learn more about the entire Fender American Ultra Series.
Keep up with Nik West at nikwestbass.com.