In an era steeped in musical innovation, exploration, variety and crossover success, it should have come as no surprise to us that the biggest night in music—held Sunday, January 26 in downtown Los Angeles—would be full of twists and turns. Yet still, this year's premier awards show managed to inspire us all with musical moments and collaborations we could never have expected.
Singer-songwriter and rapper (and flautist) Lizzo set the tone from the beginning with her opening performance of "Cuz I Love You," dedicated to the late basketball legend and Los Angeles Laker Kobe Bryant, who unexpectedly passed away earlier that day. During her performance, Lizzo traversed a variety of peaks along the musical spectrum, including performing with an all-female string and horn section and a troupe of backup dancers, and also giving a nod to her early start on the flute by bringing out her beloved Sasha Flute. Lizzo picked up the flute at age 10 and attended the University of Houston on a scholarship to study classical flute performance. Now, Sasha Flute has her own Instagram account.
Lil Nas X proved that music has no borders as he brought together a country star (Billy Ray Cyrus), Korean pop band (BTS), rap icon (Nas), DJ/producer (Diplo) and viral Internet sensation (Mason Ramsey) for his performance. Lil Nas X's set opened with him strumming a mandolin, then featured Diplo on a Deering Goodtime banjo for split second before Cyrus came out with his black LTD TL-6 Thinline acoustic-electric.
Preservation Hall Jazz Band and Trombone Shorty showed us that music is a prevailing source of comfort during times of sadness, as they closed out the In Memoriam segment and paid tribute to the late legendary New Orleans musician Dr. John. And, with only a grand piano supporting their vocals, singers Camila Cabello and Demi Lovato, being their most vulnerable selves, took the spotlight on a darkly lit stage for performances that reminded us that music is a powerful conduit with which you can express your love, and with which you can heal, respectively singing songs about the love of a father and a near-fatal experience.
But above all else, this year's biggest night in music encouraged us to think about where we'd all be without music—without the artists who make us listen, think and feel—and the answer is, we can't imagine a world without listening to, playing or performing music.
Magic happens when you take a risk, do something different and put yourself out there. So, on that note, here are our favorite, most unexpected moments from this year's biggest night in music, where the gear was just as varied as the performances themselves.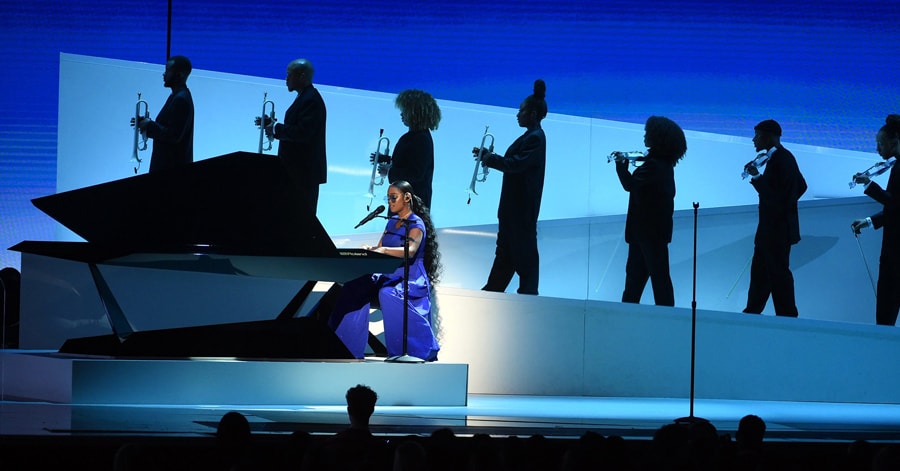 H.E.R
Though she's known for her electrifying performances on the electric guitar, H.E.R  began her performance of the ballad "Sometimes" on Roland's brand-new GPX-F1 Facet, a grand concert piano "concept". Though we caught a glimpse of this new, futuristic-looking piano at the 2020 Winter NAMM show recently, seeing it played on a massive awards stage took us all by surprise. The "floating" design of this keyboard from the future was based on a submission to the Digital Piano Design Awards by Jong Chan Kim. It's equipped with a series of speakers and resonators within the body that effectively replicates the sound of an acoustic grand piano. The cabinet and frame were designed to appear as if they're floating above the base, and every angle was developed to optimize sound projection. Adding to its list of innovative features, the Facet also allows seamless access to digital content, online communications and new visual expressions displayed via the piano lid.
Displaying how truly creative of a musician she is, H.E.R subsequently left her piano bench and took center stage with her sleek blacked-out, single-coil Fender Stratocaster with a matching all-black headstock for a shredding guitar solo during which she palms the pick to bang out some Van Halen-style two-handed tapping on the fretboard. At last year's awards show, she played a clear Fender Stratocaster made just for her by Fender Custom Shop Master Builder Scott Buehl.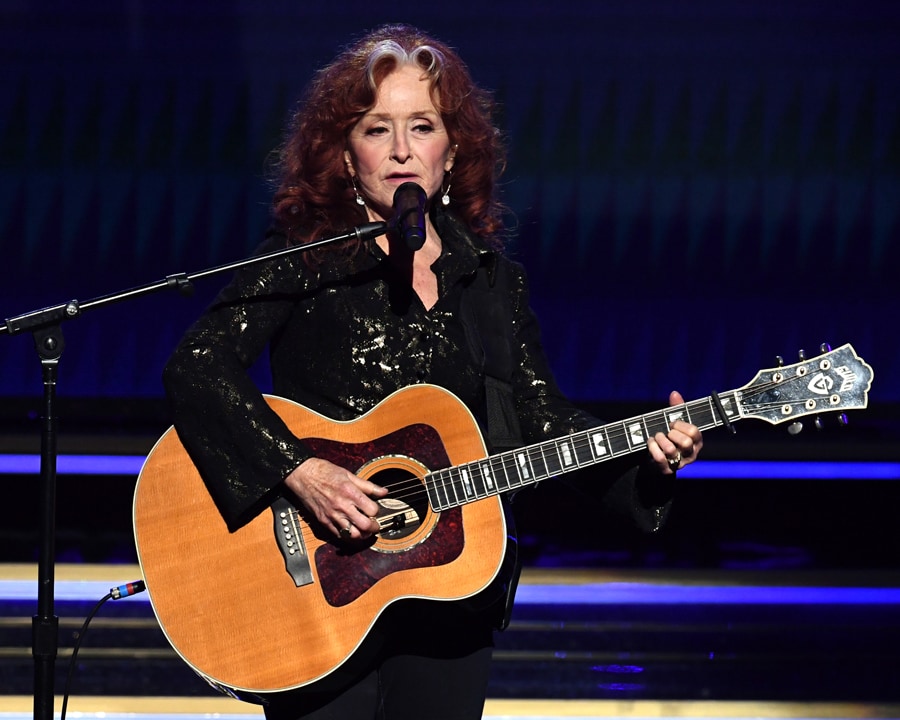 Bonnie Raitt
A legendary blues artist who has been known to play both electric and acoustic guitars, Bonnie Raitt took us back to 1974 with her short but loving tribute to country-folk icon John Prine with his "Angel from Montgomery." The look on Prine's face as he watched her performance showed us how one song can instantly take you back to a special moment in time. Raitt, who has turned to Guild as her acoustic of choice for years, was playing a jumbo-shaped Guild F-50 featuring double pickguards and mother of pearl and abalone block inlays. Raitt has been wielding her trusty Guild acoustic for decades. Like Raitt's music, Guild's jumbo body shape is a classic, and it's been a specialty of the guitar maker ever since the F-50 model debuted in 1954 as the "king of the original Guild flat-top line."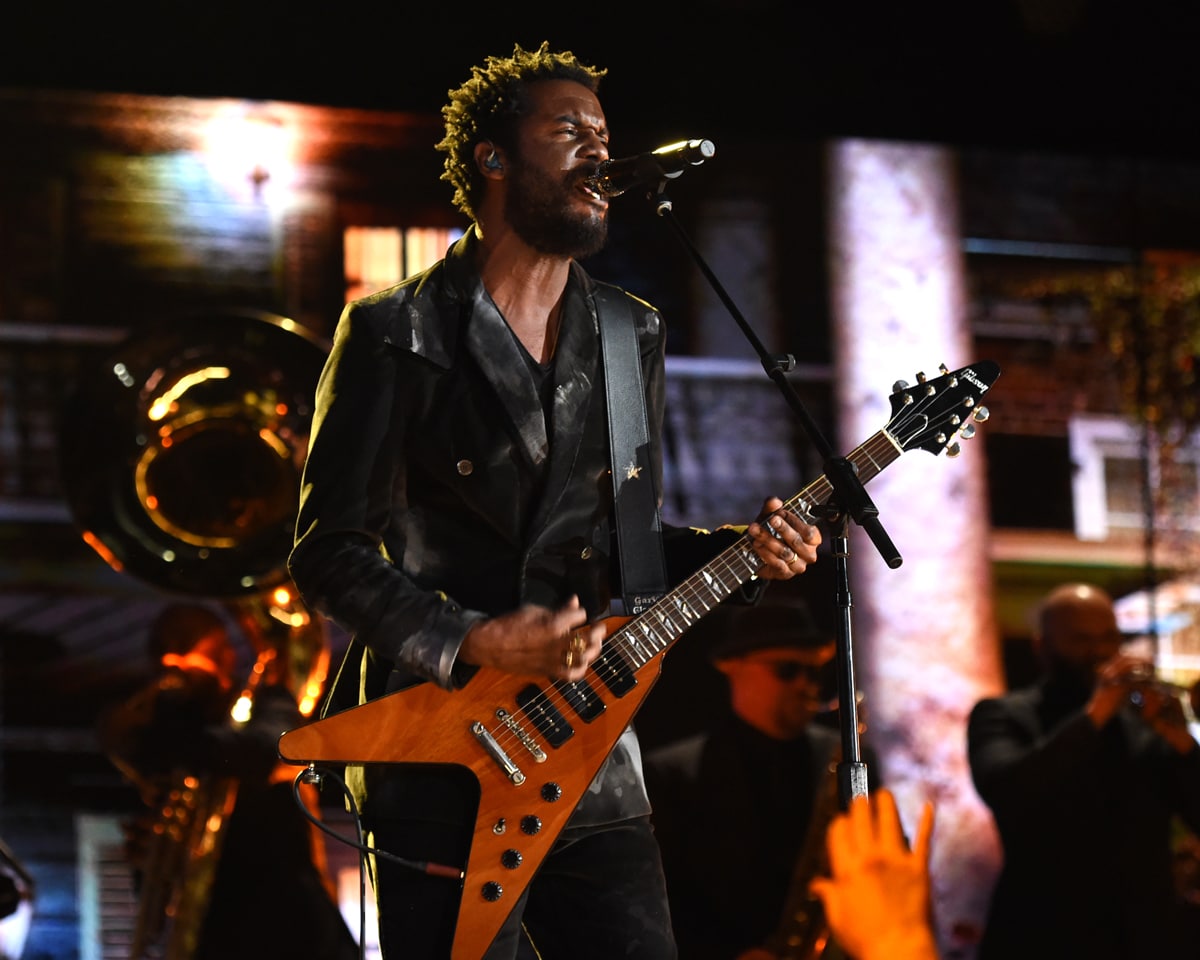 Gary Clark Jr.
Austin blues-rock singer, songwriter and guitarist Gary Clark Jr. took all the passion and fire he had and put it into his performance of "This Land," inspired by racism in the American South. Clark's performance reminded us all that music can be used to observe, or make a statement on, injustices we see in the world around us. Clark expressed his anger and emotion both in his vocal and guitar performance, wielding a Custom Shop Flying V designed in collaboration with Gibson that was powered by hum-canceling P-90's. For a guitar that weighs only four pounds, there was an impressive amount of power and punch that resulted from his effortless soloing. The guitar's burnt orange-looking finish matched that of the fire that was lit on stage, and in Clark's performance. This Flying V was also one of the three guitars Clark used when recording his award-winning album, 2019's This Land.
Clark appeared on stage again with Camila Cabello and pianist Lang Lang during a theatrical performance of "Body Electric" from the musical Fame. For this performance, which closed the show, he rocked an electric guitar from boutique builder Wide Sky Guitars. Built by luthier Patch Rubin in Taos, New Mexico, the Wide Sky P125 was Rubin's first electric guitar to be made, and it debuted at the 2018 Summer NAMM Show. Featuring a carved maple top, chambered sapele body, mahogany neck and ebony fretboard in a hand-rubbed Tobacco Burst finish, the P125 is powered by handmade pickups from Arcane, Inc., making it a great axe to deliver that classic bluesy Americana vibe that Gary Clark Jr. has become known for.
Sheila E., Usher and FKA twigs Tribute to Prince
Recent Guitar Center RockWalk inductee Sheila E., along with Usher and FKA twigs, paid honor to the great musician, performer and songwriter Prince with a medley of his hits. In a nod to the creative, innovative force that he was, the tribute performance spanned a selection of some of his biggest hits, including "Red Corvette," "When Dove's Cry" and "Kiss." Sheila E., the daughter of legendary percussionist Pete Escovedo, has a history of performing and collaborating with Prince. During the tribute to the late icon, Sheila E. played a set of custom LP Latin Percussion timbales emblazoned with her signature butterflies and the legendary Prince logo.
The biggest night in music once again served to remind us of the power of music. On what turned out to be a dark day, the music community came together with tribute performances, special moments and surprising collaborations—all of which were empowered by an impressive selection of innovative gear—to prove truly how impactful of an art form music is.
Check out our interview with H.E.R. at Coachella 2019, where we dive in on the story behind her Fender Custom Shop Clear Acrylic Stratocaster: https://www.guitarcenter.com/riffs/interviews/guitars/h.e.r.-fender-custom-shop-acrylic-stratocaster-at-coachella-2019