After walking away from the 61st Grammy Awards the winner of both Best R&B Album and R&B Performance, H.E.R.'s smooth, laid-back, R&B/pop transcended to the forefront of popular culture. That night, her electrifying performance of "Hard Place," included the debut of a see-thru Fender Custom Shop Acrylic Stratocaster made just for the show, noted as one of the most memorable showcases of the evening.
We sat down with H.E.R. before her set at Coachella Weekend 2 to talk about the inspiration behind the incredible Stratocaster, as well as how George Clinton and the Parliament Funkadelic inspires her vibrant stage shows.
Photos by Rob Klassen
Tell us how your incredible Fender Stratocaster came to be.
 
This magical piece right here is my Fender Custom Shop Acrylic Stratocaster. When I originally wanted this guitar made, I was preparing for the Grammys, and I had this outfit that was covered in stones. It shined really bright and would bounce off the lighting. Me and my stylist decided that the guitar had to compliment the outfit – what better way to see it than to have a transparent guitar? It can become whatever color I want it to be. 
How would you describe the sound of it?
I love it because you can get both a warm tone and a brighter, classic rock sound – it was perfect for the Grammys when I did my "Hard Place" solo. I'm always experimenting with the different tones. The body is acrylic, so it weighs a ton! I usually don't play the entire set with it.
 
Why did you initially choose to play a Strat?
 
Jimi Hendrix played a Strat – I'm definitely inspired by him. That was my first guitar – my dad taught me how to play the blues on a black and white Stratocaster. I started on one of those mini ones that was made for kids – then I moved right on to the big girl Strat.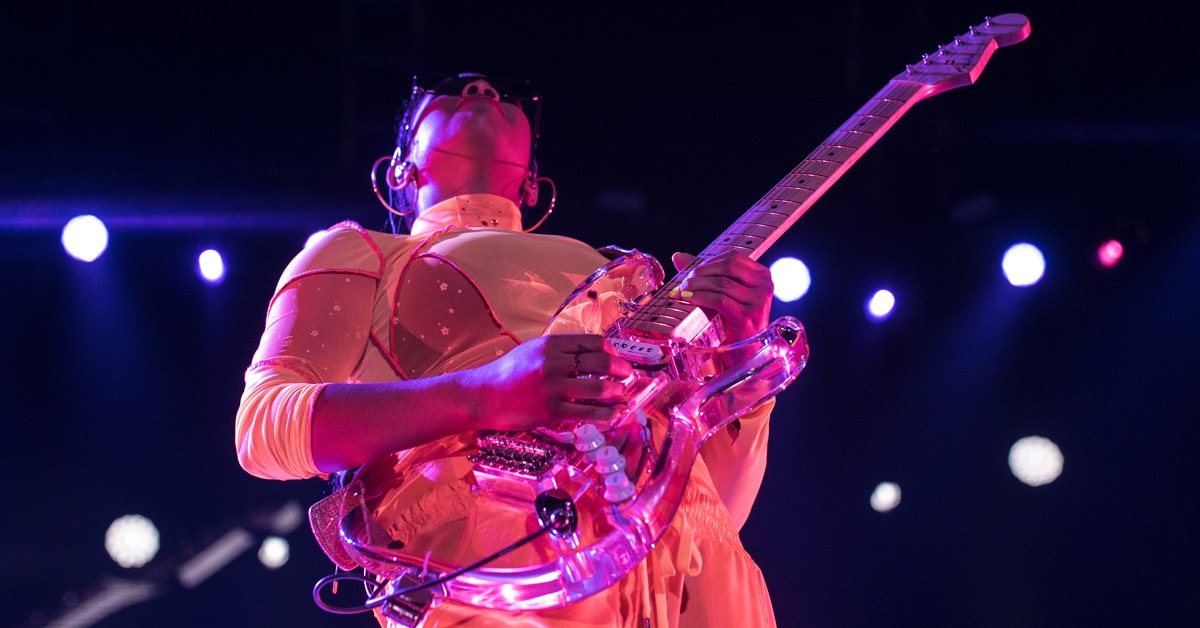 Does your Stratocaster have a name?
 
I never gave her a name, actually! Maybe you guys can help me give her one…
 
Have you seen any sets here at Coachella this year that blew you away?
 
Anderson .Paak's set was awesome – he totally brought out the musicality of his artistry. I would love to see that more out of artists. 
 
When performing at a huge show like Coachella, what are you trying to convey in your set?
 
I look for the tightness of a James Brown set, but the freedom of gospel, or George Clinton and Parliament-Funkadelic. It's important to have the set be playful and musical, but it's also important for the audience to follow along with what you're doing. That's ideal for me.
 
What advice would you give a young musician in a Guitar Center picking up their first Strat or guitar?
 
Follow the music. It's about what you like – there's no true structure in music. Practice, but play what you like. Study the greats and you'll be great.
Check out H.E.R.'s Grammy-award winning EP: