While there's always lots of glamor in new guitars, amps, and effects at NAMM, sometimes what will affect your life most is in the small details. This year, the Ernie Ball booth was a hive of activity, and we had the chance to chat with Drew Montell, Ernie Ball Music Man's director of engineering, to go over some of the cool new accessories Drew and his team has heading your way.
Slinky Gets Burly and Goes Ultra
Ernie Ball got its start in the string industry, revolutionizing the way guitar strings were sold and how they were gauged. So, it makes absolute sense that they're always looking for new ways to cater to players. New additions to the iconic Slinky family are the Burly Slinky and Ultra Slinky sets, created in the same vein as the popular Skinny Top, Heavy Bottom and Hybrid Slinky sets. 
You might be able to guess that the Burly set is aimed at players who prefer a meatier string, either for down-tuning or for a fatter tone. The new Burly gauges are .011, .014, .18p, .030, .042 and 052. For players who may want slightly easier bending, but still want to retain a solid low end, the Ultra set is gauged slightly lighter at .010, .013, .017p, .028, .038 and .048.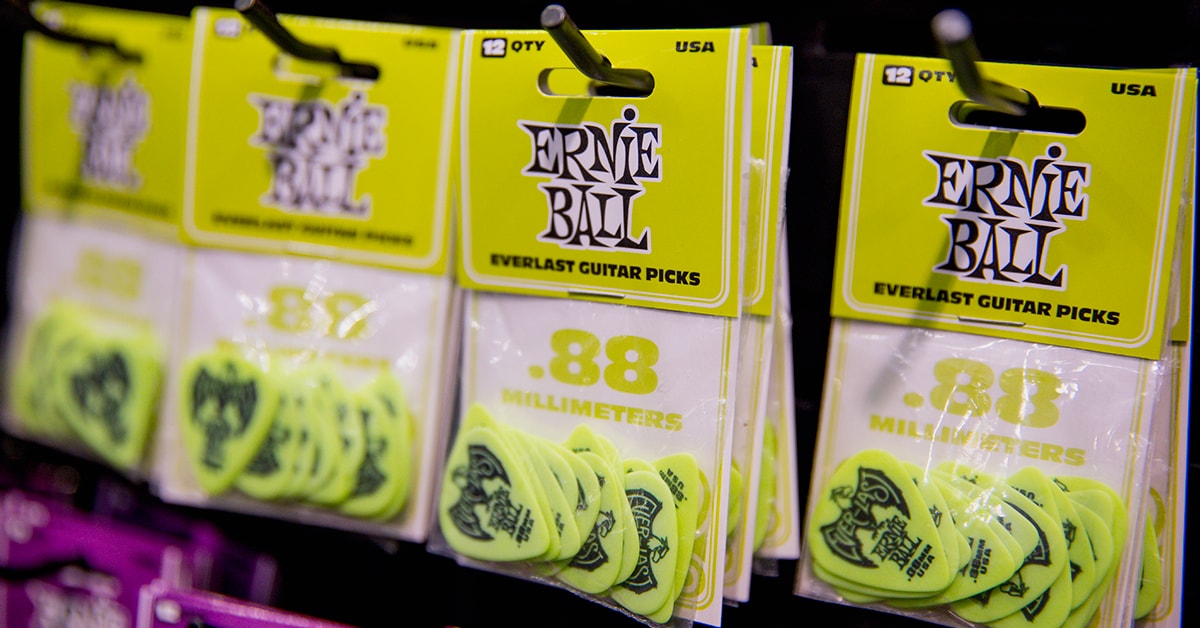 New Everlast Picks
When Ernie Ball came out with the Everlast picks last year, they knew that guitarists love great sounding picks that last. Made of Delrin, an exceptionally hard and durable resin-based polymer, they wear much less quickly and are more slip-resistant than traditional celluloid picks, and will survive more cycles in the dryer when you forget to empty your pockets on laundry day. 
For 2019, Ernie Ball introduces new shapes and thicknesses to the line, which now ranges from .48mm to a hefty 2mm in width.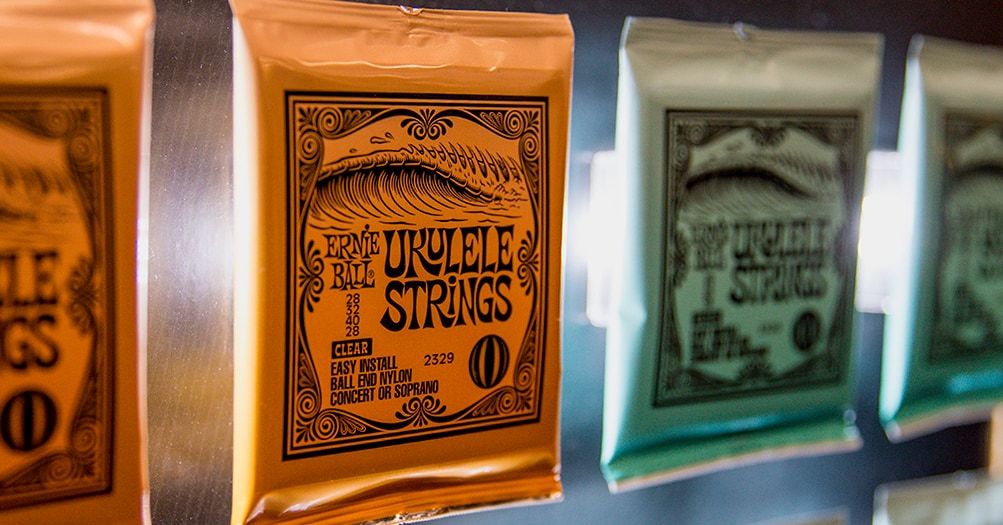 Ernie Ball Ukulele Strings
Everywhere you turn these days, you'll see someone playing a uke. The traditional Hawaiian instrument has exploded in popularity, and it's no surprise that Drew and his team figured out ways to offer improvements with Ernie Ball Ukulele Strings.
"We put a ball end on ukulele nylon strings, so that makes it easier to install," Drew, said. "It [also] makes the tuning way more stable," he added. "And we offer it in two colors — black ukulele strings or clear ukulele strings — for both concert and soprano."
Over the years, Ernie Ball has maintained a tradition of innovation, but they also remain committed to refining and improving existing products to make sure that players can always find just the right accessories. Drew let us know that he and his engineering crew have even more exciting new accessories coming your way in 2019.