The legendary Akai Professional MPC has made waves among beatmakers and producers since its debut in 1988. The MPC Studio builds on that legacy, offering on-the-go music makers the ability to create freely with their streamlined setups. With just a laptop and bundled MPC software, the MPC Studio gives artists the expansive world of beats that put MPC on the map—in a professional format that's more portable than ever.
We had the pleasure of chatting with Andy Mac, MPC & Sound Content Project Manager at Akai Professional, about what the MPC Studio is all about, its many must-have features and how it fits into modern music production workflows.
Various MPC models have made quite the impression over the years. Tell us how this new MPC Studio came about.­­­­­­
Andy Mac: We noticed a lot of new producers starting out with just a laptop, who simply couldn't afford a standalone MPC. We saw more and more producers were working from home and were limited on space.
With this feedback, creating a compact, affordable controller that integrated with the MPC software made a lot of sense. We also wanted to make sure the controller offered the key features on the unit itself.
Most important was the quality of the pads, but we also made sure we had a strong selection of controls and a screen providing visual feedback for key parameters, even though the producer would also have a laptop screen. We're really pleased with what we've achieved.
If you're just beginning your musical journey, and looking for something affordable that's also used by professionals, MPC Studio is an incredible way to get into music production. MPC Studio, combined with the included MPC software, turns your existing laptop into a powerful beat-making studio at a very attractive price point. It's an amazing value for anyone starting out.
Outside of what you just mentioned, were there any must-have features or workflows?
Mac: Yes ... many! [Laughs] It was super important for the new Touch Strip to add so much functionality to the workflow. It really opens new possibilities. Adding to this, we wanted easy access to iconic features, such as Quantize, MPC Swing and 16 levels of Chords and Scales. You can also jump between different MPC modes and write automation.
Another must-have was the ability to trim and chop samples from the pads, without needing to rely on your mouse or trackpad. You can even layer your samples directly from the hardware.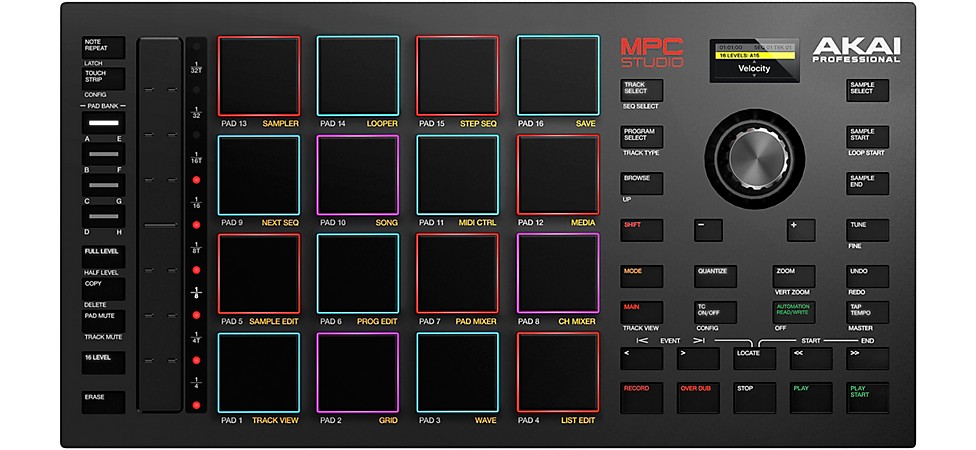 Pictured: Akai Professional MPC Studio
You've touched on the "synergy" between the MPC Studio and the MPC software. What are the benefits of that type of a setup, as compared to more of a mix-and-match approach?
Mac: The combination of tactical buttons on the MPC Studio hardware, designed for direct control of fully featured MPC software, allows beatmakers and music creators to instantly create professional music, without the need for third-party plug-ins. MPC software is a DAW, and it includes everything: top-level sound content, virtual instruments created by world-class producers and today's go-to plug-in effects. It's got audio and MIDI tracks, sample chops and clip launching for all styles of music.
So, you get all of that inside a simple and affordable solution. 
Zooming out a bit, where does MPC Studio fit in the larger MPC family?
Mac: The workflow across all our MPC products is built around the same MPC software. If you're moving between studios, or want something that is more portable, this is the perfect solution. You can move between projects and workflow with ease. MPC Studio is USB-powered, so it's great for travelling and jumping between sessions, and will complement any current MPC setup—taking full advantage of the MPC software. You'll also have access to the new Touch Strip integration, which adds a whole new level of control and performance to the platform.
If you had to pick, what would you say are the most exciting plug-ins and sounds in the MPC 2.1 software?
Mac: Well ... there are too many to list, but my personal favorites are Half-Speed, which is today's go-to production effect, and the AIR Vocal Suite, which gives you the ability to retune pitch and add harmonies. Those plug-ins alone would cost over $100 each.
We also recently released four brand-new plug-in instruments to the MPC, delivering thousands of presets and sonic possibilities straight out the box. Currently you have eight virtual instruments, including Hype, Mellotron, Arp Odyssey and Solina, plus over 100 stock effects. Oh, and we shouldn't forget the DrumSynth engine, for all those classic drum machine sounds.
Were there any notable producers or sound designers you worked with on the 2.1 update?
Mac: Yes. MPC Studio comes with 12 MPC Expansion packs, one of which is called Gold Dust. Gold Dust was designed exclusively for MPC Studio and includes 100 brand-new kits created by Snipe Young (Grammy-winning producer/engineer for Chris Brown and Nicki Minaj) and the incredible team at MSX Audio (who also did the popular Soul Provider MPC series). We also worked with Raw Cutz, who bring that classic "boom bap," and new lo-fi producers, Jet Set. Gold Dust is also available to all other MPC customers for $69, but it comes free with MPC Studio.
We also added some electronic kits from new sound designers NITELIFE AUDIO and our friends at F9, bringing in some new, deep 808 sounds. You really do have an incredible selection of sounds out of the box. And, of course, you can download even more sounds from our expansion store to keep you inspired.
Akai has a history of performance-oriented controllers, in particularly the highly acclaimed APC line. Can MPC Studio be used in a similar manner? 
Mac: Absolutely. This was one of the decisions around integrating the Touch Strip, adding a whole new level of performance to the hardware. Q Link encoders are awesome, but the Touch Strip allows you to create new and exciting performances, which elevate your productions.
MPC software also offers clip launching, utilizing the Elastique Pro time stretching algorithm, so you can do high-quality looping in real time. When you combine this with the Touch Strip, you can achieve effects that add a whole new dimension to music making. A lot of today's productions are inspired and driven by live effects and performance, and this is where we've pushed the envelope.
Can producers use third-party plug-ins within the MPC 2.1 software?
Mac: Yes, absolutely. MPC software supports AU, VST and AAX plug-in formats, so you can incorporate all your favorite third-party FX and virtual instruments.
How does MPC Studio work with other DAWs?
Mac: MPC software can run as a plug-in inside any DAW, such as FL Studio, Logic, Pro Tools or Ableton, which means you can integrate the MPC workflow inside your preferred music software. The MPC Studio hardware will then allow you to control the MPC Workflow inside of your DAW. All of our standalone MPCs can run in controller mode, giving you the same functionality, which is pretty amazing.
Are there any limits to using the MPC software as a plug-in?
Mac: No. You can run the software standalone, outside of your DAW or inside the application, as a virtual instrument. It allows you to adapt to the moment. For example, you can start a beat in the MPC software, then open MPC inside FL Studio and continue working on your beat—or even drag and drop the parts inside the DAW. You get the best of both worlds.
If someone was trying out MPC Studio and MPC 2.1 software for the first time, what would you recommend they check out?  
Mac: Just load up some kits and dive straight in. Within a few minutes, you'll be making hits—it's as simple as that.
I'd highly recommend heading over to our MPC Academy on YouTube, where we've created dedicated masterclasses to walk you through the entire MPC experience. Every MPC has a series of tutorials teaching you everything about MPC and the workflow. These are one of our most important assets for helping new and existing users improve their production knowledge. MPC Studio has a one-hour masterclass taking you through the full production process from start to finish, with free downloadable content. There are also over 30 videos, teaching you everything about the hardware and software.