Southern California-based L.A. Witch recently released their retro-groove-laden debut on Seattle's Suicide Squeeze Records. While the three-piece group manifests decidedly vintage-inspired tones on their album, their touring setup consists of a number of reliable, modern, road-ready pieces of gear. The band discusses a few of their favorite items, including singer/guitarist Sade Sanchez's trusty Lock-It strap that keeps her new Fender Jazzmaster right where she wants it, Irita Pai's preferred D'Addario flatwound bass strings and the Evans-equipped Pork Pie snare used by drummer Ellie English.
So tell us about your instrument & why it's your favorite gear while on-the-road.
Ellie (drums): I have a Pork Pie snare – it's eucalyptus on the outside, maple on the inside. I have an Evans HD Dry Head because it's a great sounding snare, but it has a lot of overtones. I also started playing with a die-cast hoop on the top head for this tour, because I have a tendency to do a lot of rim shots, which usually knocks my drum out of tune quickly. Helps reduce overtones.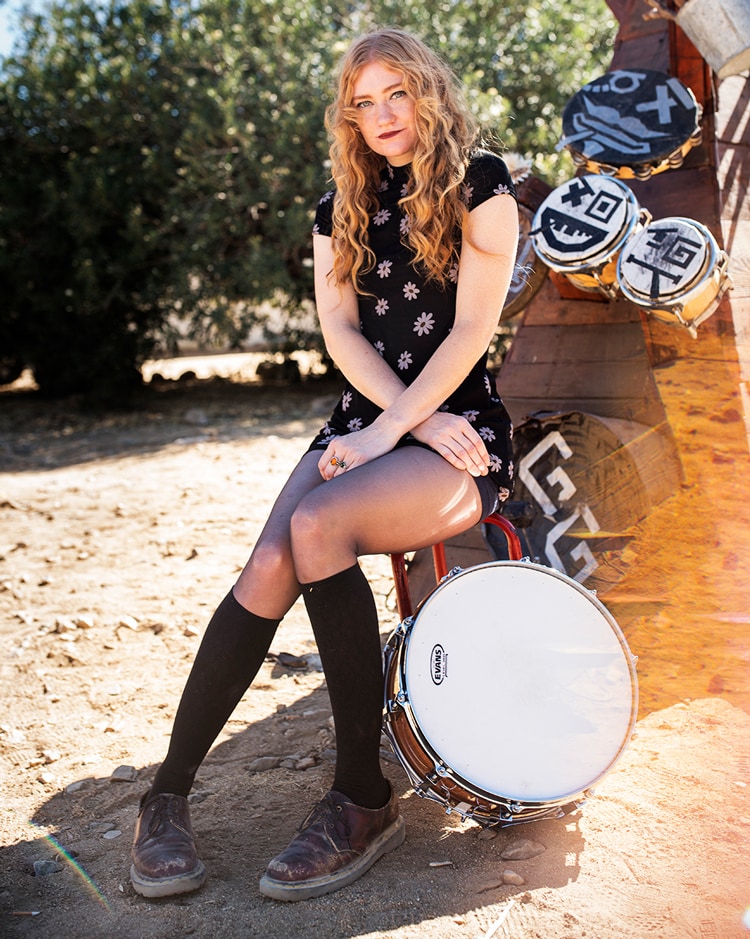 How does your snare/head set-up fit your style as a band?
E: I like a deeper, heavier snare - but I also like a pop to it. I genuinely love Piccolo snares, but I play loud, so I know if I played one, it would probably destroy everyone. The Pork Pie snare just kinds of works for us. It's not too deep, which I like. Sometimes if snares are too deep, people think they will actually sound bigger, but it's ends up making a smaller sound.
Tell us about your Jazzmaster.
Sade (guitar & vocals): I have a Fender American Professional Jazzmaster – it's the newest guitar that I own. It was actually a gift from Fender, which I'm really stoked about. Normally I play a 1968 Vox Viper which has built-in effects and is a hollowbody, so this is kind of different. But it's good for touring because it's very versatile & reliable. I like the Fender because you can throw it around and swing it, and it's smaller. It feels a little more comfortable playing it. I love Fender in general, and I also play a Fender amp. I usually play with really treble-y tones, and this guitar can achieve that – but also has warmer tones as well. I was really inspired by The Cramps, The Jesus & Mary Chain - almost ear-piercing guitar. I usually just turn the bass & treble up.

Tell us about that locking strap.
S: It's funny because it's just a strap, but it's actually one of my favorite things. It's a really great strap – it's called a Lock-It, and pretty much it's just like how it sounds. Locks your strap in place. You can swing that thing around and your guitar is gonna stay put. I would just love to see some other prints.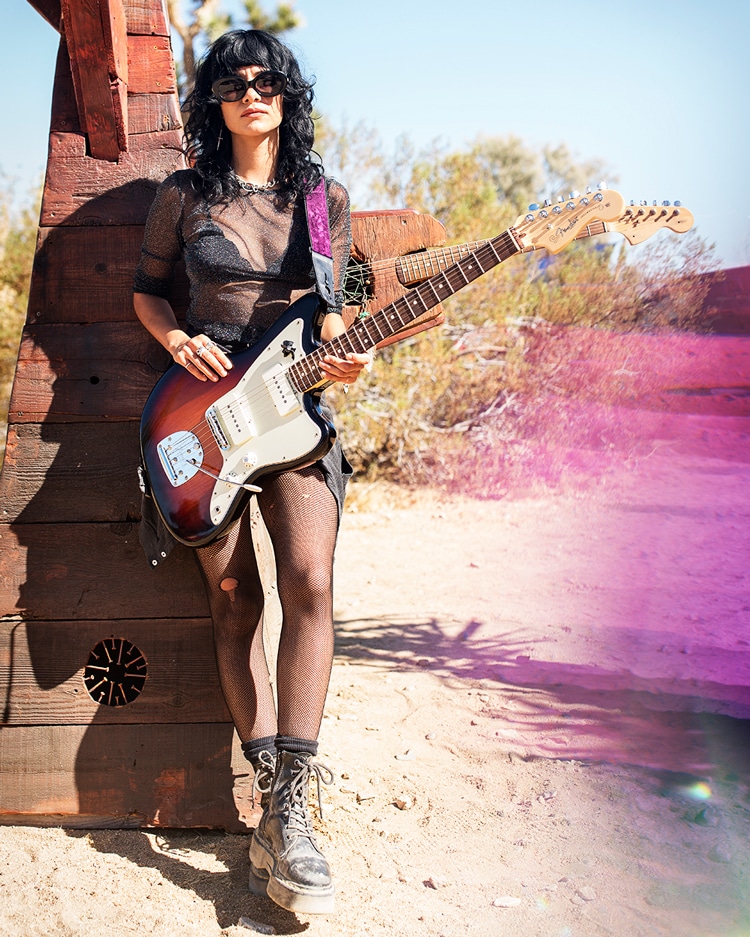 It is a really rad strap. And tell us about your bass.
Irita (bass & vocals): I play a '93 Short-Scale Fender Mustang Bass. I play with my fingers, so I put flat wound D'Addario strings on them. Sounds really good.

How did you choose this bass?
I: It's funny because I have small hands, so it's easy for me to play a short-scale. I liked the way the Mustang felt, and for me it's more about how it feels. I can adjust the sound via my amp & preamp.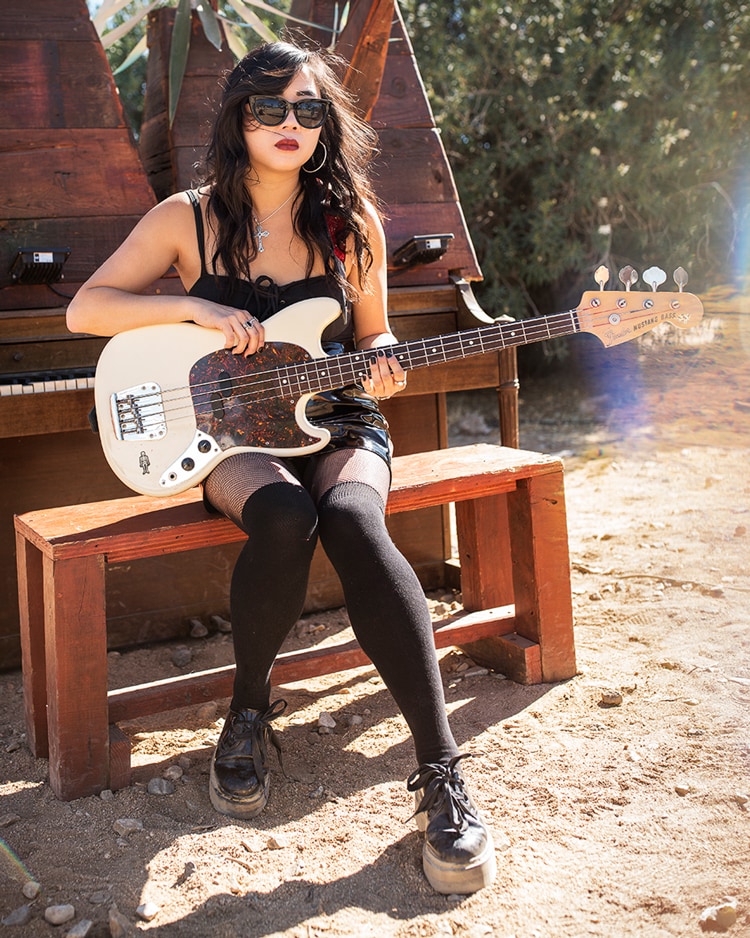 What's the newest addition to your board/kit?
Sade: I recently bought a Voodoo Lab Power Supply – I didn't realize it, but having a lot of effects in your chain really drains smaller power supplies and causes a lot of noise that can actually even be harmful to your pedals. It's been a rad addition to my board.

How do you take care of your instruments on tour?
Sade: Well, we bring all of our guitars inside whenever we get to our hotel to avoid them getting stolen. (LA Witch had their gear stolen out of their tour van this past spring while in Europe.)
Irita: We usually get our stuff set-up on tour.
S: If the strings sound a little dull on a guitar, we usually just re-string it. I carry around my pliers & winder. Love those things. I use the Ernie Ball Super Slinky or Regular Slinky packs.
Ellie: I use Vic Firth 5As. I've been through many different stick phases, but that's what I'm on right now.

Do you remember the very first guitar, bass or kit you ever owned?
Irita: I had one of those Squiers. For my birthday, my friends bought me one of those Squier basses that came with a little practice amp at Guitar Center.
Sade: Same – it came with a little gig bag and a tuner, it was like $100. I felt so cool – I was like "Yeah, a real gig bag!"
Ellie: I saved up my allowance for over a year to buy my first drum set – it didn't even have a brand name. It was awesome – I remember selling it though and now I wish I hadn't. I miss that drum kit!

Do you remember the first big win you experienced as a musician?
Irita: Austin Psych Fest, for me.
Sade: For me, it was when the album came out in September. I felt like "Yeah, we're a real band now." After 6 years of being in a band, it finally kind of just hit me - especially when you look out in a crowd and people are singing your lyrics.

How do you deal when gear malfunctions on stage?
Irita: Oh, God.
Sade: I always tell myself - whether there are 5 people or 500 - that the crowd is there to see someone that believes in themselves. They need that inspiration. That's what gets me through it, personally. No matter what the technical problem is, I always try to do my best.

Fantastic advice. Lastly, what did you listen to on the way over here? Any band sing-a-longs?
S: A lot of people talking in the background, because we had a van full of 10 people on the way over here. But sometimes you need your own little bubble – we'll put in our headphones & tune out.
Irita: Or sometimes the driver will DJ.
Check out L.A. Witch's debut self-titled album here.