Two years ago, when Emily Wolfe stepped into the studio with Alabama Shakes' keyboardist Ben Tanner at the board, she had already mapped out just about every sound she envisioned for the record. "The good thing about Emily is that she knows the sound when it's there. The songs were fully formed in her head by the time she got the studio," said Ben.

Emily, a native of Austin, Texas, has spent the last several years making a name for herself as an electrifying, blues-driven live rock act, accompanied on the road by her trusty Epiphone Sheraton (picked up at Guitar Center Austin at the start of her career) and ever-evolving pedal board. With the release of her debut self-titled album, she effortlessly harnesses the raw power of her live performances in collaboration with Ben's in-studio experimentation - creating an album that marries the roots of rock with the soaring choruses of modern pop.

We sat down with Emily and Ben to talk about inspiration for the album, the process and gear behind nailing the sound, and how they brought to life Emily's genre-bending dream of mixing "Demi Lovato with Queens of the Stone Age."



When we caught up with you at SXSW last year, you had mentioned that you were putting finishing touches on this album. How are you feeling now that this is finally out into the world?
Emily: I feel like I'm giving birth to a baby that's been waiting to be born for two years. It's crazy. I'm just so relieved, because I can finally start writing new stuff. It's been a whirlwind getting this thing out and funded, and I'm just so proud of it. Working with Ben was awesome, because he knows how to make me sound great. He understands what I'm trying to do.

How was the process different from previous records you've made?
Emily: I did a lot of pre-production before we went into the studio to cut it. I think I spent three to four months just studying what I really wanted - textures I wanted to hear and how I wanted to layer stuff. I bought a bunch of books about mics, and I looked up their frequency responses to make a little list for Ben to see what he thought of them. And I tried a bunch of different guitars, pedals, strings and picks. I really focused on what I wanted it to sound like, and took all those ideas to Ben and asked, "Help. What do you think?"

In your research, did you discover any new gear that you now use regularly?
Emily: I have my regular, live pedalboard that I use, and my Epiphone Sheraton I play live with all the time, no matter what. I had those two staples in the studio, and then I built this massive, experimental pedalboard that I brought in. One of my favorite parts of doing the record with Ben was when he'd just get on the floor with me and twiddle knobs and stuff. It was awesome, and that's the coolest part of—it was like painting with a friend, basically. I also brought out some stuff that I've had since I was in tenth grade. I have this little BOSS BR-600 - it's a teeny digital recorder with built-in sounds, a lot of which actually made the record, which surprised me, because I never use it. I raided my closet before I went and packed everything up that I could see myself potentially using.
Ben: We were using the BOSS BR-600 as a weird front-end for direct guitars - a lot of those sounds on their own are thin and crispy, but when you dial them into a track in between big guitars - it really does perform a function. A lot of that stuff is probably not conscious when you're listening to it, but, yeah, I think that stuff is hugely important.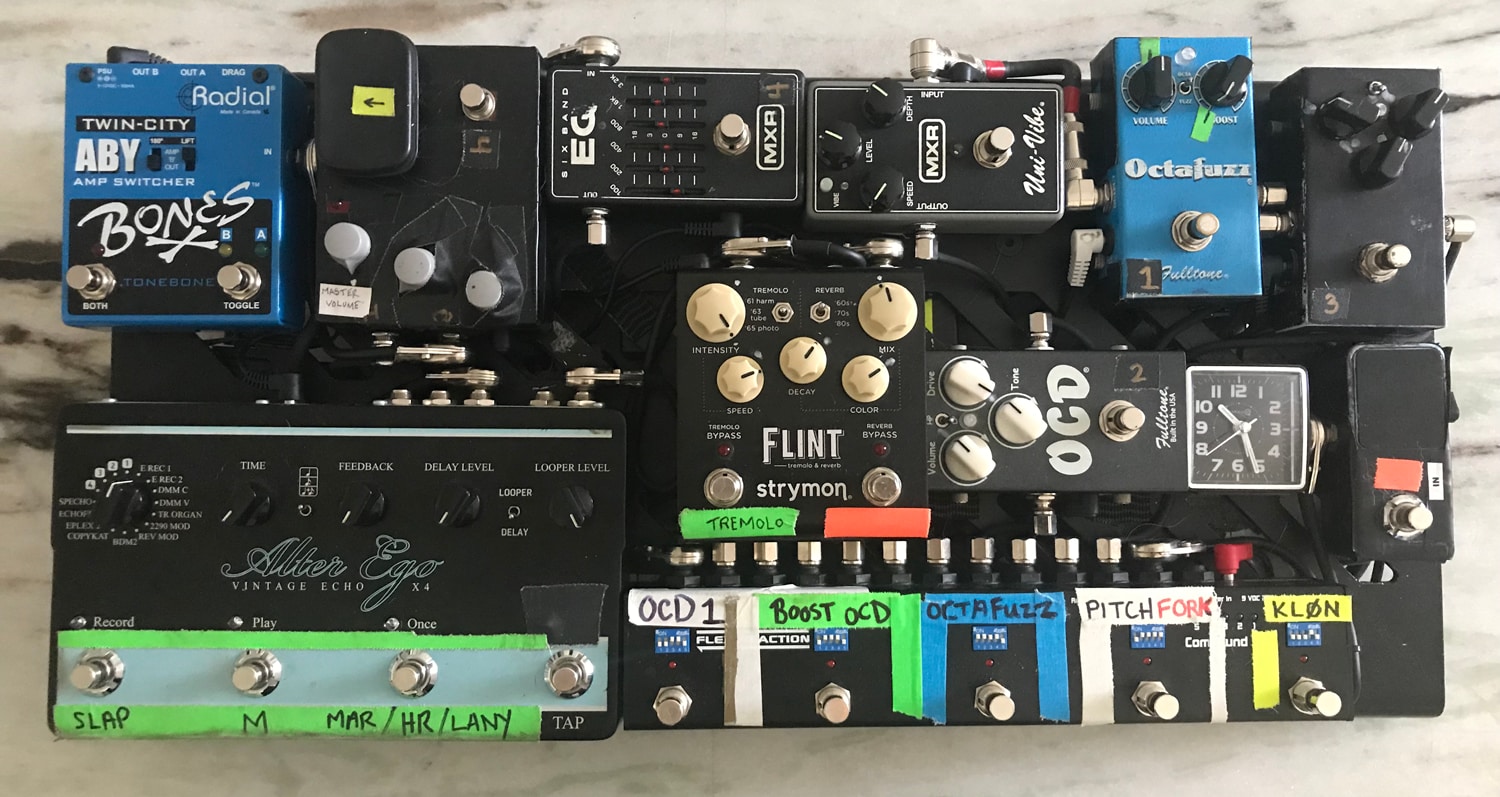 Emily's touring pedal board.

When did you first become aware of Emily as an artist, and then how do you get looped in to work on the record?
Ben: She came to multiple shows where I live, and cut a few songs at Portside Sound, which is like the second incarnation of Muscle Shoals Sound. That's where Bob Dylan's Slow Train Coming and a bunch of other really cool records were made. She stopped by, and we worked together for a couple of days on a few songs. I kind of knew immediately [the album] was going to be a lot of fun to work on, because she can play and she can sing and she writes cool songs. That makes it easy. It's just deciding on what kind of flavors you want to sprinkle in there - but once you've got the fundamental stuff taken care of, then you're going to make something good. It was super helpful to have the references and general aesthetic she had in mind, and then I touched on things that I'd worked on in the past. If she referenced a record I wasn't really familiar with, I'd dig into it. The good thing about the 21st century is that a lot of times you can find out a lot of actual information on how they made a record in the studio. You can try to apply that, to some extent, in the studio. The good thing about Emily is that she knows the sound when it's there. Emily almost always knew what she was going for, which made the whole thing a lot of fun. The songs were fully formed in her head by the time she got the studio. It gave us a little bit of wiggle room to improvise and follow inspiration, but it was more about executing the thing and finding the right sound for it in the context of the record.

What elements of the records that helped inspire the sound of this album did you work to incorporate?
Emily: Before Ben and I actually met and started working together, just e-mailing - I do think I could have come across as a crazy person, because I was, like, "Okay, I want it to be like Queens of the Stone Age meets Demi Lovato," – I wanted to explore weird combinations that seem bizarre. I noticed that in pop music, whenever the chorus hits, they put this airy synth in the back of every single pop hit - I'm like, Okay, we've got to figure out how to make that happen. That seems to lift the chorus out of the song, making it a monster on its own. I also had a massive folder of just samples – I asked Ben to pick the coolest ones to see if we could use them on the record. A lot of them made the record, too. I wanted to emulate the bass drop in hip hop and other genres that people love.

How did you marry the more traditional blues/rock elements with the modern synths & samples?
Emily: That was the fun part. I feel like Ben really achieved that part, because I had no idea how I was going to do that. Yeah, how'd you do that, Ben?
Ben: Well, we began with everything being tracked with the band. It always began with a live band take and capturing her performance. People rave about Emily's live shows, and the worst thing you want somebody to say about your record is "It's good, but you're so much better live."
Emily: Yeah.
Ben: It's not the easiest thing to capture that kind of energy on a record. The way pop music works - when the chorus hits or the solo hits - things get really tall, and changes in the high end and low end make it feel huge. It's more produced than just these three people playing together in a room, but you don't want it to be so overly produced or overly polished that it loses the flow of who Emily is an artist. A lot of it's in the moment - if we can make it elicit an emotional response in ourselves, then hopefully it will in somebody else, too.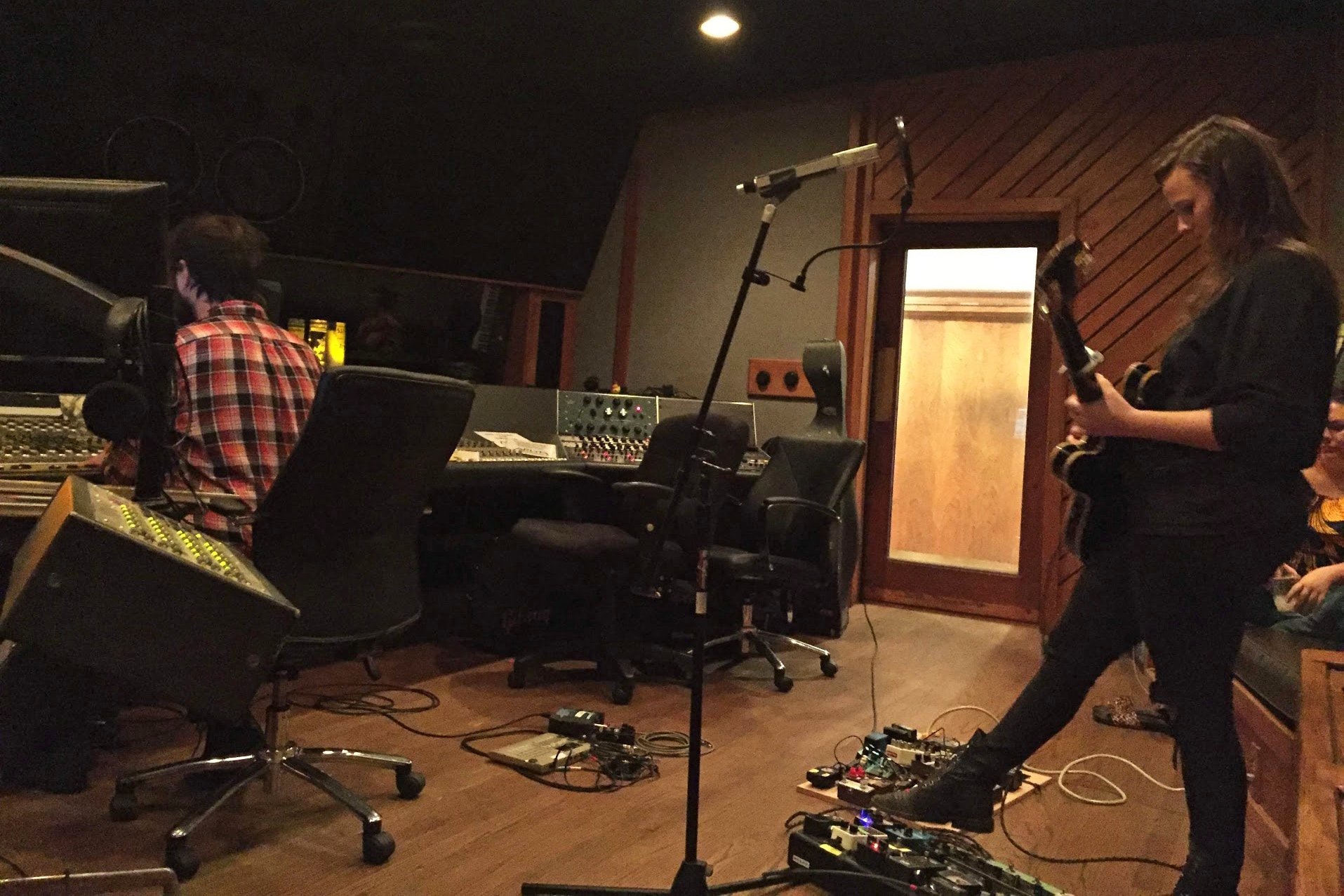 Behind-the-scenes with Emily Wolfe and Ben Tanner at Arlyn Studios in Austin, TX.


When recording with your massive new pedalboard, are you recording the effects live onto the track?
Ben: We tried to commit as much as possible, but it would vary from track-to-track. We'd have her guitar and a bunch of amps set up, along with several mics in the room. I had the mics wired to just a few faders, so you could quickly come up with a blend of amps and microphones. I don't like to make decisions later when I'm all alone - trying to remember what it was that we were going for in that moment. Especially with somebody like Emily, who had such a good idea of what she wanted - always very intentional and deliberate. I wanted to print it in stone at the time of recording.

How important was it to research the sounds and elements you wanted to use in the record?
Emily: It was so important. It's the same for me as studying for a test - the studio is going to reveal everything that you don't know, and everything that you do know – recorded on tape. You can listen back and ask yourself, Did I prepare for this? I like pre-production. I spent so much time on it because it was such a big deal to have this record finally being made, and with the right producer. I can't speak for everybody, because a lot of people like to go in and experiment, but for me it's so important to have the plan laid out. I like to leave room for experimentation, for sure – when you're in the studio, there's a special magic that's really inspiring.

Was there any song that was particularly challenging in the recording process?
Emily: I remember "Rules to Bend" being a challenge vocally, because I wasn't sure how I wanted to convey the emotion. Do you remember that, Ben?
Ben: Yeah, I do. But I didn't have to sing that song. It's definitely harder on the person who has to actually sing it. I felt it was a fairly easy process.
Emily: There were times where I could hear all the parts, but I didn't know how it was going to mesh - but it came out great. It's honestly one of my favorite songs on the record.

Tell us a little bit about the vocal comping process.
Ben: The chains varied a lot. It just depended song-to-song. We got into a vibe after a while, where some songs we cut with Emily singing on headphones in the tracking room, and for others we just tracked vocals in the control room. It was usually with a Sennheiser MD441U Supercardioid Dynamic Microphone, just because it's got a super tight pattern. We cut it at Arlyn Studios in Austin - they've got this strange little custom console where they've basically married a Neve and an API into this one-of-a-kind Frankenstein hybrid. For comping, especially on "Rules to Bend", it was cool to play around with layering vocals when the choruses hit – maybe I'd have her off in the room belting it out, tucked back behind the closer vocal in a way that you might not even notice at first. But it adds a certain depth and emotion to the performance.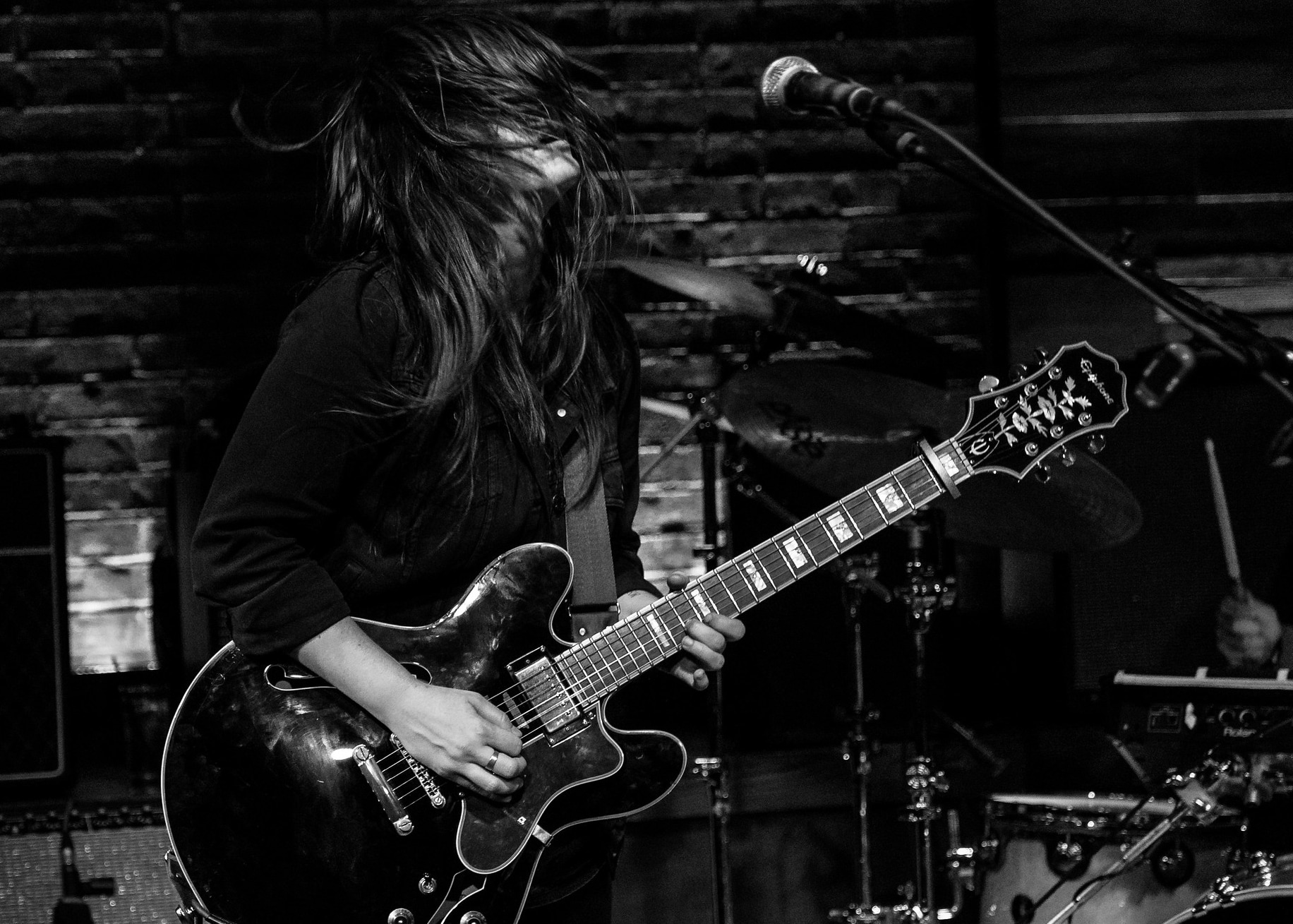 Which song changed the most throughout the recording process?
Ben: It felt like as we worked on things, the hierarchy of songs constantly shifted – I'd have a few favorites, and then some that we'd think Yeah, I don't even know if these are going to make the record. "Medusa" was a song we weren't too sure about, but decided to record it and see where it might fit. When it was done, it came out awesome.

What are you most excited about for people to hear with this new album?
Emily: I'd say mostly the production. I'm so excited for people to hear what it sounds like, because it's very unique. I'm really excited for people to hear the production of it. There's so much texture. I also had the opportunity to give new life to some of my older songs that had been released a few years ago. Ben gave them a new set of wheels, basically – and I'm really excited for people to hear the new versions of those.

What's it like to hear these songs exactly as you envisioned them?
Emily: That's the best feeling in the world. It's like winning like a really fun game or finishing a puzzle. I get to go on the hunt for what's going to cause this sound to happen. Much of it was pedals. I have this little brain folder of pedals that I'll draw from. There's a specific pedal that I just love because it's the sound I had been looking for so long - I actually went into a Guitar Center to find it. The shootout was between the Fulltone OCD Obsessive Compulsive Drive and the MXR Super Badass Distortion. I plugged in the OCD and it was literally the sound that had been in my brain – I knew that was the sound. It was so cool, and I have never felt that way - that's one of the reasons why I love pedals. But it's the greatest feeling ever – other than playing live.

When will you be taking this album out on the road, and what gear will you be bringing with you?
Emily: I'm planning a tour right now – cities and dates to be announced. There are some bands that I am good friends with that I might be supporting out on the road. As far as getting the sounds on the record - it's just me, my bass player, and my drummer. My drummer has a Roland SPD-SX Sampling Pad that he has programmed with the sounds from the record. A lot of the swirly delay sounds that are on the record I get from using feedback on my guitar. There's no keyboard player in my band, so I just basically use feedback drones or pads to fill out the sound. My bass player has an upgraded pedalboard for all the cool bass tones – that's about it. One of the main reasons I am so proud of this album is because my live sound and my record is finally very much aligned – it's a great feeling. I'm super excited to hit all of these cities that we've got on the books.

We're sure you'll be stopping at Guitar Centers all across the country for some pedal shopping on the road.
Emily: [Laughs] Yeah. Without a doubt.

Check out Emily's new self-titled album below: