Driven by a passion for music and songwriting, 10-year-old British drummer Nandi Bushell is well on her way to becoming a superstar for a new generation of rockers. With her expressive covers of well-known songs in a mix of genres ranging from classic hard rock and electric blues to '90s punk and post-grunge, Bushell has already attracted a huge social media fan base. Her technical skill and infectious energy have inspired millions, including musicians like Erykah Badu, Questlove and Lenny Kravitz, making her list of Instagram and YouTube followers read more like a Spotify playlist. While the Ipswitch, England, resident has been behind the kit for years now, a recent drum off with rock legend Dave Grohl went viral, bringing even more eyes—and ears—to Bushell's style of high-energy drumming.
Go back far enough on Bushell's YouTube channel and you'll see a 5-year-old shyly jamming away on her first drum set, a toy kit brought home by her father. Fast-forward to today and it might be surprising to see the energetic, confident drummer she's become. But longtime fans who've been with her from the beginning have watched Bushell develop into a genuine rock 'n' roll personality fueled by a passion for the sheer fun of making music. While her focus is on the drums, Bushell also sings and plays guitar, bass and piano, making her a one-girl band who, along with her covers, has also written a handful of originals. We talked with the multi-instrumentalist about how she's grown as a young artist, what it was like to collaborate with some of her idols and the power of music to connect us.
What inspired you to make music?
I was inspired by a lot of artists and bands who have changed the world, and I want to change the world, too.
What interests you about playing multiple instruments?
Artists like Dave Grohl and Lenny Kravitz write their songs on their own, and I think that's really cool. I want to do it, too.
Do you have a favorite type of music?
My favorite genre of music is rock. I love rock music because when I'm rocking out on the drums, I can just let everything out and have a lot of fun screaming.
How did you get started on drums?
When I was 5, I would make pancakes with my family on the weekends, and we'd always listen to The Beatles. I'd look at Ringo Starr's drum kit and think, "That's amazing."
What motivates you?
I want to become the world's greatest drummer. Actually, I want to become the world's greatest musician. I love writing new songs and making up new beats, so getting better and having lots of fun inspires me to play.
I make music to have fun and express myself. I love writing new songs and making up new beats.
Bushell's musical development has been informed by her real-life experiences as well as genuine mentorship from world-renowned artists. As the Bushell family released increasingly popular videos, they would start to receive backstage invites to mingle with the pros, including at the 2019 ONBlackheath Festival where Bushell and her family got to meet Questlove of The Roots and received a backstage tour from Jamiroquai drummer, Derrick McKenzie. Bushell would also get a chance to jam with one of her personal rock icons, Lenny Kravitz, at the O2 Arena in London, and would later receive a Gibson Les Paul from the fellow multi-instrumentalist to help in her mission to conquer the musical world.
Along with the Les Paul from Kravitz, Bushell has built up an incredible arsenal of gear and utilizes an impressive variety of instruments in her songwriting and video performances. She most frequently uses her Questlove Ludwig Pocket Kit drum set, given to her by Questlove himself, as well as her Nandi Bushell Signature Sticks from Vic Firth. Bushell also plays a Fender Acoustasonic Stratocaster, a Fender Mustang Bass and a one-of-a-kind custom-made Fender Stratocaster, which is her favorite guitar because of its smooth playability and purple color. She also owns a Fender American Professional II Telecaster Deluxe, which she can be heard playing on her original song, "Gods and Unicorns," written in collaboration with British guitar-pop singer/songwriter Zuzu.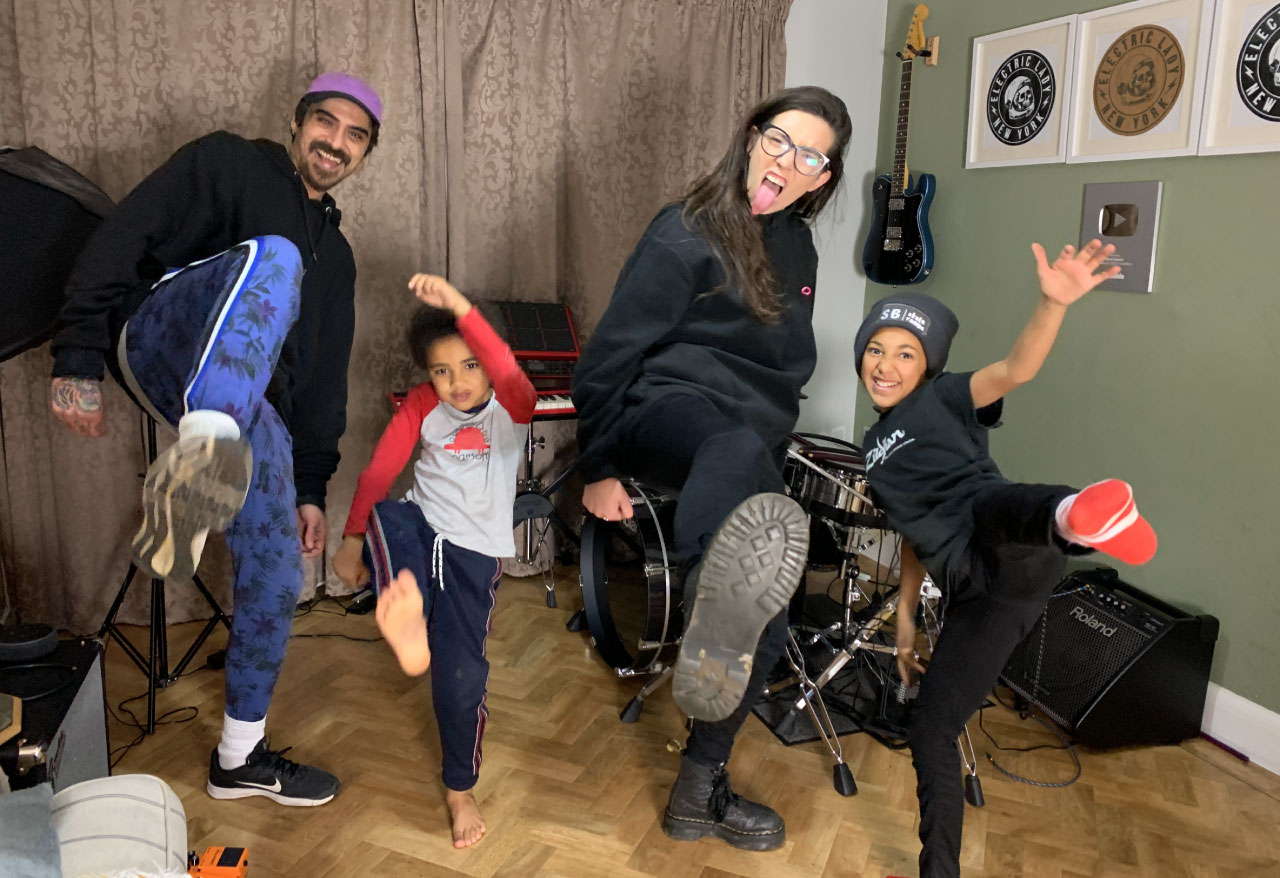 What is "Gods and Unicorns" about?
"Gods and Unicorns" is about having fun doing what you love and filling your heart with pride. Zuzu and I got together. We had a lot of fun jamming it out, and we came up with something sick. It was fun and exciting. I hope to do it again soon.
How do you write songs?
I think of a subject to write about and then I come up with a melody with my dad. We'll just jam out. Then my dad helps me with the structure of the lyrics, and I record it. Music is amazing because you can express yourself. If everybody made music, then the world would be a better place.
How do you hope to inspire others to make music?
I hope to inspire others by showing them that playing a musical instrument is a lot of fun, and you can have cool, new experiences.
What would you say to other kids who want to make music?
Go for it and just have lots of fun. Practice, practice, practice and have lots of fun.
What do you want to do next?
I want to write an album and tour the world!
At only 10 years old, Bushell has been playing the drums for half of her life and is poised to inspire a new group of young musicians to start playing and discover the fun of creating their own music. With a style that celebrates and respects the old school while still pushing boundaries even by today's standards, Nandi Bushell proves that a rock 'n' roll rebel can still be passionate, optimistic and excited to share the love of music with the world—just don't challenge her to a drum off.
Keep up with Nandi Bushell at her YouTube channel and Instagram.