Along with its celebrated sibling, the Supraphonic, Ludwig's Black Beauty is revered as one of the most recorded snare drums in history. Just as critical to the development of classic recordings as instruments such as the Gibson Les Paul, Fender Precision Bass, and Hammond Organ, the articulate, slightly metallic swack of the brass alloy Black Beauty always sits perfectly in a track's sonic landscape. Not surprisingly, multitudes of iconic and working drummers swear by the Black Beauty, and more than likely it has appeared on many of the hit songs and deep cuts that you love today.
And yet, despite all of this devotion by drummers, the Black Beauty almost passed into history decades ago.
Table of Contents
The Beginning of the Black Beauty
The Black Beauty Returns
Black Beauty Variations in the 1980s
The Sound of a Black Beauty
Legends of Snare Tone: Black Beauty vs. Supraphonic
Brass vs. Maple
How to Find the Perfect Black Beauty for You
The Beginning of the Black Beauty
The Ludwig brothers—William (1879–1973) and Theobald (1889–1918)—manufactured what was to become known as the Black Beauty in 1919, calling it the Inspiration model. According to Ludwig Manager of Marketing and Artist Relations Uli Salazar, the snare originally had six lugs, then eight lugs and, finally, 10 lugs. The brass alloy shell, black nickel plating and center bead—which, along with the snare's side-lever throw-off was an industry first—were eye-catching in the extreme. Later models were even more stunning with gold hardware and hand-engraved ornamentation.
How the snare got its name is almost as sensational as its appearance. The story dates back to February 12, 1924, when bandleader Paul Whiteman (dubbed the "King of Jazz" by none other than Duke Ellington) premiered George Gershwin's "Rhapsody in Blue" at New York's Aeolian Hall. Percussionist George Marsh brought his Ludwig snare to the concert—titled "An Experiment in Modern Music"—and Whiteman was so taken by its striking visage and sound that he dubbed it the "Black Beauty."
It was a tale ripe for the cinema, but the magic didn't last. While the Black Beauty's reputation with drummers was near stratospheric, business upheavals, material restrictions prior to the United States entering World War II (as well as during the conflict) and other factors caused it to be discontinued by 1940.
Happily, the legend of the Black Beauty didn't end there. It just took a while to rise up. Like three decades.
The Black Beauty Returns
Somehow, the reputation of the drum survived the years of its absence. Although the early Black Beauty snares were primarily used by orchestral musicians, from the 1940s and 1950s onward, old models would sometimes fall into the hands of esteemed session drummers. Other musicians, upon hearing these enchanting performances, would ask, "Hey, what did you use on that record?" As a result, the Black Beauty achieved cult status among those in the know.
Then, something else happened.
On February 9, 1964—the night that launched thousands of rock bands—the Beatles appeared on The Ed Sullivan Show, and there was Ringo Starr on a drum riser with the Ludwig logo prominently displayed on the front of his kick drum head. Almost immediately, Ludwig sales doubled, and the brand's renaissance catapulted it into being one of the most recognized drum makers on the planet. All of this had a burgeoning effect on the fortunes of the Black Beauty.
With rock drummers John Bonham, Mick Fleetwood, Ginger Baker and others also gravitating to the brand, another Ludwig snare, the Supraphonic (introduced in 1964), became popular. The Supraphonic bore a resemblance to the Black Beauty with its chrome-plated aluminum shell, Imperial lugs and beaded center. Having the format for the modern Black Beauty introduced with the Supraphonic, the stage was set for the snare's return. When Ludwig manufactured a brass snare on the Supraphonic's foundation in 1976, the Black Beauty was back.
Black Beauty Variations in the 1980s
Unfortunately, the classic format was toppled just five years later in 1981, when William Ludwig II sold the company to Selmer. Allegedly, in a bid to control costs, Selmer manufactured snares with bronze shells, and no Black Beauty models were featured in flyers and catalogs until 1988, when it appeared in bronze. It wasn't until the 1994 catalog that the classic, brass-shell Black Beauty reemerged. In a big win for drummers everywhere, the celebrated brass shell remains available from Ludwig today.
The Sound of a Black Beauty
Why do so many drummers lose their minds over a Black Beauty, typically rating it as producing one of the most perfect snare sounds ever? The brass shell is a big part of the equation. It's an extraordinarily musical metal, as trumpets, French horns, trombones and other orchestra instruments are made with it. When brass is used for a snare shell—especially the seamless, single-ply construction of modern Black Beauty models—it typically imparts an articulate yet resonant tone that can cut through a band mix without being overly aggressive. In fact, a well-recorded Ludwig Black Beauty just seems to sit perfectly within the soundscape of a track, driving the groove with a subtly metallic crack, warm and stout lows, and a refined sustain.
To a drummer, the sensitivity and responsiveness of the Black Beauty presents myriad possibilities for dynamic expression. Soft ghost notes are clear and fluent, rimshots snappy but not biting, and power rolls possess an unrestrained liveliness. It also doesn't matter if you tune a Black Beauty high, low or somewhere in the middle, as the snare always retains its coherent swack.
In the studio, it's difficult to find a wrong way to record a Black Beauty. Most dynamic microphones positioned near the top head will capture a wonderful tone, and the sound in the overhead mics is typically magical. In fact, if you can keep your hands off the EQ and compression controls, you just might discover that the natural, unprocessed sound of a Black Beauty is as close to perfect as you can get.
Legends of Snare Tone: Black Beauty vs. Supraphonic
Talk to a number of drummers, and you'll get different opinions on whether the Black Beauty or the Supraphonic is number one.
As previously mentioned, both snares have been used on countless recordings and live-concert stages. The Supraphonic has a legend on its side who still inspires drummers to this day—John Bonham. The Led Zeppelin percussionist used a 14x6.5" Supraphonic consistently throughout his career. He wasn't a fan of bronze-shelled snares such as the Black Beauty, reportedly calling the tone too "dark" for the clarity he was looking for. A tale—which might even be true—has him scratching the inside of his snare shells to confirm they were constructed from Ludwig's proprietary, "secret sauce" zinc- and aluminum-based "Ludalloy" alloy.
Outside of Bonzo's preference, how does the sound of the brass Black Beauty compare to the aluminum Supraphonic?
While perceptions of tonal quality can be subjective, it would be difficult to find a drummer who doesn't believe the Black Beauty and Supraphonic are incredible-sounding rock snares (and, of course, there are those gazillions of recording appearances to consider). Although the snares come in various sizes, arguably the preferred size for both is 14x6.5", as it seems to be the sweet spot between resonance and attack.
The Black Beauty tends to possess focused mid-range frequencies that are lively, bright and open—delivering great snap—but not overwhelming in any regard. The brass bark elicits a nice ring, and it can be a louder snare than competing models at most tunings. The Supraphonic appears drier sounding than a Black Beauty, with a warm and rich swack, and a natural compression that cuts through band mixes while simultaneously seeming to fit organically amongst the instruments and vocals. Again, both snares are genius choices for most styles of music, so it comes down to whether you dig a subtle metallic ring (Black Beauty) or a dry thwack (Supraphonic).
Brass vs. Maple
It's not unusual for drummers who make their living playing drums to have a shelf bearing an assortment of snare sizes and materials. After all, there are obvious—and, sometimes, not-so-obvious—tonal variations between wood snares (usually maple, birch, mahogany, oak, poplar) and metal snares (typically steel, brass, aluminum, copper, bronze) snares, and working pros never want to be caught wanting if a producer or band mate is looking for a different type of tone.
But let's say you've mostly played a maple snare. Why would you consider switching to a brass-alloy Black Beauty?
Again, that's totally up to you, but here are a couple of tonal elements to ponder.
A maple snare will produce a fairly balanced spectrum of midrange and high frequencies with a chunky low end. The sound is clear and articulate, but there's also a nice warm quality overall. A brass snare—such as the Black Beauty—should bring in more overtones, a crisp snap and ringing harmonics. There's some warmth, as well, but the maple snare is usually the winner of the bass battle.
Ultimately, it may not be a matter of only playing a Black Beauty or one of the excellent maple snares available, but a question of what works best for the song you're playing. In general terms, if an organic smack drives the tune beautifully, then maple is a great choice. But if a gentle snap and metallic ring puts a bit more of a spotlight on the snare, then go for the Black Beauty.
How to Find the Perfect Black Beauty for You
As we've revealed, the history of the Black Beauty has been glorious, but somewhat unsettled. But the story is a happy one today, as Ludwig produces a number of configurations and sizes, so the perfect Black Beauty for you is waiting—no matter what style of music you play.
Ludwig Supraphonic Black Beauty 14x6.5"
The 6.5" width produces meaty volume, projection and presence. The brass shell is topped with an antique, black-anodized finish, and the vintage vibe is enhanced with classic Imperial lugs, a P-85 throw-off and Supraphonic snares.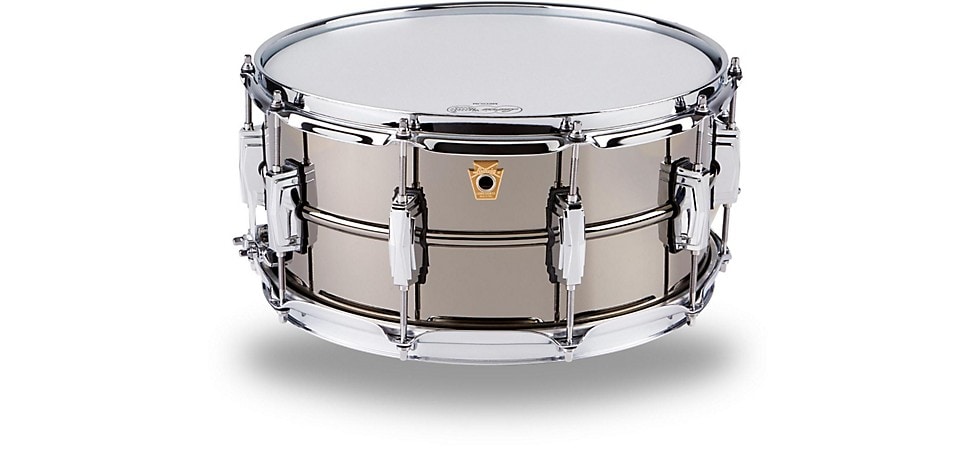 Pictured: Ludwig Supraphonic Black Beauty 14x6.5"
Ludwig Black Beauty 14x8"
Want a bolder Beauty? The 8" model delivers more body and richness, while still producing an articulate snap. It features classic brass shell with Imperial lugs, steel-carbon snares and triple-flange hoops.
Pictured: Ludwig Black Beauty 14x8"
Ludwig Black Beauty With Tube Lugs
This 14x6.5 nickel-plated brass shell features tube lugs for precision tuning.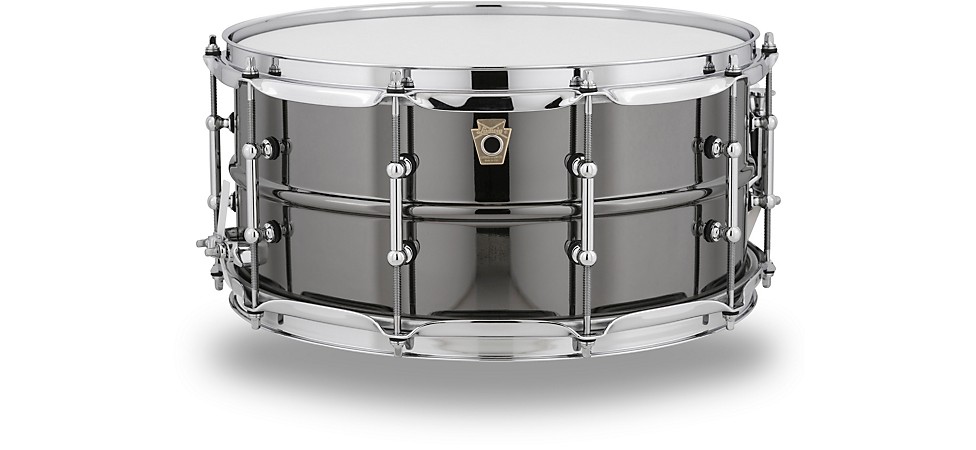 Pictured: Ludwig Black Beauty With Tube Lugs
Ludwig Black Beauty Brass on Brass 14x5"
If you love the sound and look of brass, this Beauty really brings it on. It features brass tube lugs, brass die-cast batter and snare hoops, a brass-plated P86 Millennium snare strainer and a brass-plated P33 snare butt. The slimmer (5" thick) dimension promises a slightly sharper and quicker attack than the 6.5" and 8" versions.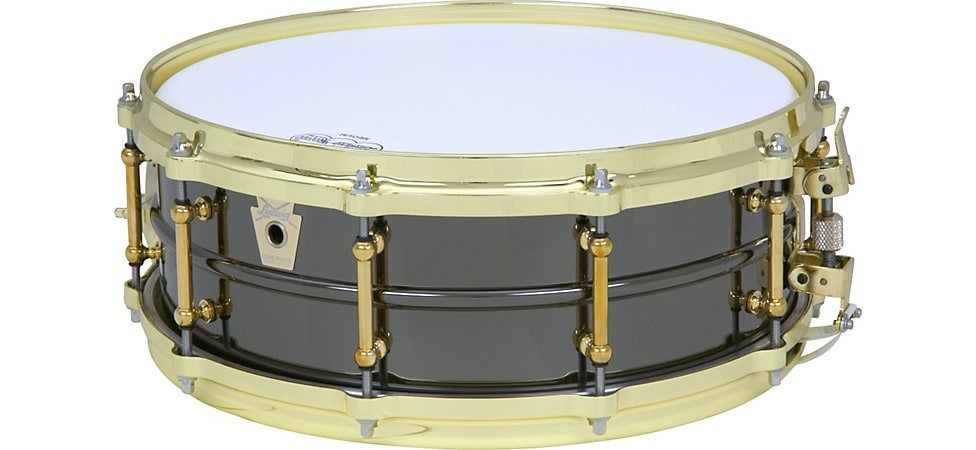 Pictured: Ludwig Black Beauty Brass on Brass 14x5"
Ludwig Hand-Hammered Black Beauty With Tube Lugs
The hand hammering on the brass, black nickel-plated shell looks cool, but it also serves to reduce sustain. If you want the punch and articulation of a 14x5 Black Beauty, but wish the tone was a tad drier and immediate, this may be your model.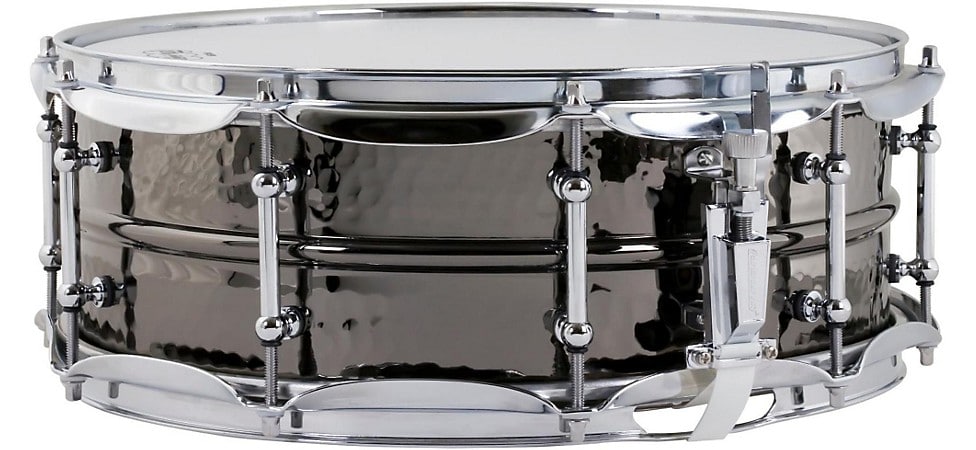 Pictured: Ludwig Black Beauty Brass on Brass 14x5"
Ludwig Black Beauty 8-Lug 14x5
Jump back in time to the 1920 Black Beauty with this 8-lug model. The black nickel-plate brass shell is actually more of a tone machine than a time machine. The 8 lugs split the drum head into wider slices than a 10-lug snare, which means each lug is tighter, relative to the pitch of the head. This is a boon for tuning low, because the head won't get flappy. In addition, no matter how you tune the head, the center "sweet spot" is more forgiving. Finally, 8-lug snares tend to produce more complex timbres and harmonics than 10-lug snares.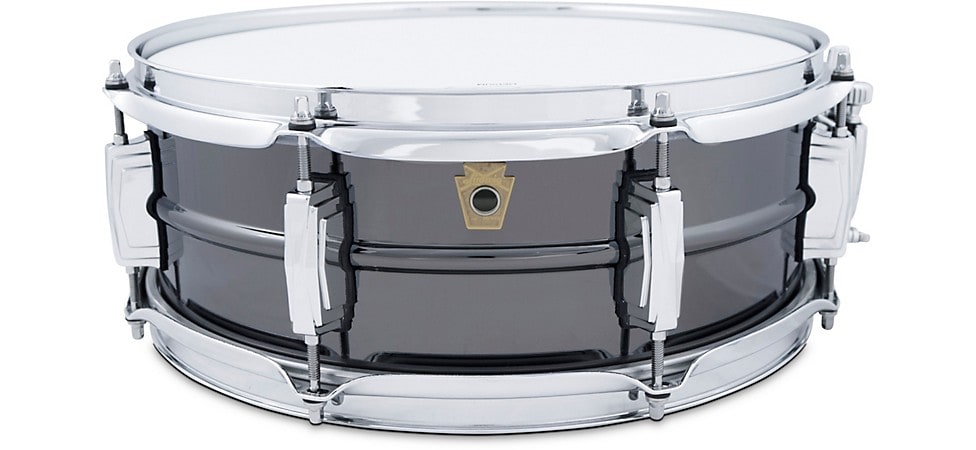 Pictured: Ludwig Black Beauty Brass on Brass 14x5"
Ludwig Black Beauty 8-Lug 14x6.5"
All of the tonal and tuning attributes of the 8-lug 14x5 version, but in a thicker model that produces more warmth and resonance.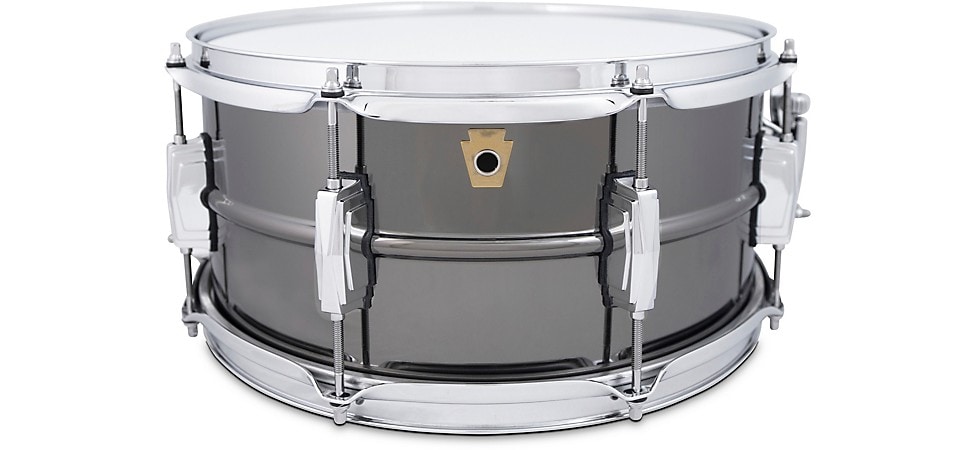 Pictured: Ludwig Black Beauty 8-Lug 14x6.5"
Need Percussive Counsel?
While you can't go wrong with any Black Beauty, the different variations available mean you might need to do a bit of playing, critical listening and evaluating to determine which model best fits your musical style and performance techniques. Our Gear Advisers are always ready to assist you in your search. You can visit your local Guitar Center for advice and a hands-on tryout, or call our Contact Center. If you already know what you want, jump right in and shop online.