Every aspiring musician, producer and audio engineer knows what reverb is. The basic concept is relatively simple. It's a persistence of audio that occurs after an initial sound. Or, you may perceive it as the spacey ambience that occurs when you turn up the reverb knob on your amp or dig into an effects processor. 
However, as straightforward a definition as "reverb" may be, it is not always used appropriately, seductively and/or coherently in a mix. Even more problematic, reverb is often misused to a point where an entire mix can suffer from sounding indistinct, annoyingly washy or thoroughly unprofessional.
Happily, we have the guidance of Marvel Comics hero Ant-Man to offer some mixing perspective. Sometimes, the situation at hand requires a gigantic application of reverb to harmoniously glue your tracks together, and, other times, a miniscule smattering is the way to go. Furthermore, a mix might need a sharp, aggressive barrage of rapid reflections, or a warm and inviting ambience, or a combination of both.
The best tactic for mix mastery—even better than donning Ant-Man's size-shifting super suit—is having a number of cool reverb plug-ins at the ready. (If you're about to challenge Kang the Conqueror, however, go for the suit.) So, let's take a look at eight powerful and versatile reverb plug-ins that offer a Quantum Realm level of dimensional impact and vibey tonal colors.
Table of Contents
Arturia Rev PLATE-140
Arturia Rev SPRING-636
Apogee Clearmountain's Spaces
Cherry Audio Galactic Reverb
Eventide Blackhole
IK Multimedia Sunset Sound Studio Reverb
Lexicon MPX Native
Universal Audio UAD EMT 140
Native vs. DSP Plug-ins
Reverb Is Required
Arturia Rev PLATE-140
The Arturia Rev PLATE-140 emulates the vintage EMT 140 plate reverb that appeared in 1957. It was a momentous occasion, as before the EMT 140, studios had to use massive echo chambers—yes, actual chambers—and mic placement to create a lush reverb for recordings. That said, the EMT 140 unit was still enormous. It weighed around 600 pounds, required four strong people to carry it and took up about the same space as a high-backed couch or bunk bed. Thankfully, the Rev PLATE-140 plug-in is like a genie-in-a-bottle, far less expensive than a physical EMT 140 and offers a few more tricks than the original beast. True, you get just one style of reverb—a plate simulation—but there are three variations: punchy and percussive, vintage EMT and a modern-sounding bright version. More tonal refinements are available via pre-filter, post-reverb EQ, delay time and modulation controls.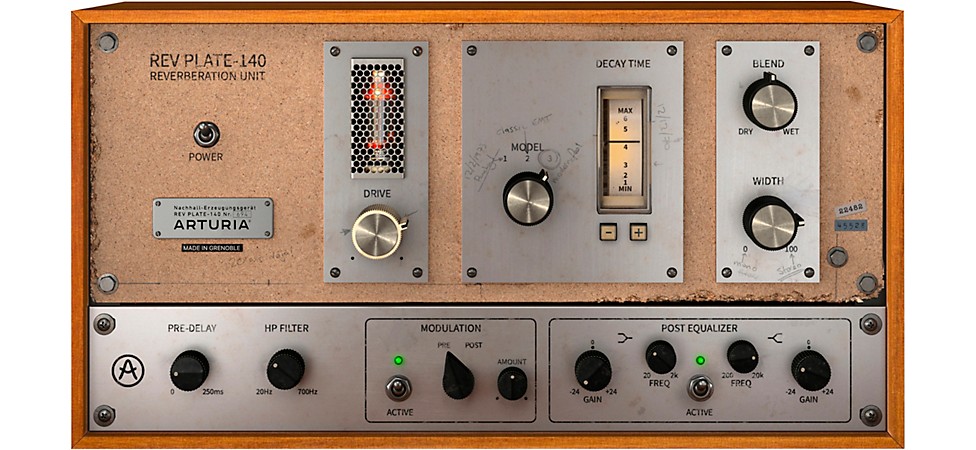 Pictured: Arturia Rev PLATE-140
Arturia Rev SPRING-636
Grampian Reproducers Ltd.—a British sound company that manufactured microphones, guitar amps and broadcast gear—created one of the most revered spring reverbs of the 1960s and beyond: the rack-mounted Grampian 636. While you can't conjure surf music—or rock the sproing-y ambience of Fender amps—without a drippy spring reverb, the Grampian was versatile enough to offer more than one sonic option. For example, the device found its way into the pioneering dub music of producer Lee "Scratch" Perry, and its gritty preamp stage inspired The Who's Pete Townshend to use 636s to dial in his early distortion tones. The Arturia Rev SPRING-636 plug-in follows that diverse-use tradition by offering an accurate emulation of the original Grampian 636, but expanding upon it, as well. The Rev SPRING-636 offers a selection of eight different spring types (as old-school spring-reverb tanks tended to have unique tonal characters), pre-delay and pre-filtering (to delay the onset of reverb, as well as tailor the tone of the source sound that hits the "spring"), three-band EQ (for refining the reverb sound to fit perfectly in a dense mix) and that Townshend-approved preamp for adding some glorious grime to source sounds and the 636 reverb.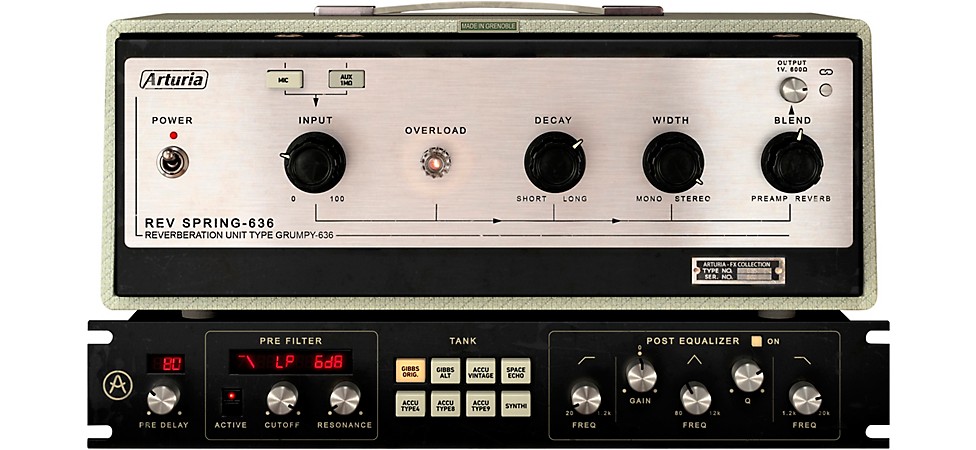 Pictured: Artura Rev SPRING-636
Apogee Clearmountain's Spaces
One of the definitions of insanity is not taking advantage of a reverb tool from an acknowledged mix maestro such as Bob Clearmountain. The Apogee Clearmountain's Spaces plug-in is a convolution reverb that includes three models—or Impulse Responses—of the hitmaker's favored environments—a critical sonic benefit, as Clearmountain typically uses physical chambers to craft his reverbs, rather than digital processors. Even hipper, users can blend the three "spaces" to design textured and dimensional ambient effects, or they can simply load one of Clearmountain's presets. The trio of spaces includes Apogee Studio (a brisk and warm reverb from the company's in-house development lab—which also produces the KCRW Apogee Sessions for National Public Radio), Mix This! (a longer, brighter ambience derived from Clearmountain's personal echo chambers at his Mix This! studio) and Roscoe (a lush and lengthy reverb modeled from a friend's studio—possibly producer Eric "Roscoe" Ambel). Having control of a production icon's reverb spaces is crazy-good luck, but you can also tweak sounds with pre-delay, three-band EQ and a de-esser. The de-esser alone is a genius move, as it diminishes harsh, strident highs to ensure a velvety reverb without any distracting sibilance.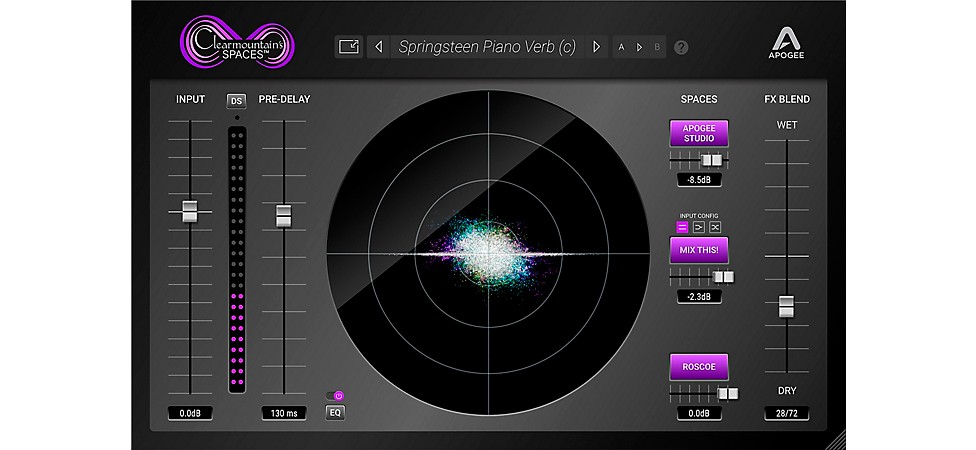 Pictured: Apogee Clearmountain's Spaces
Cherry Audio Galactic Reverb
The aptly named Cherry Audio Galactic Reverb is a plug-in for fearless explorers of deep space. Galactic offers up to 35 seconds of delay time, which is more than enough to craft expansive, interstellar cathedrals of ambience. Of course, with so much atmosphere at your command, there's a considerable danger of washing out tracks and turning your mix into a stormy blur of echoes. Happily, Galactic Reverb has got your back, as its "safety features" include pre-delay (which defers the onset of reverb to allow the source sound to express itself clearly) and a savvy ducking function. Ducking automatically reduces the reverb level when a vocal or instrument appears, and then pumps the 'verb back up when the source sound stops. This can create some dramatic effects, such as a subtle, ghostly wash behind a vocal that transforms into an epic reverb tail when the singer backs off, or percolating reverb stutters after snare attacks. An EQ section with high- and low-frequency knobs—as well as a damping control that reduces highs to emulate darker ambient spaces—lets you tailor the reverb sounds to sit perfectly in your mix. You can also evoke '80s audio productions with modulation rate and depth controls that add a chorusing effect to the reverb.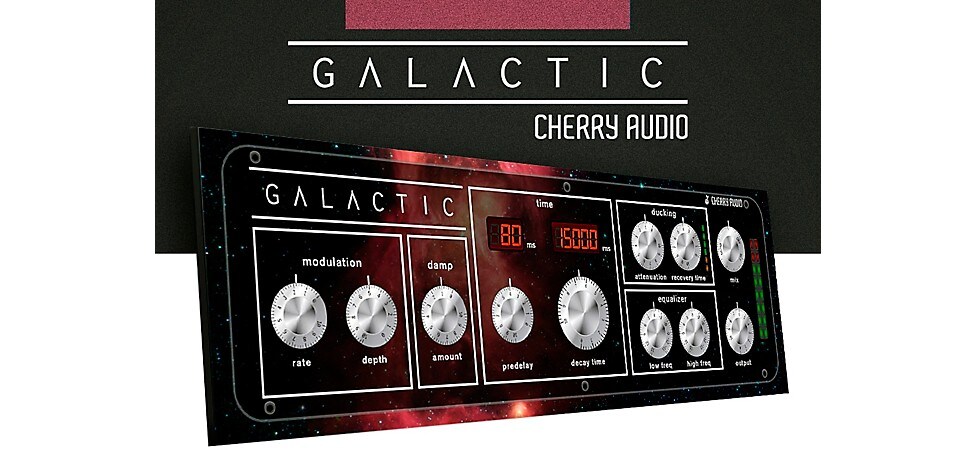 Pictured: Cherry Audio Galactic Reverb
Eventide Blackhole
The free Valhalla Supermassive plug-in is deservedly well regarded for its opulent, galaxy-sized and sometimes idiosyncratic reverbs. But you should also check out the light years of ambient innovation and inspiration to be had in Eventide's Blackhole plug-in. First appearing as a "secret weapon" patch in the revolutionary DSP4000 Ultra-Harmonizer in 1994, this warped reverb has graced various Eventide stompboxes and multi-effects processors ever since. When the mythic director Orson Welles stated in 1940 that a film studio was "the biggest train set anyone ever had," he could have said the same thing about the Blackhole—that is if Orson wielded a guitar, rather than an Arriflex 35mm movie camera. After all, the Blackhole is a magic toy box of strangeness. A musician can build sprawling, cinematic soundscapes of the haunting, unique, beatific and supernatural varieties from the 50 presets alone—before even touching all of the available parameter adjustments. So, here's a challenge: The Blackhole shouldn't be used exclusively for adding space and spice to a vocal, snare drum or guitar—although it can do that stuff brilliantly. Instead, this is a tool you can deploy to actually reinvent your music.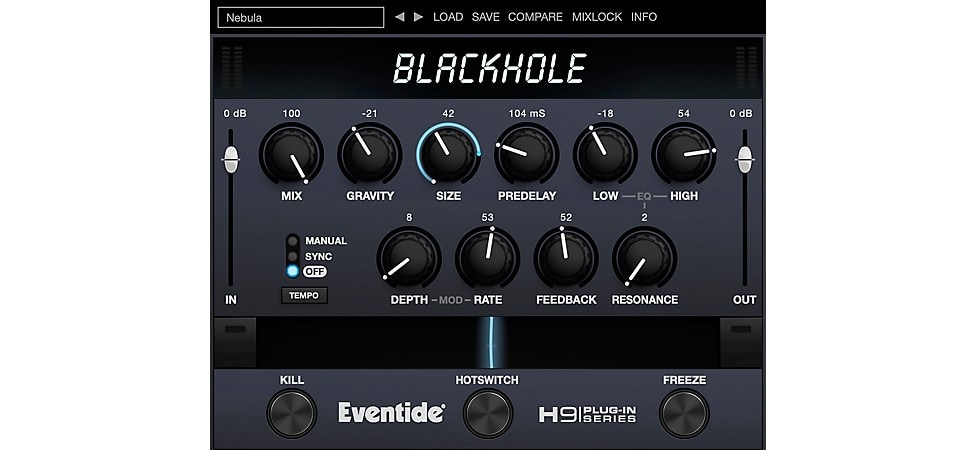 Pictured: Eventide Blackhole Reverb
IK Multimedia Sunset Sound Studio Reverb
The rooms of Hollywood's Sunset Sound studio literally pulsate with vibe, history and massive mojo. Founded by Disney Director of Recording Salvador "Tutti" Camarata in 1958, Sunset Sound went to the dark side in 1962, when it opened up to non-Disney clients and welcomed a seemingly never-ending throng of rock legends. Those artists—who recorded iconic tracks at Sunset Sound—include the Doors, the Rolling Stones, Janis Joplin, Led Zeppelin, the Beach Boys, Prince, Whitney Houston, Elton John, Miles Davis, Tom Petty, Aretha Franklin, Bob Dylan, Van Halen and too many more to mention. The IK Multimedia Sunset Sound Studio convolution reverb emulates the magic of the facility's three recording rooms, chambers, isolation booths, vintage EMT and Echoplate plate reverb units, and a '70s-era AKG BX20E spring reverb. The technical alchemy is as real as you can get, as the Impulse Responses were recorded using the mixing console in each specific studio, and with microphones selected from the Sunset Sound mic cabinet. The organic environments are stunning—the drum sounds in each studio alone conjure the impact of every cool album recorded there—and you also get maximum tweakability via controls for pre-delay, decay, high- and low-pass filters, reverb blend (wet/dry) and stereo imaging. From Pet Sounds to Frozen and beyond, a countless number of smash hits have been recorded using the rooms and reverbs at Sunset Sound. It's time to add your tracks to the list.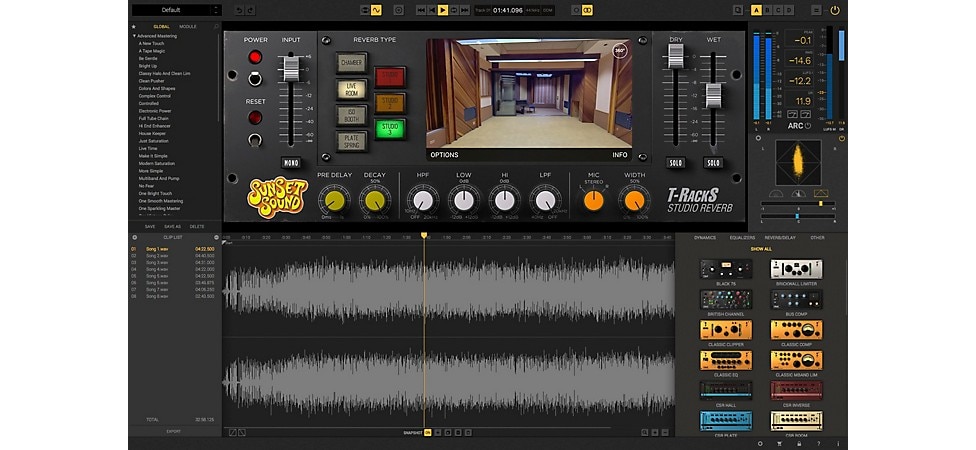 Pictured: IK Multimedia T-TrackS Sunset Sound Studio Reverb
Lexicon MPX Native
Reverb plug-ins that emulate famous environments and vintage gear are all kinds of wonderful, but in order to retain authenticity, they typically model one or two types of ambience. There's nothing wrong with that at all—vintage sound is miraculous—but it's also a good thing to balance the glory of a retro reverb with a more versatile plug-in. The Lexicon MPX Native offers seven reverb types from the iconic digital-processing brand's MPX series of multi-effects units: small plate, large plate, small hall, large hall, small chamber, large chamber and room. There's more than enough ambient diversity on offer to glue together tracks in sparse mixes, dense soundscapes, or anything in between. Parameter control of those seven options is pretty comprehensive, so users can dial in an appropriate reverb for almost any application. Tracking what you're tweaking is easy, thanks to a display above each virtual knob broadcasting the exact values chosen for the following parameters: Reverb Type, Pre-Delay, Reverb Time, Diffusion (smearing of the signal to diminish aggressive transients), Reflection (the number of discrete echoes in the space), Reflection Level, Color (determines the activity of high or low frequencies over time), Roll-off (reduces the effect's higher frequencies), Mix (blend of wet/dry signal), Reverb Level and Reverb Attack (how quickly or slowly the effect appears). That's a lot of reverb design power, but if you simply want a quick and easy way to choose, say, a good reverb for a drum kit, the MPX Native provides 100 studio presets that are ready to go.
Pictured: Lexicon MPX Native
Universal Audio UAD EMT 140 Classic Plate Reverberator
The original EMT 140 plate reverb had such a colossal impact on early recording technology that it has birthed myriad physical and digital replications since its debut in 1957—such as the Arturia Rev PLATE-140 plug-in already covered here. Not bad for a 4 x 8' sheet of steel mounted in a truck-bed-sized frame and loaded with a speaker driver and contact mics to produce and capture the reverb effect. The UAD EMT 140 Classic Plate Reverberator, available direct from UA or as part of their Ultimate 11 plug-in bundle, is modeled from three vintage EMT 140s that lived at The Plant Studios in Sausalito, California, where superstars such as Fleetwood Mac, Santana, Journey, Mariah Carey, Heart, Aretha Franklin and Metallica recorded mammoth-selling albums. Like the Arturia PLATE-140, the UAD EMT 140 offers just one reverb type—a plate, obviously—but provides three versions for variety. In the UAD version, which you can purchase for use with your Apollo interface or Satellite DSP, you get two intentionally untuned plates with vintage EMT electronics—Plate A is tight and bright, and Plate B delivers more depth—and a more full-frequency model (Plate C) that was updated with a Martech Upgrade Kit. You can also mess with the reverb sounds further by using the UAD EMT 140's stereo imaging and balance controls, high- and low-frequency EQ, modulation, pre-delay and wet/dry mix. If you're looking for another fantastic plate reverb option from Universal Audio, check out their Pure Plate Reverb, which offers all the warmth and texture you'd expect out of this classic 'verb, with a more streamlined approach.
Pictured: Universal Audio UAD EMT 140 Classic Plate Reverb
Native vs. DSP Plug-ins
You may have noticed that some of the plug-ins mentioned in this article are "native," such as Arturia's Rev PLATE-140, and some are DSP versions, such as UAD's 140 emulation, the EMT 140 Classic Plate Reverberator. What does this all mean?
For those who may not be aware, a native plug-in is powered completely by your computer's CPU. On the other hand, a DSP plug-in runs only on a separate device, such as the UAD Apollo audio interface. There's more than simply a here or there ramification. As native plug-ins do run on your computer CPU, the more you use in a session, the more chance that your computer will get overwhelmed, resulting in sluggish performance, latency issues and even a complete meltdown. While DSP-based plug-ins take the load off of your computer, they also require investing in that important piece of additional hardware.
The good news for mix masters is you don't have to choose one or the other. If you find yourself doing a lot of complex mixes that require a ton of plug-ins, you may want to combine native and DSP processing to allow your creativity to flourish without limitations.
Reverb Is Required
Reverb is an essential component of music and mixing, and plug-ins offer unprecedented access to so many different varieties—from comprehensive digital processors to models of vintage reverb gear to the mind blower of convolution reverbs that emulate actual recording-studio environments. Great mixing is often a task of assigning every element to its own space in the frequency spectrum while simultaneously giving each element a bit of interest, vibe and intrigue. A wide-ranging collection of different reverb plug-ins can be the key to not only realizing your sonic vision, but also to carving out a reputation as a mix virtuoso.