Podcasts can be a powerful tool for any brand or business, but achieving a professional sound can be challenging if you don't have the right tools. In this blog, you'll learn how to build your own podcast studio and capture pro-level recordings at your office or home without breaking the bank. For more advice on podcasting equipment, studio set up and more, contact the experts at Guitar Center Professional for a free consultation.
The Benefits of Creating Your Own Podcast Studio
A professional, well-produced podcast with a polished sound is often a great lead generator for many brands and can help position you and your brand as a subject matter expert. Recording in a professional studio can be expensive and time consuming, but with the right equipment, you can record professional-quality podcasts right from your office or home with ease.
By investing in a few studio essentials, you can capture great-sounding audio without having to pay for time at a professional recording studio. Having your own gear also enables you to record impromptu conversations, easily schedule guests and quickly make edits and revisions.
In order to produce a professional-quality podcast, you'll need a few pieces of gear—a computer, recording interface, microphone, headphones, acoustic treatment and a small variety of accessories.
Microphones
When shopping for a podcast microphone, you'll generally come across three primary types: USB, dynamic and condenser microphones.
USB Microphones
USB mics are a quick-and-easy solution for solo podcasters. They connect directly to your computer via a standard USB port, so no recording interface is required. Most USB microphones are condensers with either fixed cardioid or variable pickup patterns. Keep in mind that cardioid-only USB microphones are not ideal if you are trying to record multiple speakers with one microphone.
Recommended USB Microphones
Blue Yeti
The Blue Yeti is the most popular USB microphone in the world, and for good reason. It offers great sound quality and features four different pickup patterns that give you the flexibility you need in virtually any podcasting scenario. An integrated headphone jack and dedicated mute button make it especially easy to record without a mixer or audio interface.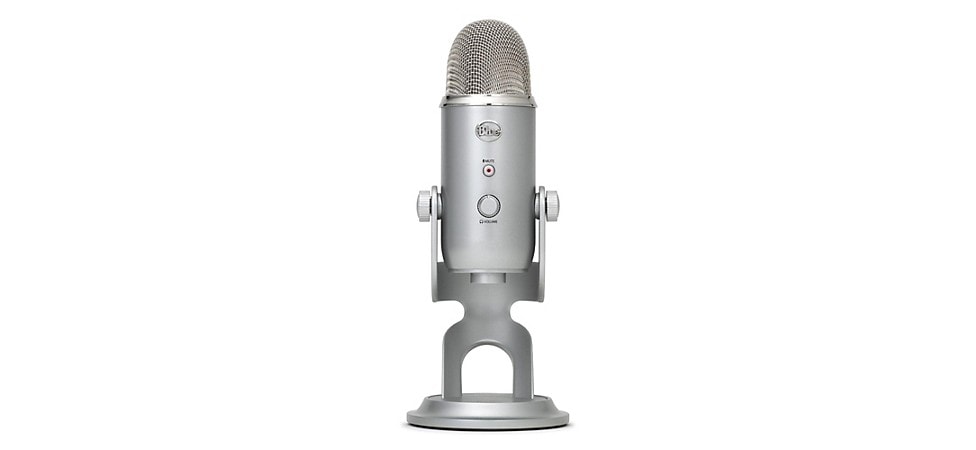 Pictured: Blue Yeti USB Microphone
AKG Lyra
The AKG Lyra is an industry-leading USB condenser microphone with easy-to-use controls. Perfect for creating podcasts, Lyra captures Ultra HD audio with resolution up to 192kHz/24-bit for studio-quality sound. Cutting-edge AKG Internal Element Overload Prevention automatically reduces noise and improves signal levels for optimal performance.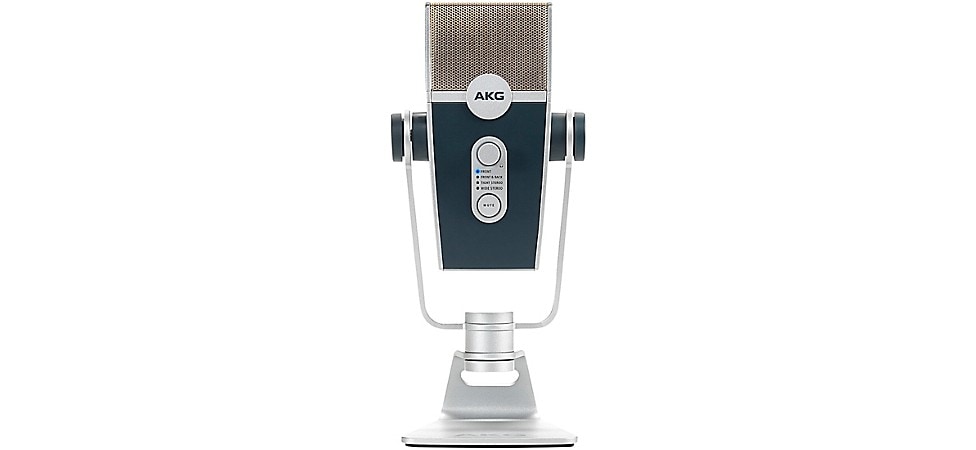 Pictured: AKG Lyra USB Microphone
For more great options, check out our blog on the best USB microphones.
Dynamic Microphones
Dynamic microphones are considered rugged and durable, which makes them ideal for frequent use, especially if you're traveling. Their focused cardioid pickup pattern helps reject unwanted sound and they tend to cost less than condenser microphones. Due to their design, dynamic mics are less sensitive compared to condenser mics, so they pick up less ambient sound—a great benefit in an office or apartment setting.
Dynamic mics are available with either small or large diaphragms, although the latter are often preferred for their full-bodied sound. While most preamps will provide enough gain, some dynamic mics, such as the two popular options we listed below, can benefit from an additional inline signal booster, such as the Cloudlifter.
Recommended Dynamic Microphones
Shure SM7B
The SM7B is one of the most popular microphones in the world for radio, podcasts and traditional recording. It's built to take daily abuse and captures speech with a smooth, warm tone. It features a wide-range frequency response, bass roll-off, mid-range control and an internal air suspension shockmount. The removeable foam windscreen helps reduce plosives when miking vocals.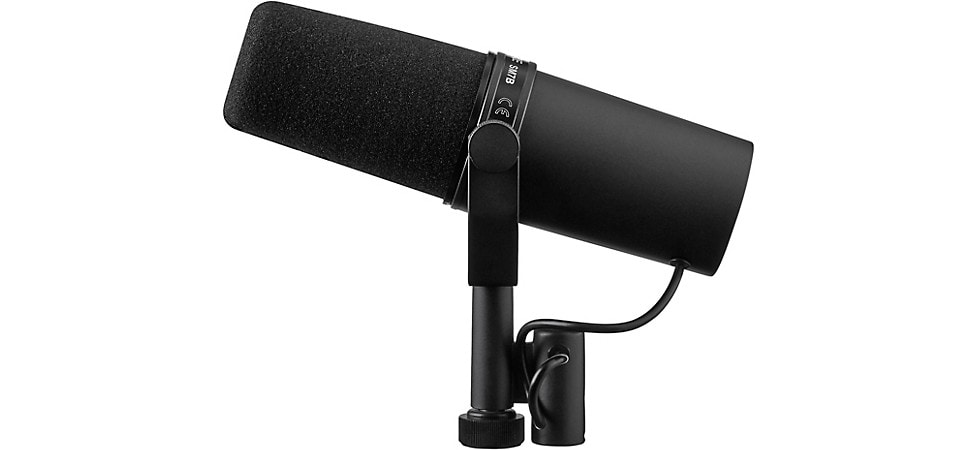 Pictured: Shure SM7B Cardioid Dynamic Microphone
Electro-Voice RE20
The EV RE20 is another legendary industry standard that's designed for broadcasting, podcasting and music production. It features a heavy-duty internal pop filter to reduce plosives and proximity effects and includes a bass roll-off switch to minimize excessive bass frequency noise.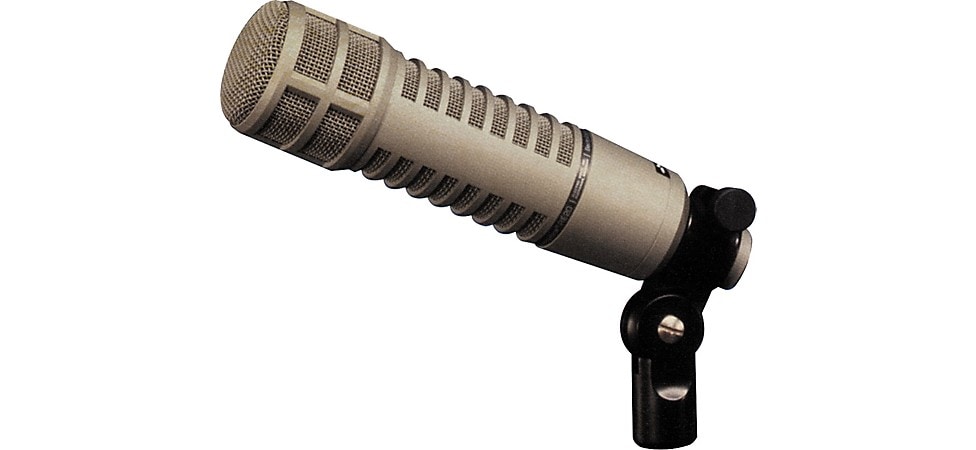 Pictured: Electro-Voice RE20 Dynamic Cardioid Microphone
Condenser Microphones
Condenser microphones generally have a flatter, wider frequency response compared to dynamic mics. They also have higher sensitivity, so they're great for capturing details in voices and room ambiance. On a technical note, most condenser microphones require phantom to function. It's also worth noting that most tube microphones include a custom external power supply unit for providing phantom power, which can sometimes be purchased separately.
Recommended Condenser Microphones
Shure KSM32/SL
The Shure KSM32/SL is a transformerless cardioid microphone that offers an extended frequency response for a natural sound that's perfect for the human voice. It features a switchable low-frequency filter, an integrated three-stage pop protection grille and an internal shockmount to reduce transmission when handling.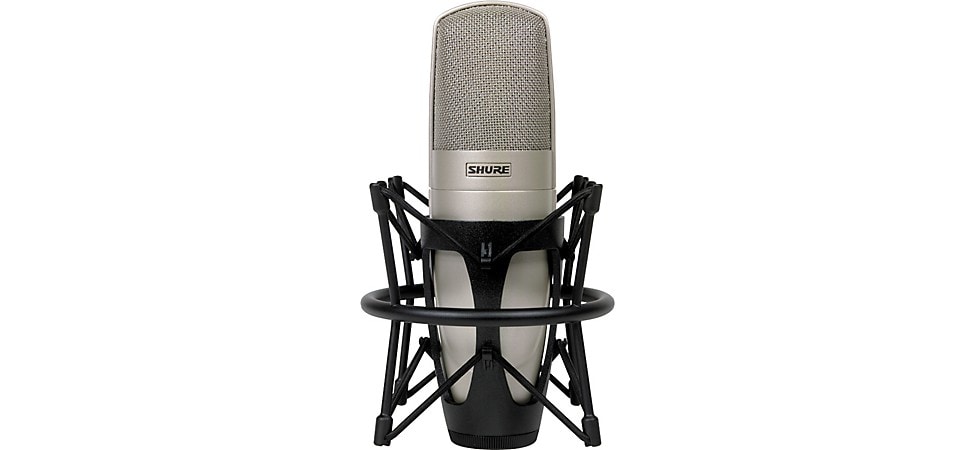 Pictured: Shure KSM32/SL Condenser Microphone
Neumann TLM 102
The TLM 102 makes it possible to own a quality Neumann microphone at an affordable price. With a distortion-free sound, slight treble boost, and built-in pop shield, the TLM 102 is a great choice for any podcast recording setup.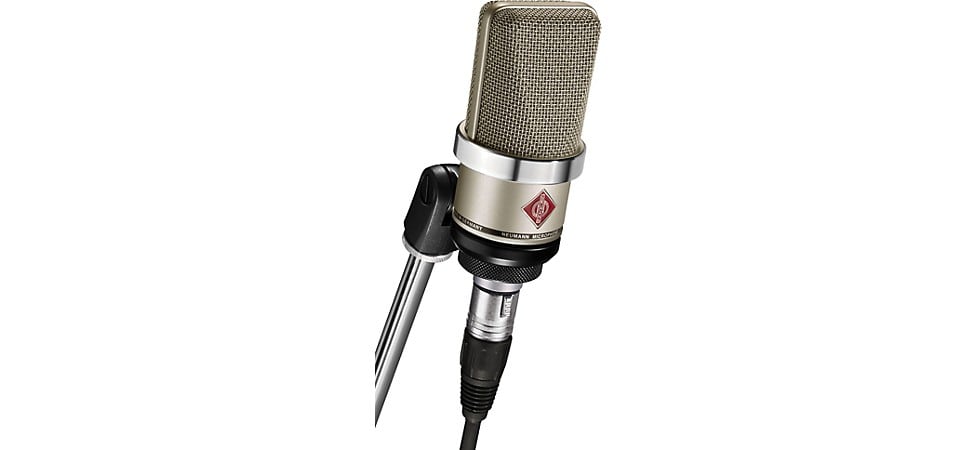 Pictured: Neumann TLM 102 Condenser Microphone
Still not sure which mic is right for you? Contact our team of studio professionals for a free consultation.
Recording Equipment
If you use a dynamic or condenser microphone, you'll need a dedicated recording interface to capture your audio. There are many solutions available, including all-in-one portable solutions like Zoom recorders, multi-channel USB and Thunderbolt audio interfaces, and multitrack recorders designed specifically for podcast production.
All-In-One Recorders
Portable all-in-one solutions, like Zoom Handy Recorders, are great for recording interviews and on-the-go production. They're often battery-powered, feature integrated microphones and may include one or two XLR inputs to connect external microphones.
Zoom Recorder Recommendations
Zoom H5 Handy Recorder
The Zoom H5 is one powerful portable recording device. It supports four tracks of simultaneous recording and offers optional interchangeable mic capsules to suit virtually any situation. It also supports two external microphones via the integrated XLR connectors.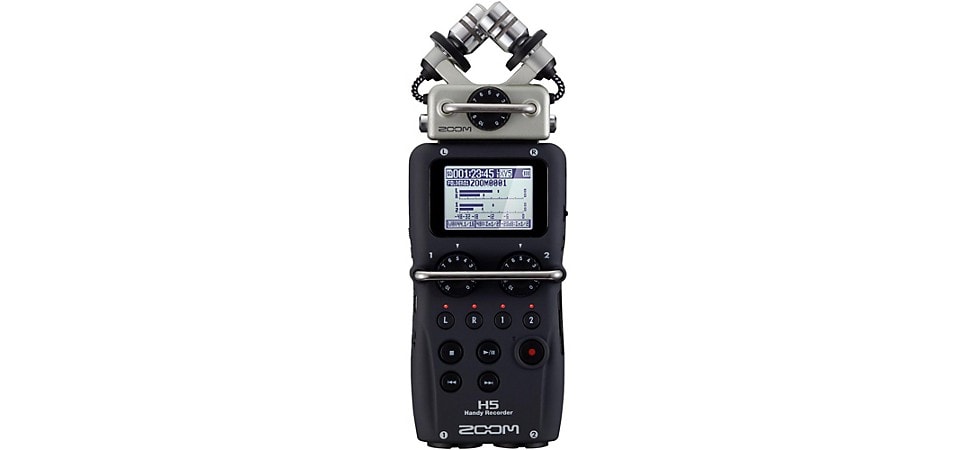 Pictured: Zoom H5 Handy Recorder
Zoom H3-VR Handy Audio Recorder
Although the Zoom H3-VR was originally designed with virtual reality 360-degree recording in mind, it's also a great choice if you're working with a larger group for your podcast. Its array of microphones detects the direction of the voice from each speaker's position and reduce ambient noise for a clean, clear sound.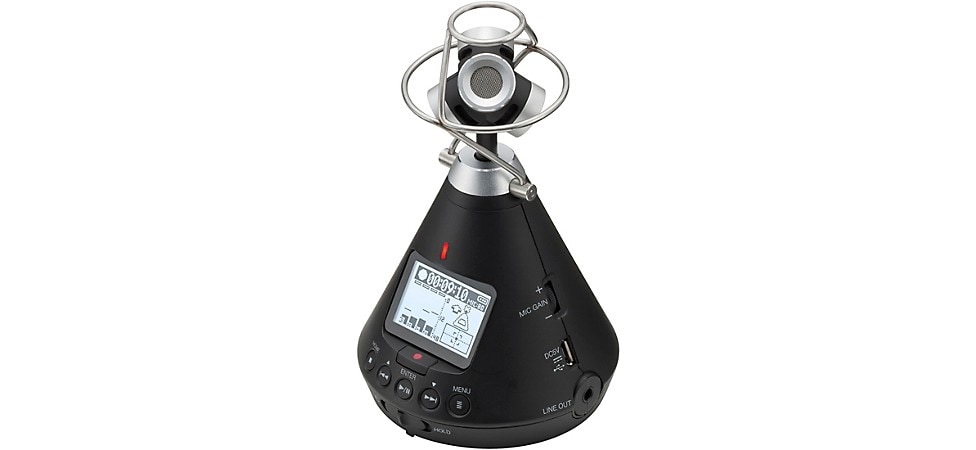 Pictured: Zoom H3-V3
Two- and Four-Channel Audio Interfaces
Computer audio interfaces provide great flexibility since they make it easy to record multiple people simultaneously. Many interfaces can be bus-powered by simply plugging into a laptop, which makes for a simple, yet powerful, portable recording rig. There are a variety of solutions available to suit any budget or podcast recording setup.
Audio Interface Recommendations
Apogee Duet 3 2x4 USB-C Audio Interface
With best-in-class Apogee converters and clean mic pres, the Apogee Duet 3 makes a great portable recording interface whether at home, in the office or on the road. It features a low-profile design, built-in DSP for effects and connects directly to your computer via the included USB-C or USB-A cables. A protective travel case is also included.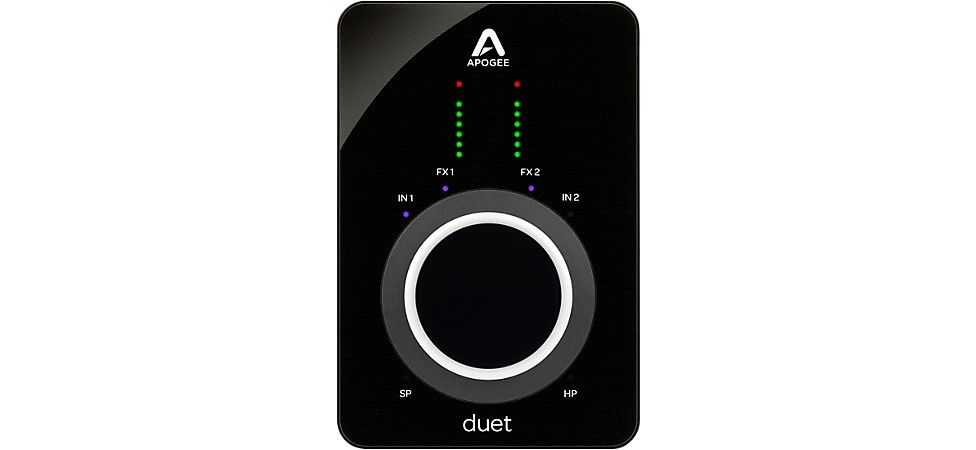 Pictured: Apogee Duet 3 USB-C Audio Interface
Universal Audio Apollo x4 Heritage Edition Thunderbolt 3 Audio Interface
If you need more inputs, the Apollo x4 offers renowned Universal Audio sound quality in a sleek, desktop footprint that features elite-class conversion, four Unison-enabled preamps and QUAD Core real-time UAD plug-in processing. The Heritage Edition also includes a suite of UAD plug-ins valued at over $2,400.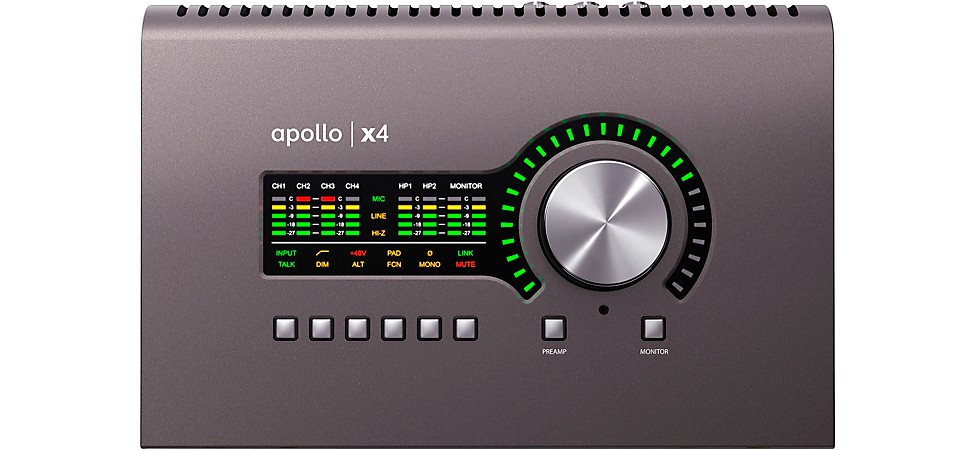 Pictured: Universal Audio Apollo x4 Heritage Edition Thunderbolt 3 Audio Interface
Mixers and Multitrack Recorders
If you're working with large groups or want more capability beyond simply recording, a mixer or multitrack recorder could be the perfect choice. They typically offer advanced features such as built-in gain and level controls for each channel, with many including EQ and other effects too. These can be good solutions for live podcasting events, with some units featuring onboard recording and others implementing connectivity to your computer via USB.
Recommended Mixers and Multi-Track Recorders for Podcast Production
TASCAM Mixcast 4 Integrated Podcast Production Studio
As an all-in-one podcast production studio, the Mixcast 4 makes producing a podcast easier than ever. It has the I/O you need for most scenarios with four mic inputs, plus an array of features to make recording painless: Bluetooth for phone call recording, four headphone outputs, eight sound pads and banks and direct multi-track recording to an SD card. But what's most unique about the Mixcast 4 is its auto-mixing feature, which automatically sets mic priority for whoever is talking.
Pictured: Tascam Mixcast 4 Podcast Production Studio
RØDE RØDECaster Pro Integrated Podcast Production Console
If you want to take your podcast production to the next level, the RØDECaster Pro is the centerpiece you've been looking for. With Class A mic preamps and outputs, the RØDECaster Pro offers true studio-quality sound a compact package. It features four high-quality mic pres, eight programmable sound effects pads, and can even integrate with your phone via Bluetooth or a TRRS cable to enable interviews with remote guests. You can record directly to a microSD card or connect to your computer via USB.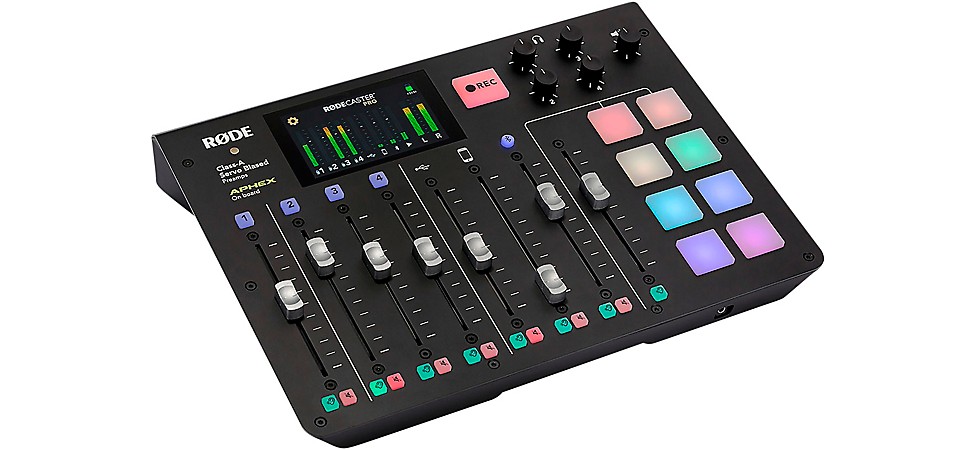 Pictured: Rode RODECaster Pro Integrated Podcast Production Console
Zoom PodTrak P8 Portable Multitrack Podcast Recorder
For bigger productions, the Zoom PodTrak P8 supports recording up to 13 tracks simultaneously. It features six XLR mic inputs as well as individual volume, mute and "on air" controls for each channel. Like the RØDECaster Pro, the P8 is capable of recording phone interviews, though you will need the optional BTA-2 Bluetooth adapter for wireless recording. The P8 also includes 13 pre-loaded sounds, nine assignable Sound Pads and six headphone outputs with individual volume controls. You can even record on the go with up to two hours of use on four AA batteries. As with the RØDECaster Pro, the P8 enables you to record on an SD card or via USB as an audio interface for your computer.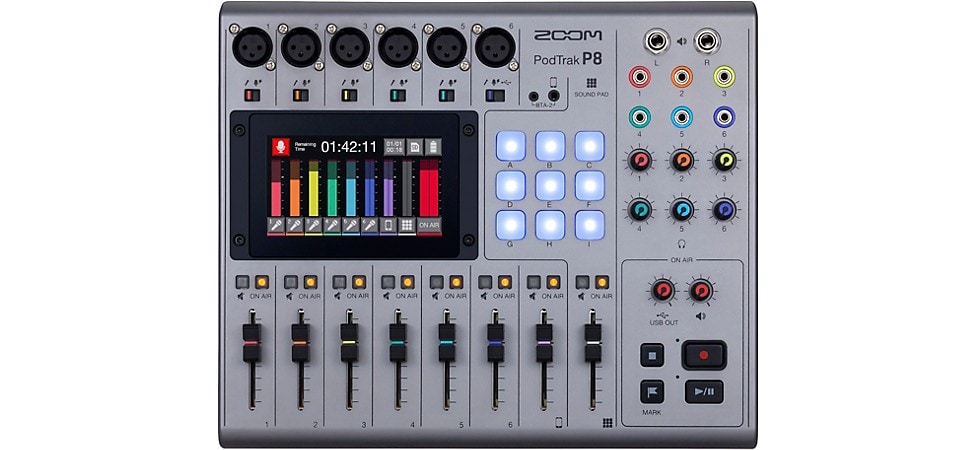 Pictured: Zoom PodTrak P8 Portable Multitrack Podcast Recorder
For more advice on setting up your podcast studio, contact our team of professionals for a free consultation.
Headphones
Each host and guest on your podcast will need a pair of comfortable, well-isolated headphones to hear the other guests and music cues clearly. Over-ear, closed-back headphones provide the best isolation, which prevents audio from escaping the headphones and keeps distractions out of the listener's ears. Most audio interfaces, recorders and mixers typically use a 1/4" headphone jack, so traditional 3.5 mm headphones will need an adapter.
Recommended Headphones for Podcast Recording
Sennheiser HD 280 PRO Closed-Back Headphones
Sennheiser HD 280 Pro headphones can be found in studios around the world, and for good reason. Their closed-back design reduces external sound by up to 32dB and they deliver detailed, natural sound for music and speech. The HD 280 Pro does a great job in almost any scenario and won't break your budget, either.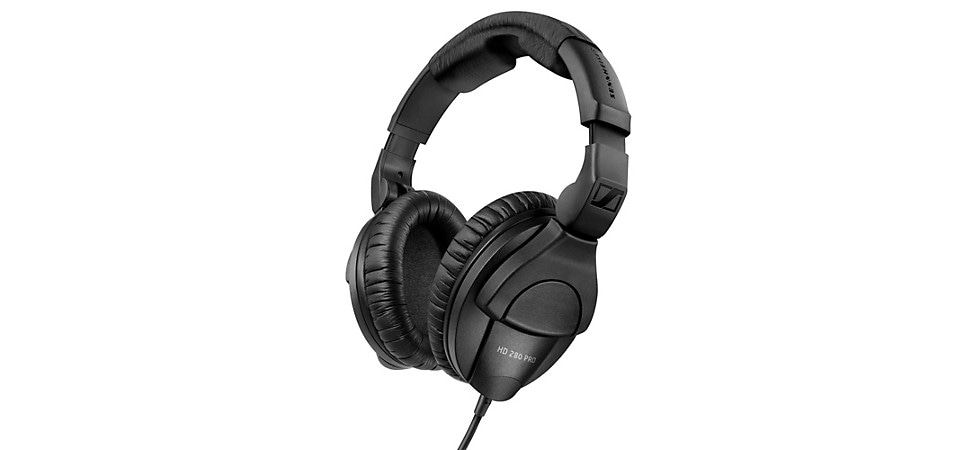 Pictured: Sennheiser HD 280 Pro headphones
Shure SRH840 Professional Monitoring Headphones
The Shure SRH840 headphones are designed for studio recording and critical listening. Their wide, padded headband provides an ergonomic fit that delivers comfort, even over extended recording and editing sessions. The closed-back design and cushioned ear cups reduce background noise, and their rugged construction withstands the demands of everyday use.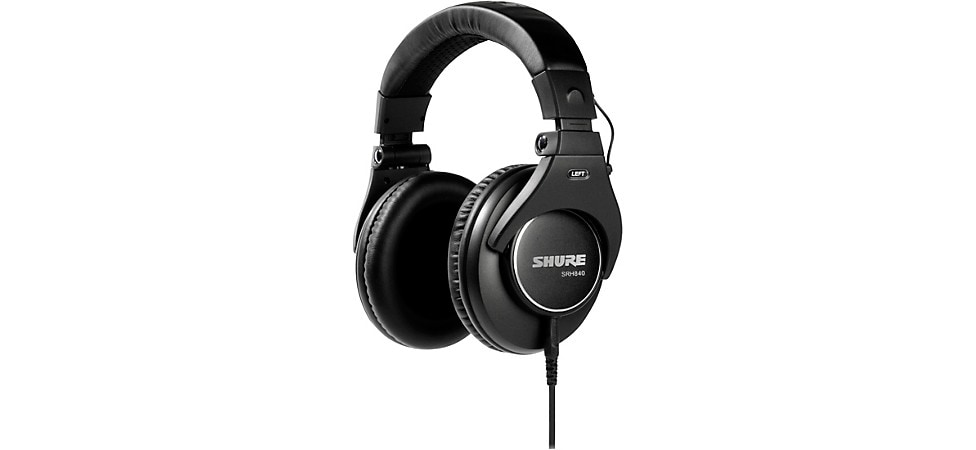 Pictured: Shure SRH840 Professional Monitoring Headphones
Accessories
Depending on your setup and the number of people you're recording, you'll need a few accessories to make the most of your podcast studio.
Cables and Stands
If you're working with condenser or dynamic microphones, you'll want to invest in high-quality XLR cables to connect them to your audio interface or recorder. You'll also want to plan out any longer cable runs, like headphones, to see if you may need one or more cable extensions.
Depending on your podcast setup, you may find that traditional mic stands get the job done. If you're hosting a podcast on your own, a desktop stand can work quite well. Boom arms are a great solution and provide the most flexibility to position your microphone(s) closer to your mouth for a tighter, broadcast-quality sound.
If you want to save yourself from additional time spent on edits in post, accessories like shockmounts and pop filters can reduce distracting rumble and plosives so that your raw audio sounds professional right out of the gate.
It's always recommended to record to a reliable external hard drive instead of directly to your internal drive. Using an external drive offers a few benefits. This keeps your data stored externally, so you're less likely to lose it in the event of a hardware computer failure. It also offers you easy portability should you need to bring your session files with you to another studio. An external drive also provides an easy way to deliver files to a client that's already on-site with you. With prices going down and capacities going up, it's never been more affordable to get one or two drives for recording and backup. Podcasts are inherently low-track-count sessions, so just about any reasonably priced USB drive will do.
Acoustic Treatment
Basic acoustic treatment panels help prevent sound wave reflections, which can cause unwanted flutter echo and frequency problems in your recordings. Focus on placing absorption panels on highly reflective surfaces near your recording area. Soft, padded furnishings like a couch, rug or drapes can also help to tame a lively room.
Recommended Acoustic Treatment Kits
Ultimate Acoustics Studio Bundle II 24-Pack
For most small podcast recording spaces, the Ultimate Acoustic Studio Bundle II is a great way to reduce flutter echo and reflections. The bundle includes 24 panels of 2" thick acoustic foam, with each panel measuring 12"x12".  A simple adhesive spray or double-sided tape is all that's needed to position and install each square on your wall.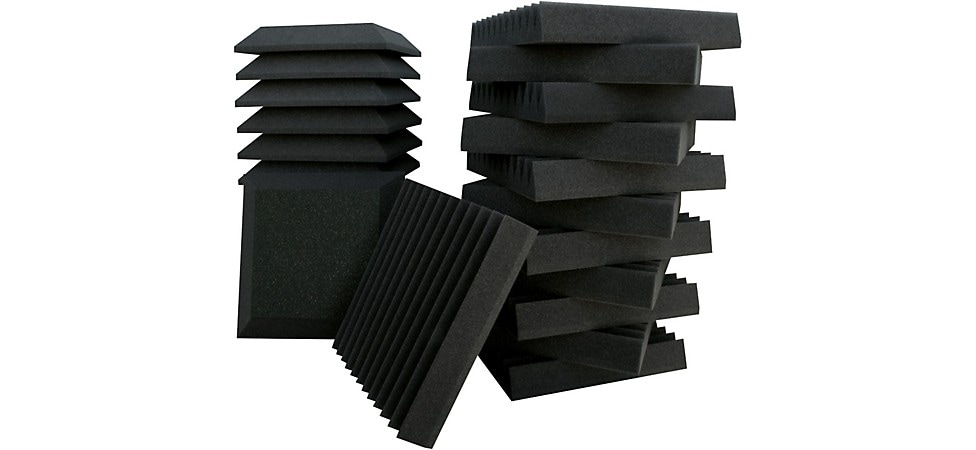 Pictured: Ultimate Acoustics Studio Bundle II 24-Pack
Primacoustic London 8 Room Kit
Designed for rooms up to 100 square feet, the London 8 Room Kit includes eight 12"x12" scatter blocks and four 12"x36" control columns. The included Broadway panels are made from high-density fiberglass and offer nearly five times better sound absorption compared to lower-cost foam alternatives. The kit is available in a variety of colors, so you can design your space to your personal taste.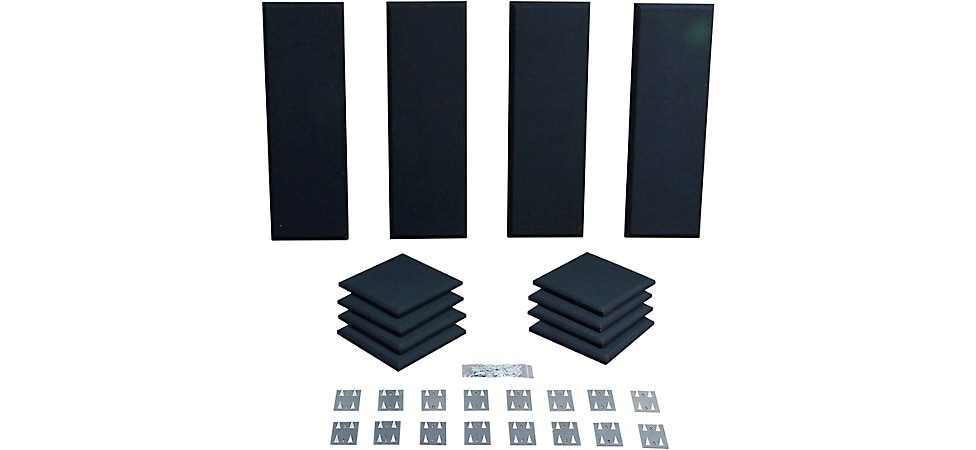 Pictured: Primacoustic London 8 Room Kit
Podcast Studio Setup Recap
Whether you've already been podcasting for a while or are just starting out, it's a great idea to invest in your own recording setup. All you need are a few studio basics to get started—a microphone, a recording interface (if your microphone isn't USB), headphones, a few accessories and acoustic treatment as necessary. By investing in these affordable, high-quality pieces of gear, you'll not only save a ton in the long run, but you'll probably be more efficient as well.
For more help setting up a podcast studio for your brand or business, contact our team of studio professionals for a free consultation.