In this article, you'll learn about the history of Pro Tools, its advanced features, and the paths you can take to upgrade to Pro Tools HD.
Pro Tools HD systems have an unparalleled reputation for delivering superb sound quality with extremely low latency. One of the biggest advantages they offer is their dedicated processing power, or DSP, which moves the burden of processing audio from your host machine to external, dedicated hardware. The end result is the ability to run more channels of audio, with more plug-ins and at a much lower rate of CPU usage.
Modern HD systems offer an incredible amount of power and flexibility, and are more accessible than ever. To fully understand the current state of Pro Tools HD systems, it helps to know how the technology has evolved since it was first introduced over 30 years ago. Since its first release, Pro Tools has become the industry-standard DAW for professional audio and post-production. With a full range of advanced features and DSP-powered AAX plug-ins, it provides an incredibly powerful platform that's tailored for recording, production, mixing and post-production workflows.
Contact our team of studio professionals for a free Pro Tools consultation.
A History of Pro Tools Plug-in Processing
TDM Plug-ins
The earliest versions of Pro Tools plug-ins utilized a framework called TDM, or Time Division Multiplexing, which provided real-time hardware processing for DSP plug-ins. The first version of Pro Tools to offer this technology was Pro Tools 2.5 back in 1994. A typical system supported four tracks and came with a 1GB drive.
With Pro Tools TDM, your plug-in processing power was limited by the amount of horsepower in your DSP cards. Your host computer provided no additional processing power, unlike today.
RTAS Plug-ins
In contrast to the external hardware requirements of TDM plug-ins, RTAS (Real-Time AudioSuite) plug-ins were designed to use the processing power of your computer. RTAS was first introduced in 1999, with the release of the Digi 001 audio interface and Pro Tools LE, though you could certainly run any RTAS plug-in on a TDM-based system. The implementation of RTAS and Pro Tools LE made the platform accessible to smaller facilities, home studios and regular everyday musicians.
AAX Plug-ins
Introduced in Pro Tools 10, AAX plug-ins come in two flavors—AAX Native and AAX DSP. AAX Native plug-ins, like RTAS, work with any version of Pro Tools 10 or newer. Like their TDM precursors, AAX DSP plug-ins require an Avid HDX system, as the processing is all handled by the external HDX hardware in real time.
DSP Capabilities for Pro Tools HDX vs. Pro Tools Carbon
For the average user, a powerful Pro Tools HDX system has been considered too expensive, and so most people have been content to use a Native system—along with its latency and processing limitations. With the introduction of Pro Tools Carbon, Avid implemented built-in DSP into a more affordable, yet still powerful, self-contained interface. While Carbon does not have quite the horsepower of an HDX card, it does provide plenty of DSP. Carbon also delivers flexibility, especially during tracking sessions. The DSP Mode button enables you to move a track between the Native mixer and built-in DSP engine. And this is the main benefit of Pro Tools Carbon—using the built-in DSP when it makes sense to run AAX DSP plug-ins, and leveraging the horsepower of your CPU when it makes sense to run some AAX Native plug-ins. Mix and match to suit your needs. To learn more, check out our Gear Tip on Avid Carbon. 

Pictured: Avid Pro Tools | Carbon Hybrid Ethernet Audio Interface
Pro Tools Hardware DSP Systems
Pro Tools Hardware DSP systems provide industry-leading sound quality, low latency performance and powerful DSP for real-time effects processing. They are comprised of three components: an HDX PCIe card, Pro Tools | Ultimate software and an audio interface. There's a wide variety of HDX-compatible audio interfaces, including solutions from Avid, as well as third-party interfaces equipped with DigiLink ports. This makes it easy to find a system configuration that works for your budget, needs and preferences.
Benefits of Pro Tools Hardware DSP
Pro Tools Hardware DSP systems offer a number of important benefits compared to running a Native, software-only version of Pro Tools. By using AAX DSP plug-ins and the power of HDX cards, you'll free up your CPU to run a ton of additional AAX Native plug-ins. DSP-based systems also offer low latency performance in all situations, including during tracking. When you combine a Pro Tools HD system and Pro Tools | Ultimate software, you unlock a suite of advanced features not available in standard Pro Tools, like surround mixing, advanced video capabilities and support for Dolby Atmos, which is a popular and growing format in film, streaming and music.
Pro Tools | HDX vs Pro Tools | HD Native
Pro Tools | HDX
At the core of Pro Tools | HDX is the HDX PCIe card, which requires either a desktop computer with a PCIe slot or a Thunderbolt PCIe chassis, available in desktop and rack configuration. The original HDX card, now called HDX Classic, supported up to 256 voices and 64 tracks of I/O. Newer solutions that utilize the HDX Hybrid Engine now support up to 2,048 voices and 192 tracks of I/O. Pro Tools | HDX supports up to three PCIe cards per system and includes built-in DSP chips that enable 64-bit AAX DSP plug-ins for real-time low-latency effects processing. Aside from the power of HDX DSP, the overall latency of Pro Tools | HDX is lower than a standard Pro Tools system, like those running USB audio interfaces.
Pictured: Avid HDX PCIe Card
Pro Tools | HD Native
Rather than using a PCIe card to connect your audio interface to your computer, Pro Tools | HD Native systems use a high-speed, standalone Thunderbolt audio interface that connects directly to your computer via Thunderbolt. Additionally, HD Native systems include Digilink ports to connect to your interface of choice.
HD Native systems offer superb sound quality with low latency, under 2 ms. Instead of having the dedicated DSP of an HDX card, HD Native systems leverage the power of your computer for all processing. Any plug-ins you run will be in AAX Native format, not AAX DSP-based. If you run a Pro Tools | HD Native system and want additional dedicated DSP for plug-ins, there are an array of solutions available. One of the most popular is the Universal Audio UAD ecosystem, which uses PCIe or Thunderbolt devices to run their renowned plug-ins.
In the end, a Pro Tools | HD Native system offers you the simplicity of Thunderbolt connectivity and the benefits of Pro Tools | Ultimate software at a cost that's significantly lower than a Pro Tools | HDX solution. The latency of an HD Native system will also be lower compared to standalone third-party thunderbolt audio interfaces.
Contact the experts at Guitar Center Professional for a free consultation to determine which Pro Tools | HD system is right for you.
Pro Tools | Ultimate Software
Pro Tools | HD Native or HDX hardware can be purchased with or without the Pro Tools | Ultimate software. The optional one-year Software Updates + Support Plan includes:
A Pro Tools | Ultimate license and software
Avid Complete Plug-in Bundle with every audio plug-in that Avid offers
Pro Tools | MachineControl remote control software
One year of Avid ExpertPlus Support for Pro Tools | Ultimate (renewable annually)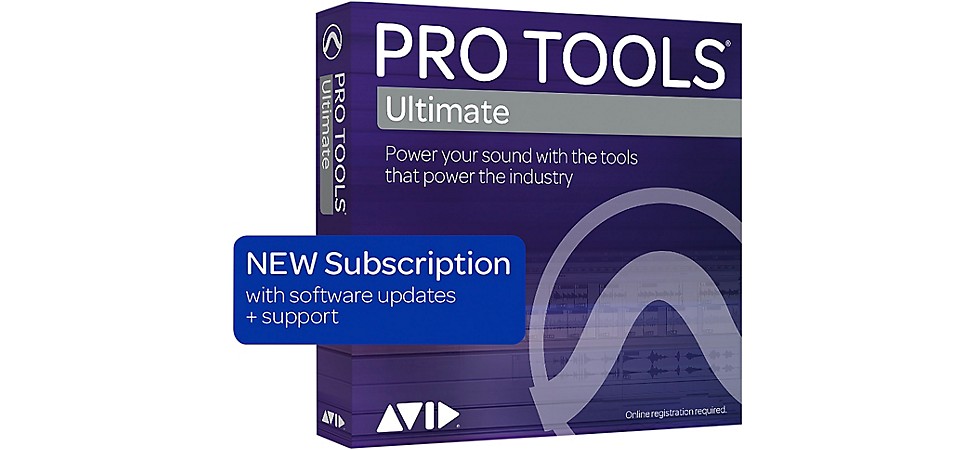 Pictured: Avid Pro Tools Ultimate 1-Year Subscription
Avid HD Series Audio Interfaces
There's a wide array of options when it comes to choosing an audio interface for your Pro Tools | HD system. Here are a few of the most popular solutions.
Pro Tools | MTRX
Designed for Pro Tools | HDX and HD Native, Pro Tools | MTRX delivers the best conversion and I/O quality Avid has to offer. With AD/DA converters from Digital Audio Denmark (DAD) and extensive routing and monitor control, Pro Tools | MTRX can be customized with the analog and digital configuration you need to best fit with your workflow. It's also compatible with any Dante network via Ethernet. At its core, MTRX is intended to be a modular and expandable system, with support for very high I/O, as high as 1,216 channels via MADI.

Pictured: Avid MTRX Base Unit with MADI
Pro Tools | MTRX Studio
The MTRX Studio, also designed for HDX and HD Native, is more of a self-contained, fixed configuration of I/O with some expansion capability via Dante and ADAT. It offers two mic pres, two instrument inputs and 16 analog I/O out of the box. Like its bigger sibling, MTRX Studio also uses DAD converters for top-notch audio performance.

Pictured: Avid Pro Tools | MTRX Studio Interface
Third-Party / Non-Avid HD-Compatible Audio Interfaces
There are several great third-party audio interfaces that work perfectly with an Avid HD system. Here are a few popular options.
Lynx Aurora(n)
The Aurora(n) continues the reputation Lynx has earned over the years for audio interfaces that deliver pristine performance without coloring the signal. With configurable I/O options, including mic pre options, the Aurora(n) is a great choice for anyone who wants flexibility, flawless specs and rock-solid clocking.

Pictured: Lynx Aurora(n) 16 ProTools HD Audio Interface
Apogee Symphony Mk II
As the flagship interface from Apogee, the Symphony I/O Mk II boasts a host of cutting-edge features with modular I/O for up to 32 inputs and outputs, a touchscreen interface and world-class mic pres. The Mk II supports connectivity for one of four platforms, including Thunderbolt, Pro Tools HD, Dante or Waves SoundGrid.

Pictured: Apogee Symphony I/O MK II 8X8 Thunderbolt Audio Interface
Focusrite Red and Focusrite RedNet
The Red series by Focusrite offers excellent conversion, remote-controlled preamps and monitor controls that integrate with Pro Tools | HD systems and Dante networks. Red audio interfaces are outfitted with DigiLink Mini ports for direct connection to Pro Tools | HDX and Pro Tools | HD Native systems.
For even more expansion, Focusrite RedNet devices allow for dedicated audio-over-IP configurations that work seamlessly with Pro Tools | HD hardware.

Pictured: Focusrite RedNet A16R MkII 16-channel Bi-Directional Analog Interface
A Quick Note on Control Surfaces
Once you have your HD system up and running, a control surface can help take your workflow to the next level. Solutions like the Avid S1, S3, S4, S6 and Dock can greatly enhance your experience, making it easier and faster to automate fader moves, tweak plug-in settings, adjust monitor levels and more.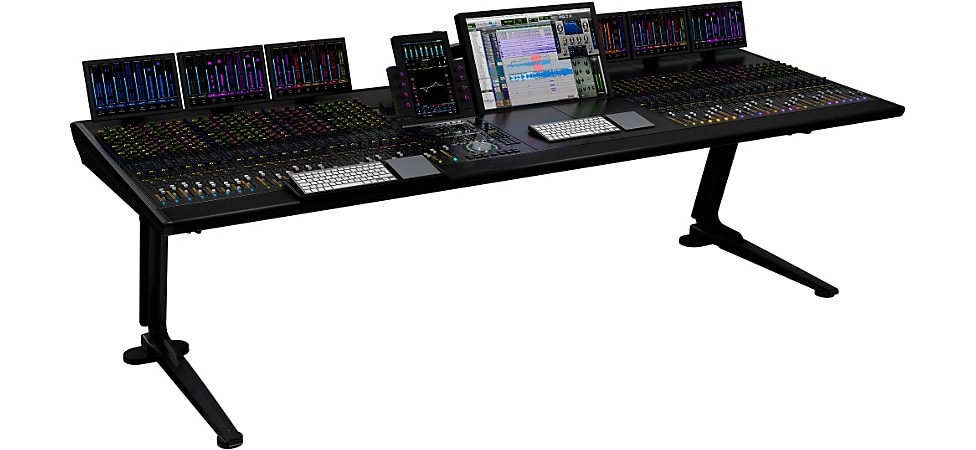 Pictured: Avid S6 M40 32-9-D Modular Console
Pro Tools | HD Recap
An upgrade to a Pro Tools | HD system will improve your studio's audio performance and deliver lower latency from tracking through mixdown. A Pro Tools | HDX or Carbon solution will bring you the benefit of dedicated DSP for running plug-in instances without taxing your CPU, while lower-cost HD Native systems provide a great way to enter the Pro Tools | HD ecosystem so you can take advantage of some of the advanced features offered by running Pro Tools | Ultimate software.
For expert advice on which Pro Tools HD system is right for you, contact the experts at Guitar Center Professional for a free consultation.