In many ways, the piano is the fundamental instrument in the development of contemporary harmony. It's all there in front of you, literally laid out in black and white. Whether you play piano already, or are just starting out, a digital piano offers much more than just convenience. In this guide, we will show you the reasons why. By the time you're done, you'll have all the information you need to choose the best digital piano for your playing needs and aspirations. 
Table of Contents
Different Applications for Digital Pianos
    Practice
    Where the Action Is
    Recreation
    Performance and Recording
The Accessories You'll Need
    Practice and Recreation
    Performance and Recording
Putting It All Together
A Quick Glossary of Terms  
Different Applications for Digital Pianos
There are many reasons why a digital piano is a great choice for every player, from beginner to experienced. From the added versatility and easy affordability to the savings in space and weight a digital piano offers over an acoustic piano, the hardest part will be deciding which one fits your lifestyle and your aspirations as a pianist.
There are four basic areas that we'll be talking about in this article—practice, recreation, recording and performance. The last two overlap enough that we'll be talking about them together. but let's start at the beginning of most people's digital piano journey.
Practice
They say that practice makes, if not perfect, at least permanent. Since you'll be spending a lot of time practicing, it's important that your ideal digital piano have the right features for you. There are several levels of practice, but here we'll look at practice designed to improve your playing.
Let's start by considering where you want to take your piano playing. Are you new to piano, or have you played before? Are you looking for a wider range of sounds than just piano? Are you intending to play mostly for your own satisfaction and amusement or are you looking to expand beyond that? Will you be taking lessons or learning on your own? There are key features that tie into all these questions.
The best digital pianos for practice can range from simple to fairly advanced. Some are directly aimed at the learning piano player. Others are as much for fun as for learning. But first, let's look at the space where you'll be practicing. Do you have the space to leave it set up all the time, or do you need something that's easy to put away when you're not playing or practicing? Many of the best digital pianos for practice are what are called slab pianos, meaning that they're basically a thin rectangular box with a keyboard. These are designed to go on something, usually a stand. While some people put portable digital pianos on their bed or on a table to play, we recommend against that in the long run, since it can lead to learning bad habits rather than proper technique. All of the pianos we're going to talk about in this section have some important features for learners and practicers, like built-in metronomes and speakers, as well as headphone connections for private practice.
The Williams Legato III 88-key digital piano has more than a few features to recommend it as a great practice piano. It has a recently re-engineered sound set showcasing world-class pianos that were carefully sampled, a great-feeling keyboard which is among the lightest available, and it can run on batteries for superior portability. You can listen through the built in-speakers or through headphones, plus, you can plug it into an amplifier or mixer. It also has an app for connection to smartphones, tablets and more via Bluetooth MIDI (see the glossary for more about MIDI). You can even use its standard USB port to connect to your computer.
Pictured: Williams Legato III Digital Piano 
Apps have become a very big deal in the world of digital pianos, and for the pianos we're looking at in this section, one of the coolest things they do is connect you to a world of lessons and songs to play. The specific features an app offers will vary from one manufacturer to another, but they're all aimed at helping you to have more fun while increasing your keyboard skills.
The Casio CDP-S110 is a slim and sleek digital piano that's easy to transport—it weighs just a smidge over 23 lb.—yet offers 88 weighted keys for the authentic feel of a prized concert grand. The CDP-S110 provides the "top-10 hits" for piano sounds—3 grand pianos (standard, mellow, bright), 3 electric pianos, a harpsichord, strings, and 2 organs (pipe and jazz)—as well as reverb and chorus effects to enhance your playing experience. You can plug in a playback device via USB or stereo mini plug and hear yourself jamming away to tracks through the two onboard speakers or while wearing headphones. A multi-use output jack lets you plug into an amp whenever you feel ready to play with other musicians. If you do want to enlist the help of an app for more fun and education, the free Casio Music Space app (iOS and Android) includes a live-concert simulator, a music player, a score viewer and a remote control for changing the CDP-S110's settings.

Pictured: Casio CDP-S110 Compact Digital Piano 
For many pianists, it's all about the quality of the grand piano sound, and the Yamaha P-45 has all of Yamaha's years of making world-renowned concert grands behind its internal sound set. The keyboard features Yamaha's Graded Hammer Action, which is held to be one of the most realistic piano feels in digital pianos. While it may be missing a few of the bells and whistles of the others here, this piano is here because of its feel and sound. Using Yamaha's AWM Stereo Sampling system, the sounds have a three-dimensional quality and the resonance and feel of a concert grand when reproduced through the high-powered internal speakers. One of its special features is the special Duo mode, which splits the piano into two identical sections. This is great for lessons where the instructor can demonstrate a technique and have the student play along and match them, among other applications. For the pure pianist, this is an impressive choice that's also an exceptional value.

Pictured: Yamaha P-45 Digital Piano 
Where the Action Is
Consider how a piano feels to play. This is called the key action, and there are several types in the world of digital pianos, a couple of which we've mentioned in the previous section. The most basic type is referred to as synth action. This means the keys are on a simple spring, are easy to press and rebound almost instantly. This action is very easy to play, but provides minimal tactile feedback. The difference between pressing a key harder for a louder sound and more softly for a quieter sound isn't as easy to do by feel. These instruments are also the lightest digital pianos, so if you'll be setting it up and tearing it down regularly, that can be a plus.
The next step up is what's called semi-weighted action. This action adds small weights to the keys so they offer varying resistance to hard and soft attacks. It's an action that feels a lot like a Hammond organ. It feels a little more like an acoustic piano, but is still less effort to play and has even resistance across all the keys. If you don't think you'll ever be playing an actual acoustic piano, semi-weighted action can be fine, but you build the finger strength and endurance that you would need on an upright or concert grand. This action also adds a few pounds to the instrument.
Fully-weighted actions are very similar, with more weight in the keys and a slightly slower return. This better mimics the traditional piano feel, but there is still a fairly large difference when you shift to an acoustic instrument. The pianos we're talking about in this article start at this level of action.
Hammer-action keyboards ditch the springs and weights to switch to a lever system that is a direct equivalent of how an acoustic piano key works. Yes, it requires a little more physical effort to play, but that's building your playing muscles and your endurance (both good things) and give you better control over your playing dynamics. The one downside is that the extra components of a hammer-action keyboard makes it heavier, so you'll be more inclined to leave these set up. Which is good, right? Because if you can just sit down and play, you'll practice more.
Finally, we come to progressive hammer-action keyboards, which replicate the feel of an acoustic piano even more closely. The progressive part means a heavier touch is required in the lower keys and a lighter touch in the upper range. This type of action is on the higher end of the digital piano spectrum and can go by varying proprietary names (Yamaha, for example, calls it "Graded Hammer Action"). This action is the one to shoot for if you want to be easily able to play that concert grand sitting on stage at the local club where you're looking to book a gig.
Recreation
The next digital pianos we'll look at are models that are ideal for recreational playing. Maybe you already play piano and like the idea of having a piano in your living space. These are pianos that serve as a gathering spot for family and friends, just as a trusted friend you turn to for getting in touch with your creative side. Like the old-school family room acoustic piano, these are as much an attractive object as they are a musical friend. Like acoustic pianos, these come in different shapes, colors and sizes that go from a corner spinet to a grand piano that will be the centerpiece of your room.
As with a traditional console piano, you'll want a look and size that fits into your space, along with serious build quality. These are pianos that are less about multiple instrument sounds than they are about a handful of great piano sounds. They will also have better speaker systems than practice pianos—one that's designed to fill the room rather than just be heard by the player.
We'll start here with the Williams Rhapsody 2, an 88-key, console-style digital piano. The Williams custom sound set features a rare Italian handmade grand piano and 11 other instruments. Visually, this piano features an oversize music stand and the classic ebony polish finish of a concert grand or a rich walnut look on a console stand. While all the pianos in the practice section have a sustain pedal only, the Rhapsody 2 is the first instrument we're looking at to have a second pedal, in this case a sostenuto pedal (see glossary for pedal definitions), increasing the range of playing styles available. This Williams digital piano has both keyboard split and layer functions, so multiple sounds can be played at the same time. It also adds a two-track recorder, and a stereo speaker system that's designed to project.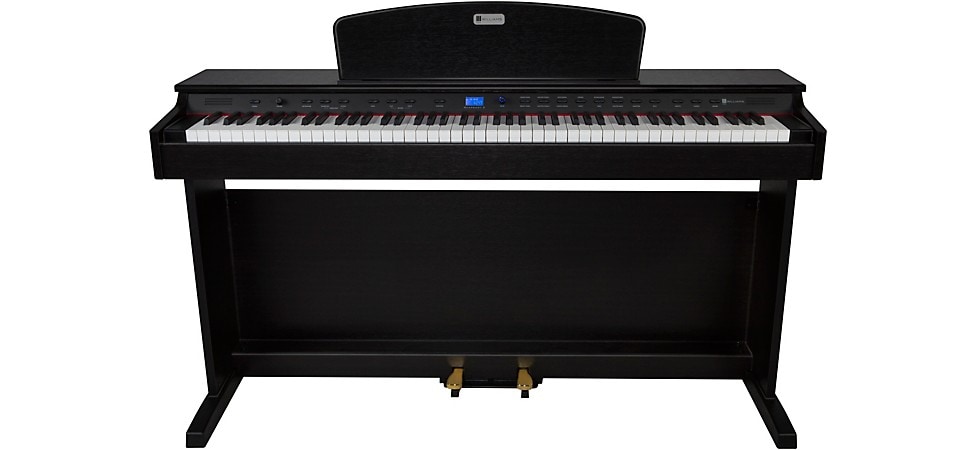 Pictured: Williams Rhapsody 2 Digital Piano 
Yamaha's Arius YDP-144 digital console piano brings their GHS (Graded Hammer Standard) action into play for realistic touch and feel. It also features a three-pedal setup with continuous damper control, so you get the control and feel of a full grand's pedals. Another plus in the sound set is damper resonance modeling. This means that, when the sustain or sostenuto pedals are pressed, the additional notes you play interact with the harmonics of the sustained notes for an amazingly rich and realistic sound. Yamaha's Smart Pianist app not only offers extra control and connection options, but it can even analyze the songs in your music collection and provide chord changes so you can play along. The Arius YDP-144 comes in gloss black or rosewood finishes and includes a matching bench.
Pictured: Yamaha Arius YDP-144 Digital Piano 
Casio has been producing digital console pianos for years, and their Privia PX-770 shows all that experience to good effect. Acoustic piano hammers have a slight delay between pressing the key and the hammer felt striking the string. Casio's proprietary Scaled Hammer Action system allows for adjustment of this delay to replicate the full sensory experience of playing an acoustic instrument. It also allows for adjusting the touch sensitivity offering a truly customizable feel. The PX-770 has a duo split for lessons or duets, and a powerful 16-watt stereo speaker system built in. Available in gloss black, white and dark wood grain finishes, there's one to complement any decor.
Pictured: Casio Privia PX-770 Digital Piano 
If you really love piano and are in the mood to make an investment that's both a stunning piece of furniture and a serious instrument, you can step up in a couple of different ways. Suzuki, well known for their acoustic pianos, and Yamaha both produce baby-grand-style digital pianos. The Suzuki MDG series, starting with the MDG-300 Micro Grand, delivers hand-rubbed gloss finishes on instruments that will be the centerpiece of any music room. Suzuki's sounds and feature set are top-notch, and the multi-speaker sound system combines with the progressive hammer action to make you forget you're not playing an actual grand.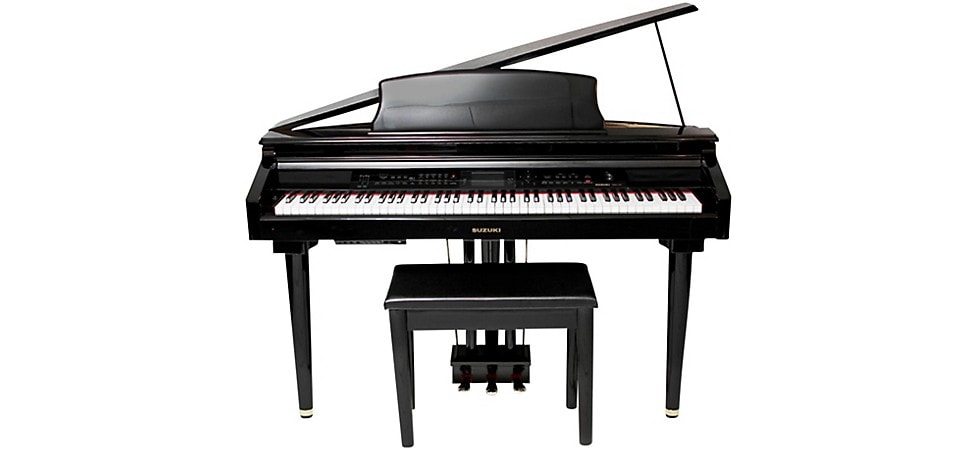 Pictured: Suzuki MDG-300 Micro Grand Digital Piano 
Yamaha's renowned Clavinova series come in a range of console and grand-style packages. If you really want to go for the glamor, the instrument that will provide a lifetime of musical satisfaction in your home is the top-of-the-line CVP-809. This superb piano has, at its heart, sound sets of a pair of incredible nine-foot concert grands—a Yamaha and a Bösendorfer, as well as a plethora of other instruments. The Linear Graded Hammer action is the best Yamaha has ever developed, with a feel straight from a high-end concert grand. Digital pianos for the home don't get any better than this one.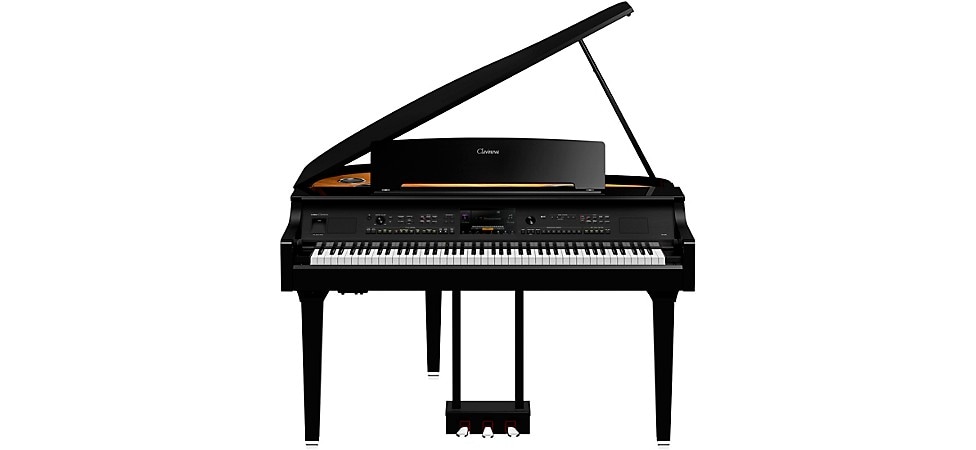 Pictured: Yamaha Clavinova CVP-809 Digital Grand Piano 
Performance and Recording
For professional use, in performance or for recording, we find that many features overlap. Both applications need a superior sound set, a keyboard that's both highly responsive and comfortable to play for long sessions, and expanded connectivity. Most of the instruments we're mentioning here can really be used for either application, but will have different strengths and weakness that may make them more or less suitable for your particular application. It goes without saying that the basic sound sets in all of these pro-level keyboards are excellent, so one of your biggest choices will be deciding what sounds are essential to you and how broad a choice you want at your fingertips.
For recording, it's less important for one instrument to have all the sounds you might need, but the sounds have to be right. You need sounds that move beyond good into great to make sure the recording has the impact you want. The basic sound set should include acoustic and electric pianos, a variety of organ sounds and some coverage of brass, strings and choir pads. With an increasing number of high-quality virtual instruments available for DAW software, you need to be sure that you've got all the connectivity needed to function as a great controller, as well as a sound source on its own. When you're using the sounds from the piano, you need to look at what the output options are. Are there separate outputs for more than just the normal stereo pair? Does it do digital audio over USB or an optical connection? Does it have the capability to load other sounds? All these can come into play in the recording process.
For live performance, you'll probably want something that's designed as a "stage piano," built to withstand the rigors of touring life. You need sounds that work well for both stereo and mono, since stereo PA setups aren't always a good road option. The ideal digital piano for gigging has presets that can be recalled quickly and easily as you go through a set. Internal speakers aren't a necessity for these instruments, unless you're often playing small venues like lounges and cafes. Easy to set up and tear down also gets big points when you're playing shows. Sometimes you don't need a full 88-key rig for performance if you're not using that lower octave, so some of the options we'll look at are available in 73- or 61-key versions.
The Nord Electro 6D has the largest build-in range of available sounds of all the instruments we'll look at here. Designed more as a versatile performance instrument than strictly as a digital piano, it has an organ-style semi-weighted key action and comes in 73- and 61-key versions. Nord is known for the ease of transition between sounds, and is light and portable. With multiple sound engines and split points, it's a really strong entry as a great-sounding performance keyboard.

Pictured: Nord Electro 6D 73-Key Digital Piano 
Roland's RD-2000 digital stage piano has Roland's most advanced progressive hammer action. This keyboard includes an escapement mechanism for a far more realistic acoustic piano feel. Designed as a performance piano, with a user interface that's easy to deal with on a darkened stage, it also has the ability to incorporate sounds from a separate source and good integration with your DAW software, making it a strong contender for both stage and studio.
Pictured: Roland RD-2000 Digital Piano 
The Korg SV-2 Vintage 88-key stage piano is the first of two Korg pianos on this short list. This is a serious performance choice, packed with a wide range of effects as well as great sounds. While in the studio, you would be more likely to use separate effects units, on stage, built-in effects save time and energy. It's easy for the performer to fine-tune stage sounds and have them instantly available. Korg's RH3 progressive hammer action keyboard is responsive and comfortable, and it supports a three-pedal setup up for full piano expression. The SV-2 is also available in a 73-key version.

Pictured: Korg SV-2 Stage Vintage Piano 
Yamaha was one of the first on the portable stage piano scene, and the digital offerings continue that tradition. The CP73 (also available in an 88-key version) has a balanced hammer action keyboard that easily suits the wide variety of non-piano sounds it has available. It's also a great piano feel, with a sound set that includes Yamaha's iconic CFX concert grand and a Bösendorfer Imperial 290. A full knob-driving interface means you don't have to dive through menus to edit sounds, making performance use easier. With both unbalanced 1/4" and balanced XLR outs, as well as USB audio and full MIDI, it's a great studio choice as well.
Pictured: Yamaha CP73 and CP88 
Our second choice from Korg, the Grandstage Digital Stage Piano, comes in both 73- and 88-key versions. It boasts seven independent sound engines and five world-class grand piano sounds, as well as a great assortment of electric pianos, organs and more. The over 500 sounds available include analog modeled brass and wind instruments that offer richly realistic options. Once again, both balanced and unbalanced outputs combine with an excellent sound set to make it a flexible choice for both stage and studio.

Pictured: Korg Grandstage Digital Piano 
The last digital piano we'll look at is the Kurzweil Forte SE 88-key piano. Kurzweil is legendary for their powerful V.A.S.T. (Variable Architecture Synthesis Technology) system that enables some seriously powerful sound editing capabilities. With over two gigabytes of samples to work with, strong editing capacity and over 1,000 preset locations, this keyboard is an audio tweaker's delight. The fully weighted hammer action keyboard includes aftertouch (see glossary) for an added level of expression in your playing. It's one of the strongest stage choices and a versatile studio choice, thanks to the comprehensive sound editing capacity.

Pictured: Kurzweil Forte SE Digital Piano 
The Accessories You'll Need
We've looked at the pianos, but we're not quite done yet. No setup is complete without the right accessories. Depending on whether you'll be practicing in your bedroom, playing in the living room or working it out in the studio or on stage, there are other items you'll need. Here's a quick breakdown by application.
Practice and Recreation
For home playing, whether practice or recreational playing, if you really want a satisfying experience, you'll want to consider the following additions.
While the recreation pianos all include a stand or console, for a practice setup, you'll need a stand that you can adjust to the correct height for proper technique.
You'll also need a piano stool or bench. Most chairs aren't quite the right height, and you need to be able to slide or swivel easily as you change playing position on the keyboard. If more than one person will be playing the piano, a bench or stool with adjustable height is a must.
Most pianos we looked at come with a simple sustain pedal. You might want to upgrade to a piano-style pedal or, if your piano supports it, a two- or three-pedal setup so you have the full range of traditional piano pedals available to use. We carry a full range of sustain, volume and expression pedals.
For private practice or playing late at night, you will definitely want a good set of headphones. Over-ear studio-style headphones are great for piano, as they generally provide better bass response and isolation.
If you'll be connecting to a computer, you'll also need a USB cable with the proper ends (USB A, USB C, USB micro, etc.).
Performance and Recording
For live performance or in the recording studio there are a few additional considerations. For example, the stand you need will vary. If you're only playing your digital piano, you'll want to make sure that the stand is sturdy enough to keep your digital piano safe during the inevitable bumps that go with being on a stage. If you're playing more than one keyboard, you might want a tiered stand that can stack multiple keyboards.
For performance, you'll probably need some sort of keyboard amplification, whether it's for a personal monitor system or for the audience to hear. There are a wide variety of choices from dedicated keyboard amps to small, full-range PA speakers.
Quality audio cables are an absolute must for both studio and live setups. Even going to a recording studio, it's always a good idea to bring your own cables, but quality is the key here. You don't want cable noise or interference spoiling your performance. Look for cables with a limited lifetime warranty. Even if you never need to use it, it indicates that the manufacturer has faith that the cable will last.
Putting It All Together
At this point, you have all the information you need to make the right choice for a digital piano that will sound great, feel great and suit your budget, whatever application you're considering. Piano is a great instrument to play, even if it's not your principal focus. So, have fun, practice your scales and make some music.
As always, if you have more questions, the associates at your local Guitar Center are glad to help sort things out. You can also find great information here on our website and on our social media channels. And don't forget to subscribe to our YouTube channel for tips, tricks, reviews, artist features and more.
A Quick Glossary of Terms
Here are some quick definitions of some of the terms we used in the article that you might not be familiar with if you're just starting your musical journey.
Aftertouch
A keyboard expression feature that enables you to alter a sound after you've pressed a key by simple increasing the pressure on the key. What changes is usually programmable, but the most common uses are to add modulation or reverb.
MIDI
An acronym standing for Musical Instrument Digital Interface, MIDI is not music, per se, but a digital communication protocol that sends instructions to an instrument. First developed in 1983, MIDI was a way to allow keyboards and synthesizers to control and communicate with each other, it's been applied to many other applications than just music, like stage lighting and mixer control.
Pedals
If you haven't played piano before, you may have wondered what those pedals at the pianist's feet do. Here's a quick right-to-left summary.
Sustain (also called damper)
When you press this pedal down, it lifts the dampers that stop the piano strings from ringing when they're not being played. When this pedal is held down, all the notes you play will continue to ring until they naturally decay or you let the pedal back up.
Sostenuto
A variation on the damper pedal, this will only lift the dampers on the notes which are being played at the time you press the pedal down. In effect, it enables you to play a chord and keep it ringing while you play something else over it with normal dampening.
Soft
Just what it says. On an acoustic piano, it decreases the distance the hammer has to travel to hit a string, making for lower volume.
Polyphony
How many notes or instrument voices can be played simultaneously. On an acoustic piano, that would be a very raucous and dissonant 88-note polyphony. On digital pianos, polyphony enables notes to ring without getting cut off. It also enables multiple sounds (voices) to be played at the same time. This is very useful if the piano allows layering. Some of the pianos we looked at have as much as 192-voice polyphony.
Velocity
How fast a key is struck. Faster generally equals harder, which means louder. All the keyboard we looked at are velocity sensitive, regardless of what keyboard action they have.
Velocity Curve
How fast different velocities change from soft to loud. This variation is part of what gives an acoustic piano its individual feel, and the more advanced digital pianos enable you to adjust this curve to customize the playing response to your personal style and preference.
Learn Piano with Guitar Center's Piano Lessons
Did you know that Guitar Center offers online and in-person piano lessons for players of all skill levels? Our expert keyboard and piano instructors will work closely with you to tailor your lessons to your musical tastes and goals. Whether you're a beginner learning your chords and scales, or a more experienced player looking to grow, we're here to help.