CHAUVET DJ designed the GigBAR Move + ILS to give users total control of their light shows and streamlined setup and workflow—without the hassles of dealing with DMX. Featuring a 5-in-1 lighting effect in a single bar, it delivers a slew of robust updates that set it apart from other portable lighting systems on the market, including its 2020 predecessor, the GigBAR Move. Most notably, its versatility and ease of use make it an appealing choice for users—and events—of all types.
We sat down with Geoff Short, global brand manager at CHAUVET DJ, to shed some light on what makes the GigBAR Move + Integrated Lighting System shine brighter than the rest.
For someone who may be buying their first lighting system, can you give us a rundown of what GigBAR Move + ILS would offer them? Who's going to be interested in GigBAR Move + ILS?
Geoff Short: At its heart, the Integrated Lighting System delivers the things most new lighting users need: ease of use, quick setup and the power of creating coordinated light shows based on auto programs, sound-activation modes and preset light shows—all without the learning curve or programming time of DMX.
Of course, the brain of the ILS—the GigBAR Move + ILS—is a pack-and-go system that includes a footswitch, tripod, carry bags and an RF remote. It's the epitome of convenience and easy setup and teardown.
With the GigBAR Move + ILS, new users are introduced to warm, even hex-colored wash lighting with the PARs, powerful moving heads and the effects of moving beams, along with effects to energize any party or dance floor with strobes, lasers and derbies.
Potential GigBAR Move + ILS users can come from all walks of life, including mobile entertainers, like DJs or bands, event planners, night clubs, bars and more.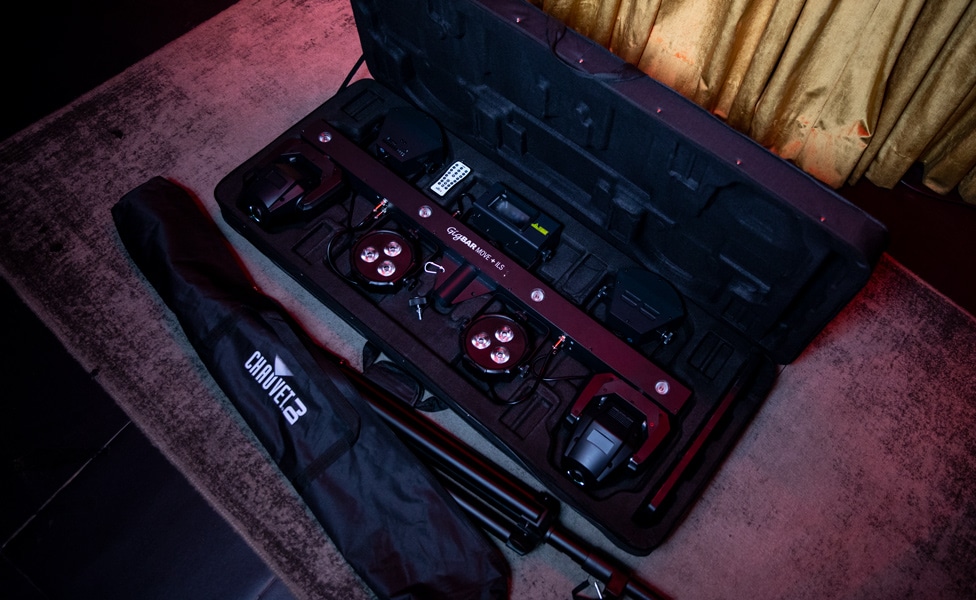 Let's dig deeper into ILS. What are its capabilities on a basic level, and can you give us a sense of how it may expand in the future?
GS: For the first time, ILS makes it fast and easy to create advanced, coordinated light shows across different fixture types—wired or wirelessly—and, as I said, without the need for an understanding of DMX programming. GigBAR Move + ILS combines power and convenience by offering a 5-in-1 lighting effect on a single bar that also acts as the only control unit for the ILS. The ecosystem consists of multiple ILS-compatible fixtures that will eventually expand to most CHAUVET DJ products.
GigBAR Move was introduced back in January of 2020. While it may look very similar, what are the key differences or upgrades in the fixtures?
GS: GigBAR Move + ILS is packed with robust features, including 32-watt moving heads, upgraded from 10 watts in the previous version. Previous red and green lasers have been bolstered to RGB Fat Beam lasers. Quad-colored derbies and hex-colored PARs have improved brightness and the strobes are now high-powered 5-watt beam LEDs. In addition, the new included RF remote triggers built-in shows without needing line-of-sight operation.
Can you tell us a little bit about the different ILS operating modes?
GS: There are four different ILS modes. The ILS modes let the controlled fixtures respond to the two different sides of the GigBAR Move + ILS. In certain auto programs or light presets, the GigBAR Move + ILS splits its effects into left and right variations for more dynamic looks. Any ILS-compatible fixtures set to ILS mode 1 or 3 respond to the left side of the GigBAR Move + ILS, and modes 2 and 4 respond to the right side. This means users could have different sides of an event space doing different things.
How does Totem mode work?
GS: Totem mode effects the pan rotation of CHAUVET DJ moving head fixtures. It limits the rotation to keep the beams of the fixture in front of the light position so that it doesn't rotate 360 degrees, shining light behind. It can easily be activated right from the menu of the GigBAR Move + ILS or, in the case of individual moving heads, from their menus. This is a powerful feature when moving heads are used in a dance floor situation, or other presentation where it's desirable to keep the beams on the dance floor or to the front of a stage area.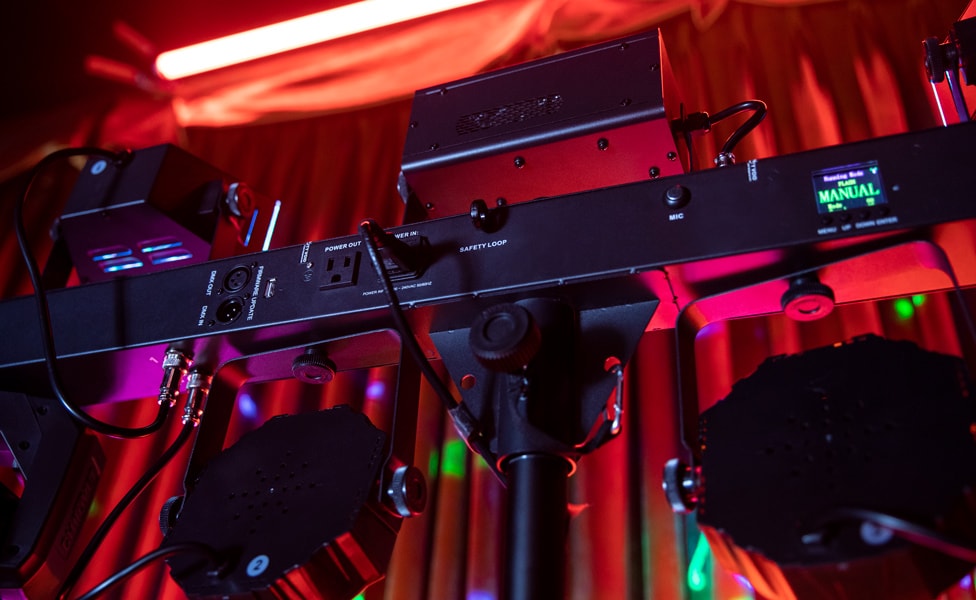 How complicated is programming?
GS: The whole idea of the ILS is that there is no programming necessary to achieve coordinated, synced light shows. ILS uses the auto programs and presets, or sound-activation mode of the GigBAR Move + ILS, to control compatible fixtures.
Can you incorporate GBM + ILS into your existing lighting setup? Is there a way to bring older, legacy products into the ecosystem?
GS: While older versions of lights will work in traditional master/slave or DMX configurations, the ILS features are only available with ILS-compatible fixtures.
Is there a cap on how many fixtures you can connect to?
GS: An unlimited number of ILS-compatible fixtures can connect to the system.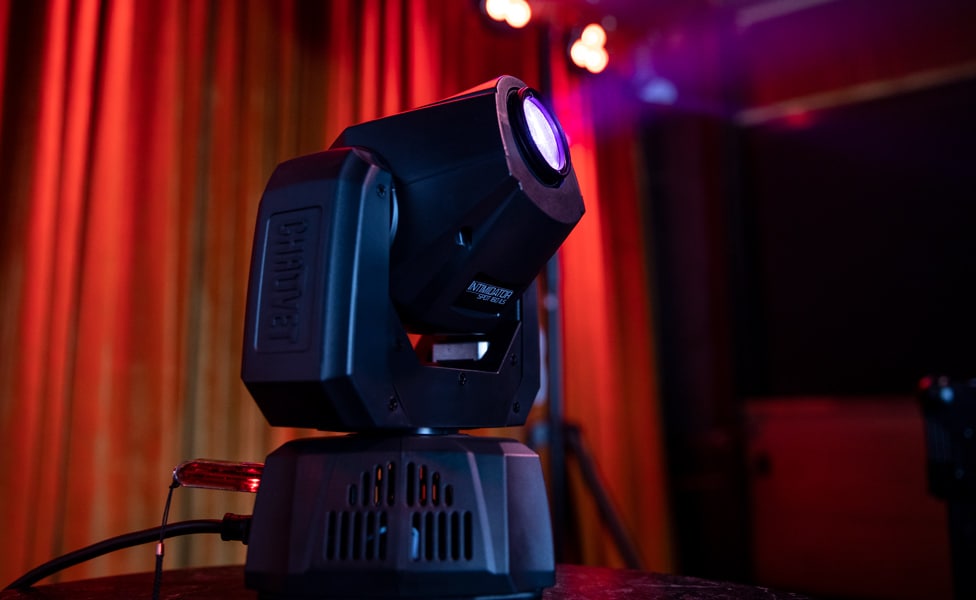 For someone that may be interested in building out their lighting rig, starting from GigBAR Move + ILS, what expansion products would you recommend people check out?
GS: In order for ILS-compatible fixtures to receive wireless ILS signal from The GigBAR Move + ILS, a D-Fi USB transceiver unit needs to be inserted into the fixture. These units are sold separately, so it would be a good idea to invest in a number of them. ILS-compatible fixtures have all the same features as their conventional predecessors—DMX control, auto programs and sound-activation modes. As the ILS ecosystem grows, users looking to add fixtures for these familiar features may want to consider the ILS-compatible versions of them.