The Taylor GT and GTe Urban Ash Grand Theater acoustics are ultraportable guitars that prioritize sustainability, comfort and innovation—created by Master Guitar Designer Andy Powers. "We always want to be doing a better job than what we've done in the past, and so every time we build a new instrument, we look at the construction of that instrument from the ground up—we don't rinse and repeat and just do what we've always done." states Powers. "We look at every instrument as a chance to re-think how we're going about the manufacturing process."
The GT Urban Ash's new compact body style makes it extremely fun to play, while the quality of its ethically sourced solid woods and its state-of-the art C-Class cantilevered bracing deliver the full-voiced tone and detail that Taylor is known for. "My one criteria of a great instrument is, do I enjoy playing it?" says Powers. "Whether it was a guitar, whether it was a piano, whether it was a pedal steel, or a mandolin, or a ukulele, or anything—if it's enjoyable to play, that fact is what makes it a good instrument." To get a sense of the musician's perspective on this, we invited singer/songwriter and innovator Beatie Wolfe to test out the GTe Urban Ash Grand Theater and share her first impressions. 
"I'm amazed particularly at the tone, the warmth and the depth you get from a pretty small guitar—I've kind of fallen in love with it a bit." Most importantly to Wolfe, the GT Urban Ash is created from sustainable wood. "The Urban Ash project is basically the idea that we have all these trees in urban environments that often get cut down and turned into firewood—so it's just really thinking about how that wood can be reused for something like a guitar. It sounds like mahogany—it sounds amazing." The GT Urban Ash introduces a new wood to Taylor's ethically sourced materials—a smoked eucalyptus fretboard. "Eucalyptus for so long had been thought impossible to use, so the fact that it now has made it onto a guitar and it sounds great is really exciting."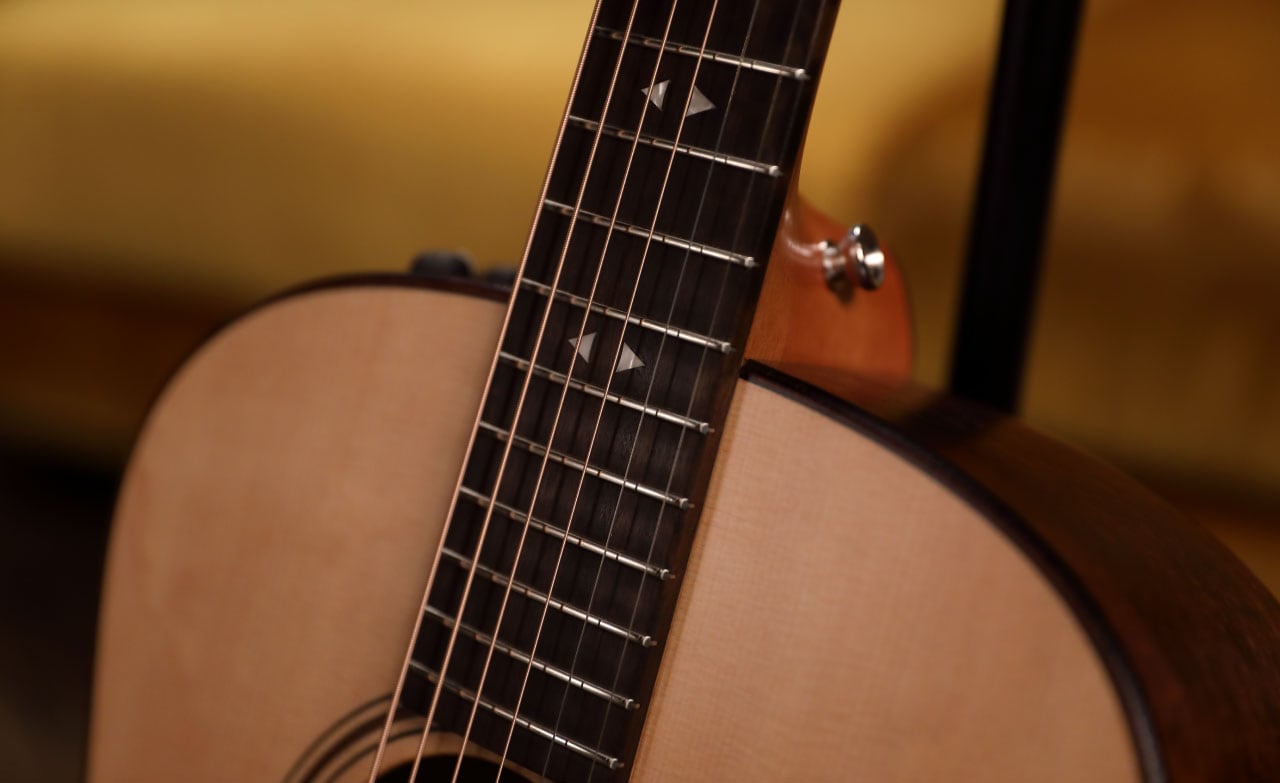 Taylor's entire ethos resonates with Beatie Wolfe's current project, an environmental protest piece entitled From Green to Red which charts 800,000 years of our planet's CO2—so much so that she's been collaborating with Taylor on a short film involving the piece. "My project is very much about showing the CO2 in the atmosphere and how we have been the vast contributor to that as human beings, and it's this wonderful kind of collaboration that is feeding into what Taylor is doing. I think this guitar and the Urban Ash are great examples of the long view," Wolfe says.
The GT Urban Ash, at 24⅛" scale length, sits somewhere between Taylor's travel-sized GS Mini and their smallest full-sized Grand Concert. Powers explains, "In this GT, every aspect of the guitar was designed specifically for this kind of mid-length, mid-size scale. It's very deliberate—halfway in between a typical guitar scale length and a typical travel size guitar length. I took a pretty typical 25.5"-scale guitar, I drop tuned it to E flat and put a capo at the first fret—now, you're back in concert pitch, but you have the string size and the string tension that I actually wanted. It's supposed to be this easy-to-enjoy, easy-to-play thing that fits a bunch of playing styles so that everybody can have fun. I guess you could say it's a very inclusive guitar that way—a straightforward, modest, honest guitar.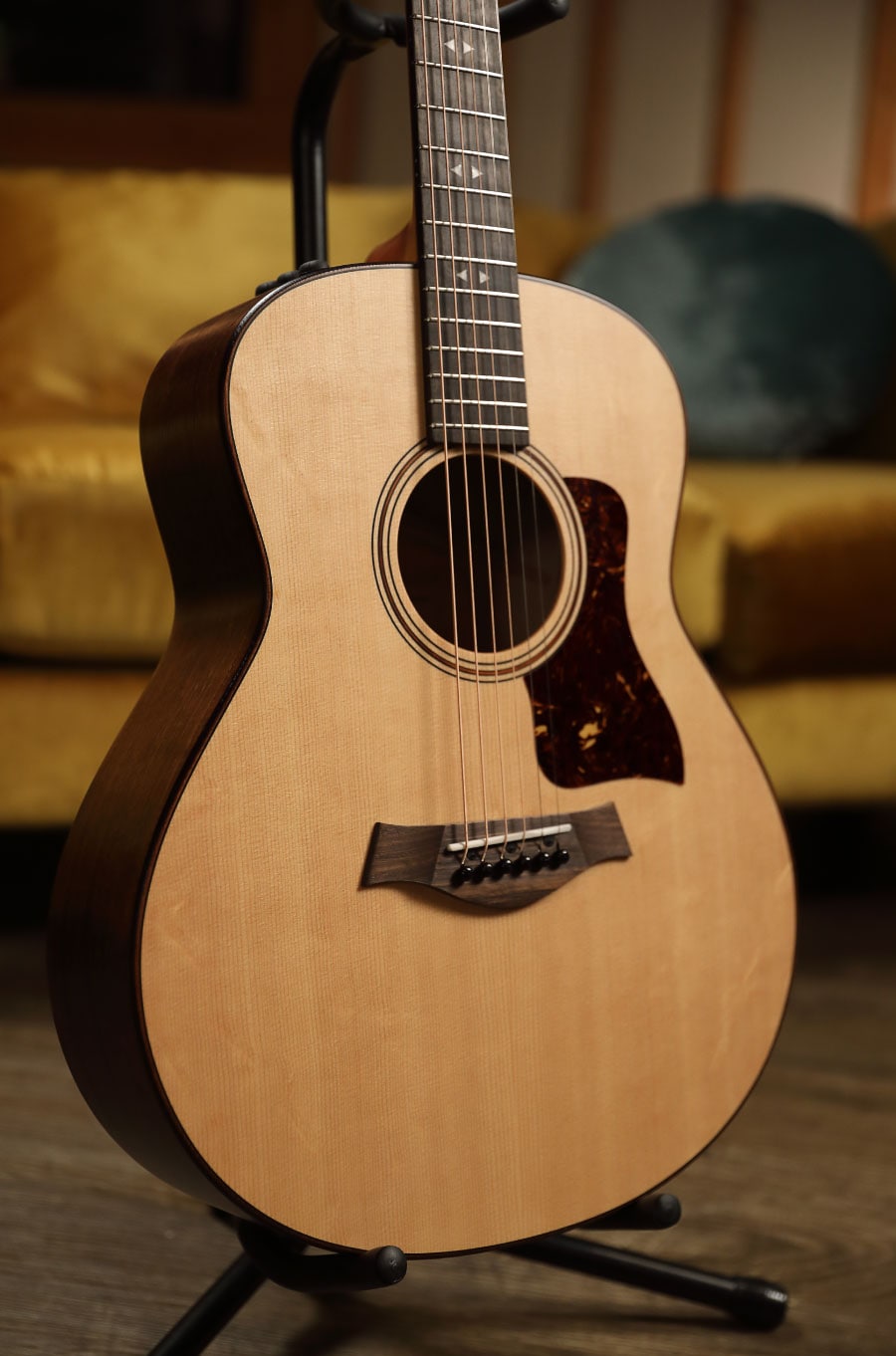 Taylor's reputation for discovery and experimentation in guitar building continues to yield exciting results. For guitarists who care deeply about the environment, the GT and GTe Urban Ash Grand Theater offer a forward-thinking, approachable option. "I would hope that musicians continue to find new music coming out of an instrument," Powers says of his inspiration to keep refining his designs. "My goal as a maker is always to build something that's a little more than what a musician could ask for, because the history of musicians and instrument makers is a two-way street. Musicians will have some musical desire, some need for an instrument that might not exist, and then a maker responds to that need—but hopefully they put something in there that inspires the musician to go a little further than what they were even imagining. Whenever we build an instrument, especially something as new as the GT, we hope that musicians will take to it and find fresh musical inspiration that can continue long into the future."
Learn more about the Taylor GT and GTe Urban Ash Grand Theater acoustic guitars. 
Keep up with Beatie Wolfe and learn more about her project From Green to Red.