Collaboration leads to innovation—in music, design and beyond. The Gibson Les Paul Traditional Pro V is a professional player-focused collaboration between Gibson and Guitar Center that started in 2008, now in its fifth generation. "Every iteration we try to come up with something different—and we really think that we nailed this one. All the good stuff accumulated into this model," says Matt Schneider, director of merchandise - Electric Guitars, Bass, Amps, and Pedal Effects at Guitar Center. "It's really a player's guitar, and that was the whole gist—having a Swiss Army knife," explains Tom Gordon, business development director of Gibson. Notable for its advanced electronics and thoughtful ergonomics, serious guitarists take notice. We invited Devon Allman and Duane Betts to try out the Trad Pro Vs and share their first impressions. 
Dual Gibson Tradbucker Pickups with Coil-Split, Coil-Tap and Phase
The power of the Traditional Pro V comes from its pickups. "We came up with a specific pickup using Alnico 5 magnets — which is a little bit higher of an output than Alnico 2. The neck has an underwound Alnico 5 Tradbucker, and the bridge has an overwound." shares Gordon. "Jim Decola—he's the lead luthier, provided some insight on the pickups. He gave us five different versions, and the versions that we picked are the ones that he picks for his own personal collection of guitars," says Schneider. "Where 90% of Gibson pickups are covered, the Trad Pros are uncovered. Zebra pickups are the common thread that we've had in all five iterations."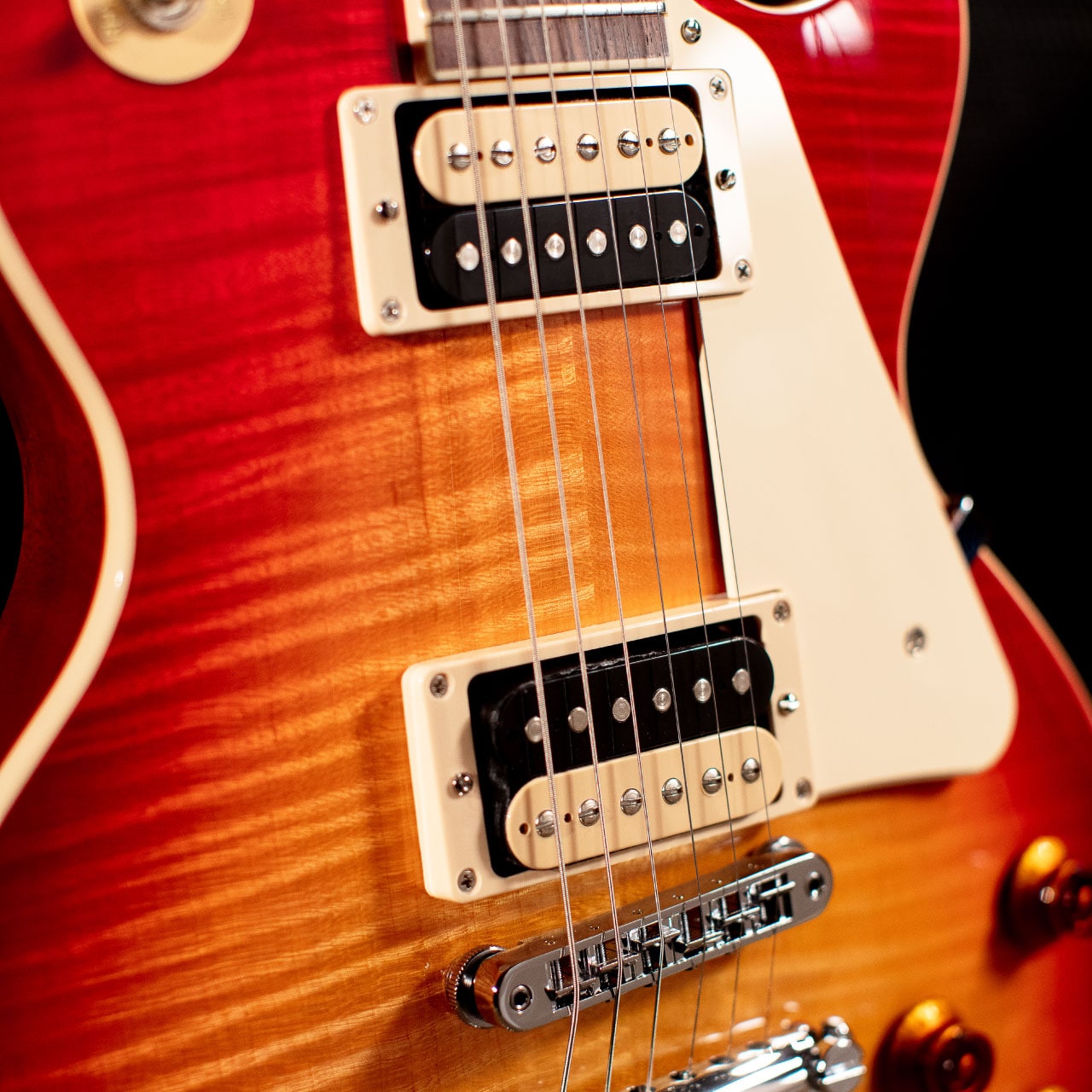 The thing that makes these Tradbuckers really special is the sonic palette you have at your fingertips. "It has push/pull volume controls that either split the humbucker into single coil, or taps the humbucker pickup. It's your choice, via DIP switches in the back. The rhythm tone controls the push/pull phase switch so that it can sound out of phase, and then the treble tone control toggles between the inner and outer coils—so you could have the two inner ones, or the two outer ones—or the inner and the outer, and that's a really unique sound. After playing the Trad Pro V, Allman shares, "I loved all the little tricks—the out of phase, the coil-tap. It's a really versatile guitar. You can get the woody, violiny, kind of Les Paul thing. But then you can get kind of a throaty Tele thing but without dropping the resonance and the sustain, which is cool. There aren't many guitars that can do that."
Betts agrees. "You get a really wide variety of sounds out of it."
Asymmetrical Neck Shape, Compound Radius Fretboard
"It has an asymmetrical neck, which, if you visualize an airplane wing, the meatier part fits in the palm of your hand and the slimmer part is where your fingers are. So, it is very comfortable to play," illustrates Gordon.
This immediately caught Allman's attention. "I think the neck is what kind of surprised me the most about the feel of the guitar", he says. "I could feel up here where it gets a little faster, this curve feels a little bit different than what I'm used to and it's really nice for hitting the higher notes."
Schneider thinks that this ease of play is what all guitars should strive for. "Beginner guitars should feel like this, but it's a lot more handwork to make the necks to this spec. So that's why it's usually in a more professional model—but it's really comfortable and what all beginners should feel when they pick up a guitar" he says.
Creating a new Les Paul is a delicate balance. As Gordon notes, "The Les Paul is a work of art."
But it is important to keep refining a legacy. "This is a design that came out in the '50s. How do you make it cooler, but how do you also not totally abandon what made it cool in the first place? Every year, in every model, you're trying to match those two things up—he classic and the modern," says Schnieder.
"It was a lot of fun watching the reaction to it when it came out, seeing the positive response," shares Gordon on hearing it live for the first time. "You can bring this one guitar with you to a gig, instead of three. You get a Strat sound. You get a Tele sound. You get a Les Paul sound. It's all there."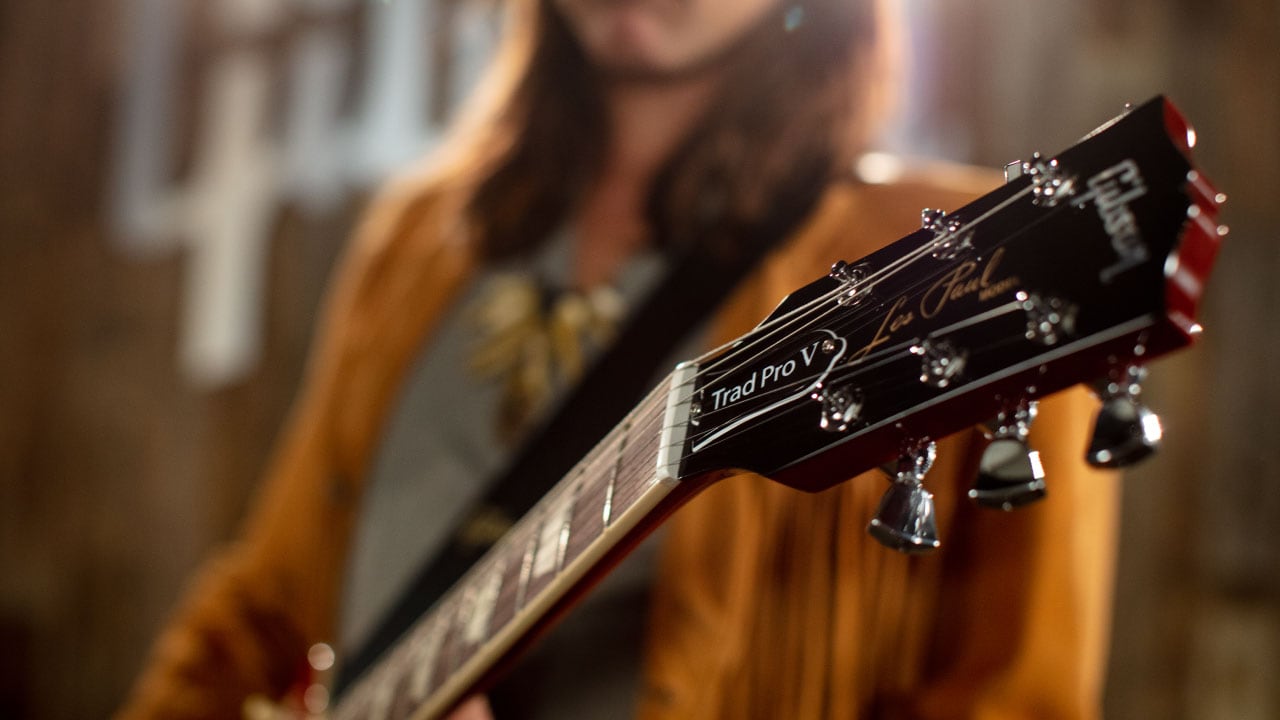 The guitar that started as just a conversation between Gibson and Guitar Center in 2008, has become a go-to for those who want classic Les Paul vibes with a modern feature set that delivers tone and comfort. Learn more and order your Gibson Les Paul Traditional Pro V.
Keep up with The Allman Betts Band.