Revered for their sound and relied on for their exceptional quality, Universal Audio's name has long been synonymous with pro audio. Now, applying their uncompromising approach to effects pedals, UA has introduced a trio of studio-quality stompboxes: Golden Reverberator, Astra Modulation Machine and Starlight Echo Station. Each pedal contains three inspiring effects and a range of intuitive, hands-on controls for digging deep into these complex designs.
Grammy-winning producer, multi-instrumentalist and singer-songwriter Shooter Jennings has built a rich, diverse discography over his more than two-decade career. From his solo work to his time behind the boards with Tanya Tucker, Brandi Carlile, and Duff McKagan, he's blended his early industrial influences, passion for '80s rock bands and Outlaw Country heritage into a formula for success, making him one of the most in-demand producers working today. We invited Shooter to check out the new UAFX pedals and share his first impressions.
To learn more about the pedal trio we reached out to Tore Mogensen, reputed "guitar-geek making gear" and Senior Product Manager at UA. He spoke with us about the inspiration, team and tech behind these luxe new effects pedals. 
The world of guitar effects is pretty crowded. Why would you join?
Tore Mogensen: While it is true that the guitar pedal market is extremely crowded, we really feel that we as a company have some truly unique competencies when it comes to making guitar pedals:
Universal Audio, as a company, has always had a no-compromise approach to product development, and these pedals really bear testament to that approach. They are literally designed with the mindset that only the best is good enough.
There are a staggering amount of guitar players at UA. Everybody from the owner to the developers play guitar. It's quite astonishing to come to HQ and see guitars in virtually every office. As a company, there is a deep passion and knowledge about the guitar.
If there is one thing guitar players love, it's vintage equipment, and UA arguably makes the best emulations of vintage effects in the world.
When combining all these things with somebody like [Senior Product Designer] James Santiago's golden ears and absolutely staggering knowledge of classic guitar gear, it really is a unique recipe for making totally unique and superior-sounding pedals.
As you gradually started introducing guitar-oriented tech into your product line, for example OX and your Unison amp models, did you realize that you were selling products to more guitarists than you first thought?
Mogensen: We always knew we were selling to guitar players, but it was also obvious that we were selling to users who were studio-savvy as well. The big difference now, is that even though we think and hope that these customers will get excited about the new pedals, we will now also appeal to the "guitar-only" type of customer.
How do these pedals differentiate themselves from other high-end digital pedals?
Mogensen: As briefly touched upon earlier, it really comes down to quality, both hardware and audio-wise, and, obviously, especially the realism of the emulations. UA has 20 years of experience recreating classic vintage effects digitally and the mantra has always been to go the extra mile to ensure the utmost sonic authenticity. Add to the fact that all the algorithms found in these pedals are modeled after specific golden units handpicked among many.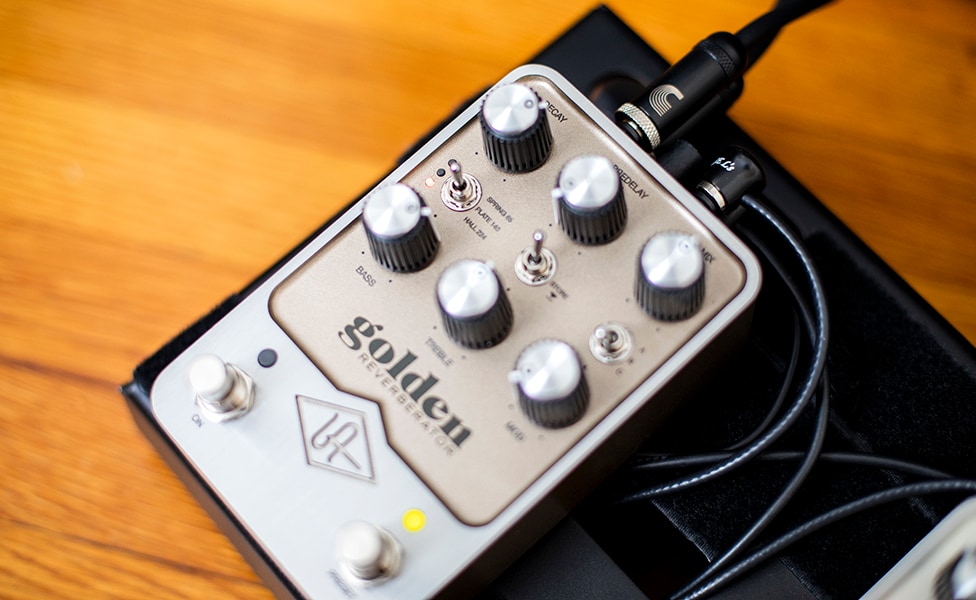 The Golden Reverberator contains two "studio" reverbs, the Plate 140 and Hall 224. Can you describe the sound of each of these? Where will players have heard these effects before?
Mogensen: The Plate 140 and Hall 224 are both modeled after legendary studio units that - even though they might not be known to all guitar players – helped shape the tones of some of the most famous albums ever created. Plate 140 has been used on everything from Beatles to Van Halen albums, and Hall 224 was the standard high-end reverb from the late '70s to the early '90s, and has been used by artists as diverse as Pink Floyd and U2.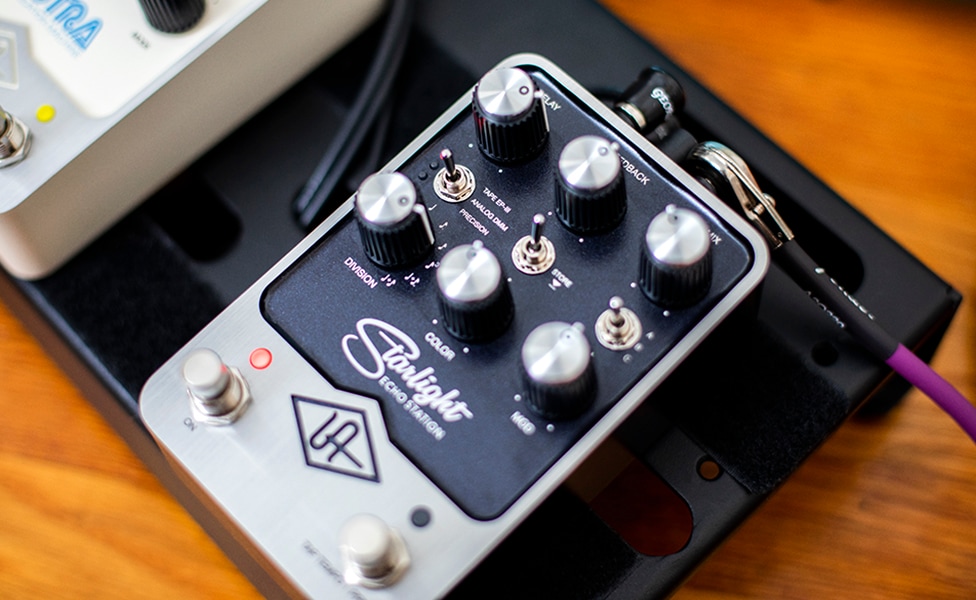 The Starlight contains two analog-modeled delays (Tape and BBD-based). What is the X-factor quality that you're striving to accurately reproduce with these models to make them feel "right?"
Mogensen: The main component to accurately emulating any piece of vintage gear is really recreating the entire schematic digitally, from start to finish, and making sure that you've chosen golden units that actually represent the pinnacle and epitome of what that particular product has to offer. As for quality control, and the sheer fact that many of the products are old and might have led a rough life, there is a big risk that you end up modeling a bad unit that is failing, or has been modded or repaired with wrong or lower quality components.
Having the expertise to understand the circuit and accurately model it, combined with the deep knowledge of the original units, is really the key here. Specifically, for the Tape EP-III, it was things like tape-splice, record hiss, wow and flutter, the preamp. We even modeled different iterations of the original unit.
For the Analog DMM, the key component was really emulating the bucket brigade chip along with all of its character … good and "bad." We've gone to such extremes that the algorithm literally has the same limits in terms of delay time, oscillation characteristics, etc.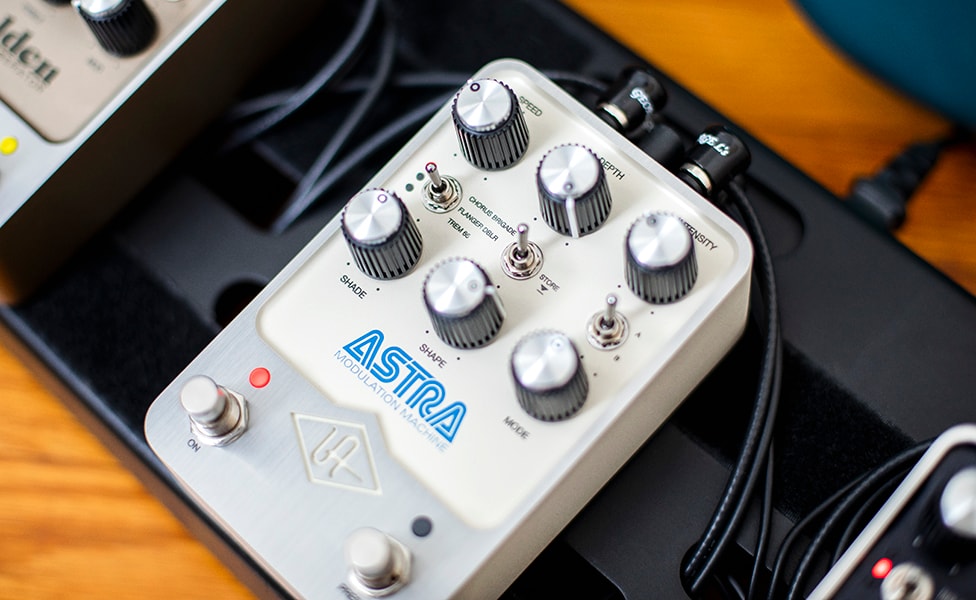 The Astra does three different types of modulation: Chorus, Flanger and Tremolo. How did you settle on what you wanted to model for each one? Were there any unique challenges?
Mogensen: We really wanted to pay tribute to what are considered to be the absolute classics when it comes to the different modulation effects. And while there are many flavors when it comes to these types of effects, we feel that the Brigade Chorus, Flanger/DBLR, and Trem 65 really capture the guitar player's collective archetype of how these effects should sound.
In terms of specific challenges, we spent a lot of time emulating the entire circuit of the Trem 65. We weren't just modeling the tremolo circuit, but also the tube circuit surrounding it, which we found was absolutely critical to achieving the realism we were striving for.
Were these pedals voiced for the front end of amps or effects loops?
Mogensen: They are actually voiced for both. The AD/DA converters have tons of headroom and are specifically chosen to work equally well in front of an amp and in an amp effects loop.
Did you work with any specific guitarists as you developed these pedals?
Mogensen: Between James Santiago, myself and all the in-house guitar players at UA, there is a staggering amount of knowledge and experience when it comes to designing guitar pedals and dialing in tones. But, we did draw on a select number of pro guitar players for feedback and criticism.
What do you hope players take away from these pedals?
Mogensen: Apart from the sheer audio quality, we hope that they'll find the pedals easy and fun to use and that they will be inspired to create amazing music and dial in beautiful guitar tones!
Given the gradually blurring lines of studio and stage, and digital and analog gear, how do you see the "standard" guitar rig evolving in the next 3 to 5 years?
Mogensen: That is a tough question. While we definitely have a ton of exciting ideas for how guitar players could look in the future, unfortunately, we can't comment on potential future products or projects. The only thing I can say is that there's definitely much to look forward to!
Learn more about the Universal Audio Golden Reverberator, Astra Modulation Machine and Starlight Echo Station.