Three decades after introducing Wave Sequencing to the world with Wavestation, Korg has announced Wavestate, an inspiring new digital synthesizer built on the power of Wave Sequencing 2.0.
Introduced in 1990, Korg's Wavestation was the first project to come out of the Korg R&D team, a California-based team initially made up of ex-Sequential Circuits engineers. They were soon joined by a number of new engineers, including a handful from Ensoniq. Wavestation brought together two cutting-edge technologies: Wave Sequencing and Vector Synthesis.
Wave Sequencing plays a series of different waveforms over a period of time, either switching or crossfading between them. Each step in the sequence has its own independent durations and pitches, resulting in a bank of uniquely inspiring preset arpeggios, pads, and rhythmic patterns. The press of a single key conjured uniquely pulsating rhythms, each with their own organic, life-like quality.
Controlled by an X/Y joystick, Vector Synthesis allows a player to fade between four sounds in real-time, adding a level of motion to sounds not previously available to players.
Combined, these two groundbreaking technologies made the Wavestation a dream for film and tv composers, as well as everyday players interested in pushing the sonic envelope. It's immediately identifiable sounds popped up in soundtracks, commercials, news segments and more.
Although the Wavestation product family started phasing out in the mid '90s, it wasn't the end of Wave Sequencing or Vector Synthesis. The technology later made its way into the OASYS, released in early 2005, and the Kronos, which made its debut in 2011. When integrated into these advanced workstations, Korg introduced some much needed improvements including tempo control, duration modulation, crossfade shapes and more. Additionally, Korg released Wavestation as a VST/RTAS/AU plug-in in 2004, and in 2016 as an iOS app, appropriately called iWAVESTATION.
When Korg started working on Wavestate a couple of years later, they set out to deconstruct and re-define Wave Sequencing for the 21st Century. Featuring a convenient, intuitive layout, Wavestate is clearly designed with usability and flexibility at its core.
With Wave Sequencing 2.0, Korg split each of the important aspects of Wave Sequencing into their own "Lane". Timing, Sample, Pitch, Shape, Gate and Step Sequences are now split up into their own Lanes, allowing for intuitive, independent control. This also means that you can modulate each Lane separately, resulting in ever-evolving, organic sounds.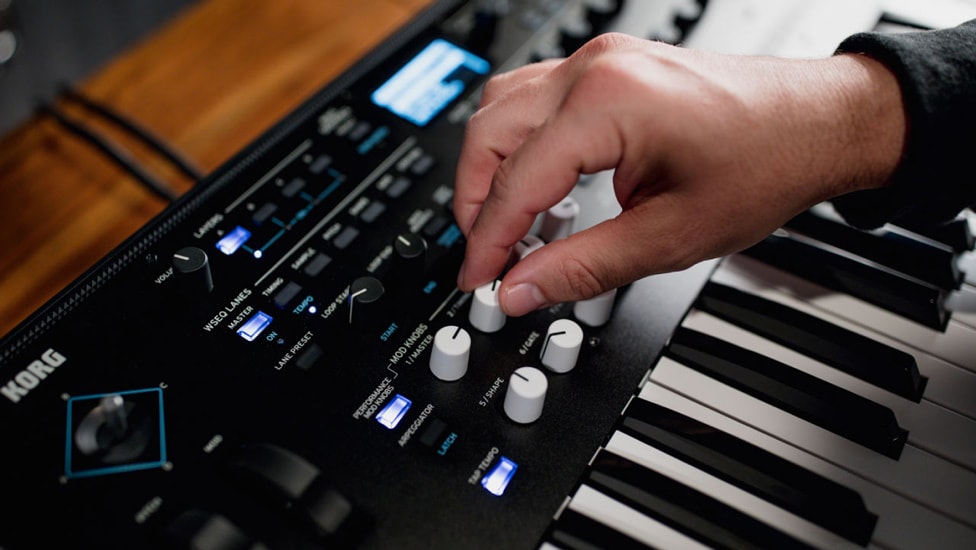 Unlike Wavestation with its decidedly minimalist front panel, Wavestate is loaded with knobs and buttons for quick access to all of the important parameters to take control of your sound. Dedicated controls for filter, envelope, LFOs and effects are all there. Eight programmable Mod Knobs are assigned to the most important quality of each preset sound. And as with the Wavestation, the Vector Joystick allows the player to mix between 4 different programs within a Performance.
While Wavestate is truly a digital synth, loaded with many gigabytes of samples and playing up to 64 stereo voices, there are a number of different filter models to add vintage grit and character. These include the MS-20's aggressive Lowpass and Highpass filters, the Polysix's Lowpass filter and a number of resonant 2-pole and 4-pole LP, HP, BP and Band Reject filters.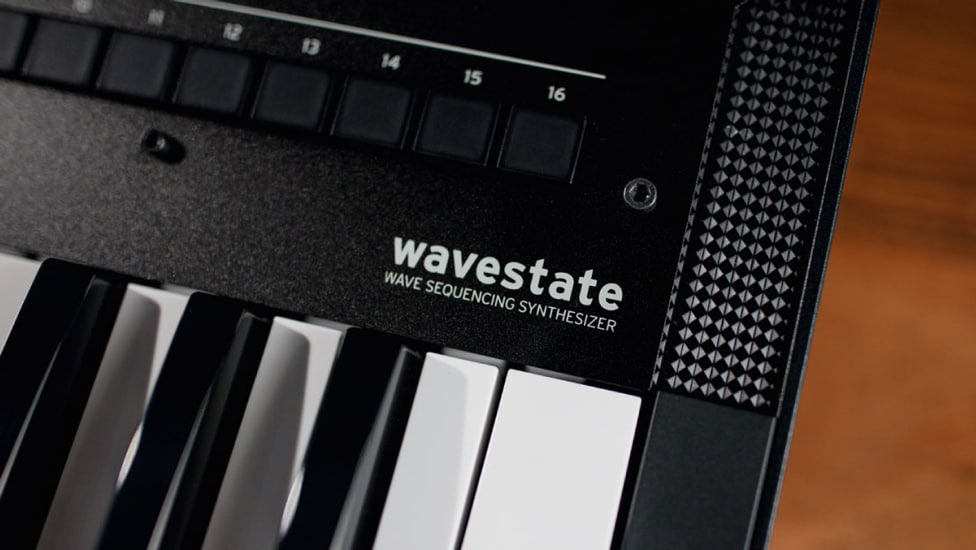 Finally, Wavestate features a slew of impressive effects including flangers, phasers, delays, reverbs, modeled guitar amps and more. The sound design options are quite staggering — the inspiring sounds and inviting front panel will have you exploring its limitless possibilities for years to come.
The Korg Wavestate emerges from over 30 years of R&D, reflecting complex processes that could only be born of  years of experimentation, user feedback, and listener appreciation. The Korg Wavestate synthscapes mirror in their tones the story of its origin — organic, advanced, and constantly evolving.