On January 16, 1992, Eric Clapton ushered in a new era, appearing on MTV's Unplugged, introducing a swinging acoustic version of "Layla" and bringing down the house with an impassioned rendition of "Tears in Heaven." This night of acoustic music brought fans new and old into a new circle of the Clapton sound, and the album that came from it revitalized his career, winning six Grammy Awards and selling 26 million copies around the world.
The guitar he favored that night was a 1939 Martin 000-42; a curvy, compact 14-fret pre-war beauty with a throaty, clear tone that came to define the sound of acoustic guitar in rock for a good decade. It also famously sold at auction in 2004 for a record $791,500.
For the 2019 Crossroads Collection, Guitar Center, Eric Clapton and Martin have collaborated to introduce a new and enhanced Crossroads 000-42. The Martin 00042-EC-Z Eric Clapton Crossroads Ziricote notably features sides and back made of ziricote — a prized exotic wood that closely matches beloved but threatened Brazilian rosewood in dramatic grain and tone.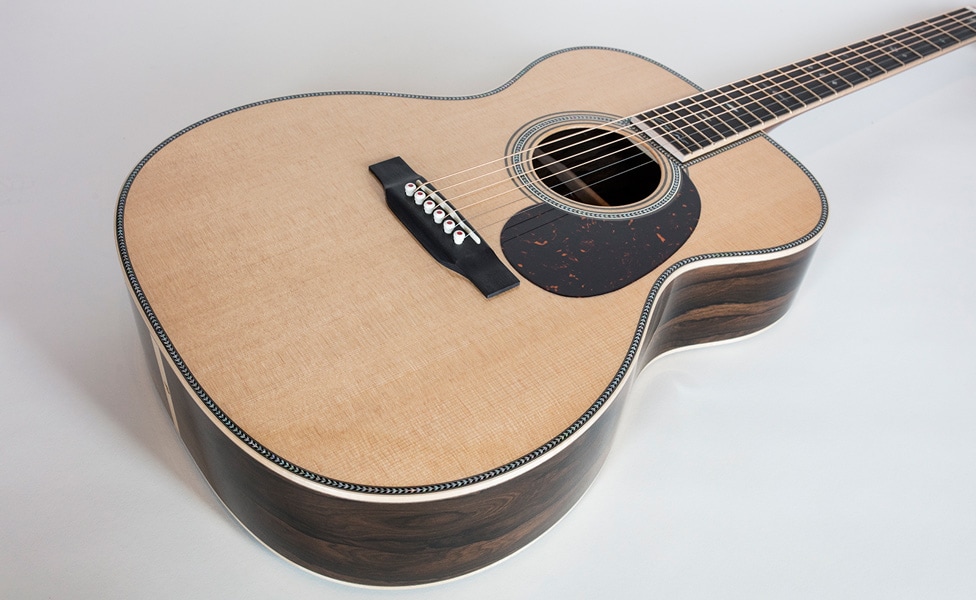 The Sitka Spruce top is treated with Martin's proprietary Vintage Tone System (VTS) system that torrefies the wood to reflect the tonal properties of the famed "Golden Era" pre-war Martin's from decades past. This 000-42 also features a titanium truss rod to maintain the light weight and tonal purity of a pre-WWII Martin while providing the adjustability modern players demand. Abalone and herringbone pearl inlay, as well as European flamed maple binding bring gleaming, sophisticated detail.
What do all these materials and processes add up to? Tone. This Martin's tone is remarkable — bell-like and bright, with a perfect equilibrium of round lows and woody, warm mids.
Each Martin 00042EC-Z is accompanied by a certificate of authenticity signed by Eric Clapton and Chris Martin, and a portion of the proceeds from the sale of this guitar will be donated to benefit Clapton's Crossroads Centre Antigua. The Crossroads Centre is a substance abuse treatment and recovery facility, and the beneficiary of the Crossroads Guitar Festival.
Guitar Center has co-sponsored the Crossroads Guitar Festival since 2004, and offered the first Eric Clapton Crossroads Guitar in 2005. The Martin 00042EC-Z Eric Clapton Crossroads Ziricote will be on display at the Guitar Center Village along with the four other guitars from the 2019 Crossroads Guitar Collection throughout the Crossroads Festival, September 20 and 21.
Blending pre-WWII craftsmanship with modern science and sustainability, this guitar strikes an ideal balance for today's collector, similar to the balance Clapton found on that January night in 1992, when he melded his electric past with an acoustic future.