In creating the American Dream series, Bob Taylor and Andy Powers wanted to use all the innovative tools and design lessons they've learned over the years.  Their goal was to distill the essence of what makes an acoustic guitar sound, feel and play its best. It was important to them the guitars be made in the U.S. of solid woods that came from sustainable sources. Also important was that the guitars be easily affordable compared to other instruments of similar quality. This back-to-the-basics approach has resulted in a line of acoustic guitars that seem destined to be held as future classics. 
As Taylor designer Andy Powers said, "In some ways, the philosophy behind the American Dream Series is similar to the Academy Series Guitars that we launched a few years ago. The underlying assumption with that instrument was a question. 'What aspects are essential to making a great instrument?' So I want to include those parts that are essential and remove anything that's not essential."
Inspired by the Past
Named for the 1974 shop where Taylor Guitars was conceived, this series debuts with Taylor's unique and extraordinarily comfortable Grand Pacific body shape. It's available in two basic versions, the AD27 and the AD17. The basic design delivers a warm, round, rich tone that is well-balanced, with a very musical low-end response that avoids being muddy or "woofy." This choice suits almost every style of acoustic player, whether they're flat-picking bluegrass runs, playing intricate fingerstyle patterns or strumming rhythms.
When we talked with Andy Powers about what he wanted this guitar to be, he had a short list. "I look at things like a great playing neck—man, it's got to play great. The fretwork has to be really good. The neck has to be predictable. It has to sound really good. So we wanted to build these guitars using the V-Class internal architecture because we know we can build a great sounding instrument that way. Next, we wanted it to be solid wood, because, well, we had solid wood and that's what we had [easy] access to, so we knew we wanted those things."
Learn more about Taylor's Grand Pacific body shape.
Tonewoods That Sing
The two debut versions are distinguished by Taylor's choices in tonewoods. The AD17 features a solid spruce top and solid ovangkol back and sides. The quick attack and clean articulation of spruce has made it a primary wood choice for many acoustic guitars. It exhibits the right blend of stiffness and "give" to project well with an even tonal response. Ovangkol's shimmering highs combine with a strong low-end and midrange response to reinforce the spruce. This delivers a lively, well-balanced overall tone with just the right amount of punch to cut through in performance or recording.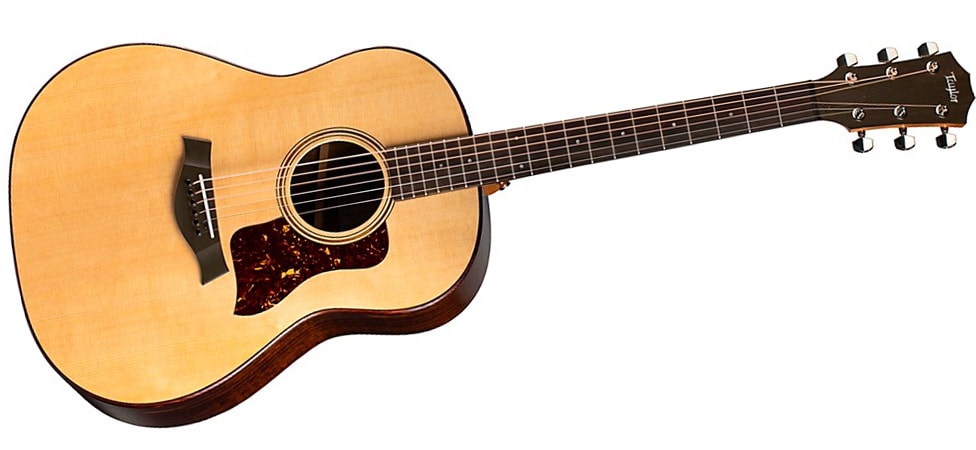 The AD27 combines a solid mahogany top with solid sapele back and sides. Mahogany's strong midrange punch and warm, earthy quality make this a guitar that loves a strong attack. Mahogany also has what amounts to a natural compression that helps keep the sound smooth and balanced. The sapele body adds to the strong midrange, but brings a treble sparkle to the game that helps to naturally pop the guitar out, front and center, when you need it there.
Playability-First Design
Both the American Dream AD27 and AD17 share a number of features. The highly sustainable eucalyptus fingerboard, bridge and peghead are excellent replacements for rare tropical hardwoods. A simple, single-ring wood rosette adds a touch of reserved, organic elegance. Chamfered body edges add to the playing comfort. Taylor's super-thin finish helps keep the response lively.  Asked about the finish, Powers said, "In these guitars, the finish that we're using is a bit of a departure from most standard Taylors. This finish is ultra, ultra thin and a little softer. It's not quite as dense as some of the other finishes that we use. So, what you're hearing is a little more direct result of the raw wood plate vibrating on the top, back and sides. You're hearing a little less of the finish and a little more of the piece of wood itself. So, it contributes to this sort of airy, open kind of a sound."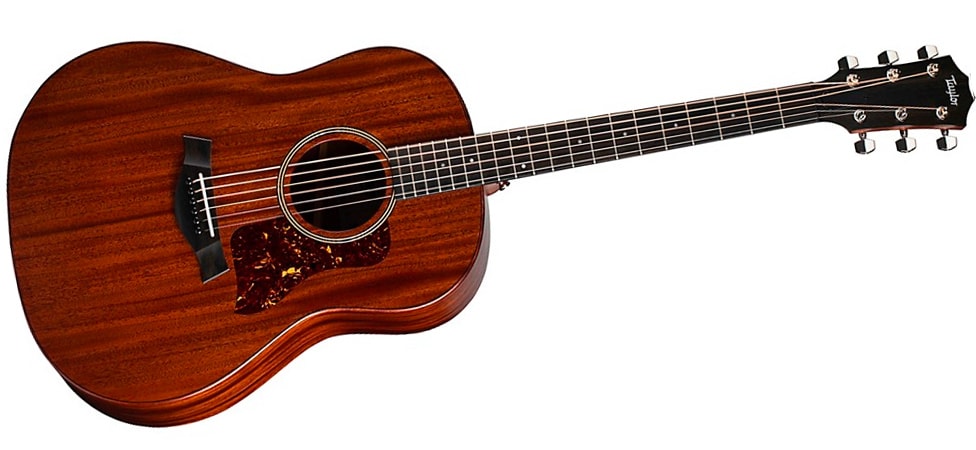 Stepping beyond the cosmetic, all American Dream models feature Taylor's revolutionary V-Class bracing. Much has already been written about the advantages of V-Class. A true innovation in acoustic design, it tunes and optimizes the response of an acoustic guitar. This helps the fundamental pitch hold strong and harmonics ring true. It also increases acoustic volume, making sure that all the guitar's registers are heard strongly and accurately.
The synergy of V-Class and the wood choices in the American Dream series make for instruments that will truly feel alive in your hands. As Powers said, "One of the real interesting attributes behind the V-Class architecture is that it's very adaptable for different kinds of sounds, different kinds of woods, different shapes of guitars and different scale lengths. Among a lot of these different guitars that we're building, you see different versions, different variants between the exact placement of brace parts, the size of brace parts, the profiles of them, how the top and the back interact. It's a kind of a mix of these different elements because the design is such that when you make an adjustment to it, the effect of that is very, very direct."
Player's Choice
Both the AD17 and AD27 are available in both purely acoustic and acoustic-electric versions. The acoustic-electric models, the AD17e and AD27e, feature Taylor's renowned Expression System 2 (ES2) electronics. This system moves the pickup from underneath the bridge saddle to just behind it. By doing so, the saddle is always in full contact with the bridge and couples immaculately to the top of the guitar, for the most efficient transfer of string vibrations. In concert with Taylor's custom-designed, studio-grade preamp, the player is guaranteed an accuracy and immediacy that fully conveys the true tonality of the guitar to amplifier or console.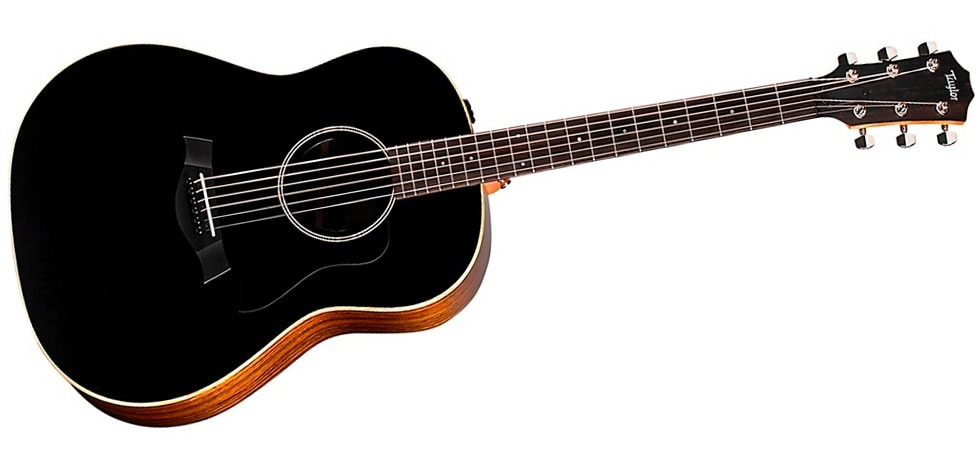 The old saying is that challenge and adversity build character. Bob Taylor, Andy Powers and the whole crew at Taylor guitars have proven, with these spectacular instruments, designed under challenging circumstances, that they can also make dreams become reality. As Powers reflected, "I want people to be playing music, because more now than ever, it's critical. It's important. It matters. Whether on a real lavish, guitar, on an old guitar, whether it's on one of these American Dream guitars—I want people to be playing music. So when somebody picks one of these guitars up, I hope that's the character they're finding in it—that's it's there to serve the musician and to serves the song."