As far as music historians of the especially obsessive sort can tell, Eric Clapton found himself in a Philadelphia guitar shop on what was most likely the afternoon of April 13, 1968, making a purchase that would be recorded by his tour manager as "musical equipment."
That "equipment" was a 1964 Gibson Firebird I, a single-pickup, neck-through, mahogany tone monster that he would bring onstage during Cream's three-night stint at the Electric Factory. This Firebird would become a staple of the Cream farewell tour, replacing his live mainstary "The Fool," a customized Gibson SG whose psychedelic paint had begun to wear away from so much use.
Clapton went on to play the Firebird I in Blind Faith, notably in their 1969 tour, popping up on North American and Scandinavian dates. In a 1994 interview, Clapton said, "... that particular Firebird, I had some great times on that; the single pickup produced a fantastic sound." He jammed with Buddy Guy on this guitar, and it can be heard on the live tracks from The Forum on Cream's Goodbye.
Avid fans have scoured recordings and photos for years, spotting the guitar on Clapton's Supershow appearance, The Undertaker recording from Sweden and countless live shows with both Cream and Blind Faith.
Guitar Center, Eric Clapton and Gibson have collaborated to create the Gibson Custom Eric Clapton 1964 Firebird I for the 2019 Crossroads Guitar Collection. Like the original, it features a reverse headstock and neck-through-body construction with a neck built of five pieces of mahogany with four walnut strips between them for strength. With a single mini-humbucker at the bridge, two knobs and a wraparound tailpiece, this is guitar minimalism at its best — all tone, no gadgets.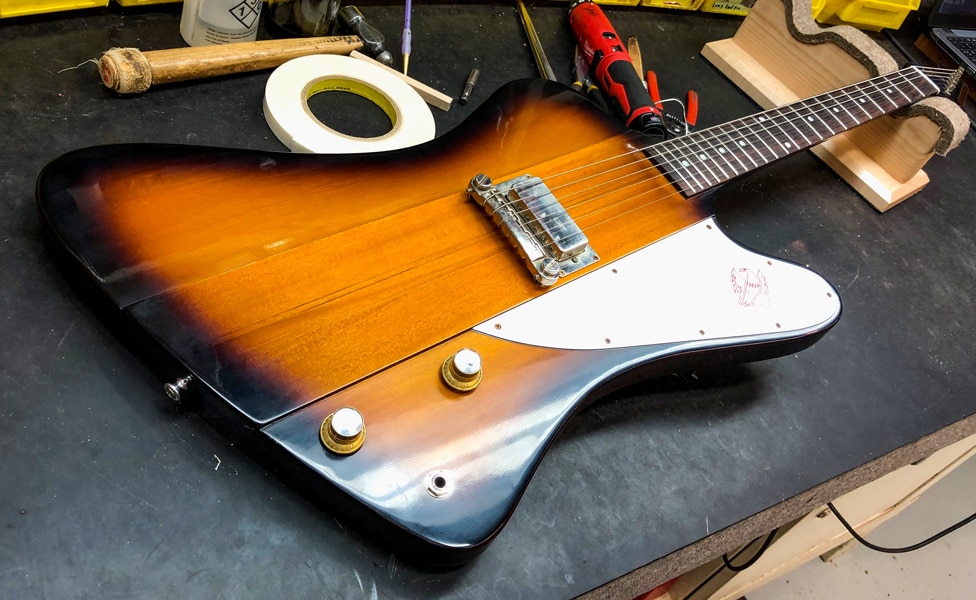 The control plate of each Firebird is signed by Eric Clapton, and each guitar comes with an additional unsigned control plate so that the signed one can be removed, replaced and protected — meaning you can play it all you want and still preserve the autograph.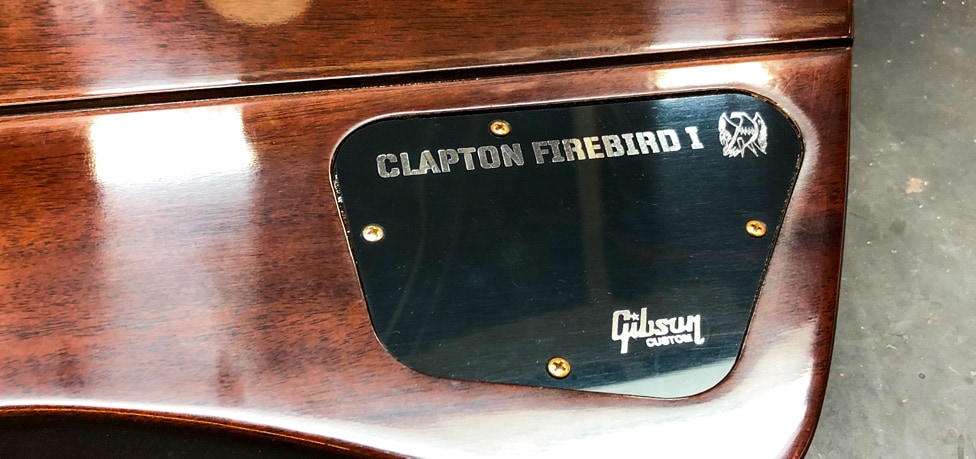 A portion of the proceeds from the sale of this guitar will be donated to benefit Clapton's Crossroads Centre Antigua. The Crossroads Centre is a substance abuse treatment and recovery facility, and the beneficiary of the Crossroads Guitar Festival.
Guitar Center has co-sponsored the Crossroads Guitar Festival since 2004, and offered the first Eric Clapton Crossroads Guitar in 2005. The Gibson Custom Eric Clapton Firebird I will be on display at the Guitar Center Village along with the four other guitars from the 2019 Crossroads Guitar Collection throughout the Crossroads Festival, September 20 and 21.
There will only be 100 of these Firebirds made.
Alan Darby plays his vintage Firebird I backstage at the 2019 Crossroads Festival.
The iconic silhouette is all smooth curves and angles, and the sound of the single-pickup model is just as immediately recognizable — somewhere between the clang of a Les Paul or SG Junior and the growling punch of Johnny Winter's Firebird V.
Whether Clapton really purchased this guitar on the afternoon of April 13, and whether it was at one Philly guitar shop or another is a matter for the historians. What we know with certainty is that Clapton found it to be the right guitar to step in for "The Fool," and that we have the opportunity to revisit that history and sound for ourselves today.