The new EVH replica of Eddie Van Halen's black-and-yellow "Bumblebee" guitar commemorates the 40th anniversary of Van Halen II. It is limited to only 50 pieces worldwide and would be an exceptional addition to any guitar collection. The guitar's unmistakable aesthetics and forward-thinking design are hallmarks of Van Halen's audacious style and playing, and his determination and ingenuity. The one-pickup, one-knob wonder was a favorite of Pantera guitarist "Dimebag Darrell" Abbott. When Dimebag tragically passed away in 2004, Van Halen had the original version of the Bumblebee laid to rest in Dimebag's casket. Let's delve into the unique history of an instrument emblazoned on the legacy of two of rock's most influential guitar players, and check out the features of the extremely limited-run replicas.
In the late '70s, Van Halen had the idea to create the Bumblebee in an attempt to remedy the number of guitars emerging on the market with black-and-white finishes imitating his original Frankenstein. Van Halen made Frankenstein himself, with the idea to combine the playability of a Fender with the sound of a Gibson. An early version of the guitar—made from unfinished, Strat-style parts from Boogie Bodies guitars—was used on Van Halen's first album and first tour. After companies began selling the "copycat" guitars, he switched to the black-and-yellow Bumblebee. After retiring the Bumblebee, Van Halen took the original Frankenstein guitar, re-wrapped it in masking tape and painted over it with red bicycle paint, creating the famous red, black and white finish the Frankenstein bears today.
Van Halen looked to differentiate the Bumblebee from Frankenstein and other knock-off versions. He started by having Charvel route a Strat-style body so all the electronics could be rear-loaded, eliminating the need for a pickguard. He then created the Bumblebee's signature finish himself, by first painting the body yellow, then wrapping masking tape around the body and painting over it in black. The Bumblebee was too early in its development to be used for recording on Van Halen's 1979 sophomore album, Van Halen II. However, Van Halen can be seen holding the guitar on the album's iconic back cover. It would be used most famously on the subsequent World Vacation tour that same year.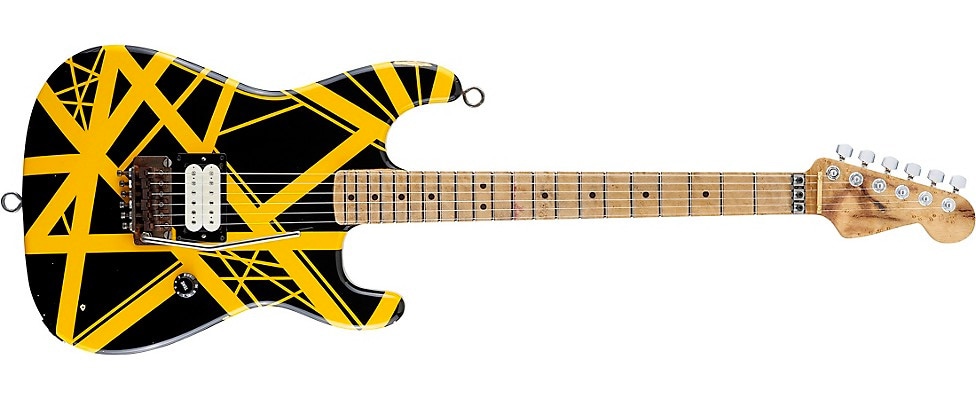 Van Halen felt the original pickup in the Bumblebee was too hot, so he did some experimenting to get the aggressive tone he was chasing without introducing high-end squeal. He took a DiMarzio Super Distortion humbucker, replaced the magnet with one from a Gibson PAF humbucker, and re-wound the pickup by hand. To help block unwanted, feedback-inducing microphonics, he then dipped the pickup in paraffin wax and put copper tape around the windings.
In addition to the bold look and sound of the Bumblebee, the guitar blazed trails in playability. The Bumblebee, along with the Frankenstein, was one of the first "superstrats," which are guitars similar in shape to a Fender Stratocaster, but typically with "faster" (flatter and thinner) necks, humbuckers, enhanced body contours and sophisticated tremolo hardware. Initially, a vintage Fender tremolo was installed on the Bumblebee. But, Van Halen would switch it out for a Floyd Rose tremolo system—the freshly developed original, which had no fine tuners. Van Halen became the first notable guitarist to use Floyd Rose tremolo systems, which are now widely used on practically all superstrats that have come since.
In December of 2004, "Dimebag Darrell" was fatally shot onstage by a deranged fan at a nightclub in Columbus, Ohio. He was only 38 years old. Just weeks before his death, Dimebag met Van Halen, for the first time. Van Halen was one of his idols, and he always thought that the Bumblebee, in particular, was Van Halen's toughest-looking guitar. Van Halen agreed to make him a copy but had not had the chance to make it for him before Dimebag's death.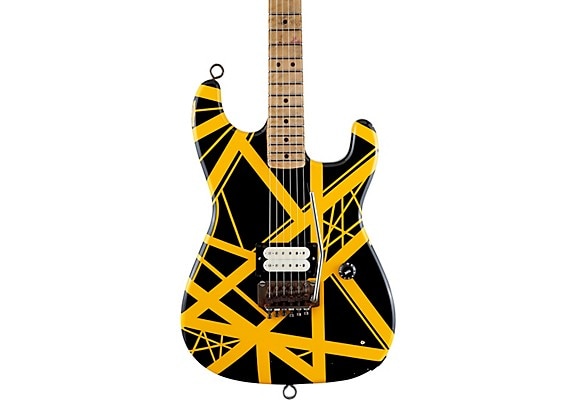 When Van Halen learned of Dimebag's passing, he called his widow, Rita, and asked if there was anything he could do. She requested that he stripe a yellow-and-black guitar to be buried alongside her late husband. When Van Halen arrived at the viewing, he brought a guitar, but it wasn't a replica. It was his original 1979 Bumblebee from Van Halen II that he brought to be placed inside Dimebag's casket. At the funeral, Van Halen said, "'Dime' was an original, and only an original deserves the original."
The EVH Bumblebee replica pays tribute to Van Halen and the memory of "Dimebag Darrell" Abbott. The back of the headstock is signed by Eddie Van Halen, and it features a period-correct ash body with eye-screw strap hooks and a hand-painted black-and-yellow striped lacquer finish. The neck is an authentic reproduction of the Boogie Bodies' bolt-on, two-piece birdseye maple neck with an oiled back finish. It's loaded with a special EVH '79 Bumblebee humbucker with period-correct specs and a skirted Strat-style volume knob labeled "Tone," just as it was on the original. The relic'd prototype double-locking tremolo bridge system is also period correct with no fine tuners and a prototype nut.
In addition to the painstaking efforts to recreate every aspect of the original Bumblebee, the replicas also ship with tons of case candy sure to please any Van Halen fan or avid collector. Extras include a custom-made Anvil case, a Bumblebee collector's booklet with never-before-seen live photos and Van Halen Live Tour in Japan 1978 & 1979 book. It also comes with a signed Van Halen II vinyl, signed 8"x10" 1979 concert photo of Eddie Van Halen, and signed Certificate of Authenticity, as well as two packs of Fender Super Bullets strings in recreated '70s-era packaging, and Van Halen '70s tortoiseshell picks.