In 2018, coinciding with the Grand Reopening of Guitar Center's Hollywood store, a block-long mural of Jimi Hendrix was commissioned in parthernship with The Mural Co. as a constant reminder of the store's historical past. The image depicted in the mural was taken from a photograph of Hendrix recording at TTG Studios, located at 1441 N McCadden Place, only blocks away from the Hollywood store. Established in 1965 by Amnon "Ami" Hadani and Tom Hidley, TTG became a creative hub that captured the iconic sounds of artists such as The Doors, Frank Zappa and Linda Ronstadt, and the legendary Jimi Hendrix. With one of the first 16-track Ampex tape machines to be installed in Southern California, and at a rate of just $55 per hour, TTG became a haven for creative artists in Hollywood.
It was October of '68, just six weeks after the completion of Electric Ladyland. Hendrix agreed to produce a debut record for the Irish rock band Eire Apparent. While sessions for the album would eventually move to New York for completion, Hendrix produced much of the record at TTG in Los Angeles. He even lent his virtuoso guitar playing to numerous songs. While at the studio working with Eire Apparent, Hendrix and his own bandmates blocked out Studio B at TTG and began recording new material for what would be his fourth album. Electric Ladyland was released on Oct. 28, 1968, the same time the band was recording at TTG. With little time to prepare for pre-production, Hendrix instead turned to some already existing song ideas, and his love for jamming, to round out some of the missing material. In fact, engineer Angel Balestier was instructed to keep the tape rolling at all times no matter what.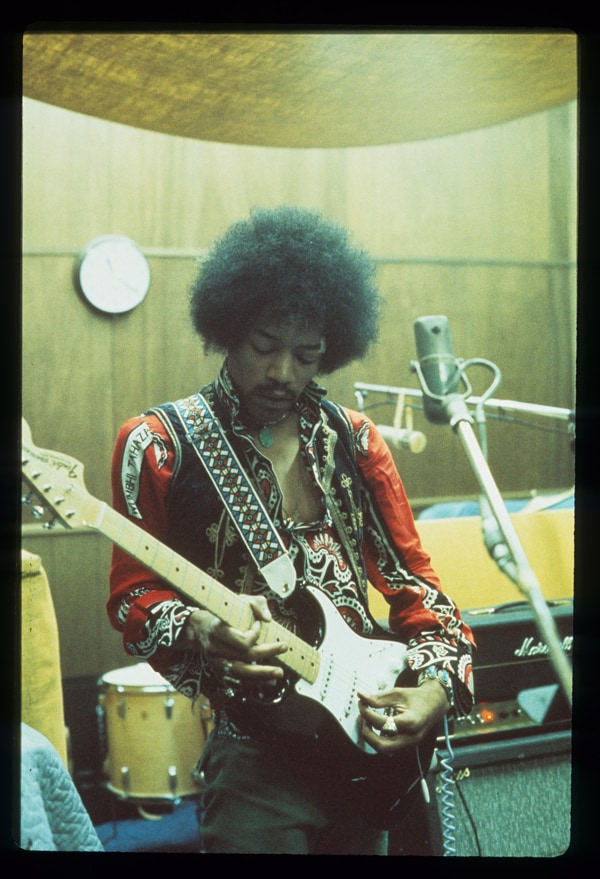 Jimi Hendrix at TTG Studios Photo: Chuck Boyd / (c) Authentic Hendrix, LLC
Hendrix's recording sessions at TTG quickly gained Hollywood celebrity status. Friends, guests and groupies would often stop by the studios during recording, and Hendrix never said no. He welcomed all visitors and would insist on making room for anyone who would stop by. This open-door policy led to some epic jams alongside celebrated musicians such as Buddy Miles, Lee Michaels, Jack Casady and countless others. Hendrix laid down the foundation for a number of new songs, including "Messenger," "Calling All the Devil's Children," "Hear My Freedom," and many others which would grace such posthumous albums as Rainbow Bridge and West Coast Seattle Boy.
While no longer in operation, the building where TTG Studios lived is still standing in Hollywood as a constant reminder of the rich music history that once thrived along Sunset Boulevard. To honor Hendrix and the legendary sessions at TTG Studios, the Guitar Center Music Foundation has teamed with Seattle's Jimi Hendrix Park Foundation to create two exclusive T-shirts. The first features the representation of Hendrix from the block-long mural that adorns the exterior of Guitar Center's flagship Hollywood store. Unveiled in 2018, it was designed by street artists Amanda Lynn, Scott Marsh and Patrick Griffith. The second features the original photograph that the mural artists used as their source material—a candid photo of the guitar god during a session at TTG Studios in Los Angeles. This limited-edition merchandise is available in Guitar Center stores and online, with all net proceeds benefiting the Guitar Center Music Foundation and the Jimi Hendrix Park Foundation.