The Builder's Edition collection from master Taylor guitar designer Andy Powers first burst onto the scene in 2018. Now, he's back with four new acoustic-electric models for 2020.
Each new instrument in the collection comes with its own musical personality. These four models were created by Powers to showcase the highest level of Taylor guitar design and innovation. You could say that the Taylor Builder's Edition line is Powers' guitar-building playground. You won't find anything else like these guitars in the Taylor catalog. That's because Powers had the creative freedom to push past the standard framework of Taylor instruments for this collection.
Builder's Edition models make up an ultra-premium class of acoustic-electrics offering the most player-friendly experience in both sound and feel. According to Powers, Builder's Edition guitars are meant to be a "limitless expression of our instrument-building imagination."
Here's a closer look at the latest four envelope-pushing models to join the Taylor Builder's Edition family.
Builder's Edition 816ce: The Acoustic Guitar Equivalent of an Orchestral Instrument
One of the more visually "avant-garde" models in the Builder's Edition collection is the 816ce. This model brings Taylor's V-Class bracing system to the Grand Symphony body style for the first time, altering the shape just enough to give it a more distinctive identity.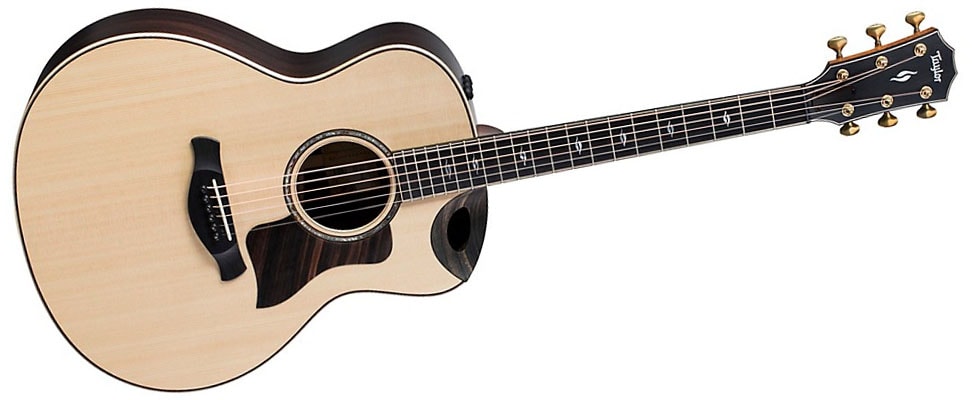 As its name suggests, the 816ce Grand Symphony is capable of producing an airier, more "symphonic" acoustic sound. To achieve this, Powers developed this model with a revolutionary soundport cutaway. This acts as a sort of second soundhole. It's positioned as a scoop in the treble-side shoulder to give you an off-axis soundport. By building this second soundhole, Powers spreads the influence of the guitar's air resonance over a wider frequency range so it doesn't just emphasize a few notes. The soundport's sloped position, combined with the V-Class bracing, creates a rich, high-fidelity voice. The result is an ultra-orchestral tone that sounds like a six-string symphony.  
Building on the big sound of the 816ce is its tonewood pairing. Powers pairs the richness of Indian rosewood with the power of a Lutz spruce top. The Lutz top kicks the volume up to produce a powerful tonal response and a higher natural amplification. Together, the elements that make up the 816ce generate a vast and vibrant sound that will fill a room.
Builder's Edition 324ce: High-performance Utility Meets Musical Imagination
Sustainability is a huge priority when selecting tonewoods for each Taylor guitar. The Builder's Edition 324ce is no exception. Urban ash, as Taylor calls it, makes up the back and sides of the 324ce. This wood came from trees that had to be removed from public areas in Southern California. As part of the cycle of life, trees are eventually removed from urban areas for a variety of reasons. With that in mind, Powers turned to a local arborist to find out if there were any guitar-worthy species. The ash he discovered is prevalent in Southern California and also has appealing acoustic properties. Sonically, urban ash produces a similar tone as Honduran mahogany. Together with a mahogany top and V-Class bracing, the 324ce is one of Taylor's most player- and stage-friendly guitars. You'll look good playing it, too, with its Shaded Edge Burst finish.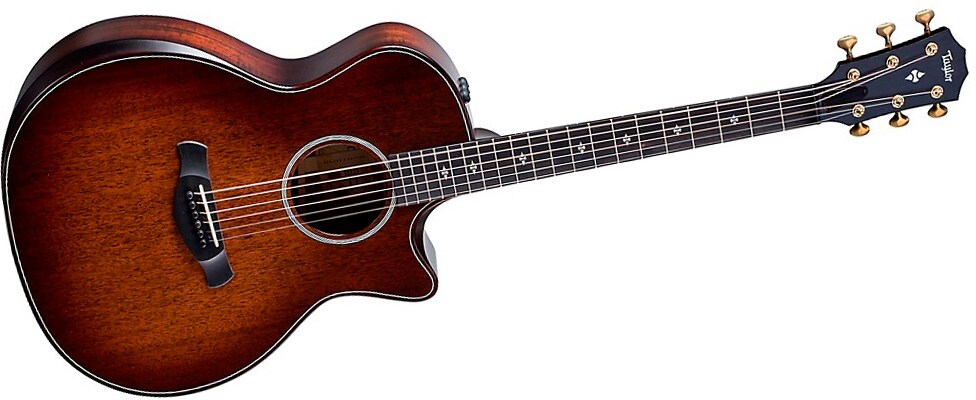 Builder's Edition 912ce: A Rich and Articulate Acoustic Voice
Powers designed the 912ce with electric guitar players in mind. In fact, Powers considers this model to be the quintessential electric player's acoustic guitar. It features an impressive array of playing features electric players will find familiar. The smaller, slightly shallower Grand Concert body delivers Taylor's most direct, focused and balanced response. This model also features a cutaway, chamfered body and fretboard edges, and a shorter scale length. Together, these features help to produce an accurate and super-fast response similar to an electric guitar.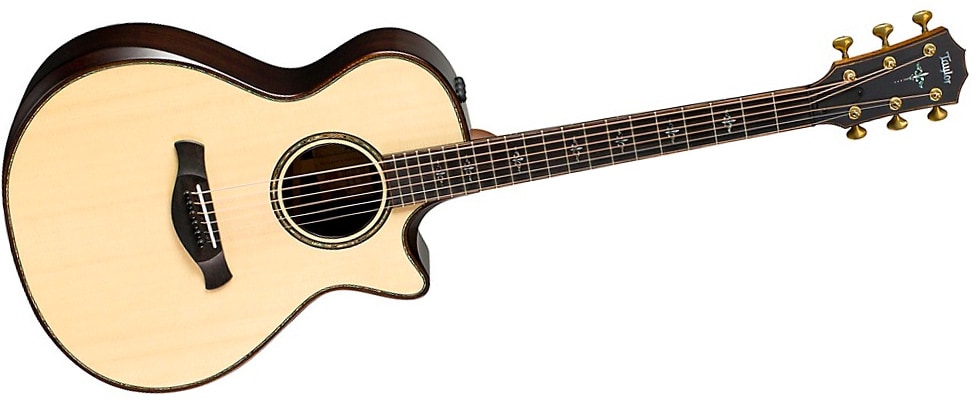 Players will find this guitar to work well for playing lead in most genres, including rock, jazz and fingerstyle acoustic. The 912ce is built with Indian rosewood back and sides and a Lutz spruce top. These tonewoods produce a rich and articulate acoustic voice. This guitar will quickly express every note across the entire register.
The 912ce also draws from Taylor's 900 Series ornamentation. It features paua purfling in the top and back, with a koa fretboard and peghead trim. It's also decorated with a paua abalone rosette with ebony and koa accents. A new Bellefluer fretboard/peghead inlay is added in mother-of-pearl and pink abalone. High-end features and the option of Wild Honey Burst or Natural finish make this guitar look and sound great on stage.
Builder's Edition 652ce: A Balanced 12-string Blending Comfort, Precision and Utility
The 652ce ups Taylor's reputation for ultra-playable 12-strings. This model was also designed with the electric guitar player in mind. Powers chose to pair maple and torrefied spruce because the transparent, player-reflective properties are similar to an electric guitar.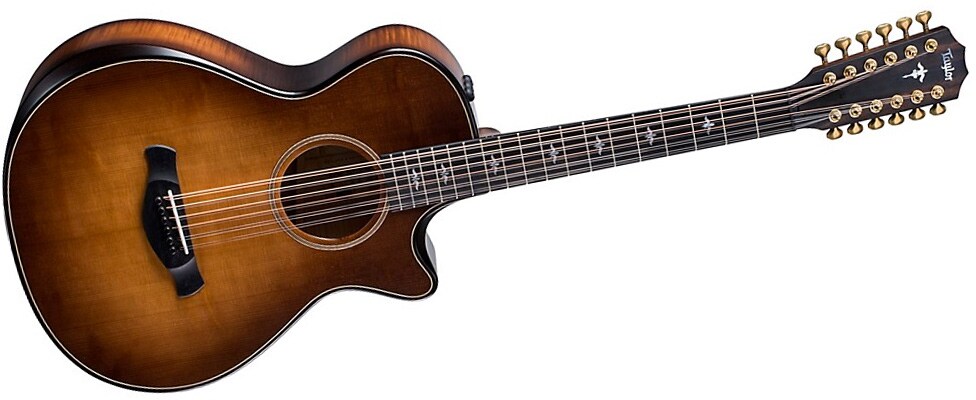 This guitar has premium contouring features, like a beveled armrest and cutaway, and chamfered body edges. It's also reverse-strung like a 12-string electric guitar. The position of the fundamental and octave strings is swapped so the fundamental strings sit above the octave course. This translates into a meatier sound in which the fundamental note is slightly more prominent. You'll notice the added power in your tone on the downstroke. It's a subtle difference, but it reduces the octave jangle to produce a cleaner sound. The 652ce also amplifies well, making it a great stage-friendly instrument. With its Wild Honey Burst finish, you'll shine on stage.
Taylor's V-Class Bracing: A New Sonic Engine for Acoustic Guitars
Since arriving at Taylor in 2011, Powers has inspired a number of innovative developments. Among those achievements is his award-winning V-Class bracing system—a new sonic engine for acoustic guitars. The V-Class bracing system introduced an entirely new platform for acoustic performance. V-Class bracing improves an acoustic guitar's fundamental sound in three important ways. It creates better volume, sustain and intonation. Its architecture can also be modified and integrated with other design elements to create drastically different tones.
Expression System 2 Electronics: A Game-Changer in Acoustic Guitar Amplification
Each Builder's Edition model is equipped with Taylor's revolutionary Expression System 2 pickup design. At the heart of Taylor's ES2 electronics is their patented behind-the-saddle pickup. The pickup doesn't sit under the saddle, which means the bottom of the saddle comes in full contact with the bridge. When this happens, all the nuance of the guitar's tone comes through clearly, whether you're playing acoustic or plugged in.
Combined with Taylor's custom-designed professional audio-grade preamp, the ES2 system produces remarkable amplified tone and responsiveness. 
Build Your Sound With the Taylor Builder's Edition
The Builder's Edition originally debuted in 2018 in conjunction with the release of the V-Class bracing system. In developing each model in this series, Powers strives to offer players the utmost comfort, playability and tone. With the addition of the 2020 instruments, Taylor's Builder's Edition now features four different body styles and nine models.
Discover the new offerings in precision and tone from Taylor and Andy Powers. Check out these new additions to the Builder's Edition collection at Guitar Center.