While there were tons of new-and-exciting goodies for your signal chain unveiled by some of your favorite brands at NAMM 2019, here are a few of our favorites that you're sure to love on your pedalboard.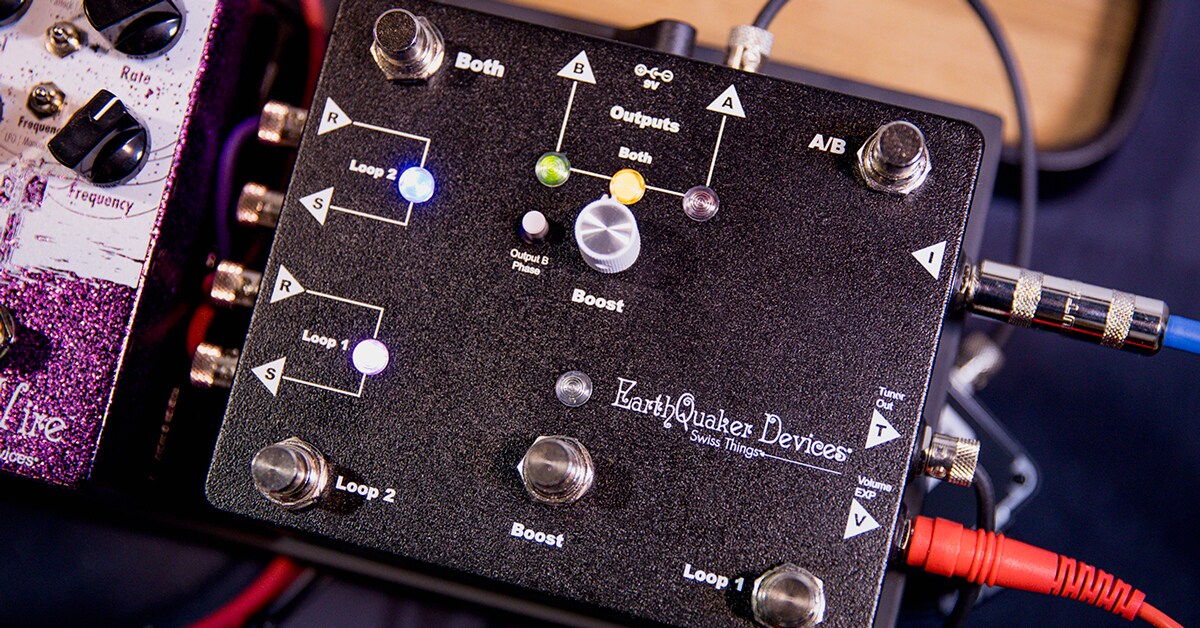 EarthQuaker Devices — Swiss Things
The Earthquaker Devices Swiss Things Pedalboard Reconciler is a little box of utilitarian magic. Instead of EQD's usual route of doing bizarre things to your tone, the newest member of the family aims to clear precious real estate on your board and solve a bunch of problems at the same time. For those who need to switch several pedals at once and don't enjoy the mid-song tap-dance routine, it features two switchable loops that can be used before or after your preamp. The loops are buffered so you can run as many cables as you like without tone loss. Swiss Things also houses a switchable 20 dB clean boost for adding a little extra punch in your signal without the need of an extra pedal. The right side of this unassuming black box at the EarthQuaker NAMM booth features jacks for a volume pedal and a tuner output. And, lastly, the amp output is a switchable ABY configuration, so you can play through two amps, either individually or together.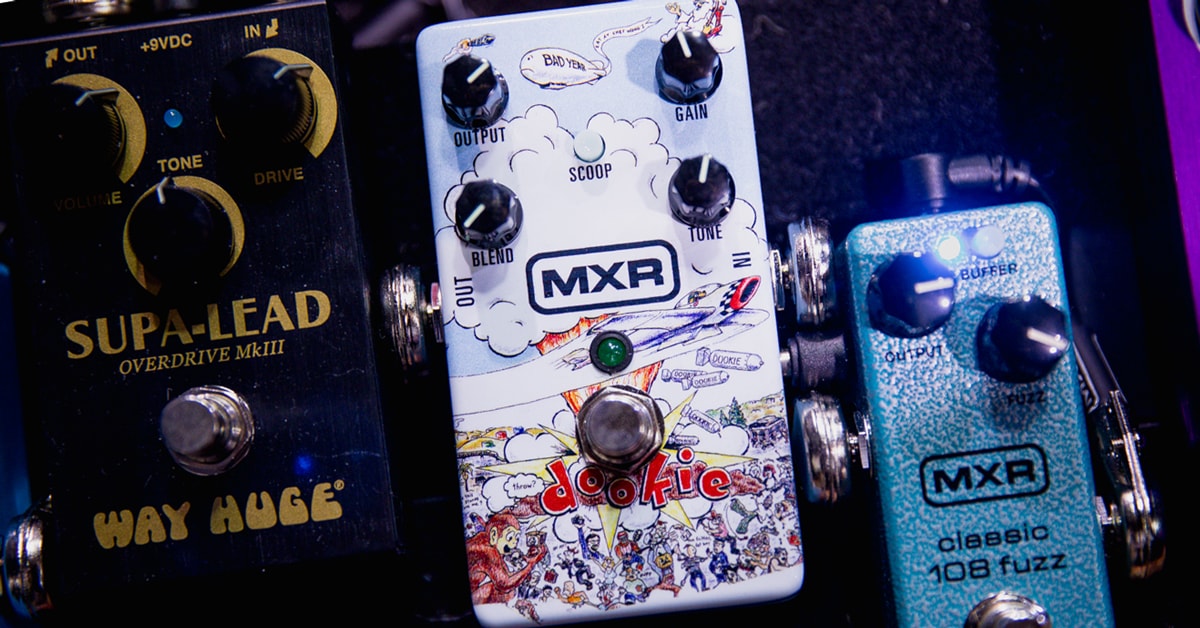 MXR — Green Day Dookie Overdrive
The engineers at MXR worked closely with Green Day guitarist and frontman Billie Joe Armstrong to put his early-'90s tone in a box. And capture it they did. With a few control adjustments, it'll transform your usual sound into a surprisingly close copy of Armstrong's unmistakable "Dookie" tone.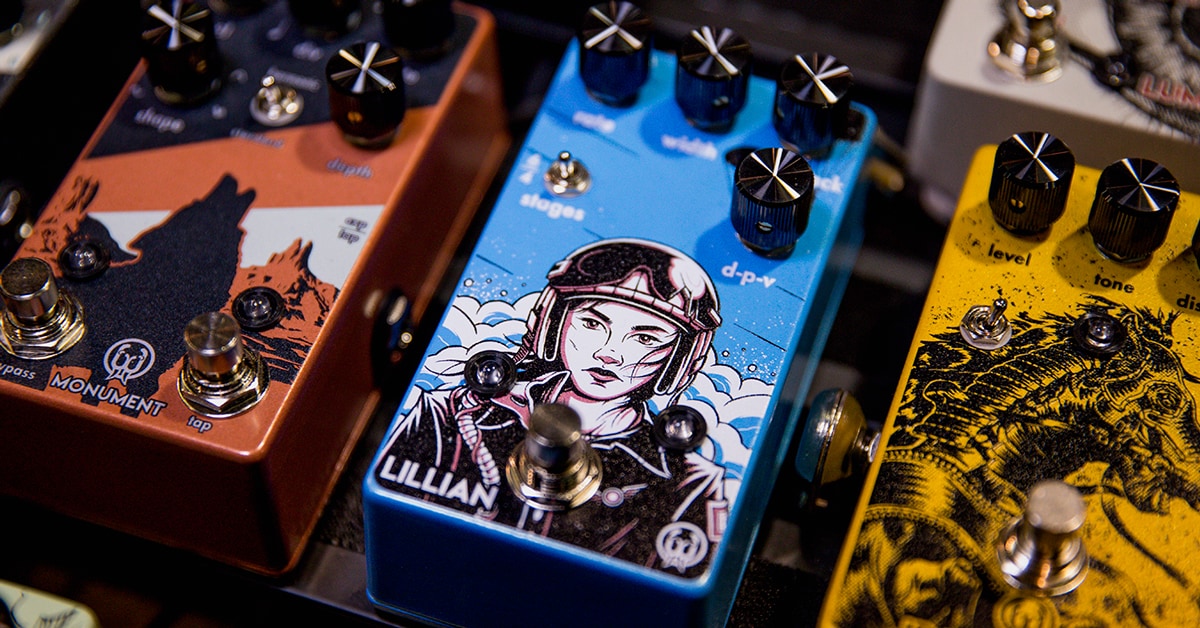 Walrus Audio — Lillian Analog Phaser
With its name inspired by a WWII-era pilot, the Walrus Audio Lillian Analog Phaser will give your tone wings with its versatile control set that takes the effect from light color to wild soundscape. Walrus has also released the Deep Six V3 Compressor - in this latest iteration, they've added a tone control (bass cut) to shape the low end of your tone, moved the input jacks to the top of the pedal and added a soft switch bypass control. It'll smooth out your leads, give you Spinal Tap levels of sustain and much more.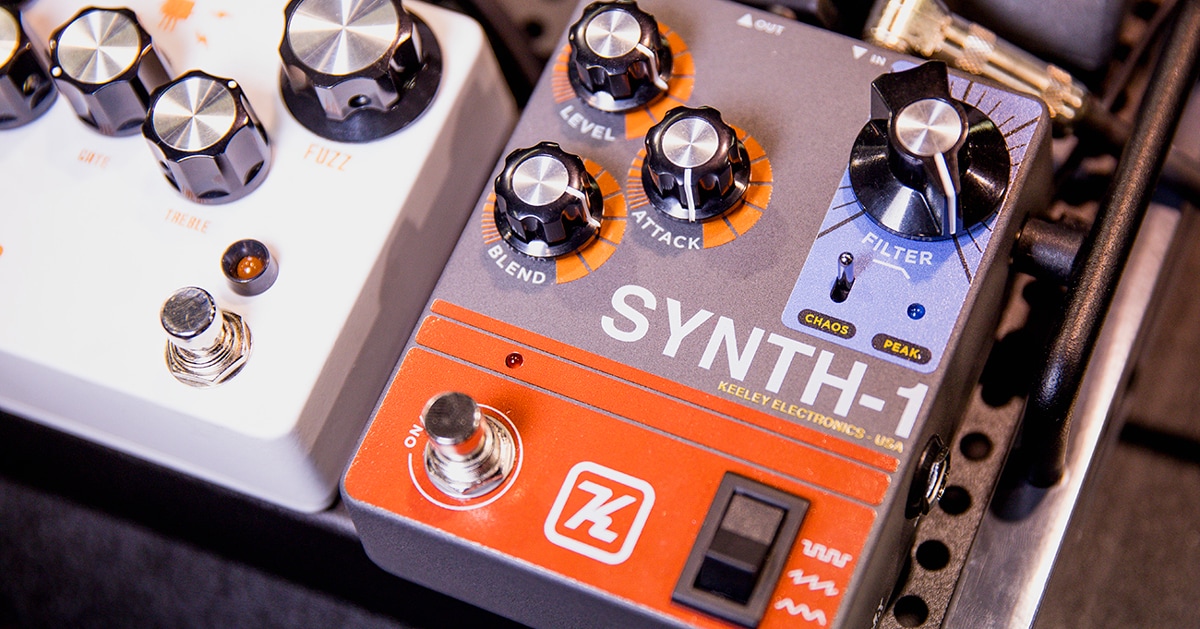 Keeley — Synth-1 Signal-Triggered Synth Wave Generator
It seems that 2019 is an experimental year for the usually modest Keeley. New for NAMM 2019, the Synth-1 demonstrates that in spades with a unique take on the vintage-synth tone. However, don't expect any smooth '80s pop tones. This thing is weird, messy and super cool. With three modes of increasingly more aggressive tone/wave design and the aptly named "Chaos" switch, this thing is going to surprise Keeley fans and the general public alike.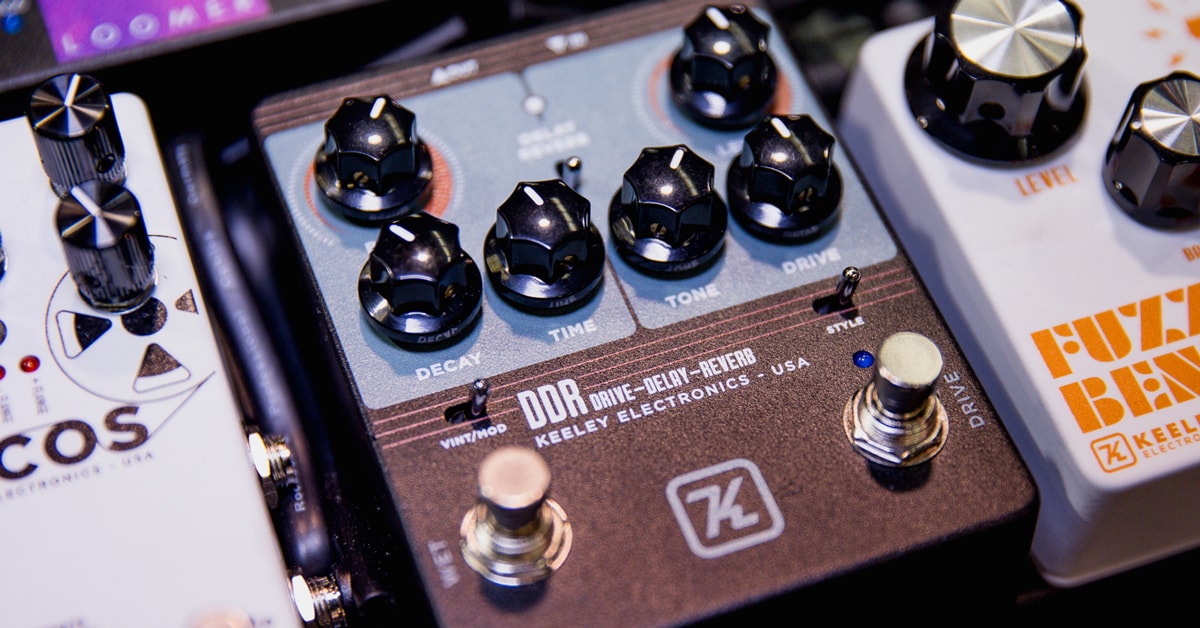 Keeley — DDR (Drive Delay Reverb)
Bringing things back to the more standard-issue, Keeley also unveiled the multi-effects unit DDR (Drive Delay Reverb) that delivers rock-flavored crunch on the right half of the box, and either reverb or delay on the left side. Despite most multi-effects stomps being a jack-of-all-trades and master of none, the overdrive sounds rich and full, the reverb can be dialed from ambient to lush, and the delay ranges from slapback to cavernous. And it all sounds great.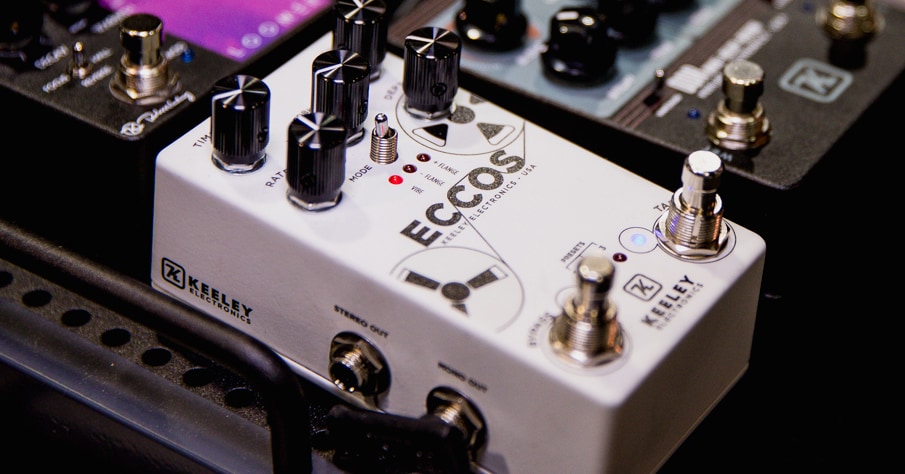 Keeley — Eccos Vintage Tape Flanged Delay
The third new and exciting pedal Keeley unveiled at NAMM 2019 is the Eccos, which is a unique take on the board-staple delay. While it can do the traditional slapback, echo, ambiance thing, its real party piece lies with the mode switch in the middle. It switches just the tails of the delay from a more typical spacey vibe to a negative flange to a positive flange. The result is not the easiest thing to describe, but it sounds amazing and musical. Another awesome feature of the Eccos is the programmable expression output, which lets you control any single or multiple parameters with your external expression pedal.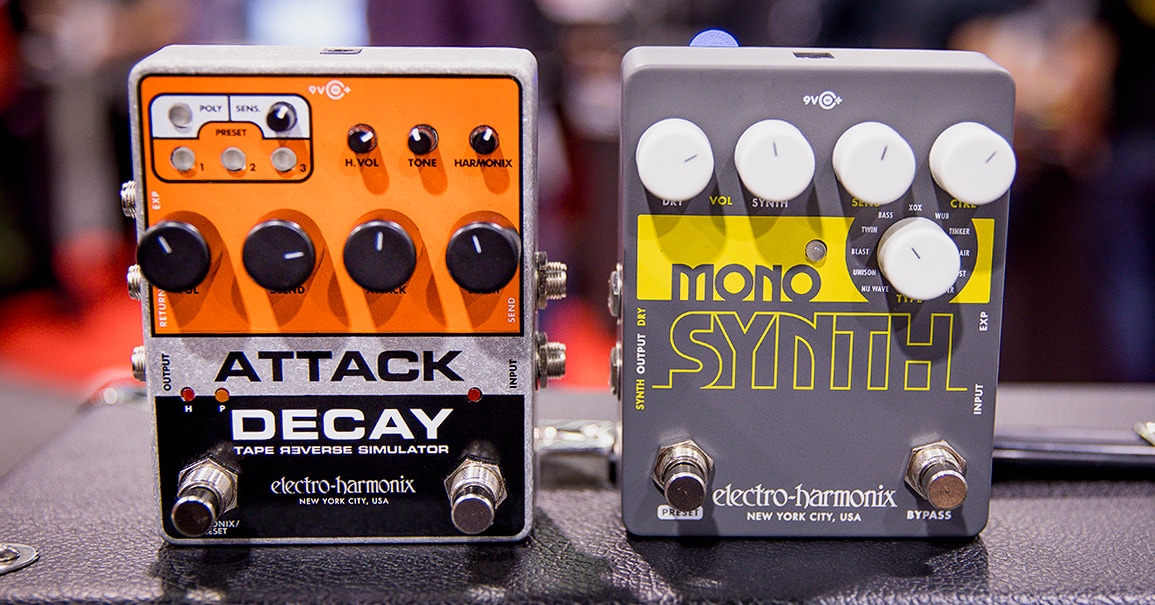 Electro-Harmonix — Attack Decay and Guitar Mono Synth
Vintage pedal aficionados will recognize the Electro-Harmonix Attack Decay as a reinterpretation of EHX's original Tape Reverse Simulator. Offering the volume & reverse swells and backward tape sounds of the original, the Attack Decay offers a built-in Harmonix fuzz, effects loop and expression pedal input plus three user presets! The new Electro-Harmonix Guitar Mono Synth turns your guitar into a synthesizer without mods or special pickups, offering 11 different voicings and a dry blend to stack synth tones on your existing guitar sound.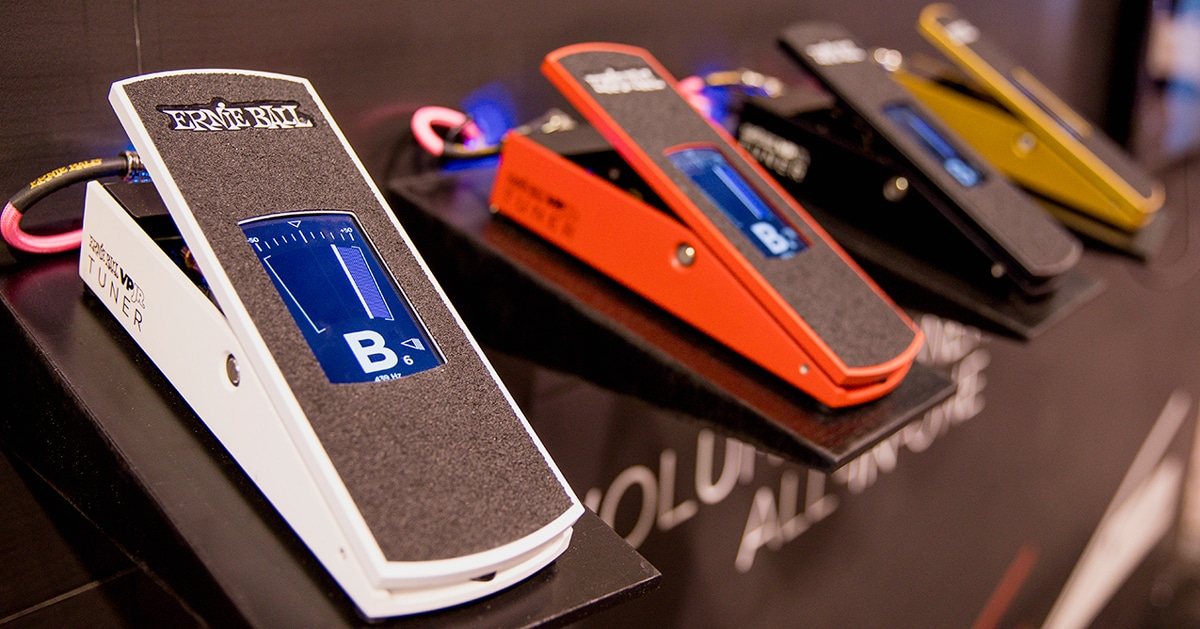 Ernie Ball — VP Jr. Volume Tuner
Ernie Ball's volume pedal has been nearly mandatory on just about every pedalboard for the last 40 years. But the brains behind the Ball mixed things up with their NAMM 2019 unveiling of the volume pedal we all know and love — but with a tough recessed glass touchscreen on the treadle plate. When set to tuner mode, the bright, large display makes tuning your axe a breeze. And in volume mode, it gives you a digital display of the degree your pedal is pressed, so you can recall exactly your settings every time, instead of relying on feel — also known as guessing. It also has a buffer circuit built in to eliminate tone loss with long cable runs. And there are four ports on the front of the new VP Jr., which allow for using the volume at the beginning or end of your chain as either a gain or master volume control.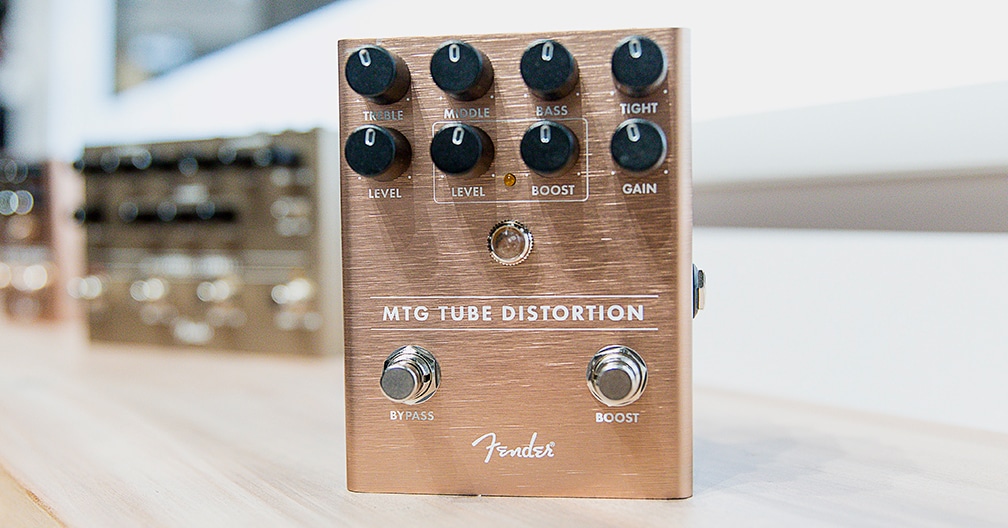 Fender — MTG Tube Distortion
For one of their NAMM 2019 showings, Fender teamed up with legendary amp builder Bruce Egnater and created the tube-driven beast known as the Fender MTG Tube Distortion. It has the real feel, dynamics and tone of tube distortion — even when playing through a clean solid-state amp. And it cleans up like an amp with a rollback of the volume knob.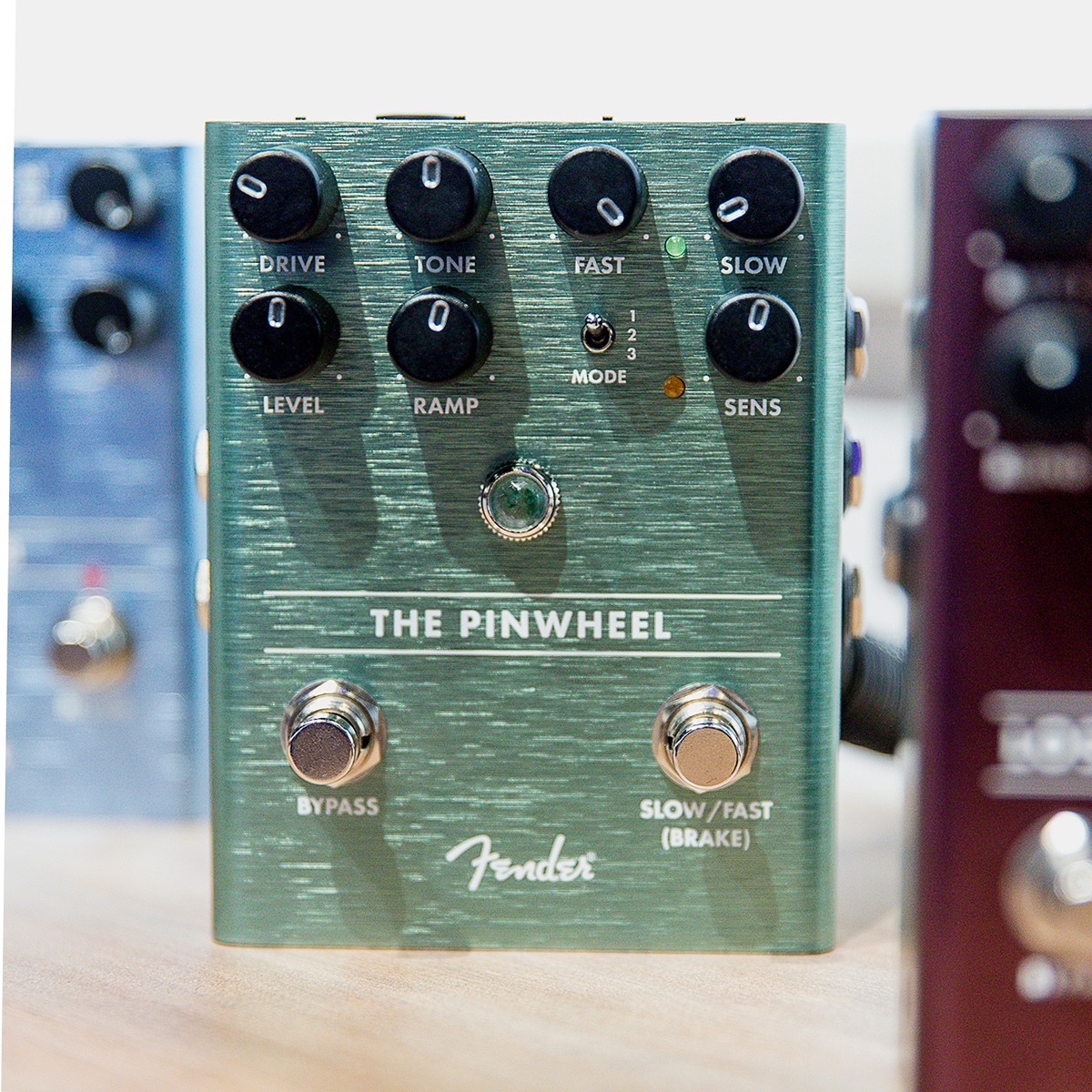 Fender — The Pinwheel Rotary Speaker
The rotating-speaker effect has been around for many decades, and used to require a lot of specialized, expensive, fragile equipment to pull it off. But Fender's The Pinwheel Rotary Speaker Emulator is a take on the undeniably cool modulation in the form of a gig-ready stomp that's packed with versatility and oozing with awesome vintage tones. Besides the standard tone-shaping controls and ramp switch, the Pinwheel comes with a built-in overdrive, stereo ins and outs, separate voicings for keys and guitar, and — coolest of all — a sensitivity control that changes the modulation rate based on your playing dynamics.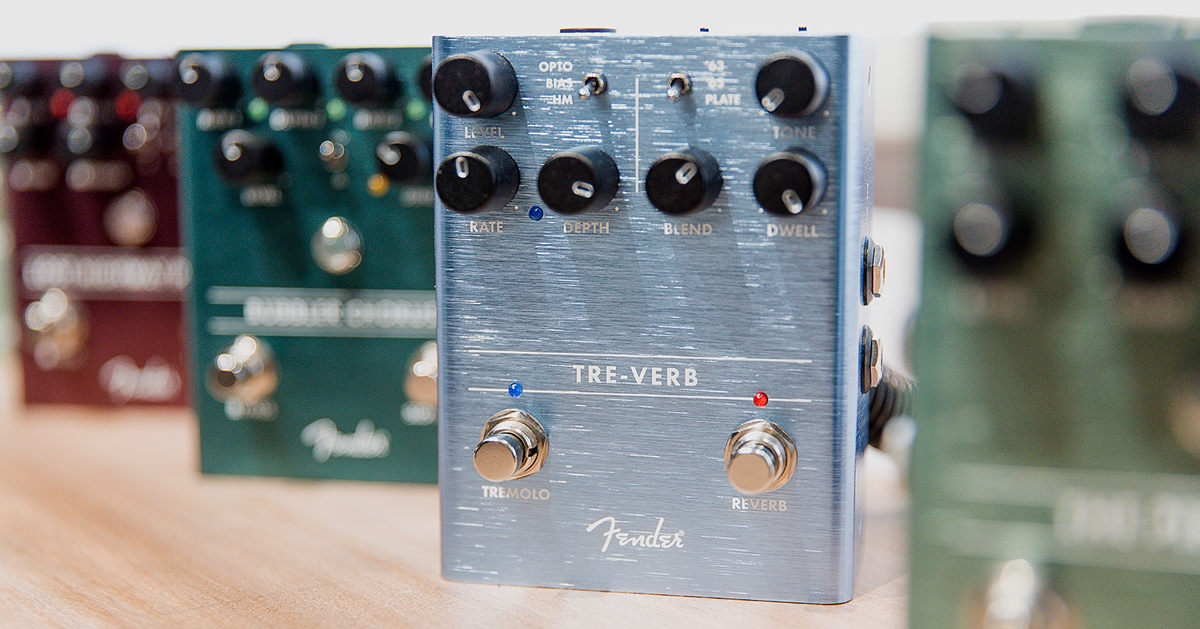 Fender — Tre-Verb (Tremolo and Reverb)
When you think of classic Fender amps — that iconic tube tone is always flavored with tremolo and/or reverb. Well, you can now add that buttery goodness to any amp with the Fender Tre-Verb Digital Tremolo and Reverb, which delivers the legendary Fender effects in a tough aluminum housing, and with added versatility. Along with separate footswitches for each effect, Tre-Verb offers three reverb voicing and three tremolo voicings, stereo I/O, a tap tempo for the tremolo side and selectable routing, so you can have the trem lead into the verb, or vice versa.
We've only begun to scratch the surface of all of the great new pedals launched at NAMM 2019! To see all of the latest releases visit https://www.guitarcenter.com/NAMM.gc