Fresh off of selling out the Troubadour in Los Angeles in support of their latest album 'Bootyshaker's Ball', the Vista Kicks arrived at SXSW ready to conquer. "You want to perform every show better than the last - you want to challenge yourself. 
We sat down with Derrick, Sam, Trevor and Nolan to chat about their "rock-and-roll reimagined" mindset, Sam's seriously cool modded Les Paul, and how they plan to transform intimate shows at their home studio space into an annual music festival.
Is this your first SXSW?
Sam (guitar, vocals): Yes, it is indeed our first SXSW – we've never even been to one before [as a festival goer] so we're new to it in all aspects. We had no idea what to expect.
Nolan (drums): We applied to play when we were first starting as a band. We were probably a band for about a month or two - we applied, but it's good that we got denied. We thought we were ready, but we weren't. I think now we're ready, and we're really excited for the showcases.
S: We applied twice after that - three years in a row.
Trevor (bass): But now, the planets are aligned.
Derrick (vocals): There's a rush – it's like the center of the universe for a week.
How many showcases are you guys playing?
T: Four total.
Have you played anything like SXSW before?
S: Sort of. We did a college tour in Texas, but it wasn't all in one spot.
T: No, we've never done anything like this.
N: This is crazy. It was mayhem yesterday, and we didn't even play. My head was spinning.
D: Last night we saw Nathaniel Rateliff - he was awesome.
T: And Lucas Nelson, too. I've got a huge man-crush on Lukas Nelson - not going to lie.
Any tips/tricks for staying sane on the road?
T: Crack a beer.
D: We have certain rules - when we're loading in and out, somebody's always with the trailer. And we'll make an assembly line. We always get comments from other bands, tour managers and sound guys that we really have our s--- together. It's funny because we don't feel that way at all [Laughs]. We're always yelling at each other. But they're always stoked, saying "You guys load in like you know what you're doing. This is awesome!" I think that's what keeps us from messing up something like this.
S: Assembly line works.
D: We also change up the setlist every night. We don't use any backing tracks. It's improvised a lot. For some shows, we'll put a setlist together, but for most shows, we'll focus on rolling with the energy. We try to out-do our show from the night before. That's why you get so much better when you go on tour, because at every show, you want to perform better than the last. You want to challenge yourself.
N: It's kind of like DJing.
D: It's like DJing, totally. Reading the audience. We've got our starters, our middle songs, and our closers.
What advice would you give other artists who want to play SXSW in the future?
D: Don't second guess yourself. And don't hold on to music. Release it whenever it's finished, because you will learn so much from the music that you've put out. Artists have the capability to make their own music now. You don't necessarily have to be in an expensive studio with a producer telling you what to do. You can make your own stuff and remain true to yourself. Whatever comes from an honest place will likely be good.
S: And repeat. Keep doing it.
T: To tie it into SXSW – if your band's not serious, it's hard to get in. Take your music seriously. Be the best you can be first, and SXSW will come to you. If you're honestly doing the best that you can do, and you're putting music out there, building your audience - people in Austin will want to hear you.
N: The coolest thing about a festival like this is seeing the diversity of bands. Don't be afraid to be yourself. That's something we've learned along the journey.
T: Tried being cool too many times. We're not cool.
D: Being yourself - that makes you cool.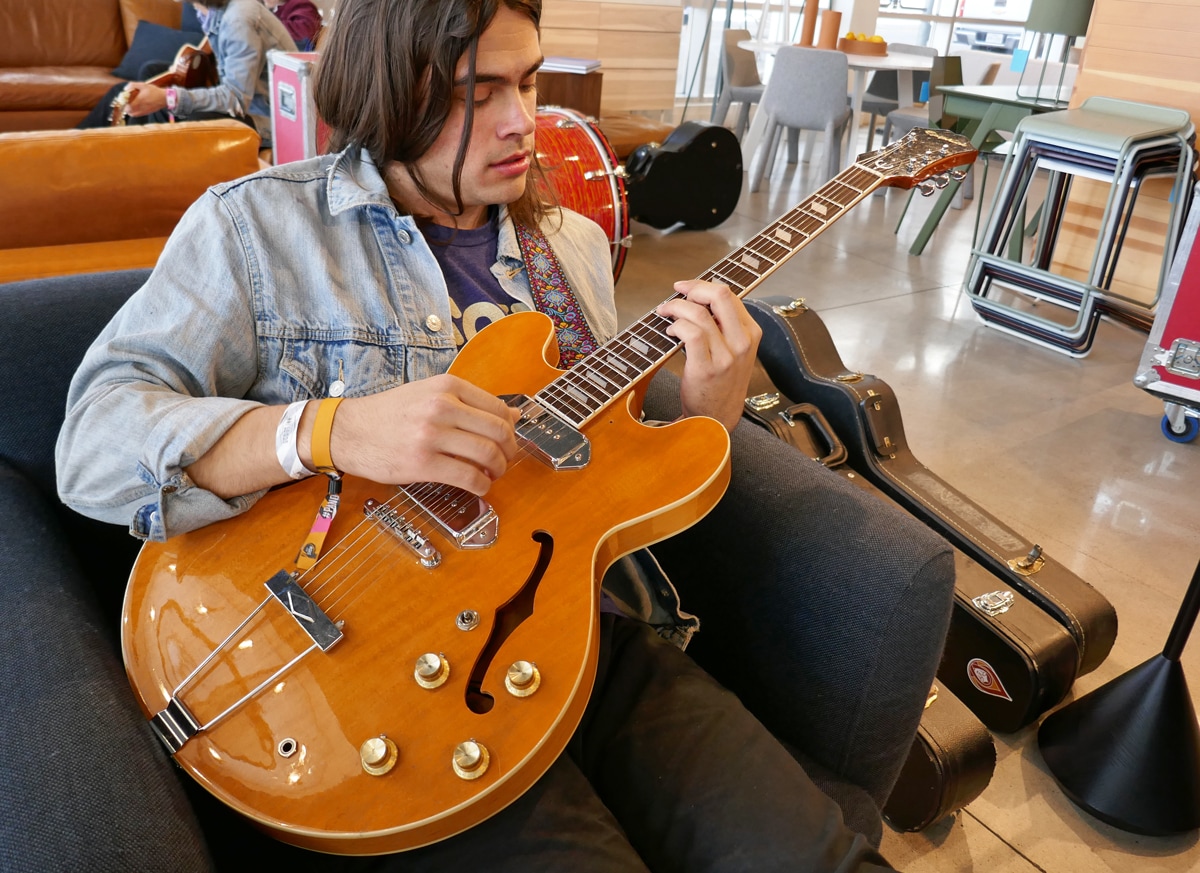 Let's talk about each of your touring rigs.
N: Right now, I play a Ludwig '70s reissue. It's a mod orange finish, which was played by John Densmore of The Doors. 26" bass drum, 14" high tom and an 18" floor tom. Also, I play Zildjian cymbals.
D: It's a glide beast.
N: Yeah, It's a beast. It really is.
D: I play whatever Sam is not playing. [Laughs]
T: He plays an Epiphone Casino, which is one of my favorite guitars, I think - or it's become one of my favorite guitars.
S: It's a '90s one, too. Semi-hollowbody. Sounds great.
D: Whatever Sam tells me to play, I play.
T: I play a Hofner Club Ignition bass. I'm very Beatles-inspired - we love the sound of the Beatles records. I like smaller basses. They're more comfortable for me to play. I kind of like the hollow basses. I also have another one back home, it's a Hagstrom. It's an old '67 bass that I picked up in LA. I can't take it on tour because it's too old and fragile. I also have an Ampeg rig that I love.
S: I play a 2018 Gibson Les Paul Gold Top guitar. My friend Matt hooked it up at Gibson. It's a bitchin' gold top.
T: [Points to guitar body] Why is that red? Is that from the jacket?
S: From the jacket. It's my lipstick stain. [Laughs] But it's a great gold top, and it has a thinner '70s neck, which I like. It also has more '50s specs, obviously with the P90s and whatnot. I'm a huge Neil Young fan. He's like one of my favorite guitar players and songwriters, because he's so emotionally out there - everything he plays is perfect, even if it's not. This guitar is inspired by him. I put a vintage Firebird pickup in the bridge because it screams harder. I've got a cool tone pot also that switches the guitar in-and-out of phase so I can blend sounds. I also put a Bigsby on it because everything is more fun with a Bigsby. I play a Magnatone amp - they're an old '50s company that just like came back around. Lukas Nelson was playing two of them last night. The Magnatones are killer.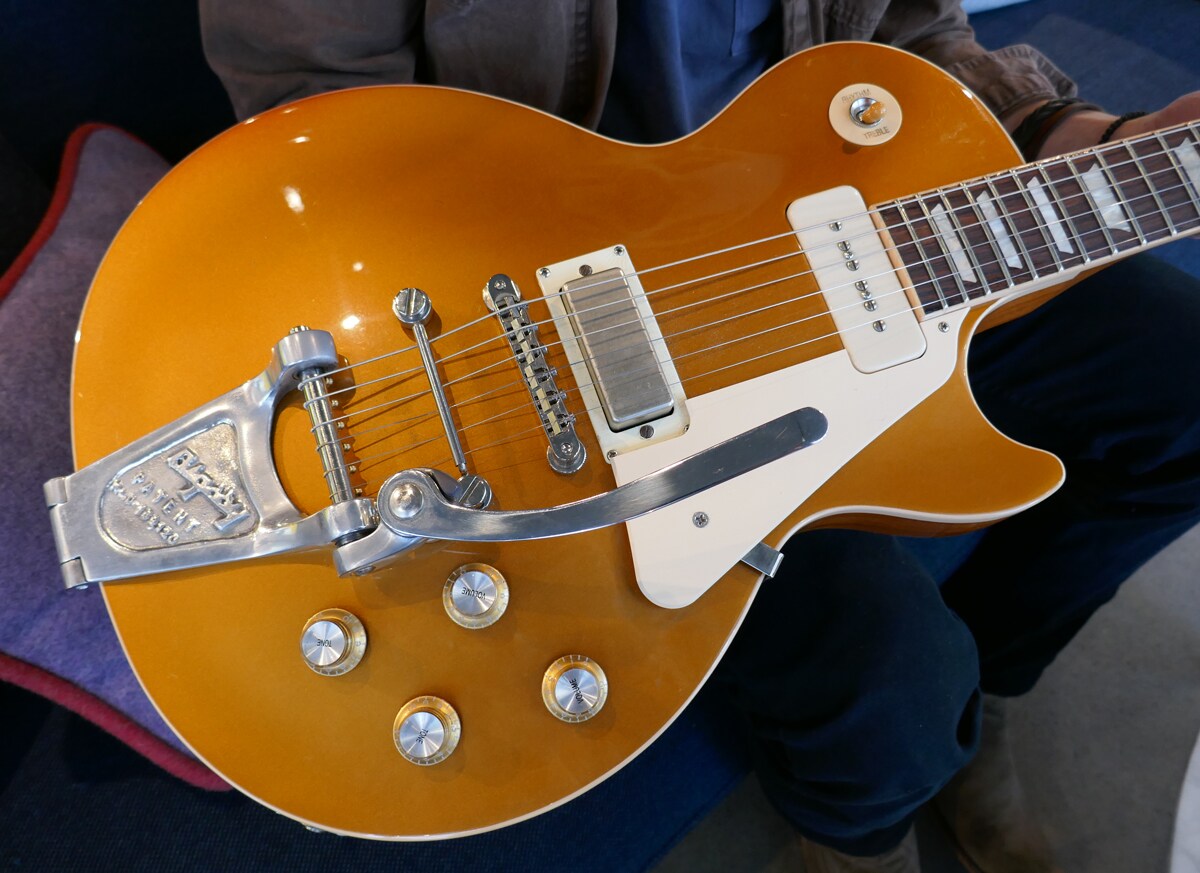 It's like a Les Paul from another planet.
S: It's going to be my artist's model one day. [Laughs] And then for pedals – I have the Jext Telez by Bob Ebeling. He's in Detroit Rock City – makes the best pedals in the world. I love the white pedal - it's an overdrive fuzz modeled after the George Harrison fuzz you hear in the White Album recordings.
N: We got to see his Santa's workshop, too, and it was amazing.
S: Greta Van Fleet recorded there.
How have your gear choices changed throughout the years?
S: As far as the evolution of being in a rock band, not much has changed instrumentationally. For us, we're very inspired by old rock-blues-soul-funk-jazz musicians. The whole spectrum. I really love Neil Young, for example - he plays Les Pauls, so I wanted a Les Paul. So many of my favorite guitar players play them. I think the reason Strats and Les Pauls are still sold is because they nailed it the first time around. Trevor loves Paul McCartney, so he bought a Hofner. But the music we write is still fresh. We make our music using these blends of herbs and spices. Just because I pick up a Les Paul, doesn't mean it's going to sound the exact same way that Uncle Neil sounds when he plays a Les Paul. It's totally different.
N: We're more concerned with the future.
S: Whenever we go to Guitar Center, we're always playing around with synthesizers because they sound sick, but I play guitar first. I mean, a keyboard player would slap me in the face if he saw me play a synthesizer, but if I had the money, I'd lock myself in a bedroom until I made something cool.
While you were recording your last record, you invited fans and musicians in LA to your home studio for "Vista Kickbacks" – live performances hosted and curated by the band. Can you tell us the origin of how that started?
S: We somehow ended up with a sponsorship from an alcohol brand – they gave us several cases of beer as part of the deal. We were just looking at it in the corner of our studio one day, and somebody suggested we have some friends over –
T: Let's have a party and play some music.
How did you choose the other artists who performed?
T: Friends, really.
S: People that inspire us.
T: Lauren Ruth Ward, Gabriella Cohen, Matt Rose, Wise from Phoenix. It's cool.
S: We're really inspired by bands like The Growlers, that have trailblazed by making their own communities with their fans. So we thought, What sort of a community can we make? We have a great studio, so we made our own event where we showcase our music, our friends' music, film the whole thing, and have a fun time. Maybe one day it'll evolve into more of a festival. Also, Derrick spins records.
D: Turned into a record disc jockey.
How have you been able to use the Vista Kickback content to create a deeper connection with fans via social media?
S: [Social content] is all about staying close to our fan community for us. It's an intimate side of us, the Kickbacks - it provides its own creative space. It's where we recorded Bootyshakers Ball, and our next record - Twentysomething Nightmare - that's coming out this summer. It's intimate, in a way. We've become close friends with a few of our fans, and invited them to our studio sessions. The videos are a cool way for [fans] to feel like they're –
N: …in the studio.
S: There with us, yeah.
N: We've been meaning to up our YouTube game, too, so we declared March Bootyshaker's Ball Month. Within this month, we've released a handful of documentary videos from the making of Bootyshaker's Ball - those are up on YouTube, as well as some new music videos with more on the way.
D: We've asked people to make content as well. We have a Vista Kicks TV channel – it's what it's become. You can see videos our fans are making - we repost everything.
What are you most excited to eat here in Austin?
S: We're big barbeque fans.
N: I think we're more into barbeque than music. [Laughs]
T: We've got to make a Vista Kickin' sauce next.
What's next for the Vista Kicks?
S: Skate or Die Fest with Hot Flash Heatwave and No Vacation. Is that right?
D: I think they're doing some of the same showcases that we're doing here in Austin, too. That'll be cool.
T: And then we've got Colorado, Utah, and then headed back to LA.
D: This is the last couple of weeks for us. We've been on the road for about a month.
T: We started on Valentine's Day - we sold out the Troubadour. We had Tom Kinney, the voice of Spongebob Squarepants, open for us. He's got a killer band.
Listen to what the Vista Kicks have been into via our curated Spotify playlist: