Be Heard: Guitar Center is celebrating artists, brands and organizations that are using music to raise awareness on critical issues facing us all, to help us heal, to bring us together—to make the world a better place.
Chicago hip-hop artist Saba isn't afraid to let out his more private emotions, as evidenced by his latest album, CARE FOR ME, which opens with this plaintive and to-the-point line: "I'm so alone."
The album was born from grief, after the 2017 death of his Pivot Gang co-founder and cousin, John Walt. Returning to the studio proved to be therapeutic for Saba. "That's how I get through things … it's a coping mechanism. It's a way of existing loudly for me."
Saba wouldn't say that it was his intention to write an album reflecting on the loss of his cousin when he went into the studio to begin work on CARE FOR ME, but it was where his head was at the time.
"Any time I would try to write a song, this would be where my free thoughts were taking me," he added. "And I didn't stop it. I just let it be. So, it's a really raw album in that there wasn't a lot of editing. There wasn't a lot of going back trying to change up lyrics. I wanted to tell a story. … This is an honest album."
CARE FOR ME has resonated with fans and critics, and Saba believes that's because of how personal the album is. "There's something about being as personal and specific as possible that makes the stories more broad," he reflected. Grief is a universal emotion and that, perhaps, is what has led so many to connect with Saba's album. "Regardless of the fact that my cousin was killed in Chicago, I think at the end of the day, CARE FOR ME is about grief," he added. "You hear the stages of grief on the album. And I think that's why people are able to relate to it. Because everybody has lost someone."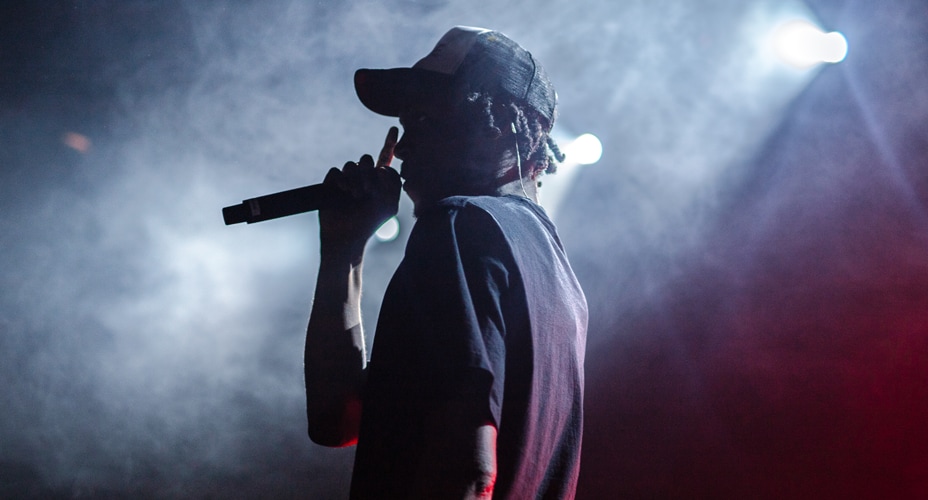 Saba by Cam "Contact" Robert.
Saba believes that honest music has the power to affect change. "I think that's why hip-hop is so important, because people are telling their stories," he said. "People go through a lot of f***ed up s*** in life. And I think that's why it's creating change. Because people hear it and then they know, [I'm not alone]. The first line on CARE FOR ME is 'I'm so alone.' And that line is probably the line that I see on my Instagram and my Twitter the most because people relate to that. … Loneliness is universal."
Though John Walt may be gone, his memory is kept alive through the John Walt Foundation, which was created by Saba and Walt's mother to provide mentorship and scholarship opportunities to young artists in Chicago. To raise money for the foundation, Saba, along with members of the Pivot Gang, have hosted John Walt Day in Chicago since 2017—a tribute concert celebrating Walt's life and legacy, with 100 percent of the proceeds benefiting the foundation. The foundation has allowed Saba to turn grief into something positive by providing young people with the resources he wished he had growing up.
Now, more than ever, Saba knows that he, and many others, are not alone.
To learn more about the John Walt Foundation, visit johnwaltfoundation.org.