California-based rapper/producer HASEEB has created his own success as an independent artist that remains grounded and keeps fans engaged with a strong social media presence. Inspired by the '90s golden era of "boom bap" and artists like Mos Def, Talib Kwali and Erykah Badu, the first-generation American brings a contemporary twist to the world of true school hip-hop. From DJing in junior high to releasing his first album as a college freshman, HASEEB proves that the DIY approach is still as viable as ever. We talked to the self-professed hip-hop head about how his background shapes his music, the importance of community in hip-hop and his new single "Satellite."
Tell us about how you started making music.
The first music I created was really bad, but it was amazing too. Being in fourth grade, trying to figure out how to plug a little clip microphone into my parent's computer, that was the purest form of music I ever made. It wasn't good, but it was a young kid trying to find himself with a little clip microphone. So, that's the first music I ever made, rappin' over other people's beats. That's how it started.
How does gear and technology help with music creation?
Anyone working on anything needs a tool, and if you don't have the right tools for the job, it's exceedingly difficult. The right piece of gear could change your entire sound or the trajectory of who you are as a musician. Sometimes it may unlock potential that's inside of you that you were unable to access until you got that piece of gear. That piece of gear allows you to tap into your talent, and it gives you the ability to manifest that potential and turn it into your art.
How do you use music to connect with storytelling and community?
I want to be a voice for my people. Where I come from, there's not a lot of people who make music, so I want to shoulder that responsibility. I want to be the person that inspires the next generation in my community. I'm a first-generation American. My parents came to this country as immigrants, and growing up in my house, all you heard was classic Bollywood music. But me being an American kid born and raised here, hip-hop is what drew me in. It helped me find my identity as an American. In the household, there's one culture, and at school, there's another culture. To me, music was the bridge. So being a first-generation Muslim South Asian American, that's my story. That's where the substance of my music comes from. I think in hip-hop, the narrative is very important. And the best narratives are real narratives. There's a lot of manufactured narratives, but there's also many stories like mine of kids who are from households where you're living in two worlds.
Nowadays, what's cool is that we have the internet, and we have social media. You can find people who are into your story, and who have similar stories, and who relate with the things that you've been through. You don't have to put on a front and try to be someone else. You can be yourself in your music. There's people that feel that. They've lived it. They understand it. I still try to make my music as universal as possible, so it's not pigeonholed or put into the box of one certain thing. With that said, you'll hear certain things in my music where you got to be from a certain place, or you got to speak a certain language, to even understand what I'm talking about. I like throwing in little hidden gems where the audience can find them and make a connection with me as an artist and as a person.
I make music to inspire people who are just like me and who have had similar experiences as I have.
Why is community such a vital concept in hip-hop?
Community is super important to hip-hop because that was one of the foundational elements of the artform. It started in the South Bronx, and it was a platform for spreading news about what's going on in the community and in the neighborhood. Hip-hop is the artform that sprouted as a necessity of the community. Obviously, it's evolved from that, and it's expanded all across the world from where it started. Now hip-hop is everywhere, from Europe to Asia, the Middle East, absolutely everywhere.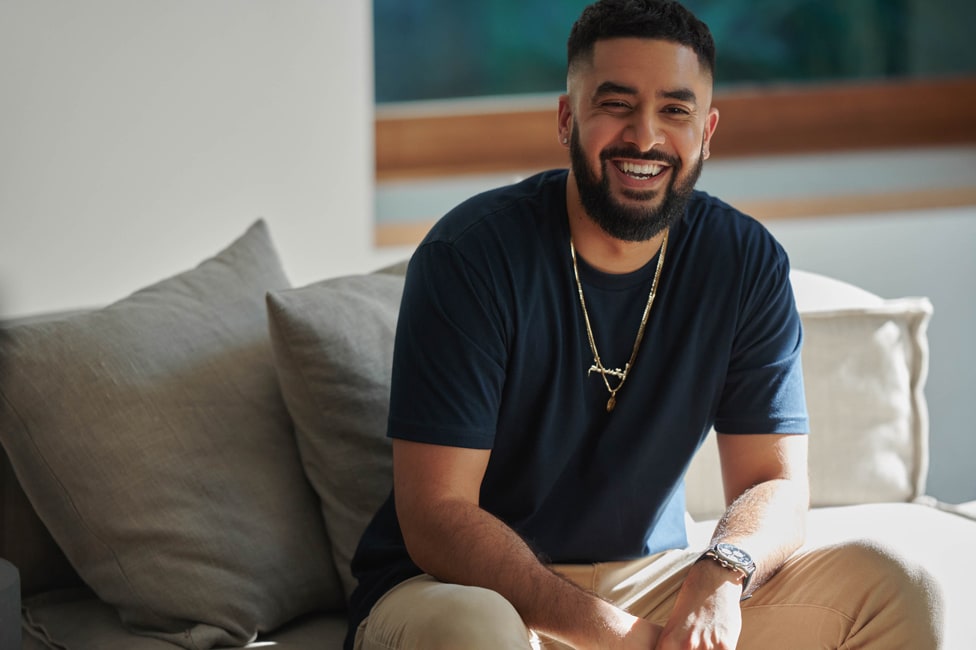 As an independent artist, is the DIY approach relevant in hip-hop today?
Hip-hop is probably one of the more DIY artforms out there. It was formed out of a necessity. People started making hip-hop by stealing their mom's turntables, and taking their dad's records, and their grandma's speakers, and their uncle's microphone, and putting it all together at the park and jammin' out. And that's how it started, right? So that's kind of where it comes from.
Nowadays, technology is so advanced that artists who put together their entire campaigns, and their entire albums by themselves, are able to use all the tools on the internet and social media, multimedia equipment, just gear in general. There's kids who are going platinum off of just their laptop, nothing else. So now more than ever, we have all the tools at our disposal. We don't need a lot of the traditional resources. If you don't have a big machine behind you, it's okay, because you have a little machine at your desk that's going to help you do what you want to do.
Part of being an independent artist is you're not on anybody else's time. You're not waiting for someone to come along and give you a record deal or a tour budget or a marketing budget. Independent artists are able to produce their own music, record their own music, mix and master their own music, distribute their own music, book their own tours, make their own fliers, shoot their own music videos, and that's where we're at. The people that choose to do it like that are often people who have no other choice, because nobody's coming along and being like, "Here's $200,000 to go put out an album." We're going to do it ourselves anyway because that's what we do, and that's what we've always done in hip-hop. We don't wait. We just create, and we just put it out and try to let the world hear it.
What can you tell us about the songwriting process for your new song "Satellite"?
Songs that sit in a Pro Tools session for three months, they could come together eventually, but the ones that I crank out in a day, those are special. "Satellite" was a song where I didn't overthink. I just wanted to make something that felt good, something that had a little bop to it.
It's a real simple song, and it's one of my favorites. It's about going up, and going up is just movin' on up, and you could take that in any context, right? That's why it's called "Satellite," because satellites only go one direction and that's up until they're in orbit, and so the song is about going up.
What would you say to encourage people to start creating their own music?
Get out of your own head. If you're facing a block, or if something's holding you back, stop having analysis paralysis and just put it on paper. Lay it down. Overthinking will have you stuck in the same spot, and that's life in general, not just in music, but especially in music. A lot of times, really brilliant artists hold themselves back because they think too much about how people are going to perceive their music, or whether or not people are going to care. If you make music for yourself first, and if it does something for you, just get it out. Put it out. Record it. Produce it. Share it.