Rising French-Caribbean singer, bassist and producer Adeline had been playing small gigs around Paris when, at 18, she enrolled in college because she knew she needed a "backup plan." But, she realized that if she put 50% of her chances toward music, and the other half toward a backup plan, she'd only be giving herself a 50% chance of making it. So, she packed her bags and bought a ticket to New York City.
Now based in Brooklyn, Adeline [pronounced ad-uh-leen] was first introduced to the musical world as the frontwoman for disco revivalist band Escort. With powerful vocals and groovy bass lines, Adeline's current sound blends everything from neo-soul to funk and R&B (she's even covered Black Sabbath). Following her critically acclaimed 2018 self-titled debut, she released her highly anticipated follow-up EP, Intérimes, in July 2020. She also produces other artists under the name Nightshade with Morgan Wiley, and has shared the stage with the likes of Anderson .Paak, Chromeo, Big Freeda and more.
In our exclusive interview, Adeline talked about her journey to becoming a bass player, how she started Nightshade, the story behind her track "Middle" and how 2020 was the most personally revealing year for her.
How did you start playing bass?
The way I started playing bass is a fun story. I don't like the word "accident," but some accidents are just fortunate events. Soon after I moved to New York, I had my first band, called The Crowd. It was a trio. We each played an instrument, and I was singing, playing a little guitar, and one guy was playing drums. The other one was playing guitar. We were gigging all over New York City, and we hired a band for our show. That was pretty big for us. The bass player that we hired had to cancel at the last minute, and the show was the next day. My bandmates looked at me and were like, "Hey, Adeline, you play guitar. Why don't you just play bass?" They put a bass in my hand, and my life changed that day. I fell in love completely with the bass, and that's how I became a bass player.
How would you describe your technique, and how did you develop it?
For me, the most important things for a bass player is to have the pocket and the feel and a good tone. So, that's what I worked on developing as much as possible. In my early years, teaching myself the bass, I did a lot of transcribing. Just playing along to records I loved. I just tried to apply as much emotion as possible.
How do you balance singing while playing the bass?
When I taught myself bass, I was already performing a lot and was already a singer. Singing at the same time was always part of my journey as a bass player. Singing and playing the bass at the same time onstage is very challenging. It just takes a lot of practice, and I have to practice the song more than I would if I was just doing one or the other. And then it's a weird split in my mind when I'm performing, because I kind of decide ahead of time, depending on the song or what part in the song, where my brain is going to be focused. Sometimes, I know that the vocals are going to be on autopilot when I want to do extra stuff on bass. Most of the time, I try to sit in the pocket and have that be second nature and really rely on my drummer to keep me in when I perform vocally. Sometimes, the bass player in me gets frustrated that she doesn't get to just stand right next to the drummer, sit by the hats, and just like sit in the pocket and groove.
What's unique about playing the bass while singing?
It's a split personality thing, because the stigmas attached to personalities of musicians are sort of true. The bass player is kind of the woman or man in the band that's pretty chill and okay with not getting that much attention, which I can be when it's time to play bass. But, I'm also not that person, personality-wise, and I'm a frontwoman, so it's interesting. But some of the most notable bass players, and my biggest influences, have broken all the stigmas and changed the bass world. Some of my all-time favorite bands, the flashiest person in the band is the bass player. Think about Bootsy Collins and Verdine White and Louis Johnson. These guys just broke all the rules of just being the bass player that sits in the back. When I started doing that is when I really felt like I found myself as an artist for the first time.
How did you get into producing your own songs?
I was tiptoeing around the idea of producing for years. I think it's a very important thing for people to know, and I really cannot stress enough, the importance of having more female producers in the music business. It's so sad that there aren't that many of us, but there will be more. The reason why I didn't start earlier is because it didn't even occur to me because it's not something that we're told. I wasn't told as a little girl, or later on that, like, oh, you can produce your own tracks. So, that is one of my biggest missions in life—to let little girls know that's an option. And I think being a female bass player, which is not common enough, but is changing already, put me in that state of mind and world—breaking stigmas and going beyond expectations for what women are supposed to be doing. I just started thinking, "Oh, why do I not make my own music?"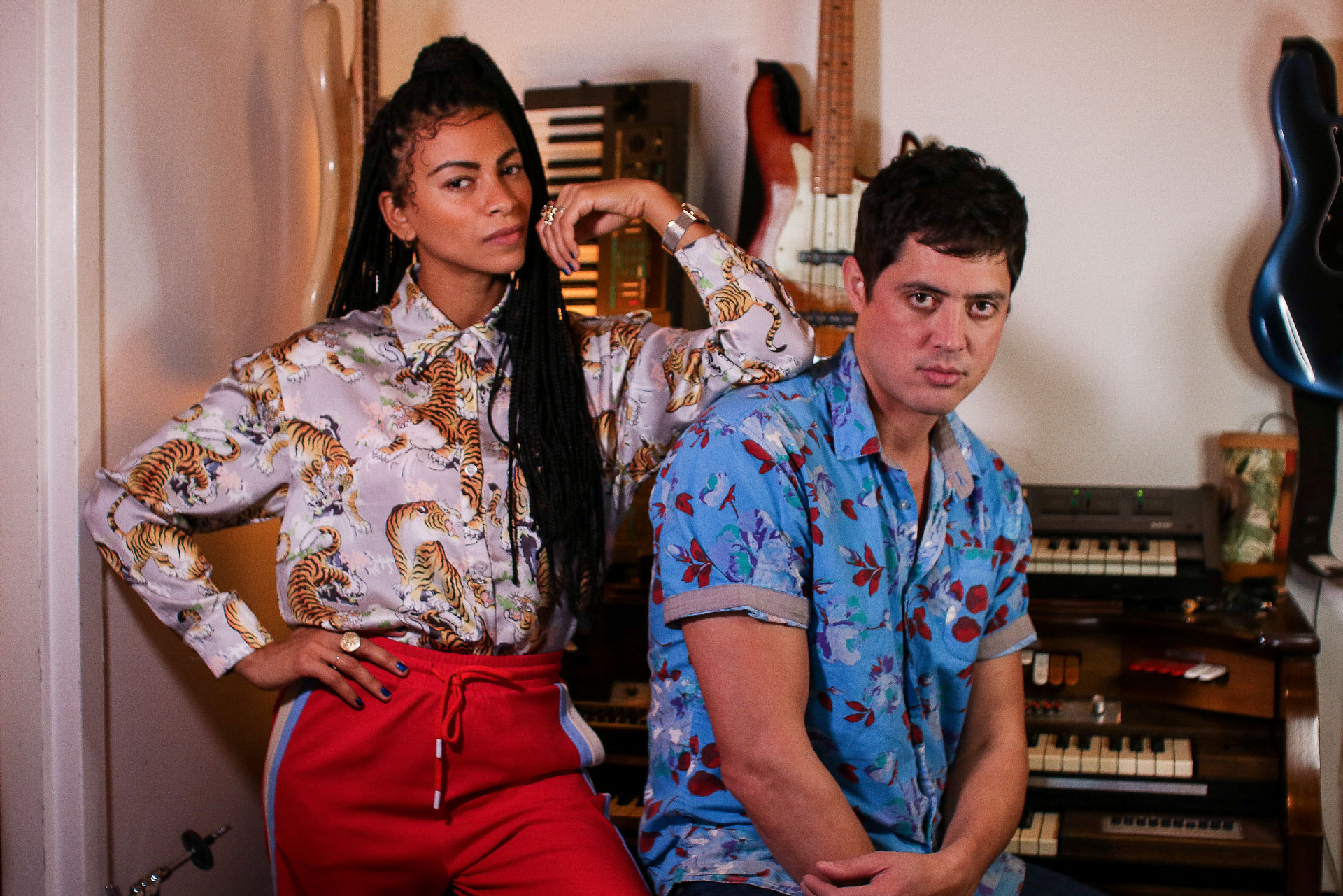 How did you start your production duo, Nightshade, with Morgan Wiley?
One of my biggest challenges was to find the right partners to collaborate with, musically. And then I got to the point where I was like, "I'm just going to do it by myself." I was hearing things. I wasn't just hearing the songs or the vocals or the chords. It was just hearing the entire song and the instrumental. So, I started on Logic, playing around with making beats. And then, when I decided to go solo, I really dedicated myself to spending more time making tracks. I hit up my really close friend now, Morgan Wiley, who I had played some gigs with, who is an amazing keyboard player. I initially wanted him to play some keyboards and add some sounds to my production for some tracks that I had. We decided to make a track from scratch and have been making music since.
How do you and Morgan work together?
We're a production team, but we're also a songwriting team. We work so well together that we've decided to take this production that we created for my solo music and start doing production for other people. I've always wanted to do that, and making music with Morgan is just the way that I like making music the most, because he has the keyboard knowledge, and he has the stuff that I don't have. We each bring something to the table that's different, but very complementary. We also produced a track called "Mango" for this artist, Kamauu, that I also happen to feature on. And we're just hoping to do as much production for other people as possible, because we have such a wide range of music that we like to play with. It's been fun to split ourselves between, oh, this track is going to be for me, and then this track for this person and that person. It allows me and him to utilize all the flavors that we want, because production is really about choices. I make different choices for my own music that I wouldn't make for someone else's music. Sometimes, I like 808 sounds, 808 hats, but I don't necessarily think they fit for my sound. But now I can do that. I can put as much 808 as I want and get all synth-y and do all kinds of stuff that I want to do, and just let it live for someone else.
What was the inspiration behind your song "Middle"?
It's the first single from Intérimes, my latest EP. I didn't realize at the time, but thinking back on it, I feel like "Middle" was a little prophetic. It's a song about feeling caught in between two different things and not being able to get out of a situation and feeling stuck. It's funny because people listened to that song probably while in quarantine, being stuck. At the time, I was writing it about somebody possibly going through depression, or not being able to get out of their own mind to go after their goals and just feeling stuck in a situation, which happens to all of us. Making choices is not something that we're taught. No one tells us how to make choices, and what's the best way to do it. You just have to have experience, and I wanted to write a song about that.
What was the writing and recording process like for "Middle?"
"Middle" was based on a groove first. Sometimes, it happens in the opposite way, but in this case, we came up with a beat. The bass line just felt like this loop and this cycle that keeps you in a rhythm, that it just kind of inspired the lyrics. We always want the music to be groovy and funky. That's kind of the first thing we want is to have the balance between creating emotion with the vocal, but also creating excitement and funk with the instrumental. The whole song really revolves around the pocket of the bass. The bass line of that song is like a pulse, the heartbeat of the song. The bass kind of always is, but in this song more so than other songs. It was really the drums and the bass and that pulse and that rhythm. Then everything else was built around that.
Do you have a favorite bass?
The bass that I use most for recording my songs is the Fender P Bass with flat wounds (strings). It's actually not my bass. It belongs to Abe, who Morgan shares the studio with. I used this bass for most of our recordings, and I think this is such a good example of why flat wounds are so great, also because of that pulse. If I'm not slapping, and I'm going for the tone and feel, and more of an old-school sound, flat wound is definitely my favorite thing. I also have my Sadowsky Jazz Bass. I use that mostly for live shows. I also use it on some recordings, but it kind of depends on what sound I want. If I'm going for a more funk bass line, like more modern funk or slap, I definitely use that one. The new addition to the family is the Fender American Professional II, the brand-new line from Fender. I got a Jazz Bass for this because the neck was maple, and I have a preference for a maple neck. With P Bass versus Jazz Bass, I'm more into the P Bass sound, but the neck depends, and the type of strings you put on them and how you tune it. It's all about the bass itself.
Music is salvation, and it's an outlet. It's also a unifier. It's a link between people. It's the background color for any painting of your life.
What has 2020 taught you about the important role that music plays in our society?
I think we can all agree that we have, for the first time as a society, been forced to experience what life without live music is like. I don't think that's actually ever happened before. And it's very difficult. I think that it's all going to work out for the best because people will appreciate it even more, how special and necessary it is. This year was, for me, as a musician and as a woman, as a Black woman, as an immigrant woman, the most revealing in so many ways. Going through the Black Lives Matter movement this year, I got to experience all these songs that have inspired so many of us¬, written by the greatest. All these protest songs. These songs about being Black and going through social injustice. And going through social injustice in general, outside of being Black, I had never really heard these songs that way and created music that way. It's also important to have recognition for where something comes from. I think it's very important for everybody who listens to even pop music today, all genres, really, to recognize the impact that African-American culture has had on shaping our lives and the art of today.
What do you hope people get from your music?
I hope that people listen to my music, understand my story and just feel it. Maurice White from Earth, Wind & Fire said the realest thing about music that anybody could say: Music's supposed to feel good. And it doesn't matter what chords we're playing and what tension and progression. It's just supposed to feel good. I just make music to make people feel good. Besides my own story, the reason why I keep going is also to sort of show young girls, young Black girls, young immigrants, people in the hood where I grew up in France, and just other people, that they can do it. They can do whatever they want. They can go after their dreams, you know? It doesn't have to be music. If you want to be a scientist, that's what you want to do. If you want to be a stay-at-home mom, that's what you want to do. Just find your voice and yell who you are.
Keep up with Adeline at her website and Instagram.
Photos by Dennis Manuel.