(Credit: Emma Cole, Steph Heath, Emily Cole)
Music has often been at the forefront of driving conversation that expands our understanding of the human experience. It can lead to greater awareness, connection, and even change. As a reflection of the times and a way to embrace and celebrate one's truest self, music's ability to reach others in powerful authentic ways is unmatched. We had the privilege of hearing from Liv Slingerland, Emily Wolfe and Caroline Kingsbury about how music has given them a tool to freely express themselves, why representation and inclusion is so critical to community and what progress they'd still like to see.
What first motivated you to make music?
Liv Slingerland: Music was always a huge part of my household growing up. My mom and dad played a lot of Talking Heads, Tom Petty and Beach Boys when I was young. Listening to Van Halen and AC/DC really hooked me on guitar, and then I discovered Joan Jett, The Pretenders, Heart and other female artists that I became obsessed with. I couldn't really turn back from there on out.
Emily Wolfe: What motivated me to make music was the aspect of fun that inherently comes with playing. The vibration of the guitar's body against mine, the endless sonic possibilities with guitar pedals and the game in finding the perfect tone are all things I love about playing. My motivation in writing is to connect with people. There's nothing more fun than writing and performing a song that people sing back to you at a show. For a brief period of time, skin color, sexual preference, gender identity and politics are forgotten about. The power that music has to connect people is unprecedented.
Caroline Kingsbury: I wasn't a super popular kid in school. I was outgoing but was usually met with a lot of rejection. I started writing because it made me feel powerful and in control of my own life when I was 12 and everything was always being decided for me. Writing music empowered me.
What gear or musical tools really unlocked something creatively for you?
LS: For most of my life, my musical energy had been focused primarily on guitar and arranging songs with other band members. But because of the pandemic, I finally had the extra time to teach myself the ins and outs of Logic and recording at home. Having the ability to freely work out ideas without being on anyone else's schedule has been the biggest help to me creatively. Specifically, one of my favorite pieces of gear for writing/recording/playing is my St. Vincent guitar and one of my favorite pedals is the Walrus Audio Fathom Reverb.
EW: The Epiphone G1275 double-neck guitar has been a really inspiring instrument to play. There aren't many out there, so it's always fun to bust out, especially in a live situation. When I'm writing, it's interesting to hear those 12-string octaves. If I'm stuck creatively, sometimes hearing parts on the 12-string can unlock things I hadn't thought of. Another piece of gear that unlocked something creatively for me is the Walrus Audio Julia pedal. I usually don't like chorus pedals, but something about that pedal helped me write the song "My Lungs Give Out." It's almost like the oscillation it emits brought about a new way of thinking for me, and guided the song to a vibe I didn't realize it wanted to live in. The Julia will probably always be on my pedalboard because, in my opinion, nothing beats that chorus. 
CK: Synth! I love using the Arturia Juno (Jun-6 V) and Jupiter (Jup-8 V) plug-ins. Also, I love drum machines. The repetitiveness helps spark ideas for me.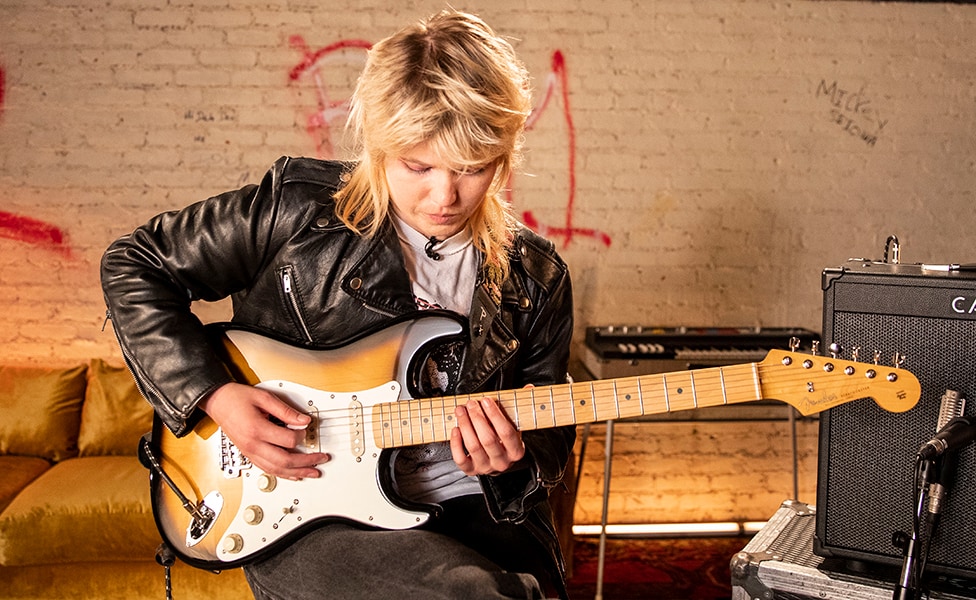 Pictured: Liv Slingerland
The stage is a place of honesty and vulnerability. Can you speak to its power—either in your own experience as a performer or being moved by other great artists sharing their authentic voice?
LS: All the artists I've played for have had such beautiful, and sometimes heartbreaking, personal stories to tell through their music. Since I often find myself on stage supporting them as an instrumentalist, I get to see the connection that is made between these artists and their fans and feel that exchange of energy in real time. On a great show night, both parties can let their guard down and feed off that mutual agreement to be 100% yourself in those moments.
EW: Playing live is my favorite part of this career. There's a lot of bravery needed to get up on a stage in front of hundreds or thousands of people. To bear your soul in front of an audience takes courage and purpose—almost an act of service. The power of showing an entire audience that you have the same emotions, wants and needs as they do can break barriers. The most raw performance I've ever seen was at the Mohawk in Austin. Sharon Van Etten was playing a few songs on piano, and she had the entire audience of about 500 people in the palm of her hand. There's a lot of power in that position, so to show people that emotions run deep for even those brave enough to step on stage can help everyone have a bit more empathy, in my opinion.
CK: Performing live is the "why" for me. Why spend so much time writing and preparing? It's to be able to give back to the audience what other artists and bands have given to me over the years. Seeing a powerful performer can change you. Most of the time in an intangible way, but it's a beautiful thing to be able to give that to other people.
Music creates connection and empathy in a way few things can. Can you speak to music's unique ability to drive inclusivity and build community?
LS: My entire life is supported by all the people I've met through being involved in music. Especially as part of the queer community, being a musician has created such an incredible space for me to be myself, and I think most people that love music feel the same way. Being included in someone else's creative vision and including others in your own is such a vulnerable process that it bonds you in ways that nothing else can. A lot of my favorite friendships have only deepened through writing, recording and touring together. Hopefully that closeness translates to the people that are here to enjoy what we create, so we can foster a space where everyone feels heard and they can be a little more forgiving of themselves.
EW: Music is such a unique part of the human experience. Something about sound waves and the vibration of music opens up freedom in the creation process that the bounds of a conversation cannot. Certain chord changes can almost magically make a person feel something. I think the excitement and adrenaline that comes from a live show, affecting an entire crowd of people to the point where they all cheer for the same thing at the same time, can steer people in a direction of togetherness like nothing else can. Music can create this contagious emotional connection with the artist, and in a live environment that is so apparent. It breaks down the walls that we so easily put up against each other.
CK: When you see an artist or band, or even just a person being their most authentic self, it can help you feel more comfortable in your skin. It can force you to see a perspective you haven't seen before. Being a queer musician and meeting other queer people at shows, it feels beautiful and amazing!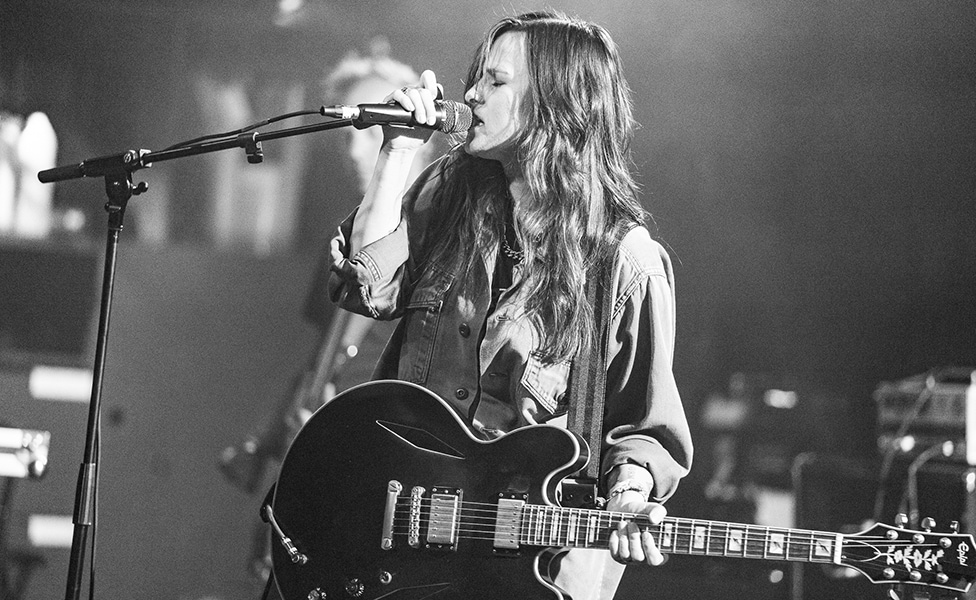 Pictured: Emily Wolfe (Credit: Blair Dickerson)
In what ways has the music community evolved since you started making music and performing? Are there ways you've seen music lead to change?
LS: I started making music as a kid in a small town named Prunedale in northern California. Most of the opportunities I had to play music were with friends at church-related activities, which was not something I was ever really a part of. Being able to follow my passion and move to Los Angeles was life changing for me, not only because I've been able to have a career as a musician, but also because I've been able to immerse myself in such an unending group of beautiful, talented, loving humans from all over. I meet people every day who have had music change their lives, and so many artists with bigger platforms have been a huge part of that, especially for kids trying to make it out of their small hometowns and pursue creative work.
EW: Toward the beginning of my career, I felt that I couldn't necessarily broadcast my sexuality out of fear that I wouldn't get booked for shows. Seeing that most bookers are straight white men, I felt I needed to hide part of myself in order to be more acceptable. A specific example is music festivals. As a woman–and a queer woman at that–getting booked for festivals is very difficult. It seems that there's only room for a few female acts, and even fewer for LGBTQIA+ acts, though there are countless spots for straight white men on any given lineup. Over the past decade, things have gradually gotten better, but there is still so much work to do. I think seeing Lil Nas X and Brandi Carlile perform at the Grammys was a step in the right direction as far as normalizing and representing differences in sexuality. Brandi Carlile hosting, curating and directing the Joni Mitchell Person of the Year Event for MusiCares was also a pivotal thing that opened up opportunities for women and the LGBTQIA+ community in the music industry. Seeing her represent my community was amazing, and has gradually helped real change happen. She's a testament to the fact that pure, undeniable talent can lead the charge in connecting people on a fundamental human level. Among many other brands and events, Guitar Center, one of the biggest music instrument retailers in the world, is spotlighting the LGBTQIA+ community through The Trevor Project, and I couldn't be happier.
CK: I've definitely seen a wider acceptance and celebration of LGBTQIA+ people, even on the radio. Artists like Lil Nas X breaking through the way he did is incredible and definitely a product of that change. I've also seen a lot of artists come out publicly. It used to be a "don't ask don't tell" in the industry and now I feel like labels are really recognizing the value of artists being authentically themselves. It helps them connect to a real audience in a lasting way.
Who are the champions, who's making a difference, who do you look up to or respect?
LS: Some of my favorites off the top of my head are Sharon Van Etten, St. Vincent, Brandi Carlile, Caroline Kingsbury, MUNA, Miley Cyrus, Angel Olsen, Lauren Ruth Ward and Halsey, to name just a few.
EW: The champions in music are people who take the time to go out and see live music. Music fans are the ones keeping the industry alive, especially since touring has come back after COVID. It makes a huge difference in the lives of artists when people show up to concerts. It encourages connectedness and just leads to a good time, which we all need more of nowadays. Another group of people I look up to and respect are the women of Gibson. Beth Heidt, Codey Allen, Jenny Marsh, Brittany Eustis, Heather Freeland and Rae Vinton are all women behind the scenes who put their hearts and souls into this industry by giving back to organizations all over the world in an effort to create more inclusiveness. Some of these organizations include Women Who Rock, MusiCares and The Trevor Project.
CK: Lil Nas X and Janelle Monae. They are insanely talented, once-in-a-generation artists, and both of them being out publicly, and being people of color, is incredibly beautiful and inspiring. They've had to go through some shit with the industry, and I really respect their resilience.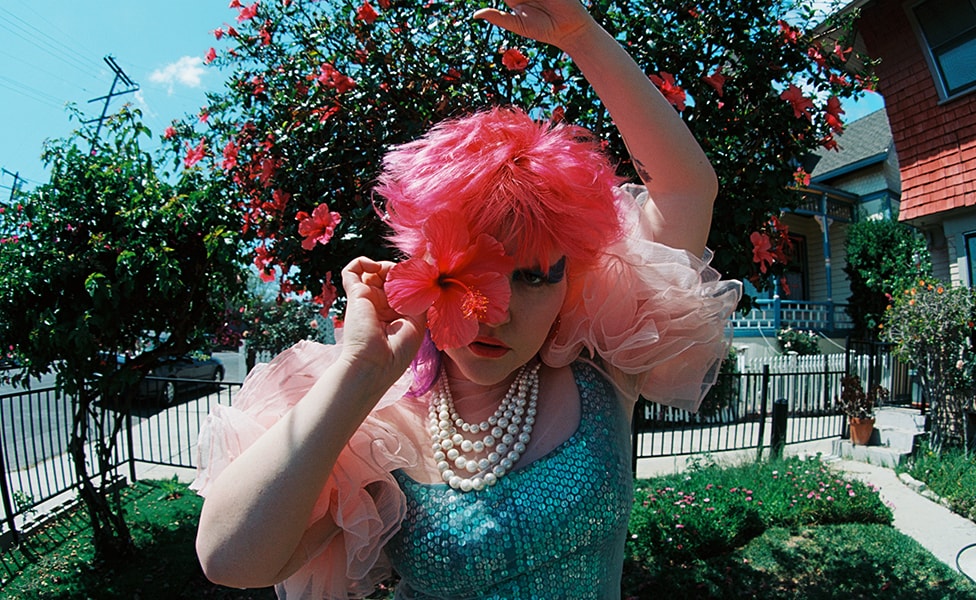 Pictured: Caroline Kingsbury (Credit: Emma Cole)
What are your hopes for a more inclusive future music industry?
LS: From my perspective, it feels like everyone has been doing a great job at putting in the effort to diversify who they have on their stages, but I'd love to see more of the same in the behind-the-scenes jobs, as well. Especially production, mixing/mastering, music direction, tour management, techs, etc. It's definitely getting so much better, but I still feel like the overwhelming positions of leadership are left to men in many cases.
EW: My hope is more representation of women, the LGBTQIA+ community, and for every race and gender identity to be seen and accepted. Music is such a powerful tool, and if we can use it to our advantage, we're that much closer to building a better world for everyone.
CK: I hope for a future where coming out isn't a thing. Where non-hetero relationships are just as normal as hetero relationships. Where gender is widely understood and respected as a spectrum, and it doesn't even need to be mentioned that the artists are queer. I hope for a world where streaming platforms really start to prioritize the financial well-being of their artists and create systems where artists can actually make money from streaming.