Minneapolis-born twin sisters Paris and Amber Strother gained commercial acclaim in 2016 with their debut album We Are KING, becoming the first independent artists to be Grammy nominated for Best Urban Contemporary Album. We Are KING's intricate electronic sound is infectious and utilizes a variety of new and vintage synths and drum machines. In their conversation with us, We Are KING gave us an inside look at what is was like to be mentored by Prince, describe the classic '80s synth sounds they love and talk about the process behind two creative minds working in unison.  
Tell us about growing up in Minneapolis. 
Paris Strother: Minneapolis is our hometown and our favorite place. It's a place that's rich in culture. It's just really specific growing up with the Minneapolis sound—Prince, Jimmy Jam and Terry Lewis, and then the Sounds of Blackness and Mint Condition. There're so many great bands that we really looked up to. It really feels cool to be a part of that legacy. Prince and his influence are in everything in Minnesota. I feel like it's in the air, in the water. It's part of us. It was incredible growing up knowing him in our imagination, and then becoming We Are KING, and then starting our relationship with Prince in that way, too. 
How did you start making music together? 
Paris: We've grown up in music together, but we didn't actually start playing together until a little later in life. I feel like my entire lifetime, Amber's the person who's been kind of feeding me all the stuff she's been listening to. We started piano lessons together at age two, but she grew into singing, and I grew into playing keyboards, and we really came together for We Are KING.  
Amber Strother: But we never really grew up with this idea to be a band. So, it was really nice that it came organically. 
How does your shared experience inform your work? 
Paris: We really thrive off of our shared experiences from childhood, and it's really nice to work alongside someone who knows me so well, and I know her so well. It's really natural. 
Amber: Sometimes I'm like: "You know what? This song should feel like this particular day in 1998, at this one place where the two of us were together." To have a partner who knows exactly what I'm talking about is really incredible. 
Would you say the two of you have musical telepathy? 
Amber: We definitely have some musical and other telepathy going on as twins. 
Paris: I think we can read each other's minds for sure. 
How does We Are KING carry the torch for the Minneapolis sound? 
Amber: We could only hope that we carry a torch for the Minneapolis sound, but I think there's a certain texture and temperature and vibration that the Minneapolis sound holds that's very unique to Minneapolis and the artists there. I don't know if it's just the nine months of cold so you want some warmth in your music, but it's very specific to me. I feel like I can hear it just instantaneously. 
Could you share some stories about your musical relationship with Prince? 
Paris: When we first got started, we put together a three-song EP, and just put it out there into the world. Immediately, people started catching onto it. I think a week and a half in is when we got an email saying, "This is Prince's manager. He wants to get in touch with you guys." 
Amber: I thought it was somebody trolling. I almost deleted it. 
Paris: But it was real. He flew us out to North Carolina to watch one of his shows, and afterwards, had us come backstage, told us that he really liked our music, and said he wanted to make himself available to us. Eventually, it grew into a mentorship/management relationship. He was our biggest cheerleader and support, and he didn't even really know we were from Minnesota at first. I think he was surprised to find out. 
Amber: And then it's like, "What high school did you go to?"  
What did that do for you? 
Amber: When someone that is masterful at their craft gives you courage and speaks life into what you do, it gives you wings. Just that real encouragement that someone is telling you you're perfect the way you are. We were young and— 
Paris: Completely inexperienced. 
Amber: Yeah. To have someone that knew and saw things in you that you didn't see yourself is just miraculous.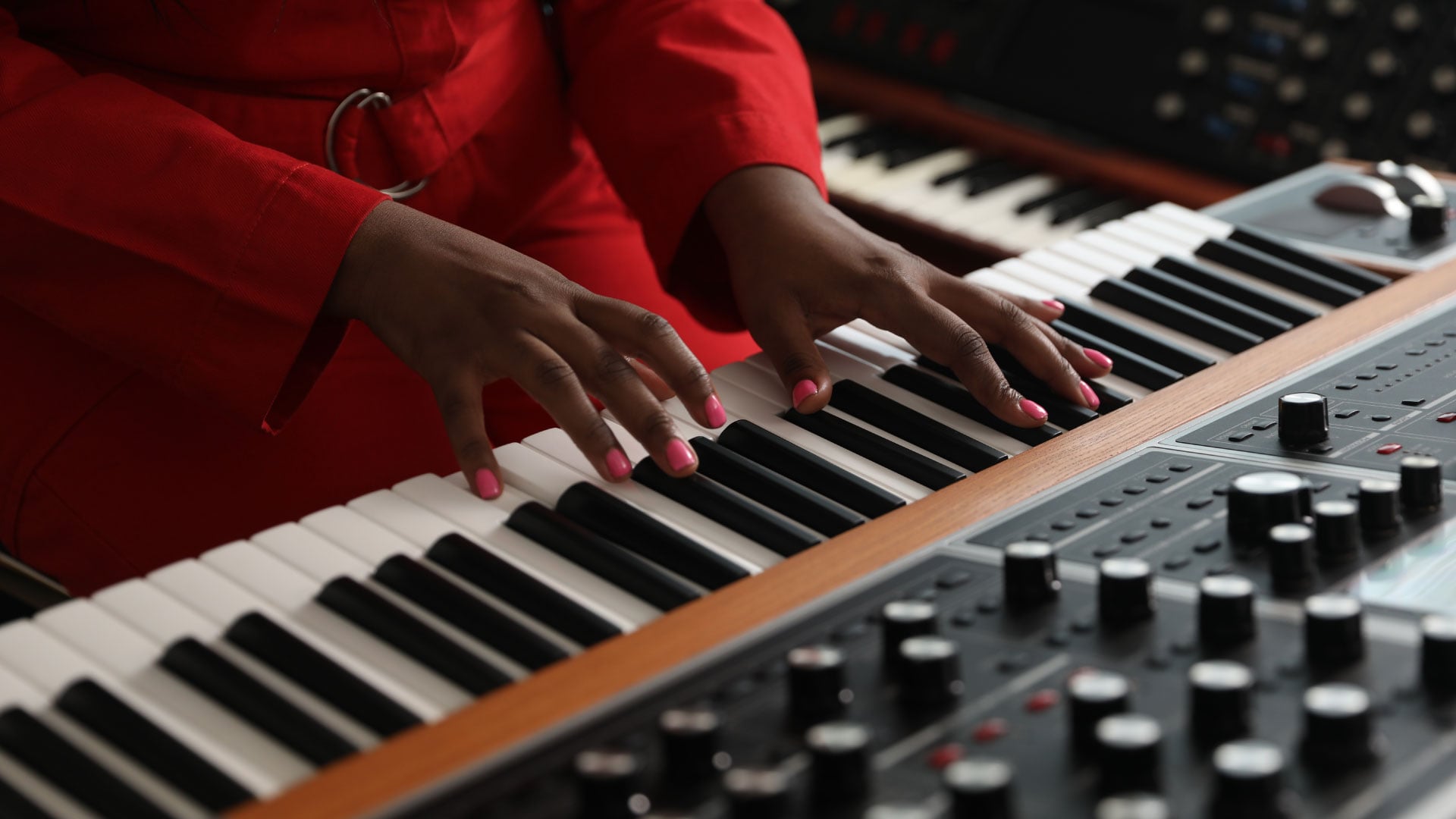 Describe your process for intuiting patches and melodies and textures. 
Paris: Sometimes, we start with a drum beat. Then I'll put some chords or bass, and then Amber will put vocals. Then I'll add something on top of that, but everything that gets added is informed by another thing that already exists. It's cool to be able to, with your twin, come up with all these kinds of random words that I know she knows. This one should sound like ice skating with a cup of hot chocolate or something. She knows what I'm saying. It's really cool to know that you can dial in whatever you need. I've been really thinking about how instead of me building, it feels more like I'm excavating, or digging out what already exists. It's the most fulfilling thing to just create something from scratch and kind of watch it take its own form.
What attracts you to electronic sounds? 
Paris: Synths are everything. They've always caught my ear. I studied sound design in college and learned how people created sounds to emulate acoustic instruments. It was the spark of really liking some of those '80s sounds. It grew into an understanding that you can shape any sine wave into whatever you want.  
How does gear like a drum machine unlock creative possibilities for you? 
Amber: Just exploring sound and texture, especially when it comes to drums and drum machines. They're so much fun to work with because a lot of their sounds are familiar. Each sound can have its own vibration, and they're just really fun to insert and play with and manipulate. 
Paris: It is a lot of fun with drum machines. We have a ridiculous collection of very vintage ones, and it's become kind of a crazy obsession, but it's been a lot of fun. 
I feel like every time I turn on a new patch, it inspires a new idea. I'll be playing something and switch to the next sound, and it inspires me to completely play something different than I was playing on the last patch. It's been a really interesting experience to try to listen to the elements of the music instead of bending them to my will.  
Tell us about the Roland CR-78. 
Amber: I love the Roland CR-78 because if I'm feeling inspired or creative, I can just come to it right away. We have several drum machines, but this one is the one that I love to just flesh out ideas with. It's really uncomplicated. It's a lot of fun to use. I pull a lot of inspiration from it. I'm able to write a song really easily with it. Phil Collins used it for "In The Air Tonight." It has such an authentic pop sound. It's just the perfect texture.  
Amber: It has an incredible pop sensibility. I just love it. It fits any type of vibe I feel like. It's a really good template to start something with, and then come back to­—even if you didn't end up using any of the sounds but the patterns.
Recently, Moog invited you to their factory to work with sound designer Kevin Lamb on creating a sound pack for the Moog One. Could you describe that journey for us?
Paris: It was really special to us because the Moog One is their new flagship keyboard, and it's the first polyphonic instrument they've put out in a really long time, and polyphony is our jam. For this sound pack, we named a couple of them after places we love in Minnesota. Minnehaha for Minnehaha Falls and Nokomis for Nokomis, one of the lakes near our house. I think you might hear some of our video game influences in there, and sounds that can go towards scoring. One is called Raceway. We named it as a tribute to Mario Kart 64. It's a one chord jam. And one is called Cruise Control, a dedication to Cruisin' USA, another Nintendo 64 game. There's a lead we designed called Daydreaming. It has a delay on it so it follows itself, which is always a nice thing when you have a lead.
I make music because I think it helps me grow as a person. The kind of completion that it puts on my spirit—there's nothing like it.
How do you, as We Are KING, hope to inspire others with your work?
Amber: I would just hope that our music inspires creativity in others. I hope that it inspires someone to pick up an instrument, or even sing to themselves, or even just find the beauty in music. There's just so much beauty and love for one another, and I just feel like our music puts you in a good mood. It's all about love and self-love.  
What would you say to encourage people to push past fears and take advantage of greater opportunities? 
Paris: If you love it, someone else is going to love it. I think putting out a project can be kind of like creating a calling card. You're sending a signal out into the world that you want like-minded people to join, whatever it is you're trying to express musically. Music is just such a beautiful thing. It can touch so many people. Music is such a healing thing. It's so universal. It's a language that everybody understands. It's very cool when people can speak it with you, and more so than just the lyrics or the chords. They can really infer where you were, what you were feeling at that time.  
Keep up with We Are KING at their official website and Instagram.