During Weekend 2 of Coachella, thousands of festival goers crowded around the campground for a once-in-a-lifetime hillside experience of Kanye West's mystical Sunday Services - a live musical event inspired by spiritual enlightenment and featuring over 20 musicians and 85 vocalists.
We caught up with Sunday Service musical director Phil Cornish to talk about how he was approached to curate the musician collective, as well as how Kanye's love of vintage synthesizers inspired the basis of the orchestration.
Tell us the origin of Sunday Service, and how you were chosen to bring together this group of artists.
Phil: I got a call from Ray Romulus of The Stereotypes - we had met a few weeks prior in a Kanye studio session. He asked if I would help him put together a choir that could "pull off this 'Sunday Service' idea Kanye has." We were both puzzled at first - we didn't understand what we were creating yet. I recommended Jason White, a legendary gospel musician/producer, who has an exceptional group of singers he contracts through his company WhiteThrone Productions (Grammy's, Oscars, Emmy's, etc.). It was a natural fit. With Ray has the Executive Producer, Jason as the Vocal Director, and me as the Music Director, we all embarked on this journey together. We only had 3 days to pull off the first Sunday Service, and Kanye wanted an 40 voice choir. (He originally wanted 80-voice, but we convinced him to start smaller.)
What do you look for in a musician when curating a lineup this big? How does the audition process go?
My first instinct is always to go with musicians that I personally know and have experience working with. There's a trust there that makes your job easier - you don't want to hire guys that you may not be familiar with for something of this caliber. I actually didn't audition anyone at all. I relied on word-of-mouth from colleagues that I trust. Auditions can often be too much of a mixed bag - I prefer a sure thing. At this level of production, everyone has to be able to play expertly.
When thinking about instrumentation specifically, how did you land on wanting bongos, electric guitar, synths, etc.?
It's all about the artist - my job as the Music Director is to effectively translate the sound that the artist is accustomed to. Kanye is very has hands-on in what he wanted the final outcome to sound like. For us, the greatest challenge was the drums. He's not into traditional drum sets, so Ray suggested tribal drums. With the help of Edwin Carranza (Music Director for Camila Cabella), he recommended Roland Gajate-Garcia and spearheaded assembling the percussion section, which is a mix of a few of the best drummers in the business.
Kanye at Sunday Service, Weekend 2 at Coachella. Photo by Liam MacRae.
Tell us why you chose the specific synths and keys you have in your setup.
I started with only a Fender Rhodes for the first few weeks - that's all Kanye wanted. He's a minimalist. Eventually, as our sound as a unit was established, he was open to adding in more instruments. His favorite sounds come from vintage synths, like the Roland JUNO-DS61, Mellotron, Moog One Polyphonic Synthesizer, etc. The Mellotron specifically has individually-sampled live instruments, blending nicely with the other analog sounds.
What has been the most rewarding part of watching the service come together each Sunday?
Every aspect of it has come together so seamlessly. Nothing feels forced or unfit. The impact that it's made on individuals worldwide, even only through short clips on social media is so rewarding. That, and knowing you're impacting the lives of other people through music.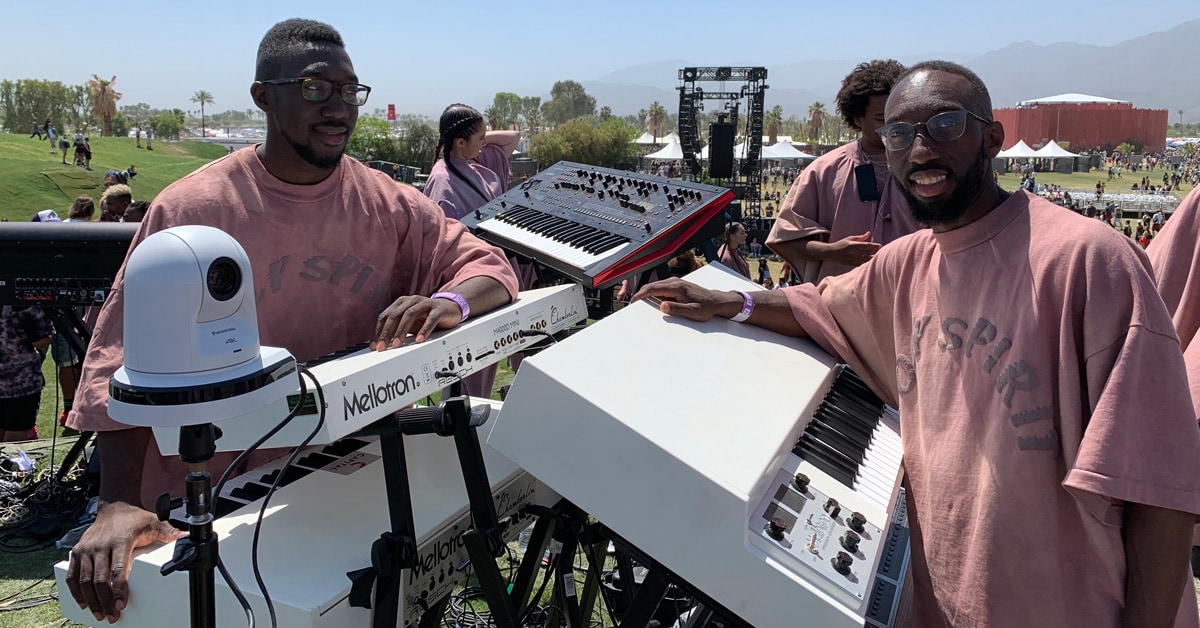 Check out Phil on Instagram: http://www.instagram.com/philthekeys