Mixing elements of electropop, disco and house music with Latin rhythms, Buscabulla has created a unique synth-heavy sound where smooth beats, ethereal vocals and thought-provoking lyrics can co-exist. Formed in New York City by Puerto Rican émigrés Raquel Berrios and Luis Alfredo Del Valle, the duo takes inspiration from the city's indie scene and from their homeland. In 2014, they won a Guitar Center contest, which put them in the studio with producer Dev Hynes, also known as Blood Orange. The resulting EP earned international acclaim. In 2017, Berrios and Del Valle moved back to Puerto Rico to help rebuild after the destruction of Hurricane Maria. That journey is reflected in their full-length album Regresa—Spanish for "return." We spoke to the couple about how they balance their influences, making music from a child's perspective, and why it's ok to interrupt house cleaning to play piano. 
What does "Buscabulla" mean, and does its meaning connect to your sound?
Berrios: It means "troublemaker" in Spanish. Our musical project is primarily in Spanish, but our influences are from all across the world. The world of music that we create lies somewhere between Puerto Rico and New York. 
Who were your earliest musical influences? 
Del Valle: My best friend taught me how to play guitar. We stumbled across (What's the Story) Morning Glory? by Oasis, and could not stop listening to it. We wanted to play the songs. Once we were able to, we wanted to write songs like that. After we were able to do that, we wanted to write our own thing. 
Berrios: I got into music because of my father. He plays guitar and cuatro, which is a traditional string instrument from Puerto Rico. He would play us songs all the time—it was when I saw him the happiest. I wanted to make music because of him. 
You both lived in New York City for years. What kind of inspiration did you find there? 
Berrios: When I first got to New York, I worked at a Brazilian record store. I was always a fan of Brazilian music, but it was only through those years that I got really schooled. Not just in Brazilian records, but rock, R&B, experimental jazz and all the Latin records that I could never find in Puerto Rico.  
All of these amazing musicians and producers came into the store where I was working. I couldn't believe I was meeting people that actually made a living out of this. It was the moment where I thought, maybe I could do that, too. 
Del Valle: I went to New York to find a way to make my creative outlets work out. When I met Raquel, it was much more than that. It was bigger than us.  
Berrios: Another really important moment was looking at the DIY music scene that was going on—Blood Orange, Empress Of, Chairlift—all of these bands were such a big influence. 
How did you merge skills and craft your aesthetic?
Berrios: When I started making the first songs for Buscabulla, I had all of this amazing music in Spanish. I always wanted to integrate samples from that world. People would always sample old R&B, funk records and hip-hop. I felt Latin wasn't referenced. 
Del Valle: Raquel had had an unorthodox rig. She would put two turntables into GarageBand,  then back into the turntables, and then into some other thing. I still don't get it. It was really weird, but really cool. The way she was building these tracks was sort of punk rock and very free.
Berrios: Luis is such a well-rounded producer, musician and mixer. He's kind of a geek. In his free time, he'll be sitting down and making music. I can only make music when I'm in the mood, when I'm inspired, but Luis does it all the time. He has that superpower. 
Del Valle: I had to learn how to play bass while we were producing, because I've always played drums and guitar, and never bass. The songs taught me how to play bass. 
Berrios: It's not just his bass playing—Luis plays everything. Usually, I have certain ideas—make something that sounds like it's underwater, or make a metallic sound—and Luis automatically knows how to sculpt it. I ended up starting most of the songs for the project, but it's only through Luis that we get them finished. He's sort of asking me, "Queen, what world do you want to build today, and I will build it for you?" I guess he's an insane architect builder of sound.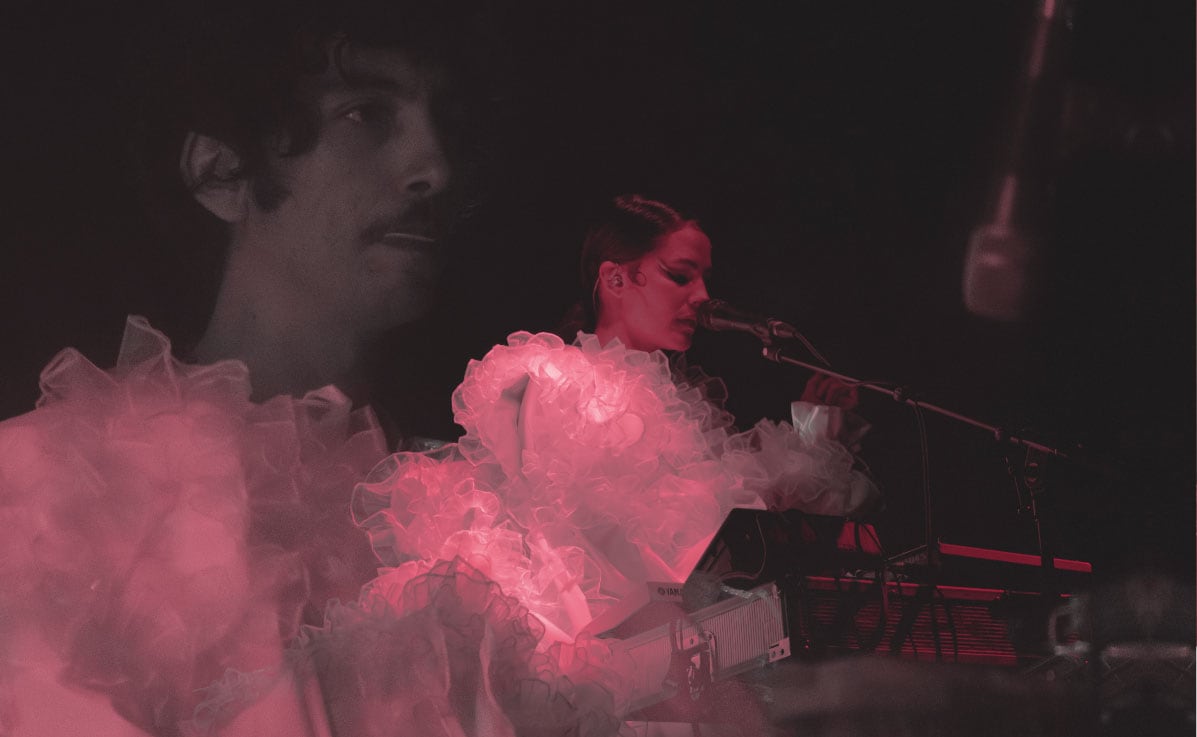 What's the concept behind your album, Regresa? 
Berrios: It was all about coming back to Puerto Rico. I came to Luis saying, "Let's integrate more Latin percussion and bolero music, and let it permeate throughout the record."
Del Valle: There is a decidedly Caribbean anchor throughout the whole thing. I went with instinct—there's a lot of stuff that's just miked the right way, recorded to tape, and then brought into the computer. There's also a lot of stacking sounds in Regresa, and filters and distortion.
When you returned to Puerto Rico, did those musical influences come back, too? 
Berrios: We moved into a house close to the beach, but it's not like we were going to a lot of venues and getting schooled with music from Puerto Rico. We just came in and started working. We got more serious about our lyrics and really tried to achieve something more ambitious, musically. 
Did your writing techniques or instrumentation change?   
Berrios: When we got to Puerto Rico, one of Luis' dreams came true—we actually got a piano, and that piano has become so essential. You can be doing your daily chores, but you can stop for a moment if you have an idea for a melody. I used to write with my synth or sample a lot of stuff, but this last record was mostly written on that piano. There's something about going back to the essential rules of writing music on a classic piano that's pretty cool. 
Once I discovered that I could make music, it really did make me feel alive. It was as nourishing as drinking water and eating food. — Raquel Berrios
You became parents in 2014, with the birth of your daughter Charly. Has that impacted your music? 
Del Valle: Showing music to Charly has been one of the coolest things of being a parent. Having Charly around keeps us grounded and true to the intentions and goals with our music. If music works with kids, it's probably going to work with adults.  
What is essential for your music making?
Del Valle: For me, what's essential for making music is that energy of childlike enjoyment. You have to turn off your reason and be affected by it. That has an immense power—it's transcendental.
Keep up with Buscabulla at their official website and Instagram.