Be Heard: Guitar Center is celebrating artists, brands and organizations that are using music to raise awareness on critical issues facing us all, to help us heal, to bring us together—to make the world a better place.
Lady Gaga's critically acclaimed album, Born This Way, inspired a generation of young people to accept and celebrate exactly who they were born to be, using self-expression as a powerful declaration of confidence. To bring the album's core message to life, Lady Gaga and her mother, Cynthia Germanotta, launched Born This Way Foundation, aimed at promoting kindness and breaking through the stigmas surrounding mental health.
Germanotta recalled how important this message was during Gaga's formative years. "Growing up, my daughter was uniquely different, and as a result, she was sometimes taunted, humiliated and excluded by her peers. It made her start to question herself and, over time, contributed to her issues with anxiety and depression."
For Gaga, music became a method of channeling that anxiety and depression into something positive—encouraging growth through her own self-expression. "My daughter made the decision to be very open about her own experiences with mental health because she wants to help normalize these conversations," said Germanotta. "When you're struggling, seeing someone else talk about how they've struggled too can be so powerful."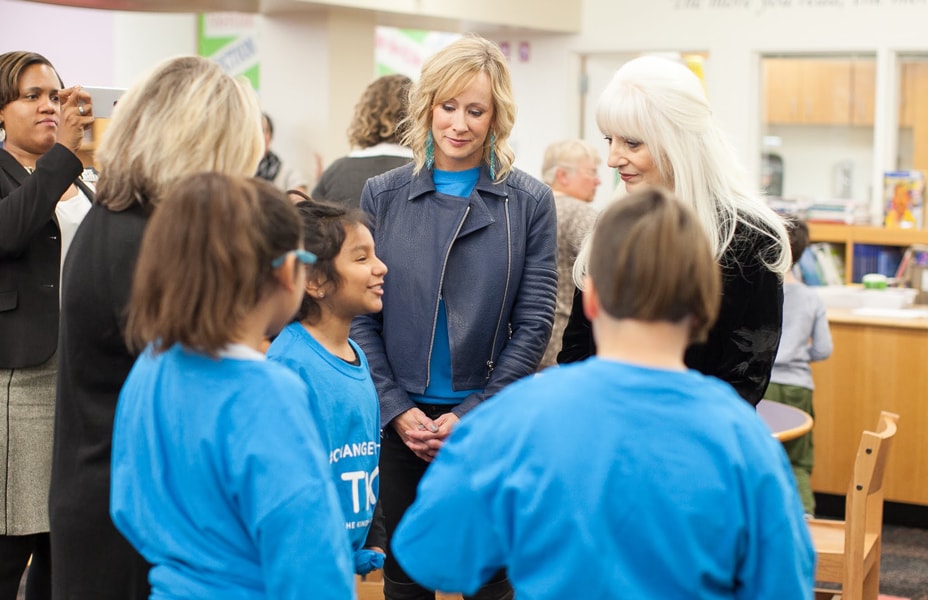 Cynthia Germanotta (right) meets with students at a Born This Way Foundation school event.
Recent studies from the foundation highlight that young people often feel discouraged when searching for information on how to tackle mental health, particularly when many still dismiss school bullying and teasing as just another part of growing up. "We have the ability to shift the narrative from the divisive, depressing, sensationalist stories we hear about young people, to ones that highlight the engaged, empowered, collaborative, and compassionate generation who are working to make our world a kinder, braver place every day," said Germanotta.
"We need to focus on doing a better job at modeling healthy conversations," she said. "A great place to start is by listening without judgment, being honest about our struggles to letting young people know they're not alone. Through these steps, we can ensure that these conversations are not just about having one 'check the box' discussion, but rather a dialogue that continues to move the needle on mental health."
Born This Way Foundation hopes to encourage the next generation to find their voice in whatever medium they're most comfortable, using their experiences to lift others.
"Be it music, art, photography, spoken word or journalism—creativity offers an outlet and an opportunity to tell your story and openly express ideas, emotions and thoughts on the issues that matter to you," she said. "Everyone is gifted with a unique set of skills and abilities. With those abilities, you can make extraordinary things happen in your community and in the world around you."
To learn more about Born This Way Foundation, visit bornthisway.foundation.